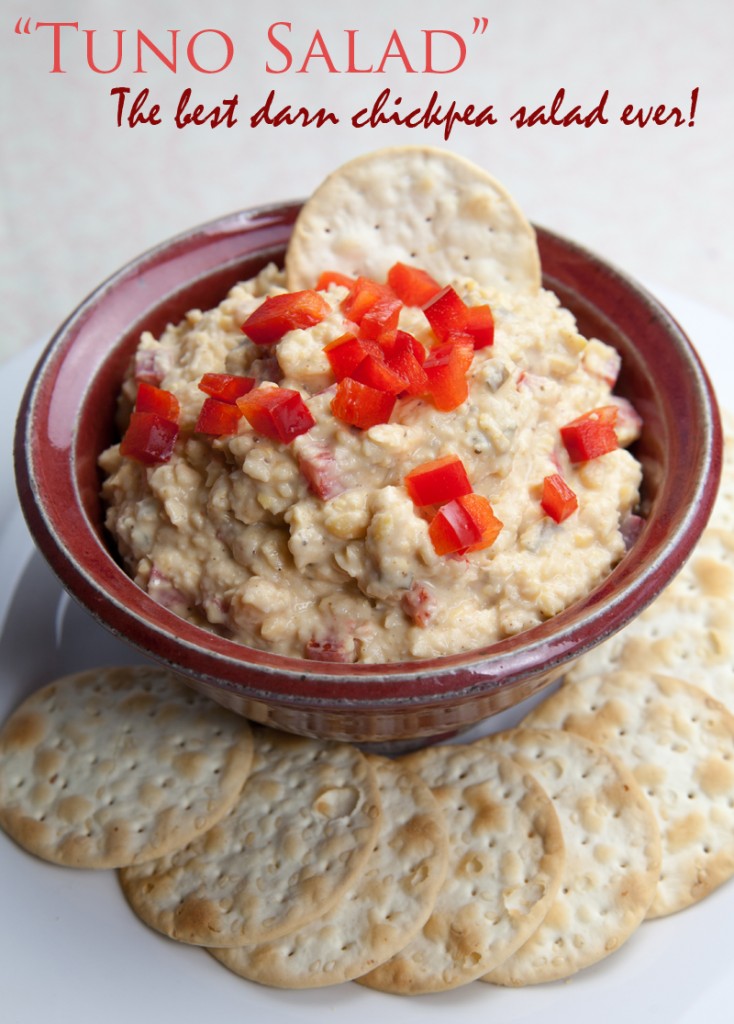 A lot of people have their favorite "tuno" or chickpea salad recipe, but this one is the best. I'm not even kidding, it's ridiculously good, especially if you ever enjoyed that other version during your pregan days. Why? Well for one, the Old Bay seasoning really makes it taste fishy (but not in a gross way). Also the smooshed up chickpeas have a texture and consistency that is reminiscent of tuna from a can. Is it exactly the same? Obviously not, but it is a very enjoyable, very compassionate version that I hope you'll all try and enjoy!
I bring my lunch to work nearly everyday, so when I make a recipe that both stores and travels well I tend to make enough to last me the week- and this is no exception. I'll eat it in a sandwich, in a wrap, on a cracker, on my finger. I think you get the point. The last time I made it I went the appetizer route, serving it on crackers, and Jason and I munched on it while watching football. It was a party of two, but I think it would be great to bring to a larger gathering too!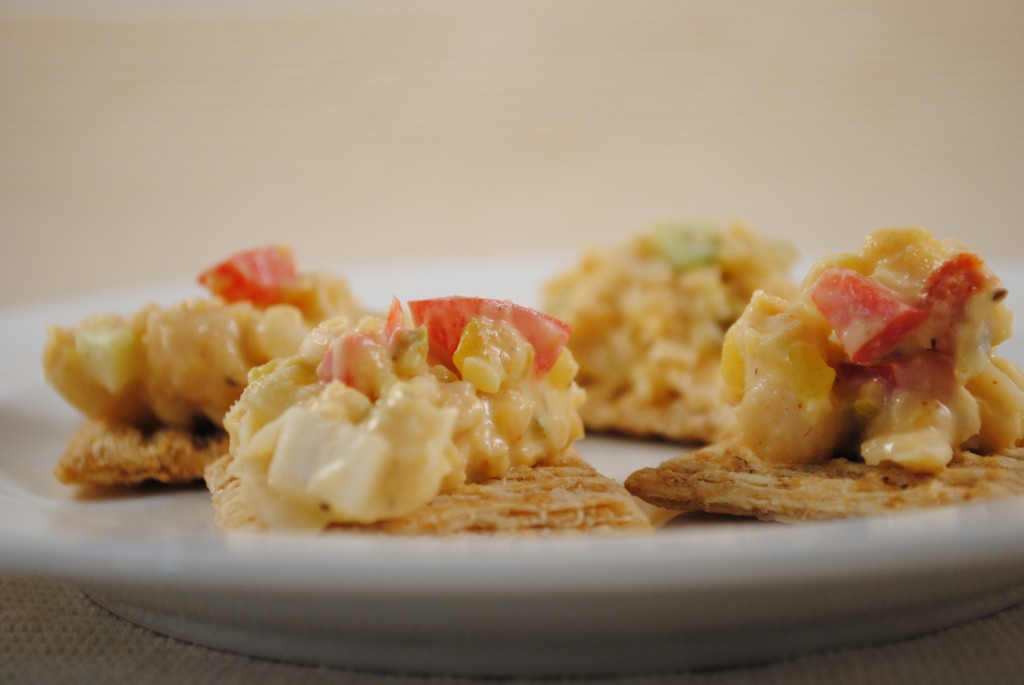 You know how else this stuff is amazing? Inside a tomato! Or as a tuno melt!
---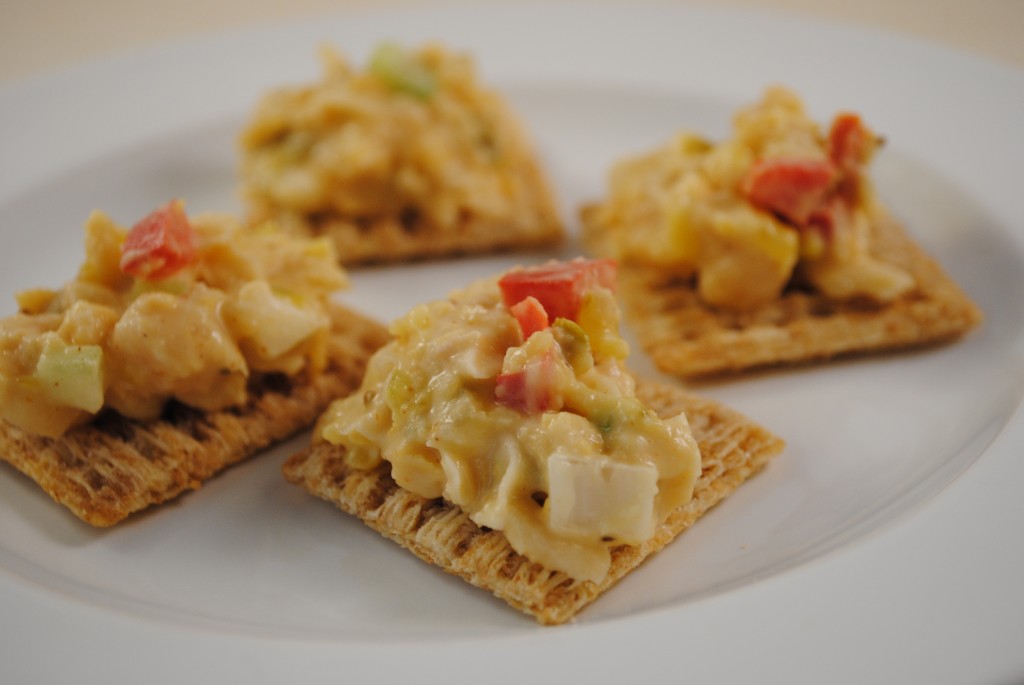 Tuno Salad
2014-05-05 12:37:41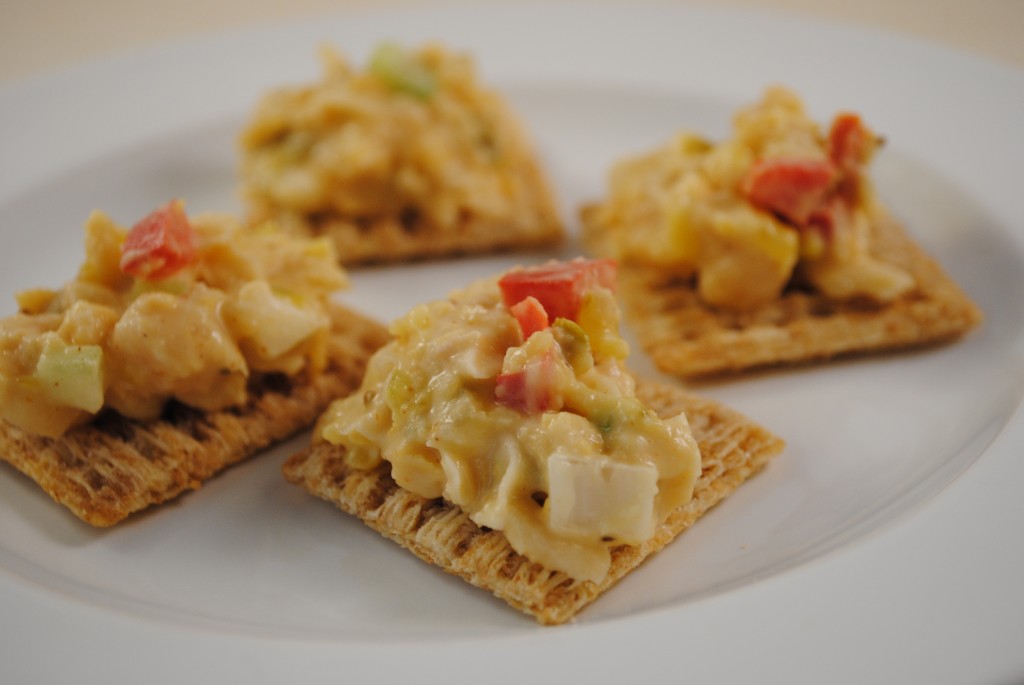 Serves 6
A delicious chickpea version of everyone's favorite childhood sandwich!
Ingredients
32 oz chickpeas, drained and rinsed
6 tablespoons Vegenaise
1/3 cup sweet relish
1/3 cup diced red pepper (sweet, bell or hot, depending on your taste!)
1 teaspoon Old Bay seasoning (don't skip this, it makes the dish!)
1/2 teaspoon garlic powder
1/2 teaspoon sea salt
pinch of black pepper
Instructions
Pulse the chickpeas 2-3 times in your food processor OR mash them in a bowl with a fork. Don't leave too many whole beans, but also don't make the mixture too smooth.
Stir in remaining ingredients and mix well. Serve on bread, wrap, crackers, fingers!
That Was Vegan? http://www.thatwasvegan.com/