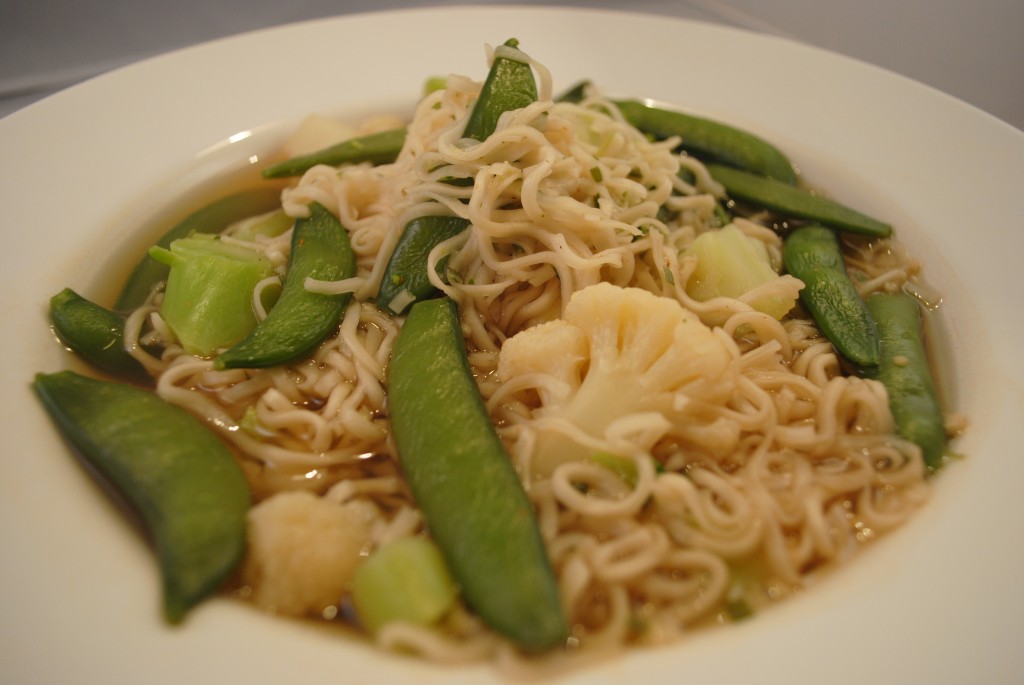 Last night was one of those evenings when I didn't really feel like cooking, and honestly didn't have any idea of WHAT to cook. Enter the humble ramen noodle, friend to all and occasional life saver. Everyone is familiar with the Top Ramen brand, one of the only things you can buy at the grocery store for .20¢, but the little packets aren't vegan. You could buy them and throw away the packet (the noodles themselves are vegan) but that option doesn't really sit well with me, because even though there's only a miniscule amount of animal product in that tiny little packet, I don't like the idea that an animal suffered for it. SO, what's a vegan ramen addict to do? Buy Koyo! They have many vegan flavors including Tofu & Miso, Lemongrass Ginger and Garlic Pepper, just to name few. Bonus: Their noodles are organic and the flavor packet is GMO-free! I picked mine up a few weeks ago at Sunflower Farmers Market, but you can also grab them at Vitamin Cottage and Whole Foods, according to their website.One thing to keep in mind, the amount of noodles you get in a Koyo package is smaller than what you get from Top Ramen, so you might want to double up.
I chose Tofu Miso for my bowl last night, and added just about every frozen veggie I had in my freezer along with some Bragg's Liquid Aminos and of course some hot sauce! Was it technically Pho? Maybe not but it was darn close, and really good! I suppose this is less a recipe and more of an idea on how you can clean out your freezer when you don't have the time to cook.
But, before we get to the food pics, there's someone I'd like to introduce you to. His name is Cooper and it's his birthday!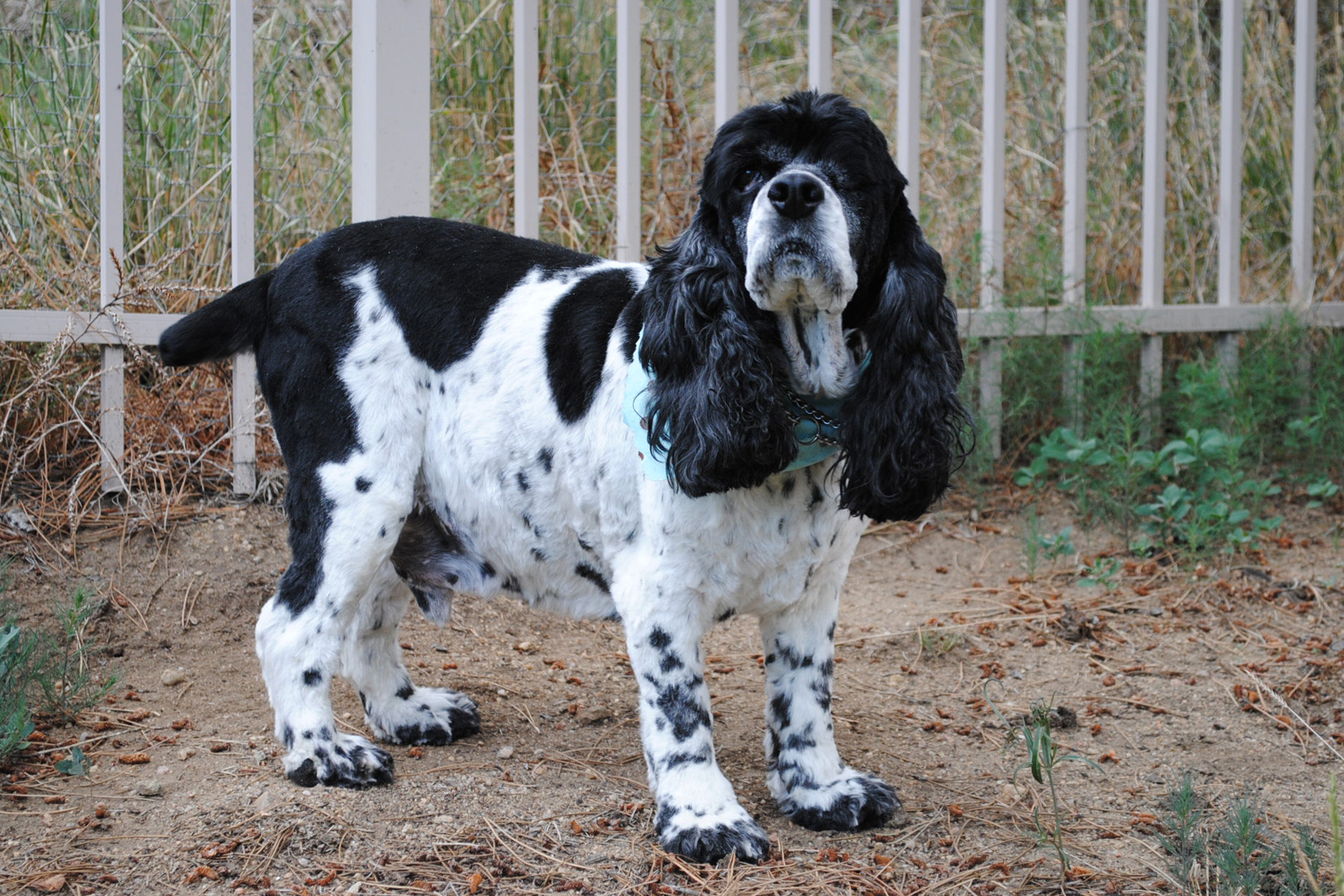 Cooper came to live with us on December 7, 2007. Jason and I decided that year that, rather than buying gifts for each other, we'd each choose something we wanted and buy it for ourselves. Perhaps not the most romantic method, but certainly efficient. For my gift to myself, I adopted Cooper from the National Mill Dog Rescue (NMDR). They're a WONDERFUL organization who rescue, rehabilitate and rehome puppy mill survivors, and educate the public on the evils of purchasing puppies from pet stores and online. I had recently heard through a friend about the amazing NMDR- and I wanted in on the action! I looked on their website, and although every single dog looked adorable and loveable and everything else-able, I decided to wait until we could visit the rescue. I wanted to see if I had an instant connection with any of the pups. I wanted my new dog to choose ME.
Fast forward a few days, and Jason and I drove out to the rescue. I was sitting on a stool as they brought dogs into me one at a time to meet. Obviously I loved every dog that I saw and wanted to take them all home with me, but I never stopped her from bringing more dogs in. I wasn't done yet. Then she came through the doorway carrying a little black bundle, and placed him on the ground at my feet. Not only was he covered in mud, but his fur was matted too- I really wasn't even sure what breed he was. He was very shy (they called him "Timmy the Timid") and although he wouldn't approach me, he was doing this adorable little "commando crawl" on his belly back and forth in front of me. I knew immediately.
Some paperwork and an adoption fee later and Cooper was on his way to his Forever Home with us. He was about 5 years old, and had been rescued a few weeks before from a breeding dog auction in Missouri. That's a story for another (longer, sadder) post, but suffice to say my sweet boy was minutes away from a cruel death when he was saved. But all that is in the past, and he's now the happiest pup you could ever meet. He only has one eye, but that doesn't stop him from scampering around the house begging for treats, or sitting on my lap watching while I watch TV. We're best friends, totally inseperable! 🙂
Happy birthday Cooper! Thank you for 4 years of happiness and love and little doggie kisses- and I look forward to many more!
Okay… thank you for indulging me, and back to the food!
---
Ingredients
1 or 2 package of ramen noodles, depending on how voracious your appetite is
2 cups veggie broth (or 2 cups water and 1 veggie bouillon cube)
2-3 cups frozen veggies of your choice (I used sugar snap peas, edamame, broccoli and cauliflower)
Pressed, sliced tofu, if desired
2 T, (more to taste) Braggs Liquid Aminos
Sriracha or other hot sauce
Instructions
Cook noodles and vegetables in broth according to package.
Add tofu (if using) along with Braggs
Remove from heat, cover, and let everything just meld together for a few minutes, and make sure the veggies are thawed/cooked
Ladle into bowl and apply as much hot sauce as you can stand! And probably more Braggs too, because why not? I like it salty!
Don't forget to grab a fork and a spoon!
http://www.thatwasvegan.com/2011/12/07/ramen-noodles-make-your-own-pho-and-happy-birthday-cooper/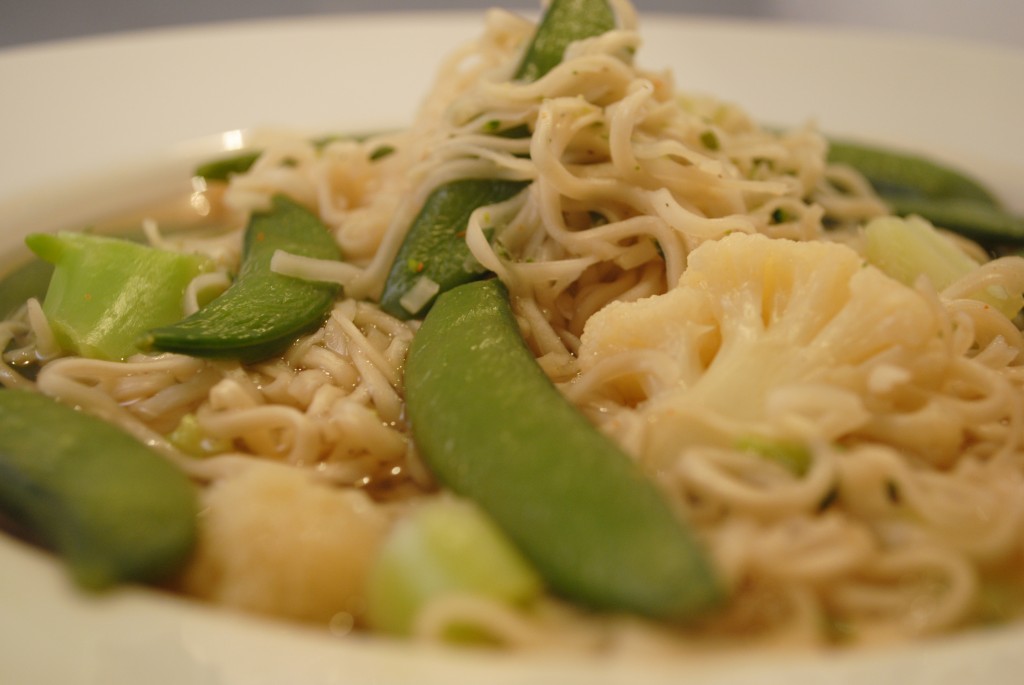 Oh… and let me leave you with this one last picture of Cooper. Sorry for the blurry/bad lighting/cell phone pic … I had to share anyway. This is how he sleeps, with his tongue hanging out!