Maybe these should be called 'Red Chile Enchilada Shells', because that's really what they are. I've been on a bit of a "veganizing" kick lately, and when I saw the original recipe online I knew I was going to make a version I could enjoy.
Loyal readers know my vegan-adjacent husband is from NM, and basically has red chili running through his veins. In that crazy state, you can go into any restaurant and order absolutely anything, and the server will ask you "red or green"- as in, what kind of chile do you want. There's no possibility that you don't want any chile at all. I'm pretty sure you could walkinto an IHOP in Albuquerque, and they'd try to put red or green chile on your pancakes- it's that serious.
I wouldn't say I'm a fan of NM cooking… it's way too spicy for me. Plus they're not known for being healthy or compassionate. But Jason is (healthy, compassionate and a fan of NM cooking!), so this recipe is for him!
Just be forewarned: This is much spicier than my usual recipes! And really, red chile is an acquired taste. If you like it, you'll love this shells. If you're not a fan of red chile, my feelings wont be hurt if you skip this one 😉 I'm going to come up with another, milder version… I'm thinking taco sauce, black beans and kale! ETA: Check out that version here!
One trick I use when stuffing shells, to make sure they all come out about the same and so I don't run out of stuffing before shells (or vice versa), is to divide the filling in my pan using the spoon, into halves or quarters, depending on how many shells I have. That way you can easily eyeball it and know how much filling to give each shell!
---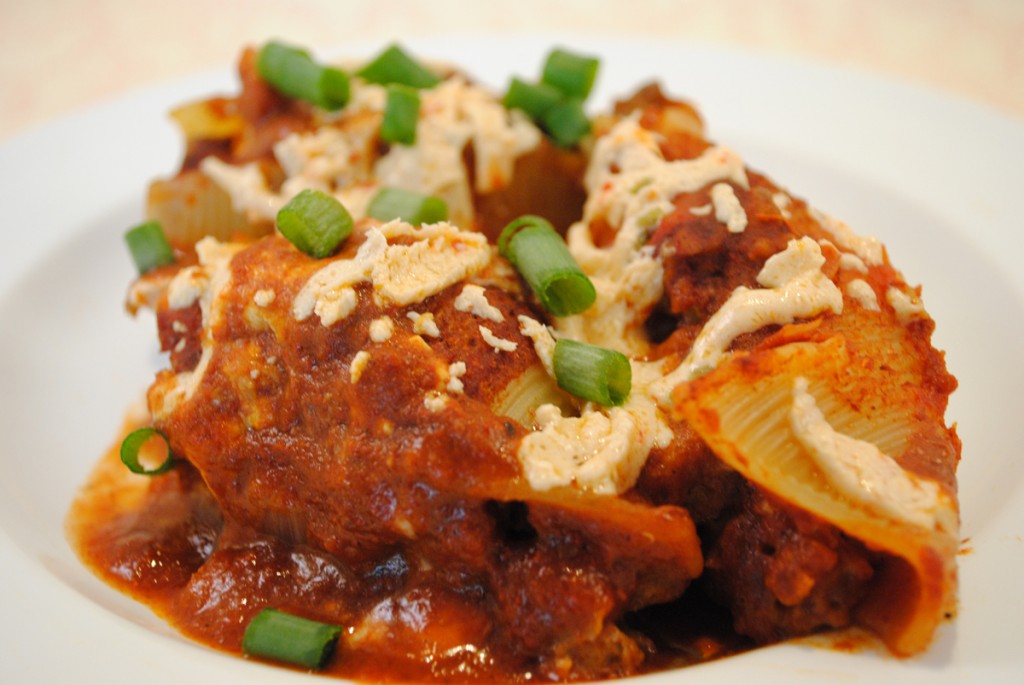 Mexican Stuffed Shells
2014-12-08 17:38:15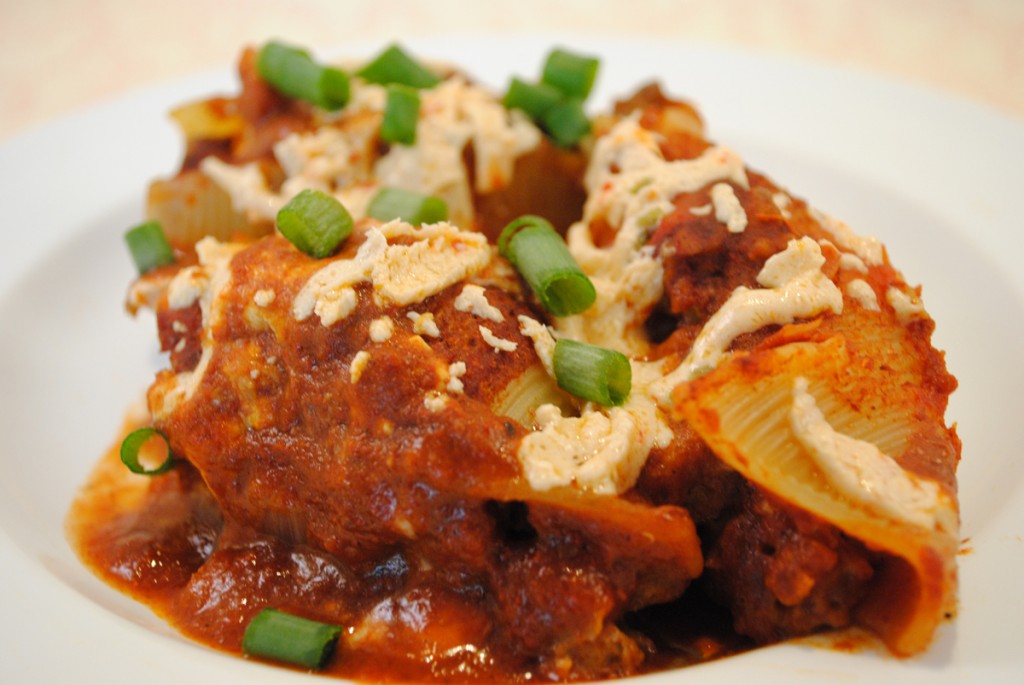 Serves 5
Spicy and full of red chile, these are the New Mexican version of the shells you're used to!
Ingredients
1 package Boca crumbles
1 package taco seasoning
1 teaspoon chili powder
5-6 oz. vegan cream cheese
14-16 jumbo pasta shells
1 cup chunky salsa
1 8oz package of red chile enchilada sauce (I used "Mexican Everyday Frontera" brand)
3 green onions, chopped
Daiya cheddar or pepperjack for topping
Vegan sour cream, if desired
Instructions
Cook shells according to package, minus 1-2 minutes.
Heat Boca crumbles in a pan. When heated through, mix in taco seasoning and chili powder, then add cream cheese and stir until melted and thoroughly mixed.
When the shells are cooked, remove from water and lay on cutting board until they're ready to be stuffed (this keeps them from sticking together).
Spread about 1/3 of the enchilada sauce and all the salsa on the bottom of the baking dish. Stuff each shell and with the Boca mixture, and place into your baking dish.
Cover will aluminum foil and bake at 350 for about 30 minutes. Remove foil and add Daiya, then bake uncovered for another 10 minutes or until the cheese is melty.
Serve sprinkled with green onions and sour cream, if desired.
Adapted from The Way To His Heart
That Was Vegan? http://www.thatwasvegan.com/