I think about food a lot.  I also talk about it a lot. My friend Shawna has a similar affliction and we've been sharing recipes back and forth quite a bit  lately (I veganize hers, she un-veganizes mine (dammit Shawna!). She's Korean-American and so naturally a lot of her recipes are Korean. It's a cuisine I'm not too familiar with, and I'm not sure if I ever had it during my pregan days, but the dishes she talks about all sound delicious (if a bit hot)… minus the meat of course. That's the other thing about Korean food… it's seems to be awfully meat-centric. More so than other cuisines I've come across.
This, of course, sounds like a challenge to me! Take recipes that probably seem (virtually) unimaginable without meat, and veganize them so well that even the most hardcore Korean carnivore would swoon. And so begins My Great Korean Food Adventure!
First up is Japchae. A dish comprised of beef, vegetables and (sometimes) noodles and rice, generally served at parties and special occasions, this seemed like an easy first. I replaced the beef with seitan, but kept the rest pretty much the same. I ventured out to a Korean market for the noodles- Sweet Potato Noodles called Dangmyeon, but everything else I either already had or could easily be found in my local produce aisle.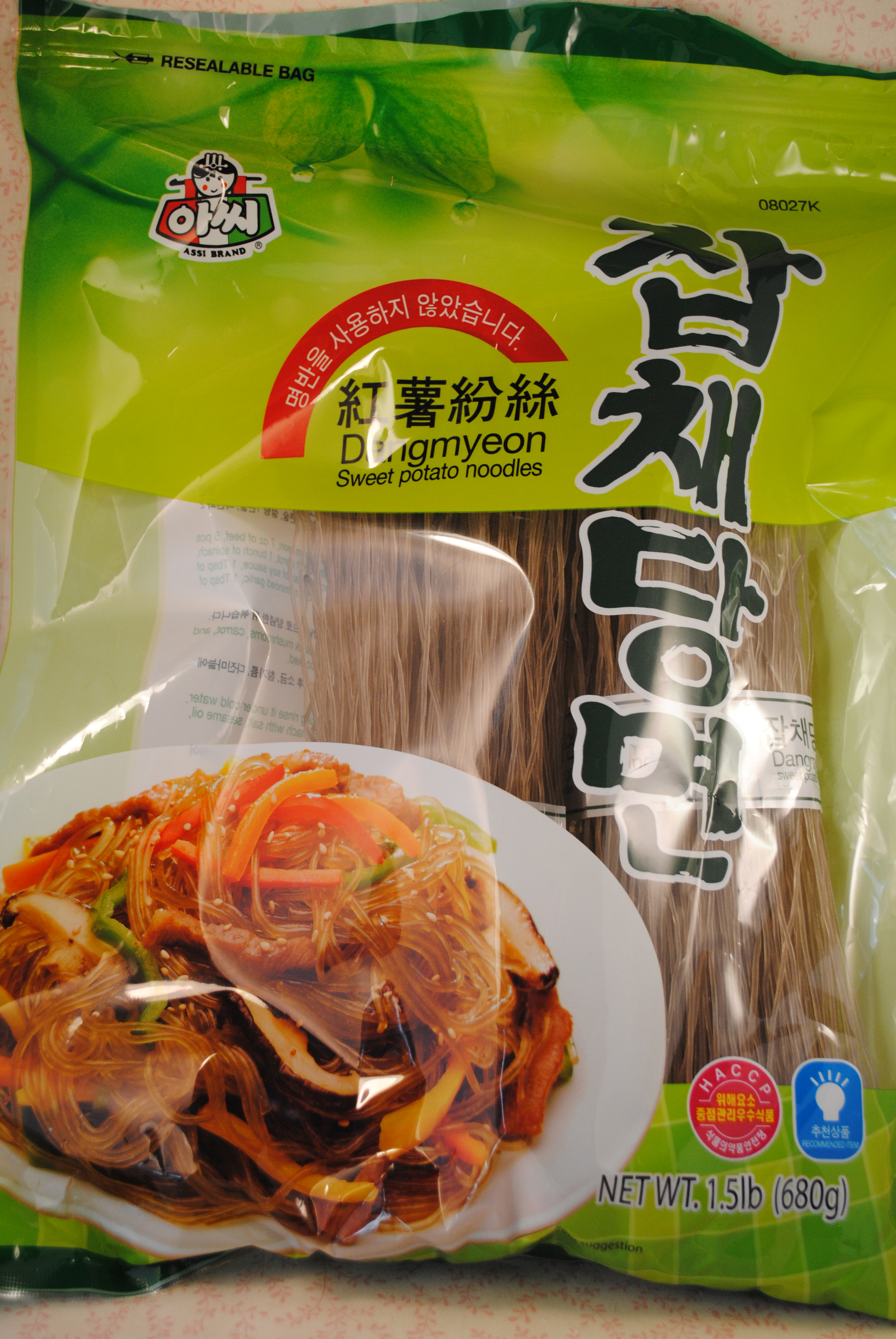 The noodles were an awesome consistency, chewy and a little bit sweet. Nothing like regular pasta. (You do need to serve almost immediately to retain that chewiness, though!) The seitan was marinated for more than an hour then fried until a little crispy with some garlic, so it was juicy and wonderfully flavorful. The myriad of vegetables were both crisp and healthy- and really made me feel like it was okay to have a second helping. Really- look at all those veggies!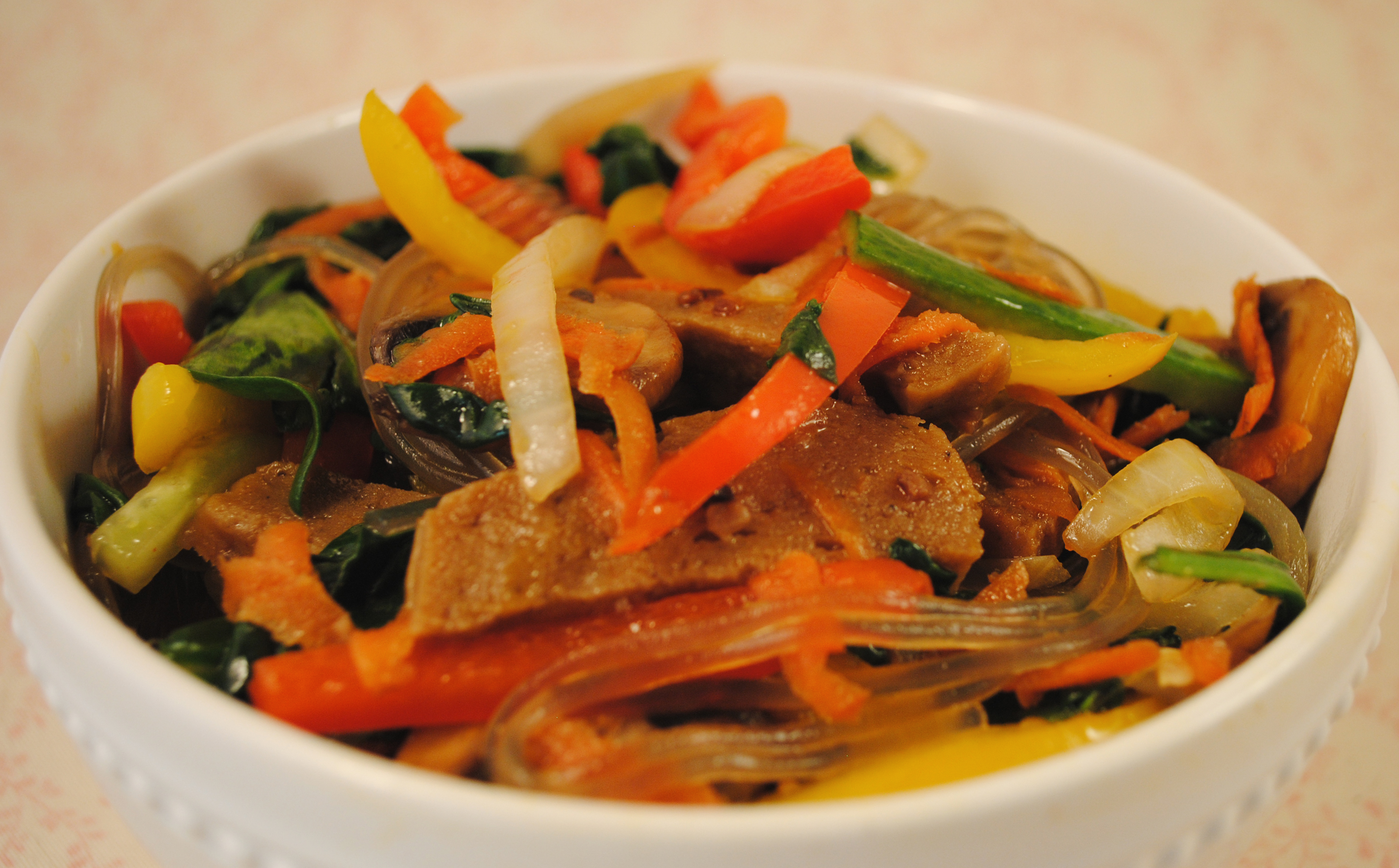 If you (or the people you cook for) enjoy mainstream Chinese or Thai dishes, they'd like this too. It's very mild- no heat in my recipe (although you could add some Korean or Thai chili paste!)- and you can add or remove vegetables to your liking. What about leftovers, you ask? Yes! It keeps quite well in the fridge, and can be enjoyed either warm or cold. The noodles wont be as chewy with the leftovers, but the taste is still great.
One website I read during my research claims that Japchae is served at nearly every party in Korea… and I'm inclined to believe it!
The best part is that I bought a 1.5 lb bag of the noodles which means there's plenty more Japchae in my future. Maybe next time I'll remember to add the sesame seeds!
---
Vegan Japchae (Makes 4 Servings (6 if served on a bed of rice))
Adapted from non-vegan/vegetarian recipe
Ingredients:
8 oz Dangmyeon (sweet potato noodles)
1/4 cup Braggs liquid aminos
2 T sugar
1 T rice wine vinegar
1 loaf seitan, sliced thru the middle lengthwise, then thinly sliced across (or about 1.5 cups)
1 T sesame oil
1/2 T minced garlic
1 small onion, thinly sliced
1 carrot, shredded
4 ounces fresh mushroom, sliced (I used white button, but you could use any variety you like)
1/2 red bell pepper, thinly sliced
1/2 yellow bell pepper, thinly sliced (you could also just use an entire pepper of either color- mixing them is just prettier)
2 cups of spinach, sliced into thin ribbons
1 4 inch section of cucumber, thinly sliced lengthwise
Toasted sesame seeds for sprinkling
Directions:
Mix the soy sauce, sugar and rice wine in a large shallow bowl, then add the sliced seitan to marinate for at least an hour.
In a large frying pan, heat 1 T sesame oil over medium heat, then add the garlic, frying until you can really smell it. Then add the seitan and let it get all warm and crispy, flipping with tongs so both sides crisp evenly without burning. (Save the marinade!) After about 5 minutes, pull the garlicky seitan from the pan and set aside.
Put noodles on to cook, following package instructions. When they're done, rinse in cold water and set aside.
In the same pan, water saute the onions and carrots for 5-6 minutes, adding more water as needed. Add the bell peppers and mushrooms, cover and reduce heat to low for about 10 minutes (adding the spinach after 5). Turn the heat back up to medium and add the seitan, noodles, cucumbers, leftover marinade and 1/4 cup water. Stir until everything is mixed and heated, then serve immediately (sprinkled with sesame seeds!).
Enjoy!