Sweet and tangy BBQ sauce clinging to thick, meaty strips of seitan combined with a rich and creamy southern-style coleslaw.
That's it. That's all I have to say.
Here's a topless shot… I'll let the coleslaw speak for itself.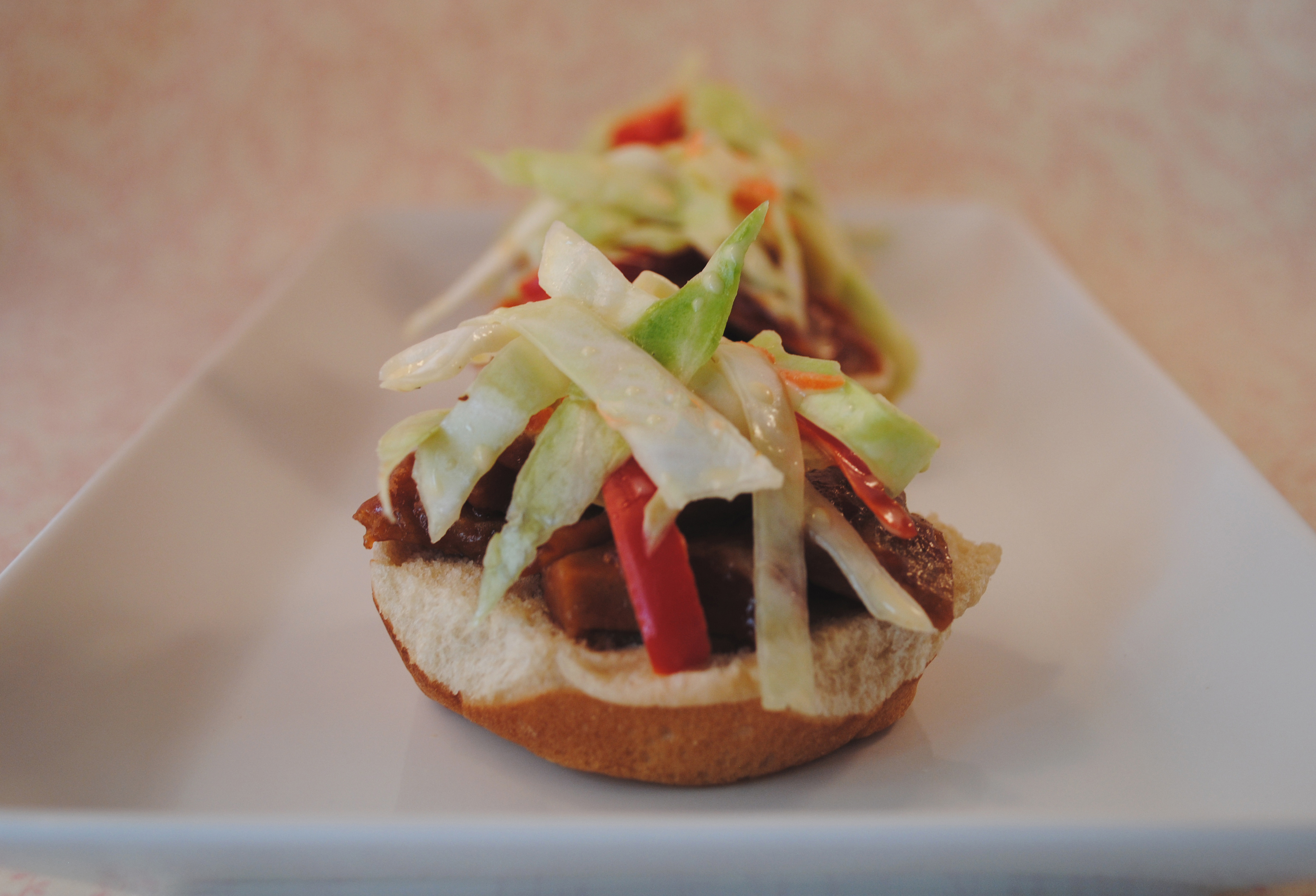 Served with a side of the coleslaw and some salt n' vinegar potato chips, this was a wonderful Saturday afternoon lunch, enjoyed on the deck in the springtime sun! Sure you could make this on regular-sized buns or even on bread, but the little slider buns just make it more fun, don't you think?
---
BBQ Seitan Sliders (Makes 5 sliders)
Ingredients:
1 loaf of Homemade Seitan
1/2 cup+ of your favorite BBQ sauce (a little more or less, depending on how saucy you're feeling today!)
5 soft slider buns
1/2 batch Creamy Southern-Style Coleslaw (recipe below) (Will give you enough to top the 5 sliders, plus enough for 2 side servings)
Directions:
Slice up the seitan until it's in thin little bits. I slice mine in half (through the middle) lengthwise, then make very thin slices.
Mix with BBQ sauce and refrigerate for at least 2 hours to let it marinate (I left mine in for about 4 hours, or you could do overnight).
Layer: Bun, seitan, coleslaw, bun… and that's it!
---
Creamy Southern-Style Coleslaw (serves 6)
Adapted from this non-vegan recipe.
Ingredients:
1 1/3 cups vegenaise
1/4 cup apple cider vinegar
1/3 cup sugar
1 t sea salt (more to taste)
1 medium green cabbage, thinly sliced
1/2 red bell pepper, thinly sliced
1 large carrot, grated
1 small sweet onion, minced
Black pepper
Directions:
Combine vegenaise, vinegar, sugar and salt in a small bowl, mixing well.
In a larger bowl combine the vegetables, then pour the dressing over them. Stir until everything is nicely coated.
Refrigerate for at least an hour, then taste and add S&P as desired.
Enjoy!