This giveaway is now closed, and the randomly-chosen winner is… Cindy B! She loves cookie dough ice cream made with coconut milk, and I have to agree with her cuz I love that stuff too!
Here it is, my long-overdue review of the new line of Almond Milk products from So Delicious… and to celebrate Betty's remarkable recovery, A GIVEAWAY! That's right; one lucky reader will receive TWO free product coupons so they can enjoy So Delicious too!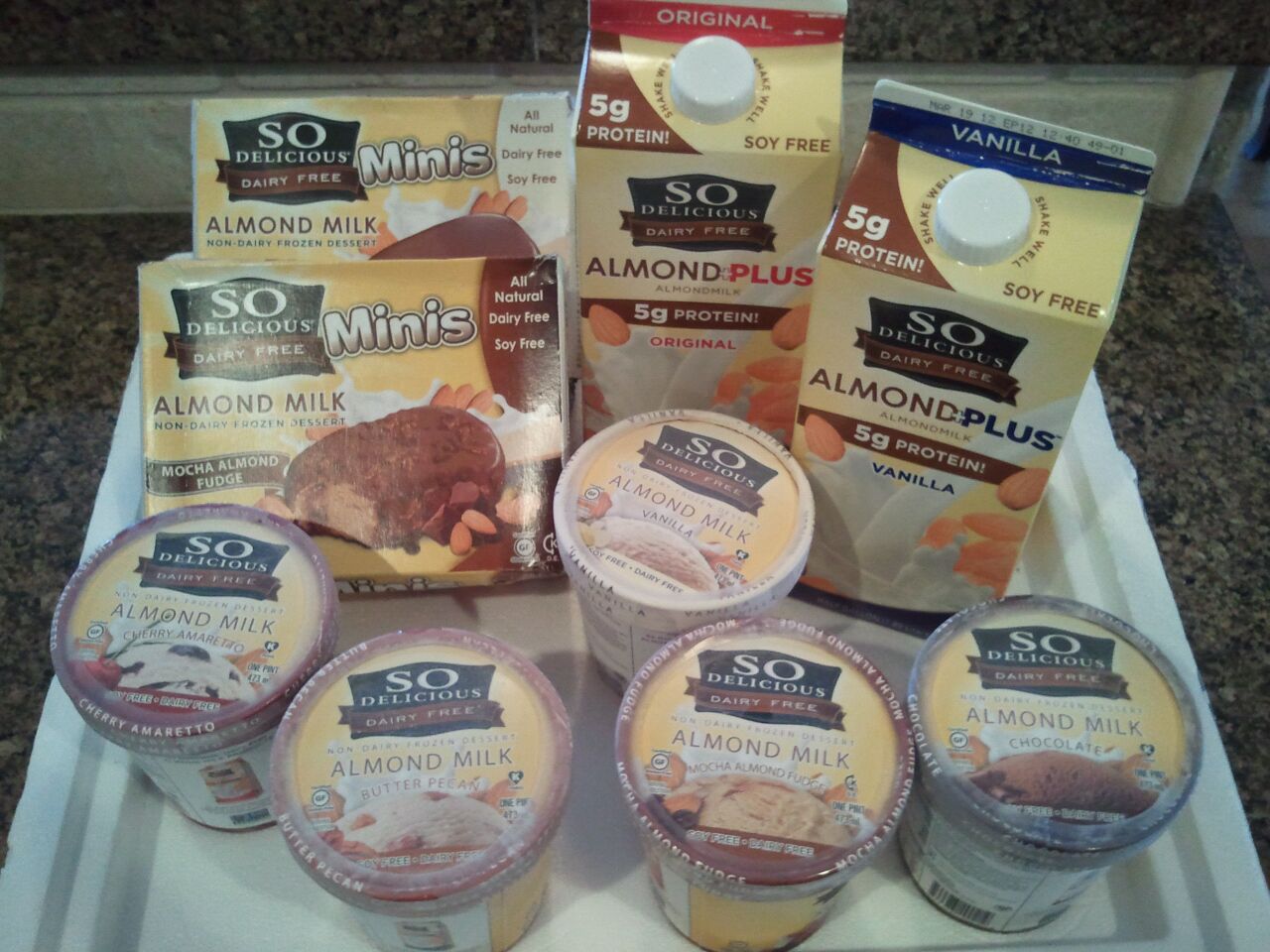 But first, the review… and sorry for the cell phone pic- I panicked when I unpacked the products, I didn't want to take the time find my dSLR and set up a proper shot. No one wants their ice cream to melt 🙂
I've never made a secret of my love of SD's Coconut Milk. It's my go-to milk and has been featured in many of my recipes. I love the coconutty taste and, honestly, I love that it's white. Maybe it's because I've been vegan for less than 2 years, but I really do prefer my milk to be white.
Anyway, when they contacted me about their new line of Almond Milk and Almond Milk ice cream products and asked if I'd like to try them, I couldn't hit the reply button fast enough.
First up, the ice creams. I really enjoyed the mild background flavor that almond milk provides. It allowed the individual flavors of that ice cream to really pop. My favorite, hands down, was the Butter Pecan. I recommend you buy some right now and eat the entire thing. I also recommend that you leave it sitting on the counter for a few minutes so that it starts to get a little soft, then sprinkle some sea salt on it. Then proceed to stuff your face.
I used the chocolate and vanilla ice creams to make milkshakes (using the SD Vanilla-Flavored Almond Milk), and they turned out fabulous. I probably hadn't had a milkshake in almost a year, so I was due!
The ice cream bars were also delicious- and the fact that they were hand held made them all that much more fun. The other thing that makes them fun? Ice cream dipped in a thin chocolate shell! Yum! These were Jason's favorite. In fact, he ate nearly all of them… I think I had one? The vanilla was my favorite of these. The only flavor I wasn't too terribly wild about, for both the ice cream bars and the pints themselves, was the Mocha Almond Fudge, but I'm not a big fan of mocha or coffee, so this is more a reflection of my personal tastes than the product itself.
Overall, I was really pleased with the ice cream products. I don't buy ice cream very often, but when I do I'd be happy to buy these!
That leaves the milk. As I said, I'm generally a fan of coconut milks, but I really did enjoy the flavor of these- particular the Original. In order to be able to review it, I drank two glasses of it- and I've never, ever been one to drink a glass of milk. Ever! I don't even drink coconut milk by the glass, but I honestly enjoyed this! The flavor was mild and smooth- I could taste the almond for sure, but it wasn't overpowering. The Vanilla was the same, but with that extra sweetness- it was wonderful in my spinach-apple smoothies. Honestly, I'll probably still buy their coconut version,  but if another container of the Almond milk ended up in my fridge I wouldn't be disappointed.
Now, for the GIVEAWAY!
So Delicious was awesome enough to give me two VIP coupons good for FREE So Delicious products- any product! The winner can try out a couple of their new Almond treats, or stick with their old Coconut flavors- or mix it up!
To enter, leave a comment below telling us what your favorite flavor of ice cream is. For bonus entries, you can do any or all of the following, leaving separate comments for each that you complete (otherwise they wont all count!) Contest closes Sunday, 4/15 at midnight (mountain time). Unfortunately the coupons are only good in the US.
Like TWV? on Facebook
Mention this giveaway in your Status
Follow TWV? on Twitter
Tweet this contest to your followers (tagging TWV?)
Good luck, and the winner will be announced next Monday!
Disclosure: So Delicious Dairy Free did provide me free products, but the opinions in this review are 100% mine.