Don't forget to sign up for the So Delicious giveaway!
This is a follow up to last week's Szechuan Green Beans recipe, which I hope you all enjoyed! This time around, the star of the show is Kale- and the Szechuan has gotten a little bit hotter… The idea for this came to me last week when I saw that Kale was on sale (rhyme!). I knew I'd want to take advantage and buy as much as possible, but what was I going to do with it all? Well… THIS!
I made this on Saturday and it was a big hit at my house. As I mentioned, quite a bit spicier than the green bean dishes you usually get in restaurants, which paired nicely with the sweet, chewy noodles. If these noodles look or sound familiar to you, it's because I talked about them a while back when I posted my recipe for Vegan Japchae. Of course, the noodles are totally optional. You can just make the Kale and serve as a side dish. Of course, if you keep the noodles it's official Asian Fusion (which makes you fancy), and, I have to say, it's really delicious!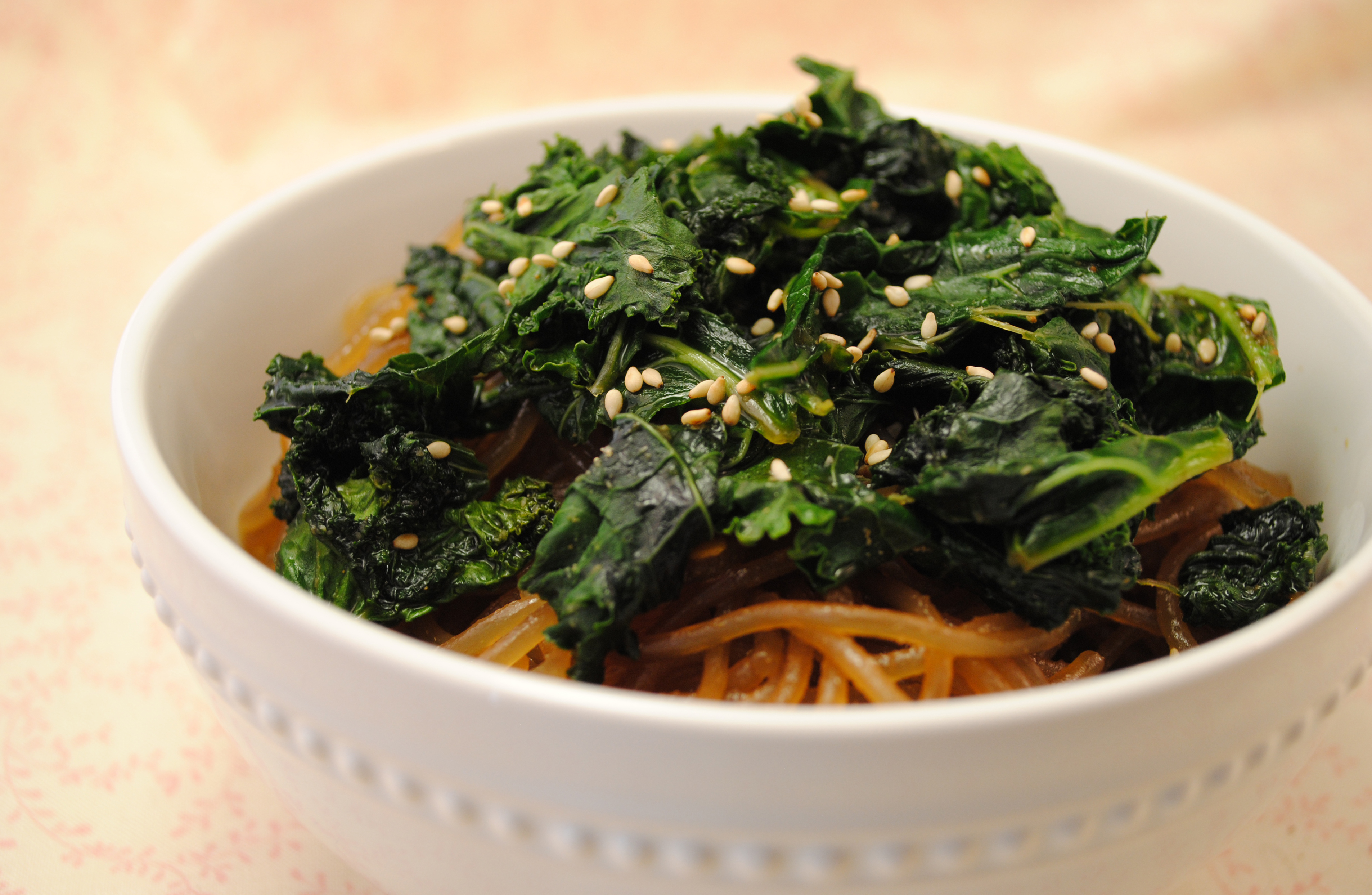 ---
Spicy Szechuan Kale and Sweet Potato Noodles (Serves 5-6)

Ingredients:
1/2 cup hoisin sauce (recipe)
2-3 T soy sauce
2 t garlic powder
A couple dashes of powdered ginger
1 t brown sugar
1 t sesame oil
1 T peppercorn chili oil
8 oz Dangmyeon (sweet potato noodles)
2 bunches of Kale, cleaned, de-stemmed and chopped
Pinch of sea salt
Crushed red pepper flakes, to taste (at least 2-3 t)
sesame seeds, for sprinkling
Directions:
Prepare the hoisin, and mix with soy, garlic, ginger, sugar, oils, and pepper flakes then set aside.
Boil the sweet potato noodles, as directed on package, then rinse with cold water.
While noodles are cooking, water saute the kale for 4-5 minutes in a large pan. When it's almost done, drain out the remaining water than put back over an "off"-but-still-warm burner to dry out a little.
Pour about half of the sauce into the kale, mixing well. Then add the noodles and remaining sauce. Heat over low/med until everything is warmed through, top with sesame seeds and serve.
Enjoy!