April is on its last legs, and summer is almost here. Sure, the weather has been a bit ditzy lately- 80 degrees one day, snowy the next… but that's just how it is up here in the Rocky Mountains. Besides, I don't need the weather to tell me when summer is approaching- I have those nasty Miller Moths to do that! For those of you who don't live in Colorado/Kansas/Nebraska/Wyoming, miller moths live out on the eastern plains. Every spring they migrate up into the mountains, and in the fall they make the trip back to the plains to lay their eggs. When you look outside around dusk, the air is just thick with them. There are hundreds everywhere you look! I suspect my neighborhood has more than our fair share, because of all the trees and flowers and open space, which is unfortunate because I have an insane fear of them. I shriek and dive for cover anytime one buzzes at my head, I can't fall asleep if I suspect one is in the room with me, and even as I'm typing this I'm pretty sure there might be one looking at me, plotting his attack. I know what you're all thinking… "What's wrong with her? Why is she so scared of bugs that are outside?". If these bugs would stay outside, we could call an uneasy truce, no doubt about it. But they don't stay outside. These little jerks insist on invading my home, coming into my territory and torturing me while I'm trying to relax in front of the TV. Monday night was the absolute worst. The seal where the doggie door meets our sliding glass door was compromised, and we ended up with 40 or 50 of them in our family room over the course of the evening.  Lets just say there was some serious shrieking going on 🙂
For those of you who don't know me, I'm an ethical vegan. I went vegan for the animals, and I'll stay vegan for the rest of my life for the animals. For example, I'm also afraid of spiders, but I maintain a strict "Catch and Release" policy at my house. That is, I see one and scream, then Jason has to catch it and release it outside.  Nope, not even bugs die on my watch.
Usually, that is. The 2-3 weeks of the springtime miller moth migration are another story entirely. Sure, Jason will still catch them and throw them outside, but if he's not around… well, I'm ashamed to admit it but this morning alone at least 6 moths met their  untimely end thanks to my Dyson. And that was just this morning. The migration started on Sunday, so I could have another 2.5 weeks 9or more!) of this torture. It's enough to make me drink. At work. At 7:30 in the morning.  (I'm totally kidding, mom!)
I'm curious about my readers though… for those of you who consider yourselves ethical vegans (or vegetarians), do your ethics include bugs? Do you shoot to kill, or catch n' release? Should I just suck it up and live with them, or should my Dyson continue to suck them up?
Okay, okay, enough about bugs. Let's get back to SUMMERTIME!
To me, summertime means shorts, light fizzy cocktails, and eating dinner outside. Oh, and cooking dinner outside too! And there's nothing better to throw on that ol' grill than a thick, spicy burger full of summertime flavors. Black beans and corn make a wonderful couple, but throw some green chile into the mix and you've got an pretty great party going on. Add more of the chile if you want to up the flavor a bit (or if you really want it hot, switch them out for red chile!),  and if you're feeling motivated you can grill the chiles and some corn on the cob first, before adding them to your burger mix. That would give you an amazing, deep grilled flavor!
Here's another shot, this time smothered in Daiya Havarti!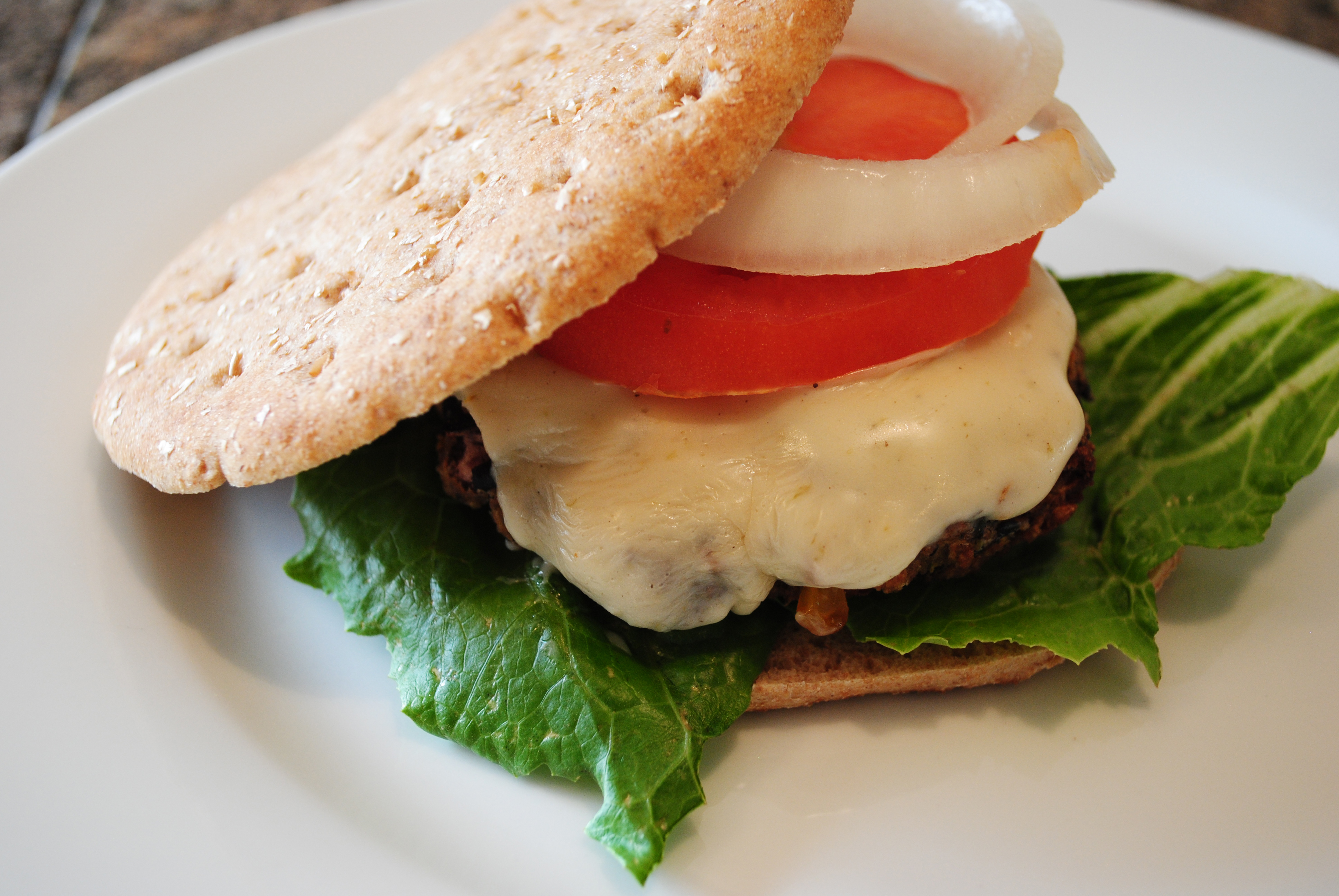 ---
Green Chile Black Bean Burgers (4-5 patties, depending on size/thickness)
If you'd like a little more heat, just add more green chiles! And be mindful as you're adding in the breadcrumbs… you want to be able to work with the mixture, but you don't want it so dry that it falls apart.
Ingredients:
½ green bell pepper cut into large chunks
½ large red onion, cut into large chunks
1 can (or equivalent) of black beans, cooked/ drained and rinsed
1 chia "egg"
1 t garlic powder
5-6 T green chiles, chopped (I used canned)
1/4 cup corn
1/2 + cup bread crumbs (you may need to had more, depending on consistency)
Pinch of sea salt
Vegan cheese for topping, if desired
Directions:
Drop bell pepper and onion into food processor. Blend for just a few moments until the pieces are smallish, but not minced.
Pour in beans, and blend until everything is all mixed n' mashed together (just a few seconds, really). You do not want the beans completely broken down, otherwise your mixture will be too moist and wont cook well.
Pour entire mixture into medium bowl and add the rest of the ingredients (except the cheese), including a scant 1/2 cup of breadcrumbs. Mix with your hands until everything is completely blended. Add more breadcrumbs if needed- you want this to be sticky and you want to be able to form patties that will hold together.
Place entire bowl into the fridge for at least 20 minutes. It gives the chia egg time to gel.
Divide into patties (4-5 depending on your bun size).
If you're grilling, I recommend foil or a veggie tray. These can also be cooked in a pan on the stove top, use a tiny bit of oil and give them about 5 minutes on each side.
Enjoy!