Annie, the talented mastermind blogging over at An Unrefined Vegan, has had a fabulous idea: Why not create a Virtual Vegan Potluck!?
From her invitation:
"…wouldn't it be nice to gather this warm community of eating, baking and cooking bloggers for a feast?  One day where we all come together to share favorite recipes as if we were really sitting down – plates balanced on knees, juggling glasses – to eat together?  A virtual vegan potluck.
Here's what I'm thinking: participants would select a course out of the usual suspects (beverages, appetizers, salads, soup/stews, sides, main course, breads, desserts – any I'm forgetting?) and on the date selected, they would publish a post of their recipe with photos.  A "button" would guide readers to the preceding post and the following post.  A blog circle.  The circle would be set up so that it starts with the appetizers and moves through the courses."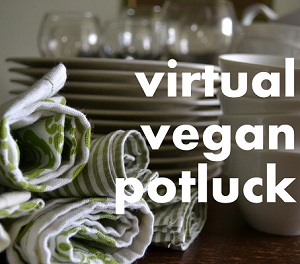 I'll be contributing an appetizer (I already have it planned, it's going to be soooo good!), and I think Reia over at The Cruelty-Free Review is planning to share a dessert. Annie is still looking for other bloggers to participate, if you're interested you have until the 30th to sign up. You don't even need to know what recipe you'll be sharing, just what type: main dish, salad, etc. Check out the page for more info.
Whatever else you do, make sure you check back on May 12th to see my app along with tons of other amazing dishes!