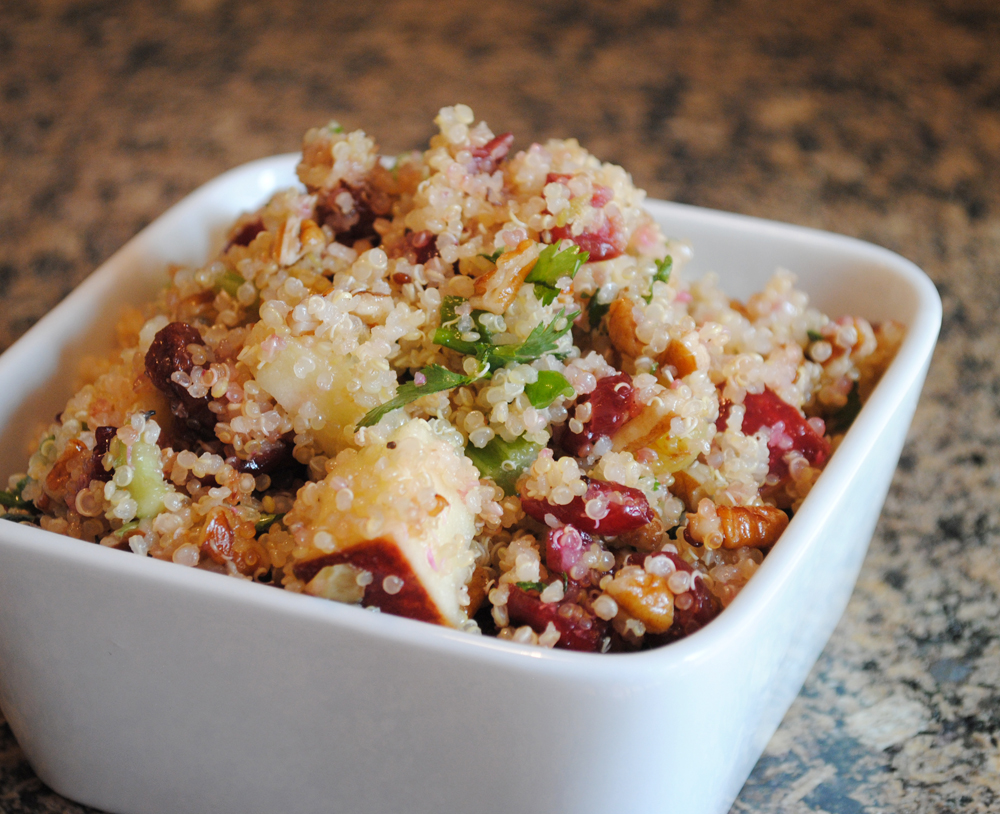 This is one of my favorite summer dishes, and probably my absolute favorite thing to make when serving a large group. We all know how insanely good-for-us quinoa is, and this dish combines that goodness with crisp celery, sweet apples and raisins, tangy cranberries, crunchy pecans and just a hint of cilantro. Oh, and because I made it, you know there's some chili powder in there too 😉
I highly recommend it for your next summer gathering or office potluck- or even just whip some up this weekend and enjoy it all next week! If you follow the directions, the apples stay crisp and fresh for days in the fridge, I promise!
Before I share the recipe though, I wanted to share some shots of the crazy storms we had last week- Thunder and lightening, rain and hail. I read that we got 4 inches in less than 3 hours on Wednesday night, and on Thursday we got hammered (literally) with ping pong sized hail. Insane!
This was the view from my front door: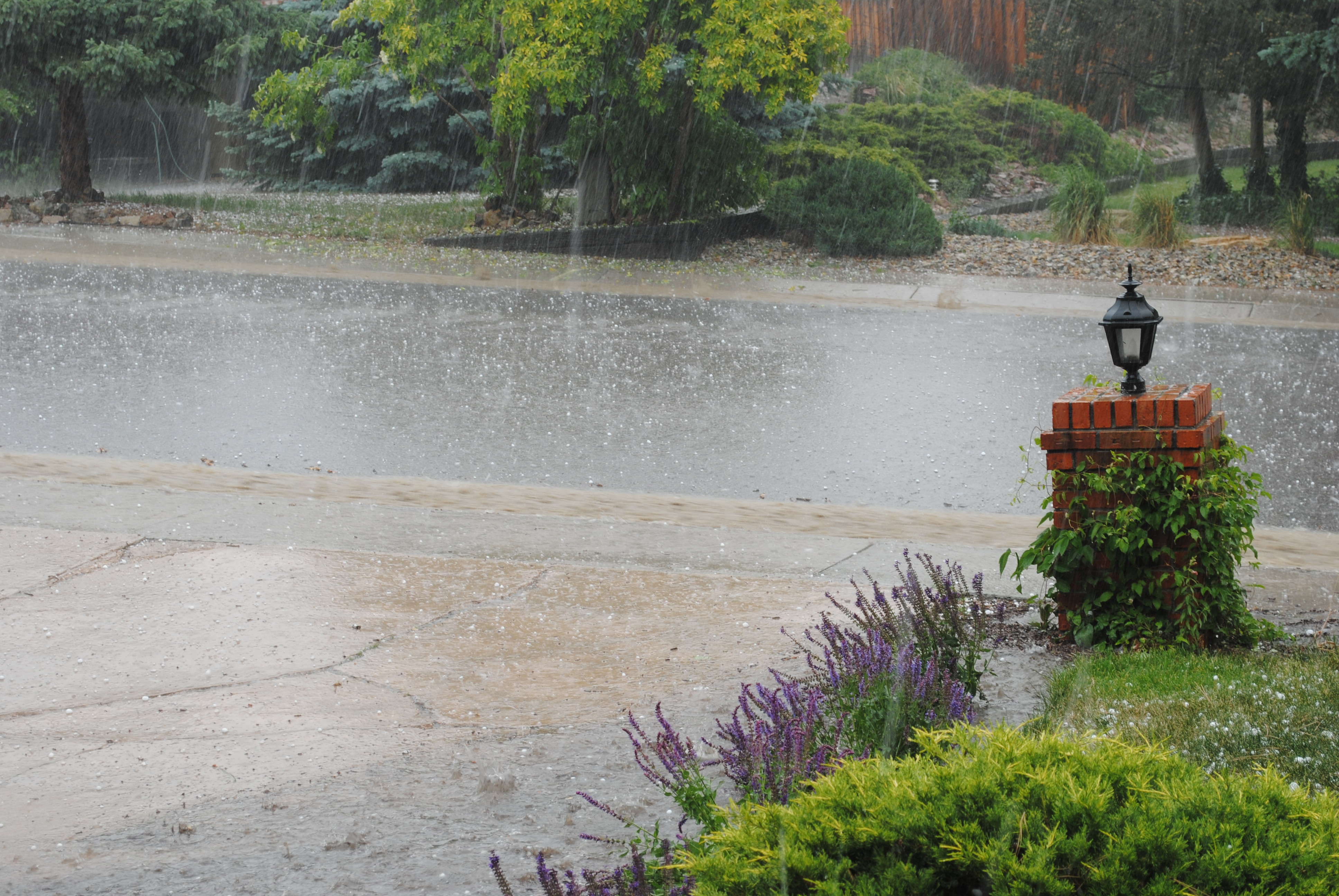 (Those Salvia plants lost pretty much all their purple 🙁 )
This was my view out the back door: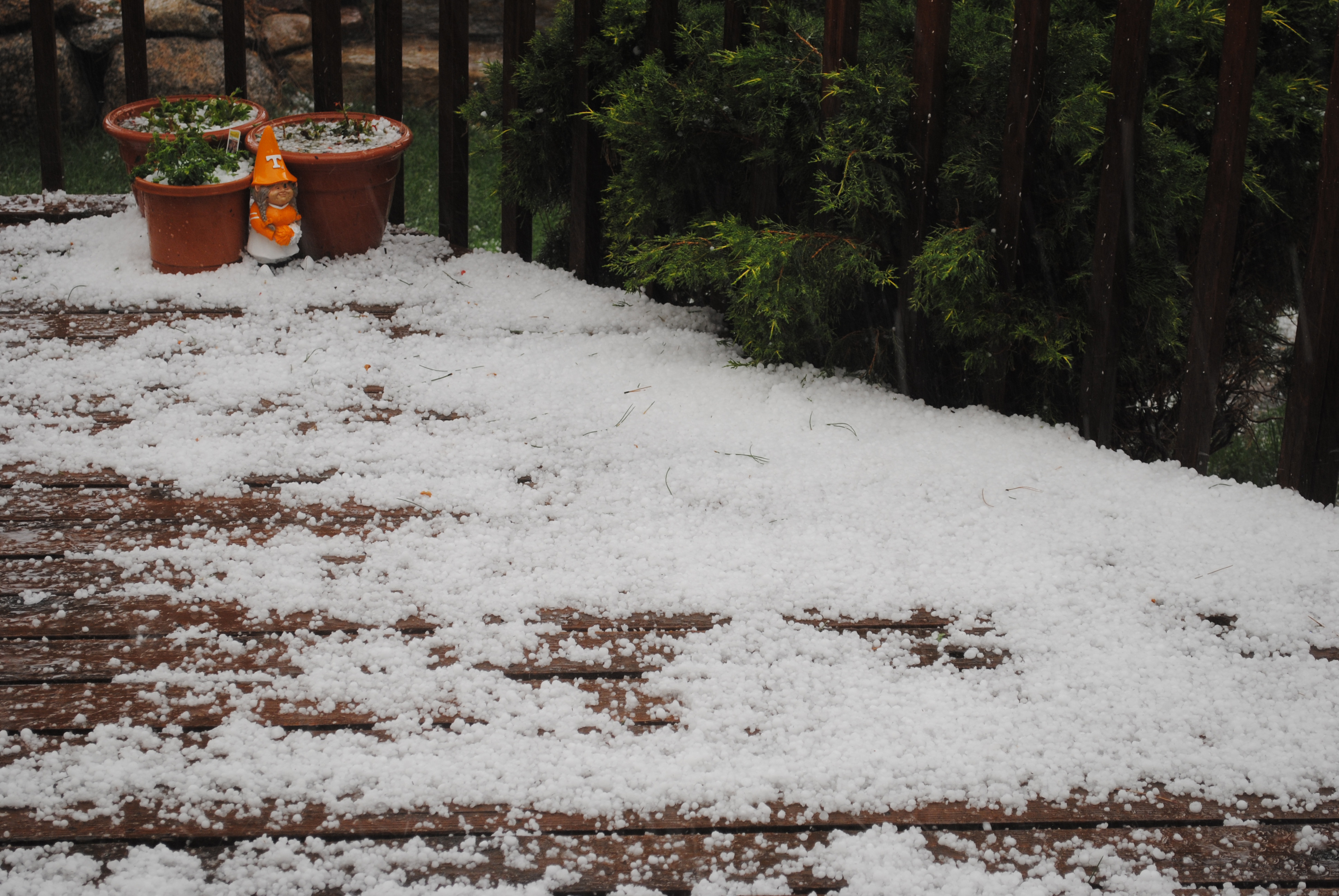 (those potted flowers absolutely did not make it)
And here's a close-up of a piece of the Wednesday-night hail: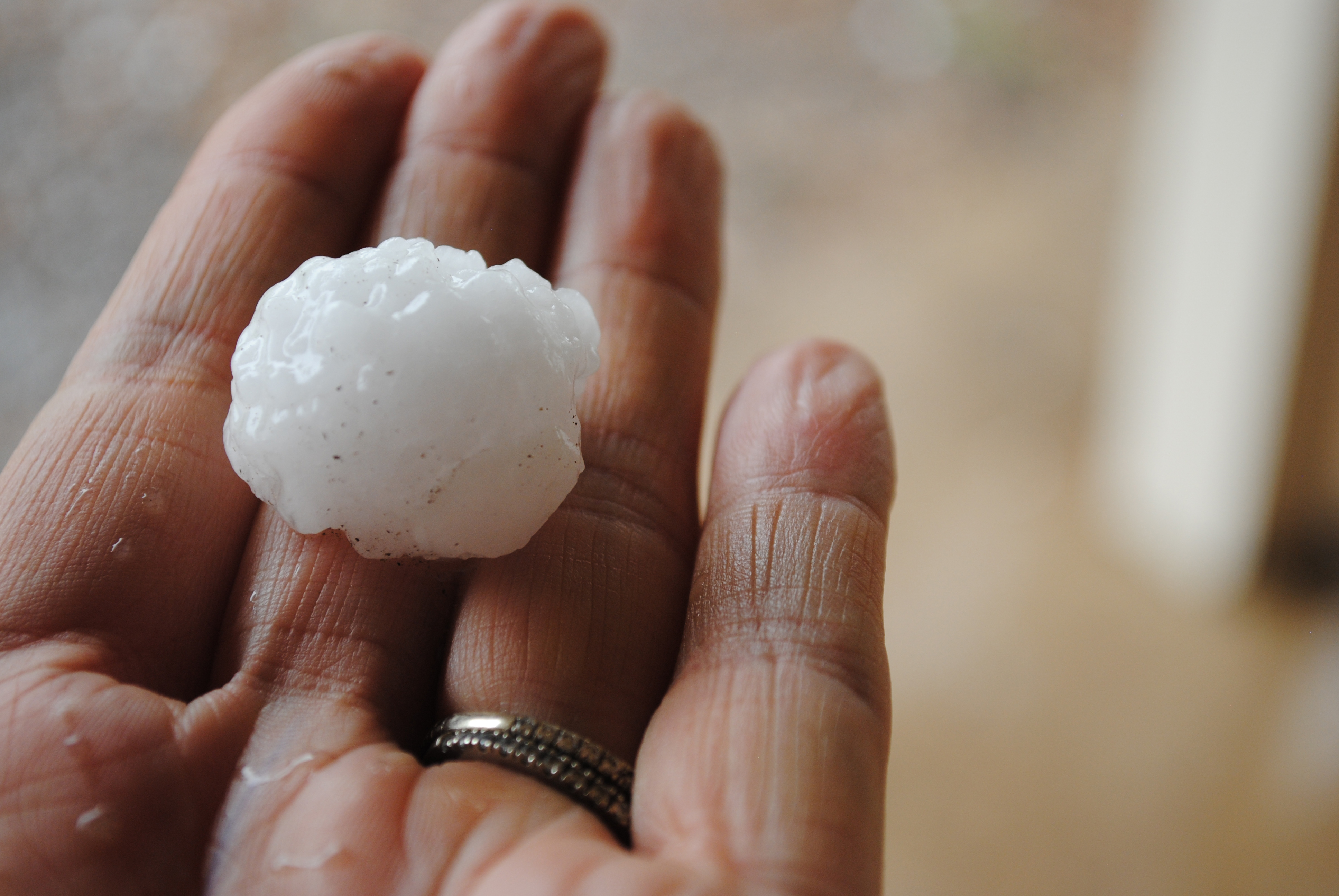 We had hail that size for almost THREE HOURS! Thankfully the cars were in the garage, but some of the neighbors were caught a little more off guard- I could hear an alarm going off down the street. Those of you who follow me on Twitter know that I rushed out to try and save my basil plants (which died anyway) and got bonked on the head a few times by those monsters… And that wasn't even the worst of it- the following night they were even bigger! Here's a shot of one, that had already started to melt. Not sure if you can really tell, but it was almost twice the size: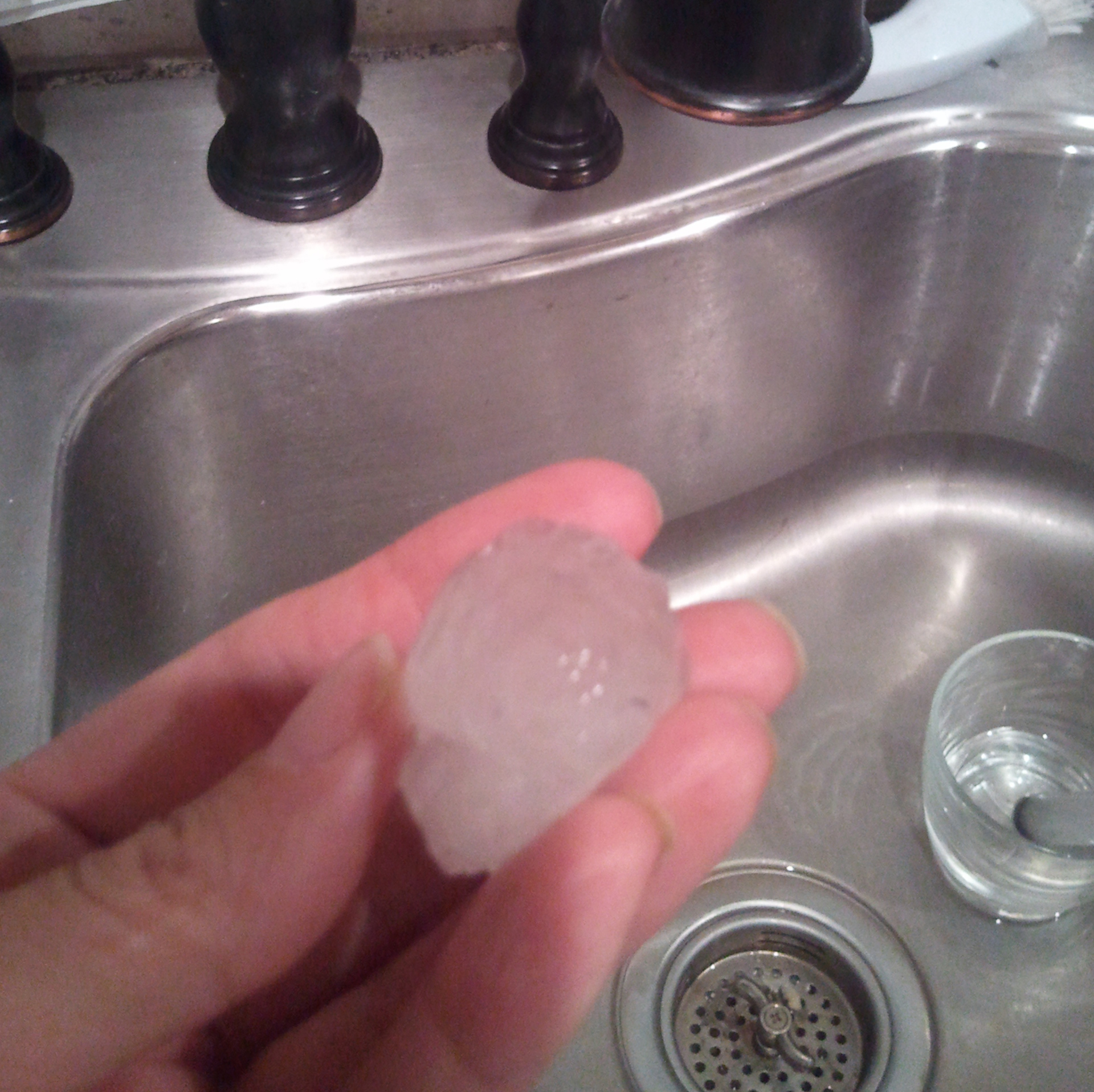 Yikes.
Anyway, back to the Quinoa Salad…
---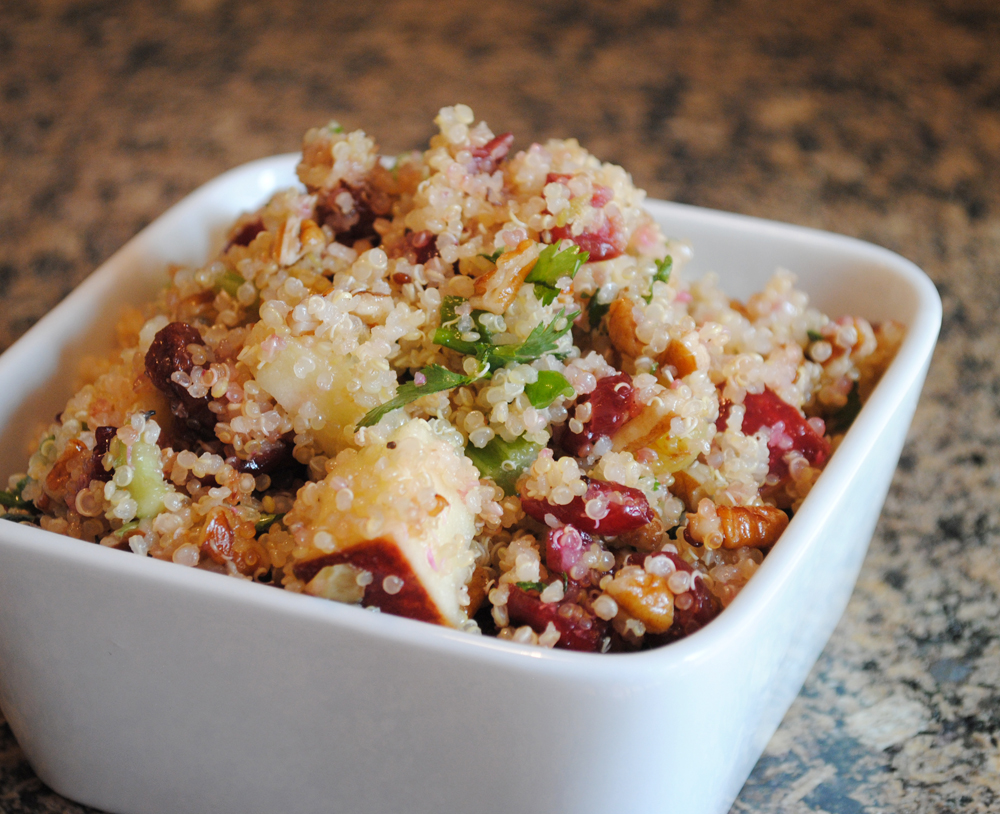 Fruity Quinoa Salad with Pecans
2015-05-19 11:49:19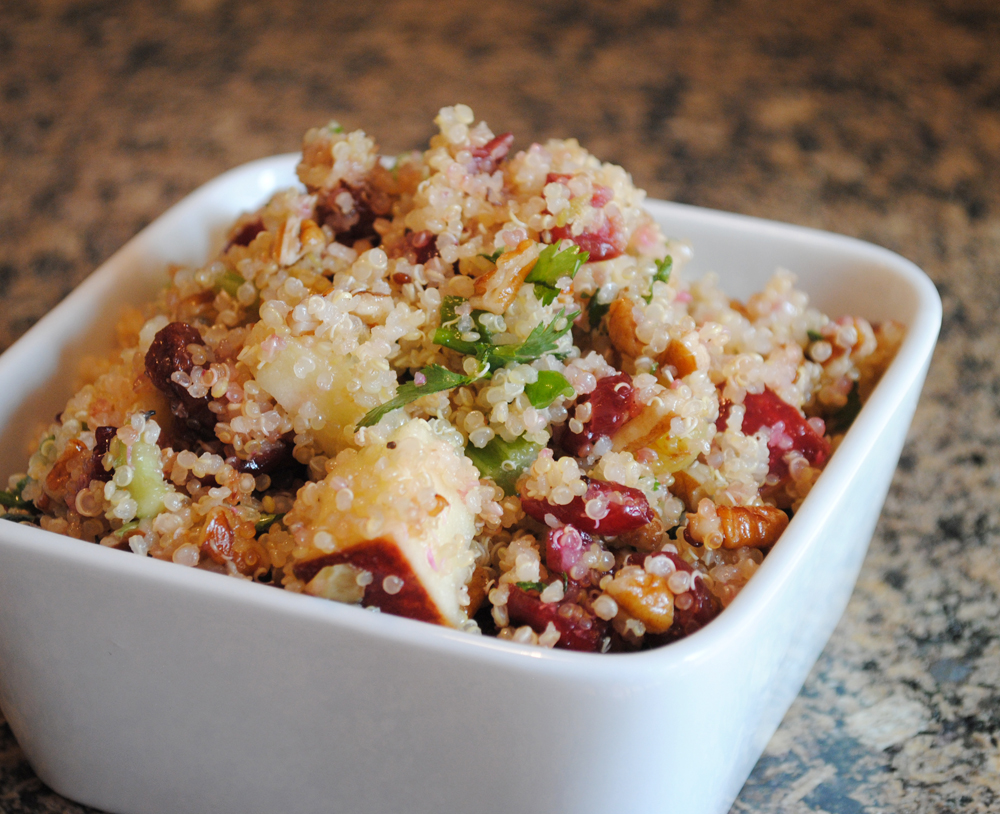 Serves 5
A light dish perfect for any meal!
Ingredients
3/4 cup dried quinoa, prepared per package instructions
2 apples, chopped (but not peeled)
3/4 tablespoon white rice vinegar
2-3 tablespoons lemon juice
1/2 bunch green onions, chopped
1/2 cup celery, sliced in half lengthwise, then chopped
3/4 cup mix of dried cranberries (I used Craisins), white raisins, and regular raisins (many stores carry a mix like this in their bulk section, or near the produce section)
1 teaspoon chili powder (I used a NM blend)
2 tablespoons oil (I used Sesame, but you could sub EVOO)
Sea salt as needed
1/2 cup chopped fresh cilantro
1/2 cup chopped pecans
Instructions
Prepare your quinoa, per package instructions, then set aside to cool.
In a tupperware, mix your chopped apples with the vinegar and lemon juice. Make sure there's enough liquid to coat the apples, but not enough to cover them. Put the lid on, shake lightly (you don't want to bruise the apples), and set in the fridge.
In a large bowl mix the cooled quinoa with the onions, celery, cranberries, chili powder and oil. Taste, then add salt as needed.
You can now mix the apples and the vinegar/juice back in with the salad. The salad will keep for days in the fridge, but don't add the cilantro and pecans until you're about to serve it for the first time.
Notes
I almost always make this dish when I need something for a potluck. It's also great for BBQs too!
Adapted from All Recipes
That Was Vegan? http://www.thatwasvegan.com/