I first served this as an appetizer at a recent BBQ, and it was the perfect combination of sweet and spicy, light yet satisfying. Actually, the day of the BBQ was a real cooker, somewhere around 90 degrees, and this dip really hit the spot.
Speaking of the BBQ, the morning after my sweet Betty started showing signs of Aspiration Pneumonia, again. I wanted to wait until Monday to take her to the regular vet, but I wasn't sure she'd make it that long so we hustled her off to the Emergency Vet. This part was actually pretty funny… Jason was carrying her in, and I went straight to the reception desk and said "I have a 13 year old female basset hound with Megaesophagus and secondary Aspiration Pneumonia. She's having difficulty breathing, loss of appetite, loss of energy and balance, and mood change.  Her only current medication is 20mg of Omeprazole, given daily." I've been through this many times, and I'm through messing around. Also, I hoped that if I sounded authoritative enough they'd skip the (expensive) x-rays and just treat her what what I know she has.
Of course it didn't work, so we paid the $200 for x-rays to confirm everything I already knew (see above). I know you're asking yourself  "What the heck is funny about that?", so here it is. When the vet came into the exam room she asked me which clinic I worked at.  They all thought I was a vet tech! HA!
Anyway, after 45 minutes in an oxygen tent and a prescription for some serious antibiotics, Betty was back home. Here she is a few days later, lounging in her backyard: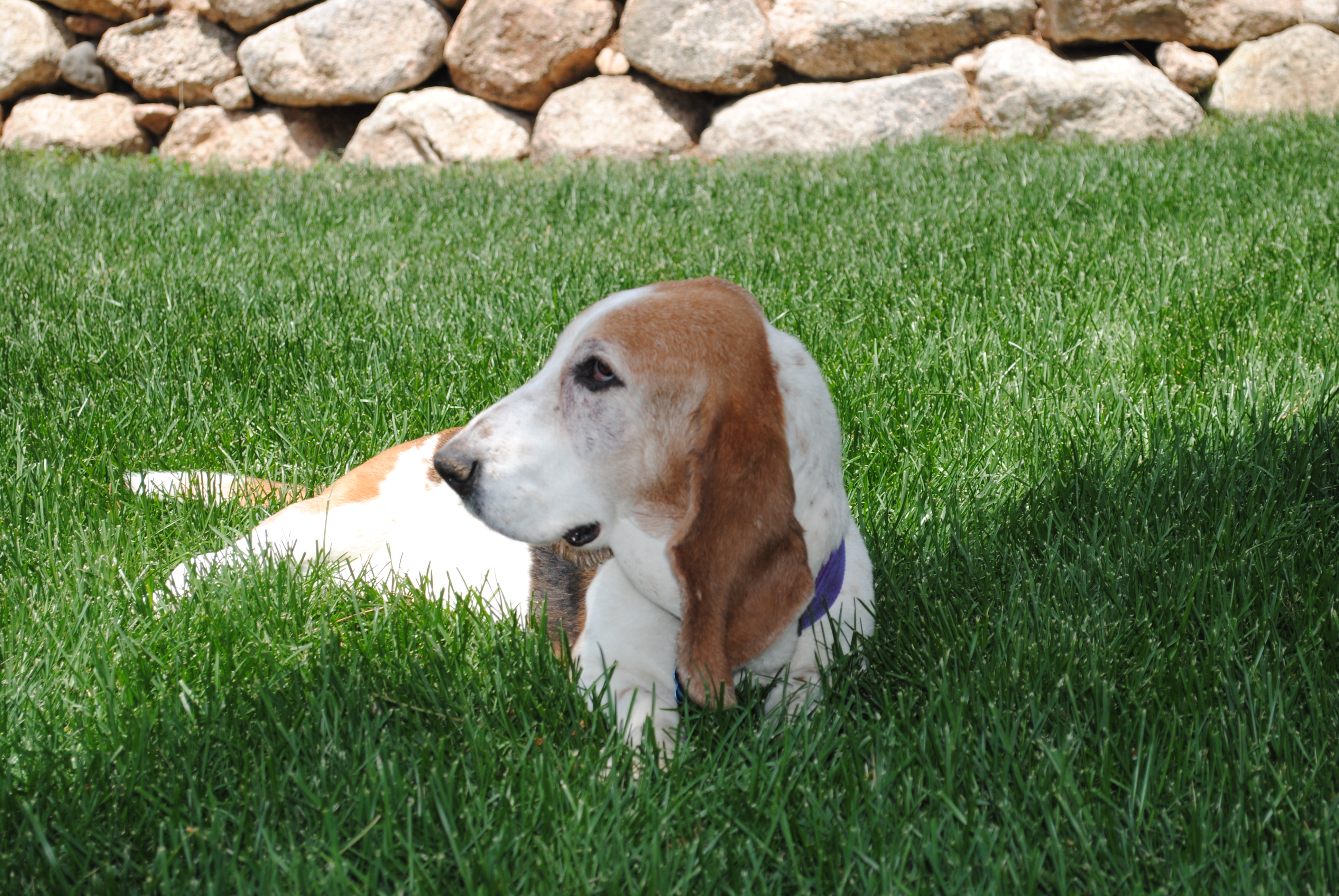 My sweet old girl. I don't know what we're going to do if she continues to Aspirate on such a regular basis, but for now I'm not even going to think about it.  If you have time, please send some positive energy her way- her mama is not ready to deal with any more health drama!
---
Strawberry Jalapeno Salsa (8 servings)
Adapted from this Recipe
Ingredients:
2 large containers of fresh strawberries, approximately 4 lbs
2 jalapenos
1/2 small sweet onion
4 t granulated sugar
2 t sea salt
Dash of crushed red pepper flakes
1 t dried cilantro
Zest and juice of one lime
Directions:
Hull the strawberries, then rinse them really well before roughly dicing them.
De-seed the jalapenos, then dice them as finely as you can, and mix in the with strawberries.
Add the rest of the ingredients, mixing well. Cover and leave in the fridge for about an hour before serving.  This allows the flavors to meld while the strawberries soften up. Deeelish!
Enjoy!