Yes, I did have to specify that it's vegan in the title because it's Cowboy Casserole, a traditionally manly, meaty dish, ha!
Actually, I call BS on that, because what self-respecting cowboy ever cooked with Cream of Mushroom soup!? Anyway, the "original", besides being ridiculously unhealthy, cannot even compete with my spicy version packed with green chiles, BBQ sauce, and my super-duper special BBQ Tofu!
Speaking of "Super-Duper"…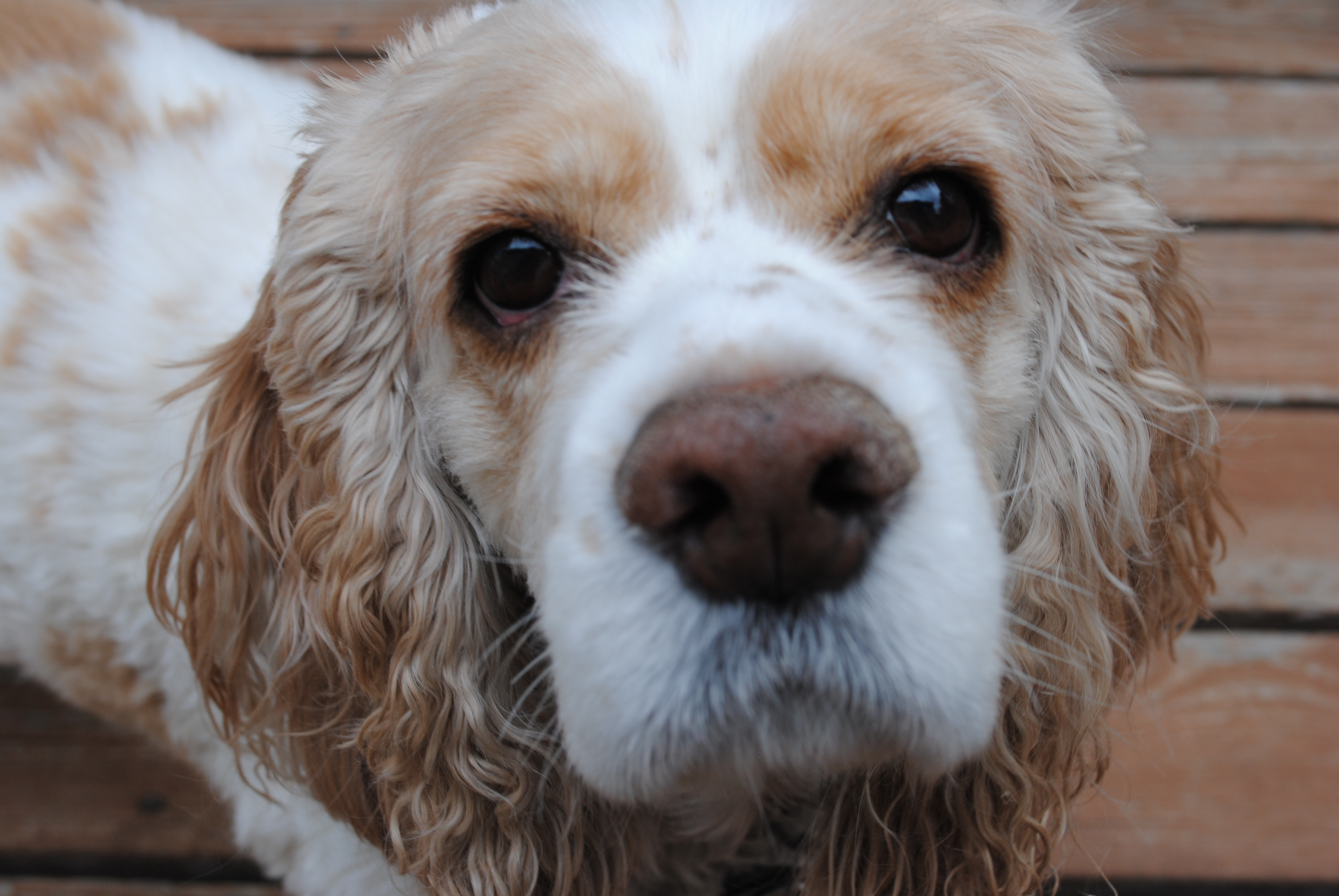 Could she BE any cuter? I look at that picture and just want to kiss my computer screen! If you've read her story, you know Sally came to us very scared and emotionally damaged, but she's made HUGE strides- she's (practically)a completely different dog now. I wish you could all come over and see how brave she is when she ventures down into our unfinished basement and just runs around sniffing everything, or the way she almost barks when she's playing. Then you could sit on our couch and let your heart just fill with love as she goes from watching you across the room, to sitting on the other end of the couch, slowly moving closer and closer until she's right next to you, happy, finally, to let you love on her.
She was so cute this morning. We all woke up around 1:30 am to the sound of coyotes screaming/howling right outside our bedroom window. If you've never heard the sound they make when they're announcing a fresh kill to their pack, consider yourself lucky. It is bone-chilling. Especially when it wakes you from a deep slumber and you have to scramble around counting your dogs and making sure the cat is inside (she was!) and running downstairs to close off the doggy door just in case. Jason took a flashlight outside to check things out, but they were already long gone. I stayed upstairs, watching from the window with mixed emotions. One of the things I love best about my neighborhood is the wildlife, and that includes the coyotes (although I worry about meeting a pack of them while I'm walking the dogs; I picture myself somehow holding all three dogs in my arms as I kick-fight the coyotes off!), and I realize that the hundreds of bunnies who live there often end up as food… I just wish it wouldn't happen that close to my house. At 1:30am. But I digress.
Sally did not like the coyotes. In fact, when we went back to bed she slept curled up right between us (she never does that) and actually burrowed under the blankets. I've never seen her do that in all the years we've had her. I felt bad for her but OMG was it adorable! So I snuggled right up to her and fell back asleep until the alarm went off.
I should start collecting pictures of all our neighborhood wildlife and do a post about them. We have deer, fox, coyote, bobcats, even bear! Neighbors who've lived there longer than us tell stories of hot, droughty summers when we've also had mountain lions who come down out of the foothills in search of food- and it appears we're gearing up for a very hot and droughty summer.  In all my years in Colorado I've yet to encounter a mountain lion in the wild, and while I think it would be pretty awesome to see one up in the mountains (at a safe distance!), in his habitat, I really don't want to see one in my backyard.
Ok, back to the FOOD. If you're not familiar with the concept of Cowboy Casserole it's usually a mix of hamburger, corn, cream of mushroom soup and cheese both above and below layers of tater tots, baked. My (superior) version includes only 1 layer of tots (because, seriously) but they're SWEET POTATO tots, so we're still coming out ahead in the great quality v. quantity debate.  Hamburger has been replaced with cubes of the sweet n' spunky BBQ-Sriracha tofu, layered in with green chile, sweet baked beans, pinto beans, bell peppers, onions, and some Daiya Jack cheese.  I actually meant to keep the corn, but forgot at the last minute. Oh well. Put some in if you like, but I don't think it'll add much.
I made this on Saturday when it was only 74 degrees. The forecast called for nearly triple digits this week, and I knew I wasn't going to feel much like cooking. This has been dinner  twice, plus a lunch or two. You guys know how I love a casserole that'll make my weeknights less stressful!
---
Green Chile BBQ (Vegan) Cowboy Casserole (8 hearty servings)
Ingredients:
1 block firm tofu, pressed and drained
1/2 cup your favorite vegan BBQ sauce, preferably something with a "kick"
1-2 T Sriracha
1/2 red onion, diced
1 green bell pepper, chopped
1 28 oz can vegetarian baked beans
1 15 oz can pinto beans, rinsed and drained
1 4-oz can Hatch diced green chiles, or more to taste (I used about 5 oz total), mild or hot
Approximately 3/4 of a Daiya Jack Wedge, cut into small cubes
Sea salt
1 20-oz bag Alexia brand sweet potato tots, plus another 1/2 cup
Directions:
Slice your pressed and drained tofu in half, then into approximately 1/2 inch slices.
Mix the BBQ sauce and Sriracha, then lay the sliced tofu in a glass, oven-safe, casserole dish and cover with 1/2 the sauce mix. Bake at 375 for about 20 minutes, then flip. Cover with the rest of the sauce, and bake for another 20 minutes. Don't let the tofu burn, but you want it to be well cooked. When it comes out, dice it and set aside.
While the tofu is in the oven, water saute the onion and pepper over medium heat until soft, about 10 minutes.
In a 9×13 casserole dish, mix the onions, peppers, baked beans, pinto beans, green chile and diced tofu until completely blended. Taste and add sea salt as needed.
Top evenly with diced Daiya cheese, then layer with tater tots. You want the entire casserole to be covered.
Bake for 25-30 minutes at 375 degrees, or until the tots are starting to crisp and you can see the cheese getting all melt-y and bubble-y.
Enjoy!