This giveaway is now closed, and the randomly-chosen winner is…  ammauceri! She has two pitbull mixes who are just gonna gobble these up 🙂  Have I ever mentioned what a soft spot I have for bully breeds? I think they're just awesome dogs! So, ammauceri, email me (thatwasvegan (at) gmail (dot) com) with your address and which option you'd like!
For the rest of you- stay tuned, I'll be back next with with ANOTHER GIVEAWAY! This one is meant for human consumption, is really sweet, and no bees were harmed in the making of it… and those are all the hints I'm giving you!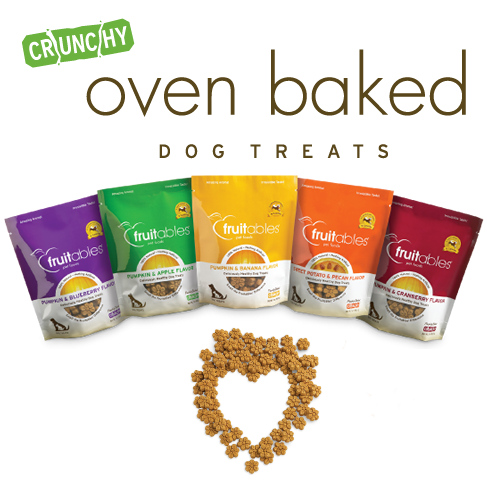 Please don't let it ever be said that I play favorites with my human readers- clearly I value my doggie readers as well because this giveaway is ALL FOR THEM! Well, they may need your help entering, but you'll be required to hand (paw?) the prize right over to them if you win!
I first discovered Fruitables about 6 months ago at my local Petco. I was on my usual pilgrimage for vegan kibble and I like to check out the selection of treats. Before Betty got sick I always baked their treats at home, but now that she can't partake it doesn't seem fair to fill the house with the wonderful scent of baking peanut butter. It's not always easy to find vegan treats in the mainstream stores like petco and petsmart, so I usually end up annoyed- picking up package after package of treats that look healthy/interesting/vegan only to see "chicken stock" or something similar in the ingredients list.
Fruitables caught my eye with their amazing flavors, including Pumpkin Banana, Sweet Potato Pecan and Pumpkin Blueberry! I grabbed a bag and turned it over- all the ingredients  appeared vegan friendly with the possible exception of  "mixed tocopherols" which can be derived from either and plant or animal sources, but I tweeted the company and was promptly informed theirs were all plant-sourced. Perfect! I'm a huge fan of their ingredients- simple, vegan and healthy (example: Pumpkin Apple):
Pumpkin
Organic Oatmeal
Pearled Barley
Potatoes
Oat Fiber
Apples
Canola Oil
Brown Sugar
Cinnamon
Natural Flavor
Vanilla
Mixed Tocopherols
They're also free of wheat, corn, soy and artificial ingredients, colors and preservatives! And if any of you have a portly dog (like I do) you'll appreciate the fact that each treat has under 9 calores.
Pumpkin Cranberry was the first flavor I brought home. As soon as you open the bag you're amazed by the smell- you'll swear you're holding fresh baked human cookies or muffins!
Dogs love these crunchy little treats and you'll enjoy giving them to your furry little best friends because they're healthy and vegan!
The Giveaway
One lucky reader, to be chosen from the comments below, is going to win a fabulous selection of Fruitables dog treats! The winner will get their choice of either:
One bag each of all five flavors (Blueberry Pumpkin, Pumpkin Apple, Pumpkin Banana, Sweet Potato Pecan and Pumpkin Cranberry) (each bag contains ~90 treats) OR
Two full-sized bags of your choice plus a selection of smaller pouches that you can share with friends, family or random strangers at the dog park 🙂
The contest is open until Midnight (Mountain time), Monday 8/27. The winner will be chosen randomly and announced the following day.
To Enter: All you gotta do is leave a comment below telling us about a special dog in your life- past or present. We all have a special doggy soul mate, and I want to hear about yours!
Want more than one chance to win? Go ahead and do any or all of the following, and leave a separate comment for each, letting me know you did it. (Multiples grouped into one comment will only count once!)
Follow TWV? on Twitter
Follow Fruitables on Twitter
Tweet about the giveaway (make sure you tag me!)
Like TWV? on FB
Like Fruitables on FB
Share the giveaway on your FB status
Good luck!!
*Fruitables provided me with free product to review, but the opinions are 100% mine!