Think back to your early 20's. Fresh out of college, in your first apartment (probably with 2-3 roommates), and your focus was more on having fun with your friends than grocery shopping. You probably ate a lot of ramen noodles (with frozen veggies mixed in if you were "health conscious", ha ha) and, if you were like me, a lot of spaghetti with melted butter and salt. These Lemon-Butter Fettuccine with Parsley and Pine Nuts are my grown up answer to that admittedly delicious dish.
No way could I have afforded pine nuts back then! It was bad enough that I was always borrowing money from my mom to make my bar tab rent, I doubt she would've been amused if I had hit her up to buy seeds too.
Whatever your age, these noodles are delicious. Pair them with a green salad and a glass of crisp white wine and I'd call that just about the perfect meal. It also reheats nicely for workday lunches (hold the wine. Or not.)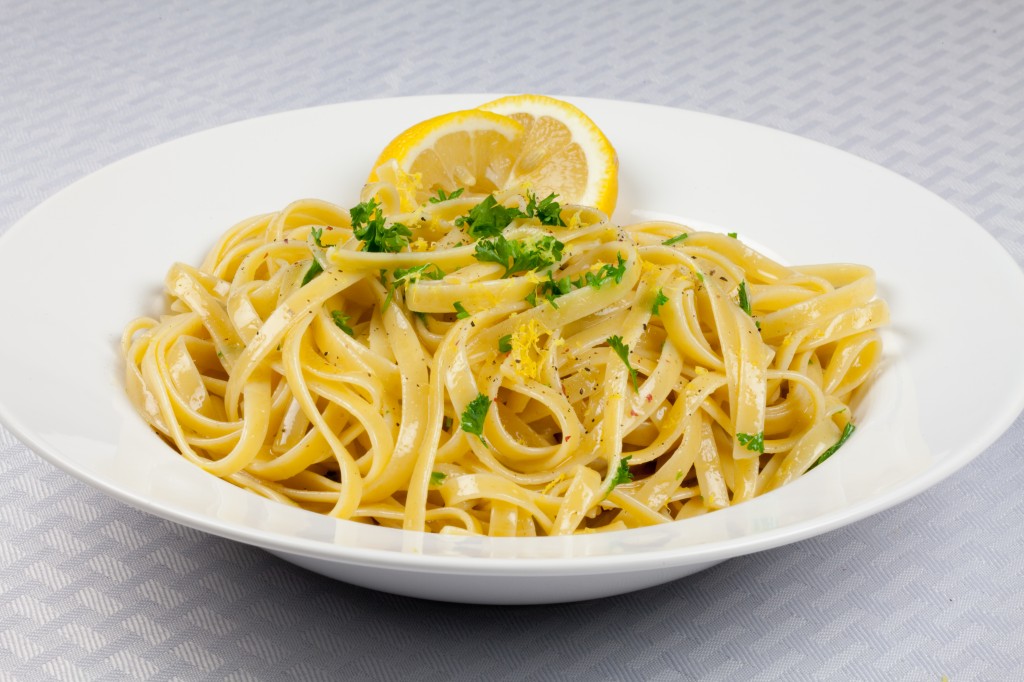 PS: Just kidding about that bar tab joke, mom!
PPS: Stop squinting at my pictures, looking for the pine nuts. I forgot to put them in there. I don't want to talk about it.
---
Lemon-Butter Fettuccine with Parsley and Pine Nuts (6 servings)
Ingredients:
1 box fettuccine
4-5 Tablespoons Earth Balance (or vegan butter of choice)
1 large lemon (juice and zest!)
Generous 1/4 cup parsley, minced
S&P
4-5 tablespoons pine nuts
Directions:
Boil the pasta per package instructions, then drain. While they're working, chop your parsley and get that lemon ready! A little trick is to roll it back and forth on your cutting board under your palm, it loosens up the juices.
When the pasta is done, melt the butter in a large pan over medium heat. Add the lemon juice and the pasta, and mix well. Let the pasta sit in there for a minute or two and make sure everything is all warm and mixed.
Mix in your parsley, S&P, and top with the lemon zest. I recommend waiting to add the pine nuts until you've already plated the fettuccine to make sure they're evenly distributed- a little less than a tablespoon per bowl.
Enjoy!