I know a lot of vegans try to avoid processed foods – and I do too, mostly – but sometimes you get a craving and I find it's easier to just give into it. I mean, I'm going to give in eventually, so why waste all that time fighting it?
I'm kidding of course (mostly), but when I start to crave faux meat products, I'm more than happy to trot on down to the store and grab a box of Gardein. Sometimes I'll make a Spicy Chik'n Sandwich (those are truly a favorite of mine!), and sometimes I'm craving some 'shrooms… And that's where these come into play.
I even included a lower calorie version, served on lettuce instead of a bun!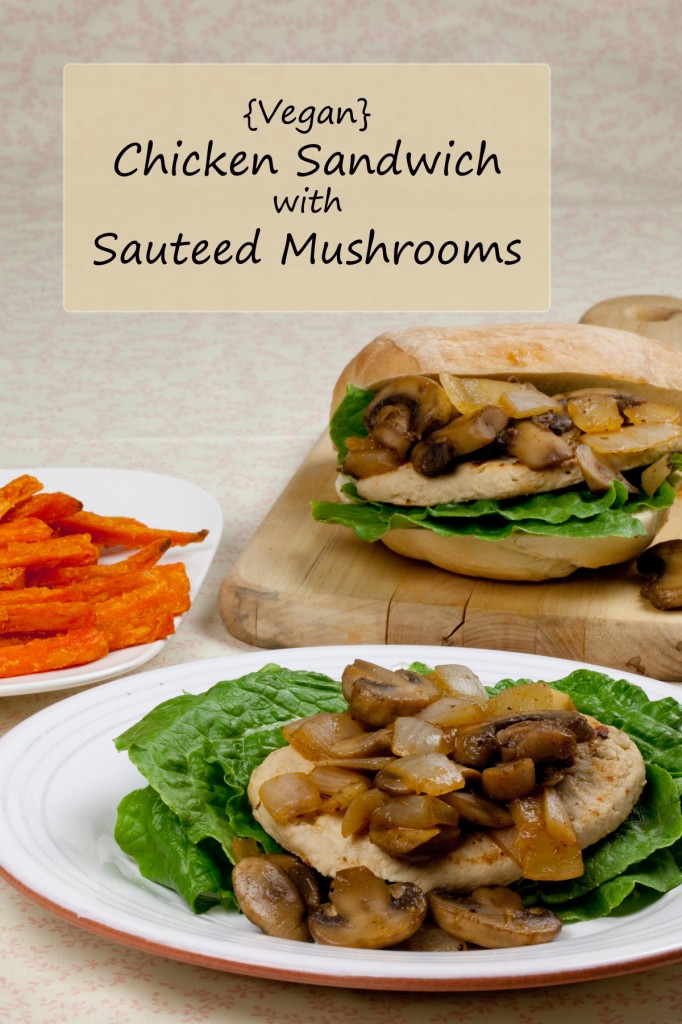 I wrapped mine up in the lettuce but if you're the dainty neat type you could also go with a knife and fork.
Did you see all those mushrooms and onions? SO GOOD! I sauteed them in veggie broth, and the Gardein filets were cooked with just the tiniest bit of nonstick cooking spray. I'm looking out for my waistline… and yours too 😉
---
Vegan Chicken Sandwich with Sauteed Mushrooms (Makes 2 sandwiches)
Note: if you want to cut out some calories and/or carbs, switch out the buns below with extra lettuce!
Ingredients:
1/4 to 1/3 cup vegetable broth
1 small sweet onion, diced
1.5 cups sliced mushrooms (I used white button, but your favorite 'shroom will be good too!)
1/2 teaspoon powdered garlic
Salt and pepper
Cooking spray
2 Gardein chick'n filets
2 buns, toasted or otherwise warmed
2 T vegenaise
Lettuce for garnish
Directions:
Heat the veggie broth over medium heat. When it starts to boil add diced onions and sliced mushrooms. Cover and cook, stirring occasionally, for 4-5 minutes. Add garlic and S&P, then cook for another 2-3 minutes, adding more broth if needed.
Heat another pan over medium and spray with non-stick spray, then add the filets. Cook for 3-4 minutes on each side, until they start to crisp/brown a little bit.
Smear the buns with veganaise and add the lettuce and filets, then top with the mushroom mixture.
Enjoy!