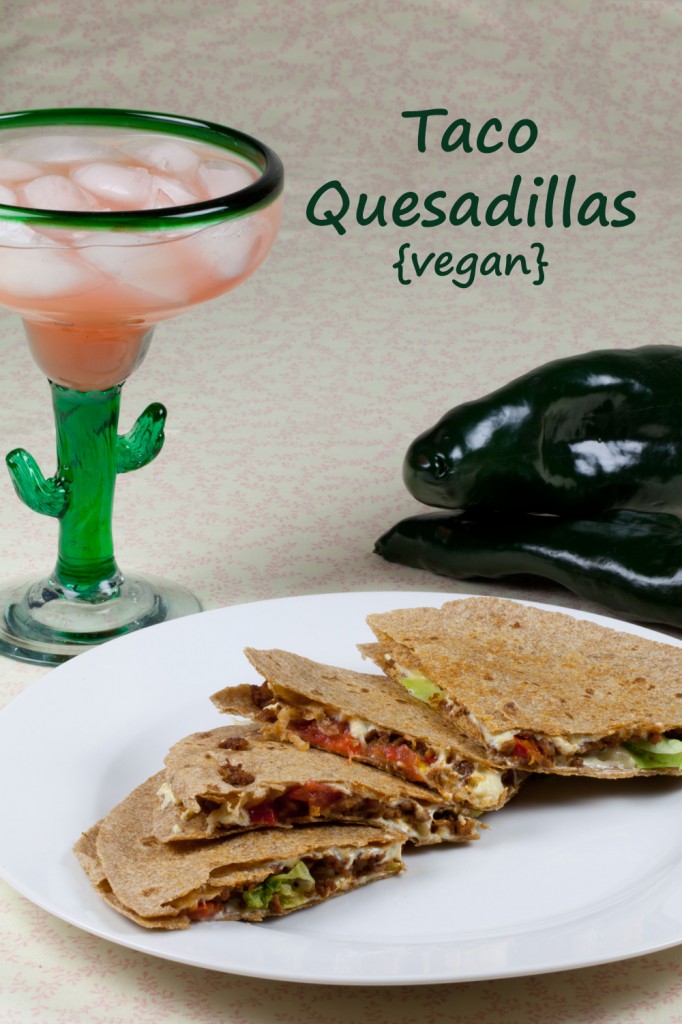 I'm not entirely sure if "Taco Quesadilla" is really a thing, but it was delicious and that's really all that matters, right? They're full of everything you'd put into a taco: crispy lettuce, diced tomatoes, salsa and your favorite vegan mock meat. The bonus is that you get to use A LOT MORE CHEESE than you would in a taco. I used a whole wheat tortilla though, so the calories don't count.
On an entirely unrelated note, I seem to be reliving my childhood through my cooking. By that I mean I keep making dishes that seem like something your child might respond with when asked what she wants for dinner. Beanie Weenies! Breakfast Pizza! Taco Quesadillas!
I'm not saying I see a problem with this, but I do realize that I'll need to come up with something a bit more elegant before my next dinner party, ha ha.
(I might still stick with a Mexican food theme though, so that I can keep using these glasses!)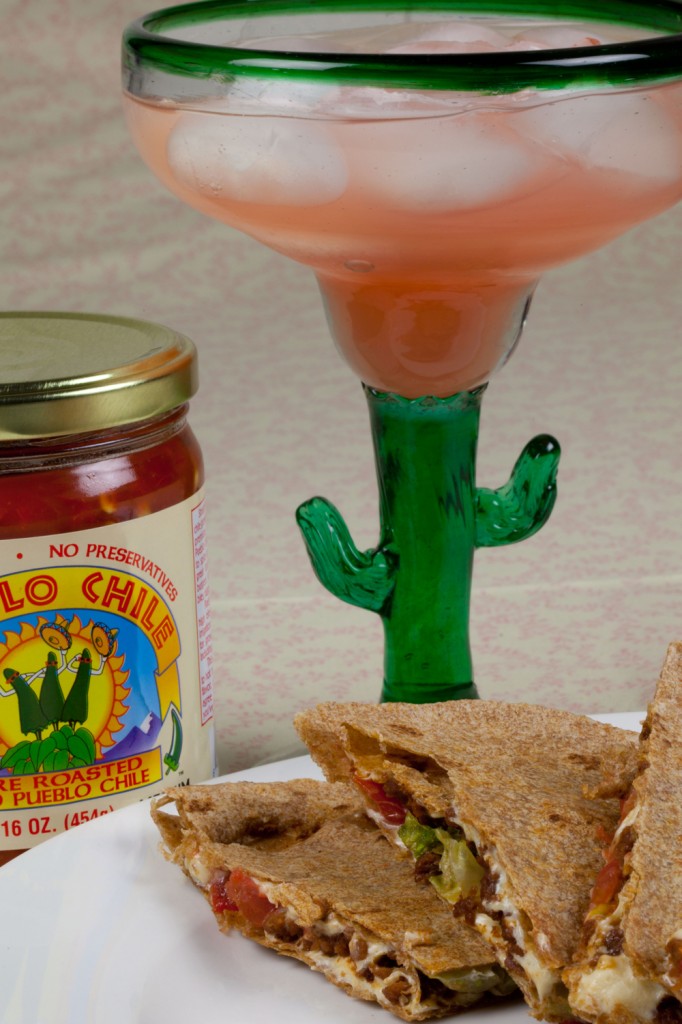 True story: I bought those in Tijuana in 1999(!!) on a little jaunt with my roomies-at-the-time, Randy and Theron. In the past 14 years they've survived many moves:
From San Diego to LA apt #1
From LA apt #1 to LA apt #2
From LA back to San Diego apt #1
From San Diego apt #1 to San Diego apt #2
From San Diego apt #2 to San Diego condo
From San Diego to Colorado Springs house #1
From Colorado Springs house #1 to house #2
From Colorado Springs house #2 to Denver storage unit
From storage unit to current Denver abode
(coming soon… from current abode to TBD abode!)
That's a lot crazier than it looks. Well, maybe it's just as crazy as it looks. I moved to SD from NH to try something new, then to LA because it seemed like more fun. Then back to SD for grad school. The building manager at my first apartment was a stalker (honestly! she stalked me! she went into my apartment when I wasn't home and then would make creepy comments to me about things inside that she couldn't have seen otherwise!) so I moved in with my  friend Tawnia, then into a condo my mom had bought for my little brother to live in (I was a squatter, haha!). I guess the rest is pretty unremarkable (other than the fact that a college educated woman who always votes 'D' chose to move to Colorado Springs!?), and no, I don't know about my next move yet. I just know it'll be this summer.
My point was (I think), isn't it amazing those glasses have survived all those moves? One is chipped on the bottom, but that's it. Impressive packing skills, amirite?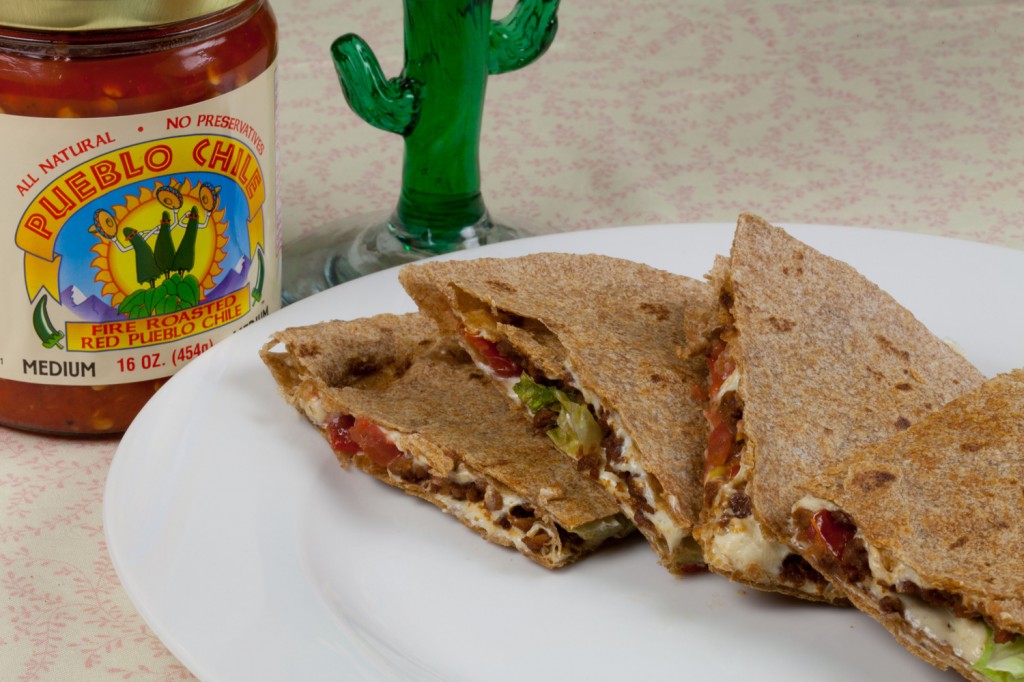 And that salsa? Deelish! The next person I get paired up with in the vegan food swap is getting some Pueblo Chile Salsa I think!
---
Taco Quesadillas (makes 2 quesadillas)
I used Lightlife smart ground "mexican" in these, but you can use any sort of crumbled vegan meat alternative, or even just slightly mashed beans!
Ingredients:
4 whole wheat tortillas
1/2 cup of your favorite vegan crumbled meat substitute
1 Tablespoon taco seasoning
Vegan mozzarella shreds (I used Daiya in these)
1/2 cup chopped lettuce
1 tomato, diced
1/2 onion, diced
Salsa
Directions:
Heat your crumbles or beans in a pan with the taco seasoning and a little bit of water, until it's heated and seasoned through. Set aside.
Place two tortillas in the pan (over medium) and top with half the cheese, lettuce, tomatoes, onions, crumbles and a bit of salsa, then the rest of the cheese.
Cover the pan and reduce heat to low and let sit until the cheese starts to melt. Top with the remaining tortillas and flip. Leave in for another 2-3 minutes or until your tortillas start to crisp and the cheese is melted. Serve immediately with sour cream or guacamole!
Enjoy!