First, thank you so much for all the best wishes and wonderfully heartfelt comments on my last two posts about my dad passing away. Your kind words truly did help.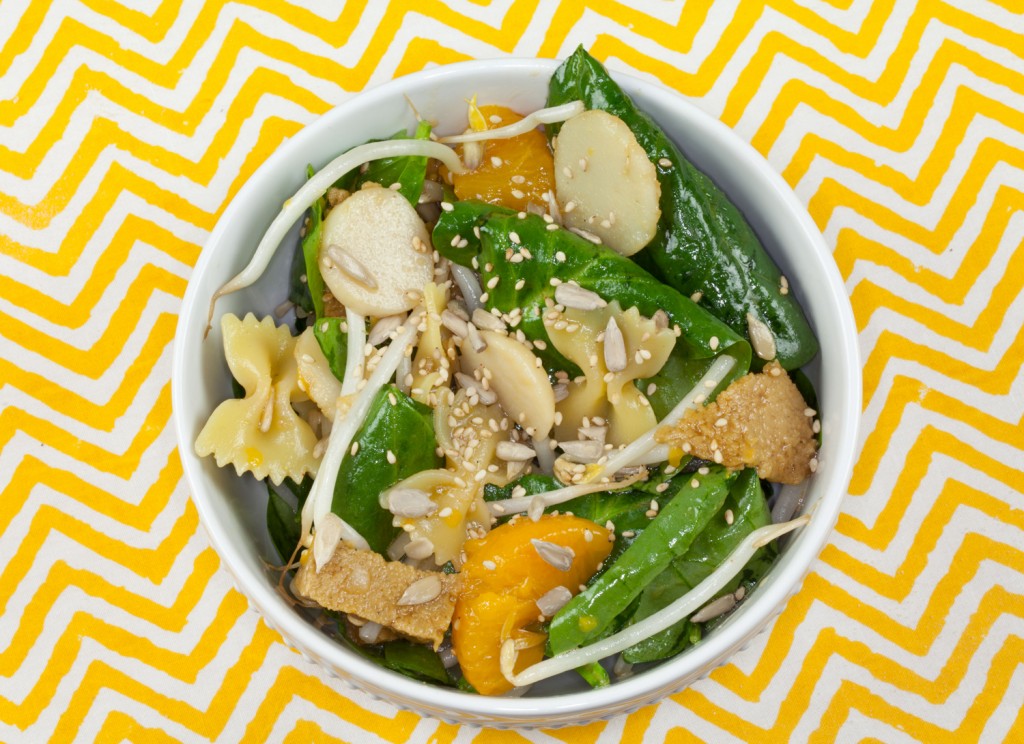 But, since this is a food blog and not a bereavement blog, (and since I know my dad wouldn't want me to wallow), I'm going to focus on moving ahead and getting back into the swing of things! And I'm starting with some deeeelish Asian Spinach Salad that I think is just perfect for the warm spring and summer weather that is (hopefull?) finally upon us. Of course, we had a snowstorm on Wednesday and a blizzard just last week, but it's May now so I'm going to assume the snow is behind us.
I first made this salad about a month ago, on a warm day. I had gone for a short hike after work and didn't even make it into the kitchen until after 7, and really wanted something quick and delicious, but still healthy. Of course, there's oil in this salad so it's not the healthiest, but there's also spinach so let's just go ahead and pretend that counteracts the oil, k? Besides the spinach there are so many flavors and textures: the crunchy water chestnuts (a favorite of mine!), the sweet n' tangy oranges, and all the healthy seeds and sprouts.
This was a veganization from my secret Pinterest board (no one can follow that one, but you should totally be following my other boards!), and other than subbing in my chicken-style seitan I didn't make too many other changes, I just reduced the oil a bit and added mandarin oranges and green onions. This salad would be perfect for a picnic or just a simple summer dinner enjoyed on your patio!
ALSO… Make sure you check back Monday for another giveaway! I had the opportunity to watch the most touching documentary, and I have TWO copies to share with you guys!
---
Asian Spinach Salad (makes two servings as the main dish)
If you want a lighter meal, you can totally skip the seitan. Adapted from non-vegan/vegetarian recipe.
Ingredients:
For the salad
1/2 bag of baby spinach
4 ounces of bowtie pasta, cooked, rinsed and cooled
2 Tablespoons sesame seeds
1/4 cup sunflower seeds
1/2+ can water chestnuts, sliced
1 loaf chicken-style seitan, chopped
1/2 cup bean sprouts
1/4 cup chopped green onions
1 small can mandarin oranges, drained
For the dressing
1/4 cup oil (a mix of 4 parts canola, 1 part sesame… doesn't have to be precise)
1/4 cup white sugar
1/2 teaspoon sea salt
3 Tablespoons low sodium soy sauce
1.5 Table spoons rice vinegar
1 teaspoon garlic powder
a couple cracks of fresh ground black pepper
Directions:
Mix the dressing ingredients together and place in fridge.
Toss the salad ingredients together, then add dressing right before you're ready to serve. If you need more dressing, just drizzle some more soy sauce and/or sesame oil over the top. Mix well and serve immediately.
Enjoy!