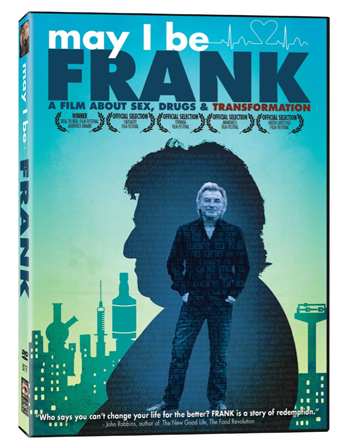 This contest is now closed and the TWO lucky readers are… Debby D. who went vegan as part of a complete life overhaul (I'm so impressed!) and Michelle D. who says her vegan life has saved her!
The first email I received from the producers of May I Be Frank really struck a chord with me. It referenced a man with hepatitis C and a weight problem, and how a change in his diet saved his life. My father had hepatitis C and a weight problem and I knew I wanted to share this documentary with him. Unfortunately I didn't have time, but I feel like it can hopefully still help other people, and to that end I'm excited to announce that we have TWO copies of the documentary to give away!
Here's a little more background on the film:
From the website:
Ex-addict Frank Ferrante is a 54-year-old Sicilian-American from Brooklyn with hepatitis C and some bad habits. He also wants to fall in love one more time before he dies. MAY I BE FRANK documents Frank's transformation as he stumbles into the aptly-named vegan Cafe Gratitude, and, over 42 days, begins a life-changing journey during which he is coached physically, emotionally and spiritually by three twenty-something staff members on the path to enlightenment. Challenged by years of addiction, fatigue and family dysfunction, Frank's quest for a healthier lifestyle is both tense and touching. Through Frank's metamorphosis, we witness the powerful effects of change upon one person's life, and the potential we all have to find the most important love of all – love of ourselves.
Although Frank does adopt a vegan diet as part of his new lifestyle, food really isn't the focus of this film. It's much more about his personal and emotional growth. And, honestly, his BMs. Frank is hilariously honest and open about everything he goes through (especially his BMs, ha ha), and the parts where he interacts with his ex-wife and daughter were especially moving for me.
Read more at MayIBeFrank.com
The Giveaway:
Two lucky readers will each receive a copy of May I Be Frank on DVD.

The contest is open until Midnight (Mountain time), Sunday 5/12. The winner will be chosen randomly and announced the following day. To Enter: All you gotta do is leave a comment below telling us what changes eating vegan or vegetarian has made in *your* life.
Contest is limited to US only.
Good luck!!
*Cinema Libre Studio provided me with free product to review, but the opinions are 100% mine!