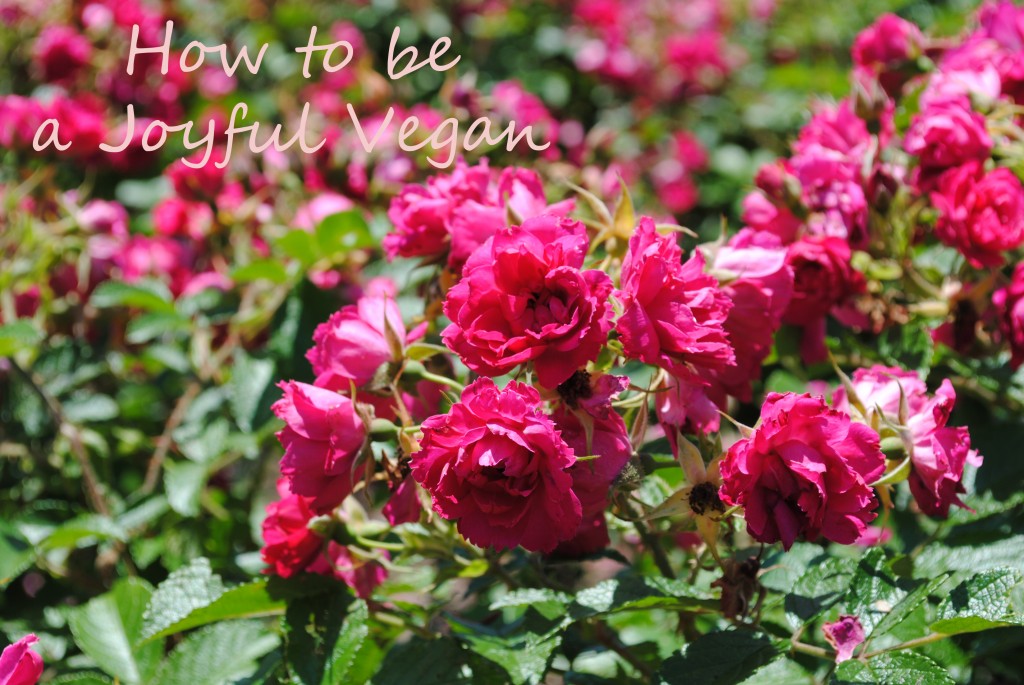 I stole the term "joyful vegan" from JL, but other than that tiny little detail I have really come to own the term. To make it mine. To live and breath it.
I had started to let things bother me. From angry omnivores (and rude party guests) to the mundane stresses of daily life, I was letting things get under my skin. Then I had a total meltdown on a new neighbor who didn't deserve it. A woman who, as I later found out, has much bigger problems than I, and who – of the two of us – was the only one with the right to a meltdown! I'll spare you the details because I'm not proud of them, but the silver lining is that it gave me a wake up call. A few days later my father passed away, which also taught me a few lessons.
As I thought about it, I knew I didn't want to be the person who got angry when someone took her parking spot, when someone cut her off in traffic, when things just plain didn't go her way. I want to be the person who takes a deep breath and rises above it all with a smile. I don't want to judge those who make different choices than I do, I want to be kind to everyone and have more than enough love to go around. I don't want to snap at the people I love just because they can't read my mind. I don't want to be angry at myself for falling short of expectations and goals that don't really matter. And I don't want to be weighed down by disappointment, regret or frustration.
I want to be a joyful vegan!
I've learned a few things in my 30-something years on this earth, and one of those is that the best way to make changes in your life is to, for lack of better phrasing, pretend you've already made them. Sort of like… 'fake it till you make it', I guess. Want to eat healthier? Pretend (to yourself) that you're someone who eats healthier! Then, when faced with the old cookie vs. apple dilemma, you know which choice to make because you're already thinking like the healthy eater. Want to start going to the gym more often? You gotta get yourself into the mindset that you are that person who goes to the gym, even when she's sleepy/lazy/doesn't feel like it. See?
In my case, I've decided that I am a joyful vegan. And when I start to see behavior or emotions that run counter to that fact, I simply whisper to myself "Joyful Vegan", and I'm reminded of who I am and who I want to be.
A joyful vegan.