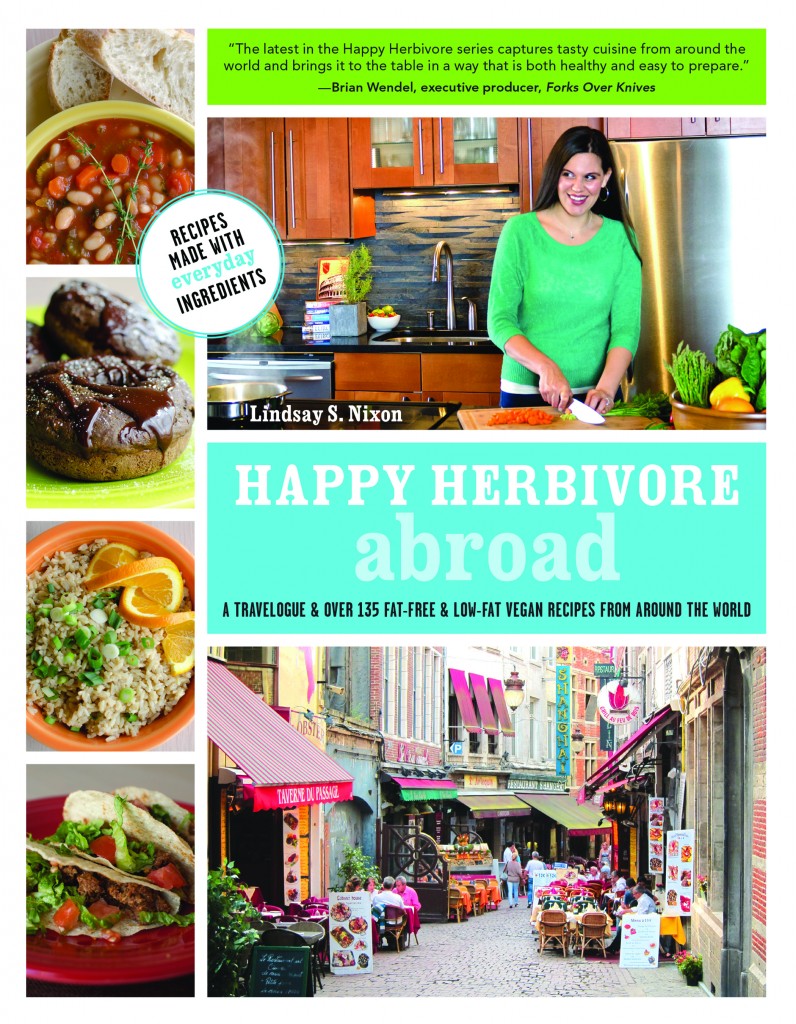 This contest is now closed and the lucky winner is… Shannon, who is already vegan and has started cutting out processed foods and making her own granola… way to go!  Nancy! She recently switched from vegetarian to vegan (yay!) and saw a huge difference. Way to go Nancy!  FYI- the original winner never responded to my email, so I ran the random number generator a second time.

I'm a huge fan of Happy Herbivore and all of Lindsay's cookbooks, but I have to say this is my favorite by far. All of her recipes are simple, easy, delicious and HEALTHY! I'm not always a low-fat or oil-free vegan but I definitely try to eat like that sometimes, and her cookbooks are my go-to when I want a yummy-yet-healthy meal.
One of the cool things about this cookbook is how it's separated into different regions of the world so you can always find something that appeals to you, no matter what kind of mood you're in. A great example is her Gazpacho, recipe below:
Here are a couple of my favorites:
These little balls held together really well and were very flavorful. They'd also be wonderful in a "meatball" sub or on pizza! (Note to self: Make a "meatball" pizza…)
I'm quite in love with this lentil taco meat.  It's super quick and easy to make in the food processor and has so many potential uses. It's the perfect (healthier) alternative to those "hamburger crumble" type mock meats.
I've tried a few other recipes that I didn't photograph, including Thai noodle soup and Pineapple rice and loved them all. Bottom line, this recipe is full of recipes that will appeal to all types of eaters, both vegan and omnivore (and everyone in between!).
Here's the recipe I promised, scroll down for the giveaway deets!
(reprinted with permission from Happy Herbivore Abroad)
---
Gazpacho
Gazpacho originates from Andalusia, my favorite part of Spain, and it's traditionally vegan. The first time I ever had gazpacho was actually in Andalusia, back in 2007. Scott and I had just arrived in Seville (pronounced like "sa-vee-ya") and dipped into the first cafe we saw hoping to find a quick bite to eat. It was fairly late in the afternoon, just after siesta, and the restaurant wasn't yet serving its dinner menu (Spaniards eat dinner rather late at night by American standards — after 9:00 p.m.), but the waiter offered to bring us two bowls of gazpacho leftover from lunch.
The idea of a cold soup initially sounded strange to me, but I was so hungry and melting under the fierce Andalusian sun that I was willing to try anything that was cold and nourishing. After a few spoonfuls, I felt shameful for being so pessimistic—gazpacho is deliciously light and refreshing! Now I look forward to having a bowl every time I visit Spain, and it's one of my favorite recipes to make in the summer when tomatoes are in season and overflowing in my garden.
Serves 2
1 slice stale or toasted bread
3 plum tomatoes
6" cucumber
1-2 garlic cloves
1 red bell pepper, seeded
2-3 green onions
hot sauce (optional)
red wine vinegar (optional)
water
Chef's Note: For a cool and refreshing soup, store your veggies in the fridge before use. You can also add an ice cube to the mix, if necessary.
Chef's Note: The heel of the bread is best in this recipe. Finally a use for the heel!
Combine all ingredients in a blender and pulverize into a soup, adding ice cold water as necessary to achieve the right smoothness and soup consistency. If you do not have a strong blender, you may need to chop your vegetables up beforehand. Taste, adding hot sauce or red wine vinegar to taste, if desired. In Spain, gazpacho is topped with chunks of raw vegetables like Spanish onions, green bell peppers, and celery.
Per serving: Calories 118, Total Fat 1.2g, Carbohydrates 24.1g, Dietary Fiber 5.3g, Sugars 12.5g, Protein 5.7g
---
The Giveaway:
One lucky reader will receive a copy of Happy Herbivore Abroad!

The contest is open until Midnight (Mountain time), Monday 6/3. The winner will be chosen randomly and announced the following day. To Enter: All you gotta do is leave a comment below telling us what changes you've made to your diet to make it healthier. Did you give up oil? Cut back on nut butters? We want to hear!

Contest is limited to US and Canada only. Good luck!!
*The publishers provided me with free product to review, but the opinions are 100% mine!