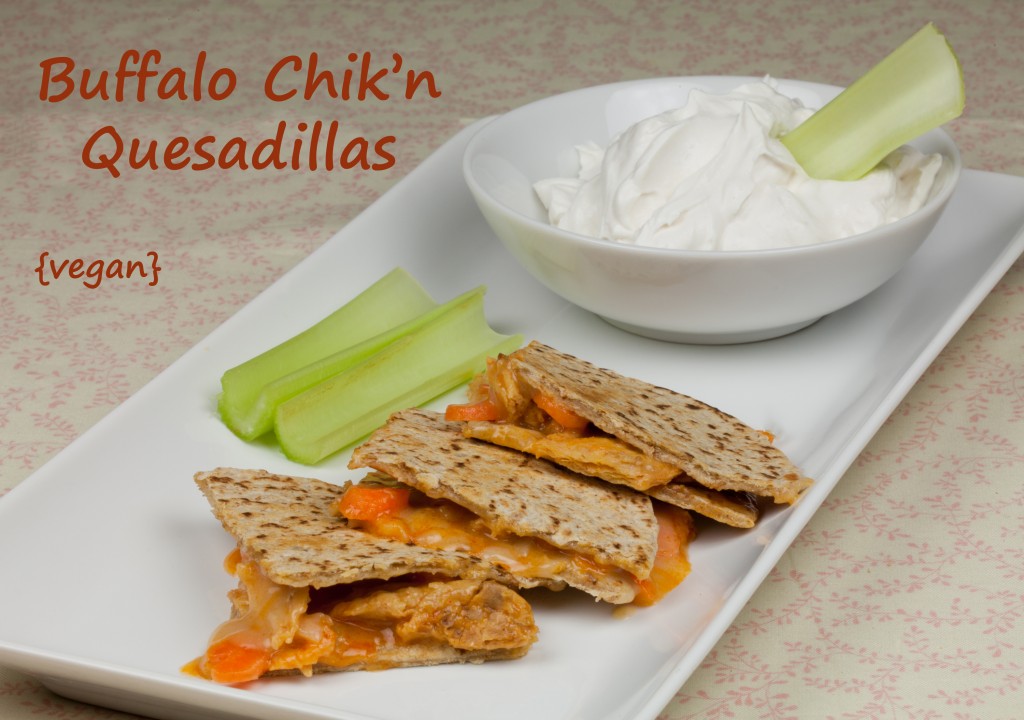 These Vegan Buffalo Chicken Quesadillas are my idea of the perfect snack for watching a movie or sharing a cold beer with a friend… and they're so easy! You already know that that buffalo sauce goes wonderfully with all sorts of vegan proteins (tofu, seitan, soy curls). I decided to stick with soy curls this time, just cuz I love them so much.
These are delicious, spicy and really easy to make!
---
Vegan Buffalo Chicken Quesadillas (makes 2 quesadillas)
Ingredients:
1/2 cup dry soy curls
1 small carrot, sliced into thin circles (you could also add celery if you want)
1/3 cup Franks buffalo wing sauce
4 large tortillas
1 cup shredded vegan cheese
vegan ranch, sour cream or whatever you like for dipping!
Directions:
Place your soy curls into warm water for 10 minutes to hydrate.
Water saute your carrots just for a couple minutes, then set aside.
Squeeze all the water out of the soy curls, then add the wing sauce. Stir in the carrots and make sure everything is coated.
Lay 2 tortillas out over medium heat and layer in the cheese and soy curl mixture. Cook until the tortillas brown and the cheese is melted, flipping once.
Enjoy!