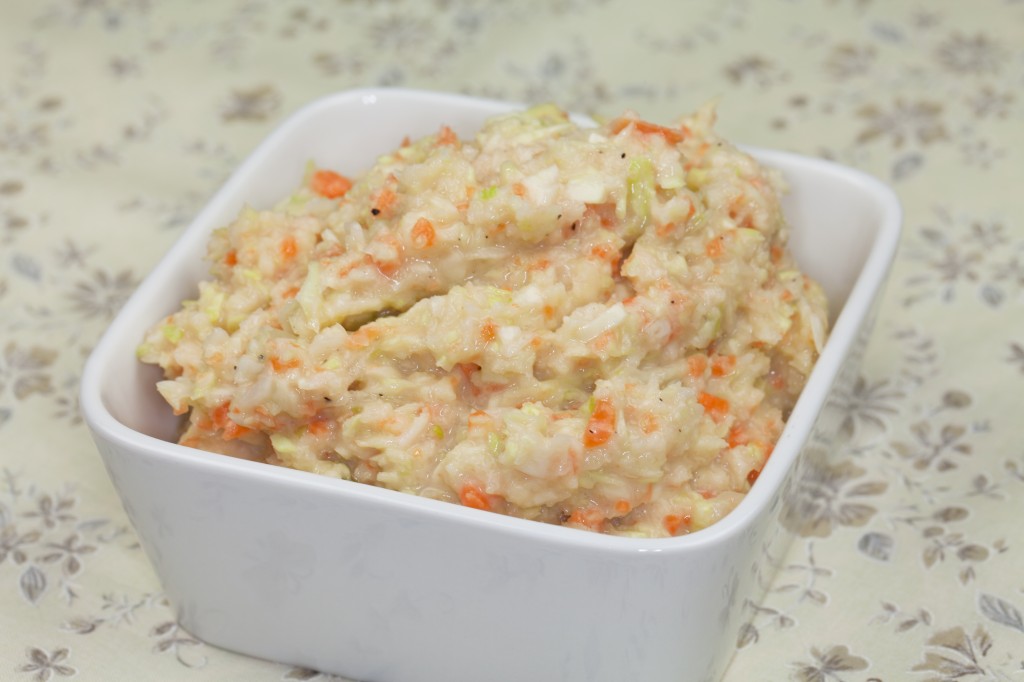 Growing up, fast food was always a treat for me, mostly because we lived in a rural area without any nearby. Well, until I was in high school, when our small town "finally" got a Dunkin' Donuts and a McDonalds (an interesting study would've been how the town's population experienced an increase in cholesterol, T2 Diabetes, heart disease, etc… but I digress).
On the rarest of occasions, the family would dine at KFC, and my very favorite item on the menu was their coleslaw. I loved the texture, the way the cabbage and carrots and onion were all diced into the tiniest of pieces, and the flavor! Oh the sweetness of KFC coleslaw…
Of course it's been years since I've visited a KFC, but every so often, when I drive by one and happen to notice it, I remember that delicious coleslaw… Then I saw one of those copycat recipes on Pinterest, and decided to veganize it. The result? YUM! Pretty much the way I remember it, sweet and a little zingy.
Bee-tee-dubs, this isn't the first fast food fave I've veganized… check out my Crispy Potato Soft Tacos, a'la Taco Bell and my Spicy Chick'n Sandwich which is even better than the one at Wendy's!
---
Vegan KFC Copycat Coleslaw (makes 5 side servings)
Adapted from this vegetarian recipe
Ingredients:
4 cups roughly chopped cabbage
1 carrot, roughly chopped
1/4 onion, roughly chopped
1/4 cup sugar
1/4+ teaspoon salt
Dash freshly ground pepper
1/4 cup almond milk, divided in half
1 dash apple cider vinegar
1/4 cup vegan mayo, plus 1 or 2 Tablespoons
1 Tablespoon lemon juice
Directions:
Put cabbage, carrot and onion into food processor with S-blade, and pulse until everything is evenly diced.  Remove with a slotted spoon, discarding any extra fluid. Set aside.
In a small bowl, mix 1/4 cup milk and the apple cider vinegar, and set aside for 3-4 minutes. In a large bowl, mix the remaining ingredients, then add the vinegar mixture.
Add the cabbage mix and stir well. You might want to add a bit more S&P (I did!!), and more mayo if you want it creamier. Cover and refrigerate for at least an hour until ready to serve.
Enjoy!