I know there are many vegans out there who don't like to eat at meat-centric restaurants, even when there are plant-based offerings on the menu, and I get it. I'm not usually that way, but I get it.
Where am I going with this? Well, any vegans who are avoiding Larkburger for that reason are missing out!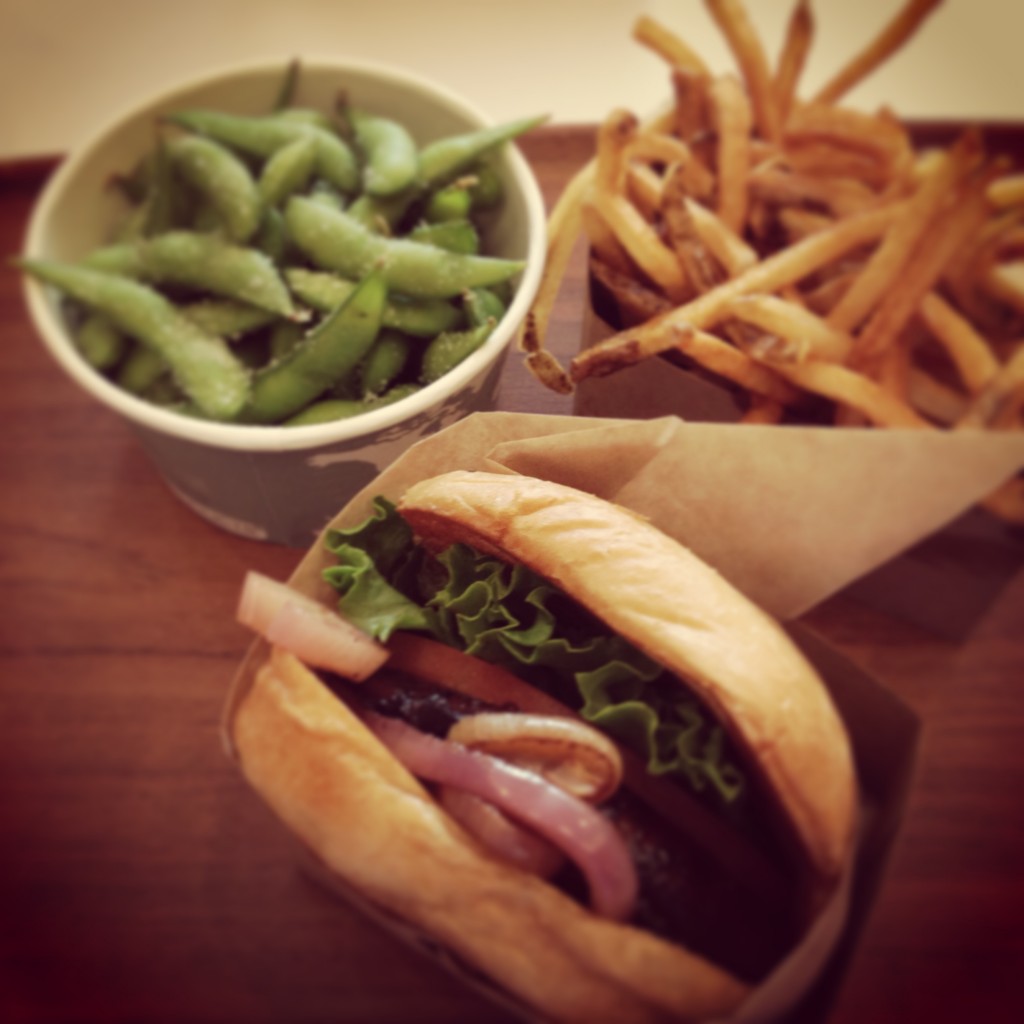 If you like mushrooms, you'll love the Amy Burger:
Vegetarian roasted portabella mushroom with sauteed onions… begins with a large portabella mushroom slow roasted with garlic, parsley and our savory marinade. Accompanying the portabella is fresh leaf lettuce, house ripened tomato and crispy onions…
Sounds delish, right? Two caveats: you need to order the Amy Burger with the dairy-free bun and "hold the sauce", but it's still wonderful! I always enjoy mine with a side of edamame (they call 'em plain old 'soy beans') but you can also get french fries, with or without truffle oil.
I haven't tried them yet, but I see they've added new salads to their menu, two of which appear to be vegan (the Baby Kale Salad and the Bibb & Quinoa Salad).
Beyond the food, I love how inclusive Larkburger is. Their website clearly explains which ingredients and dishes contain known allergens, and they've marketed the heck out of their dairy and gluten free bun options.  So yah – you're still going to have the dudes at the table next to you chowing down on meat burgers, but with this Amy Burger in your face, I don't think you're even going to notice.
And, good news for my non-Colorado readers: They're finally expanding nationally! Here's a bit of trivia for you… did you know that many popular, national chains got their start in little ol' Colorado? Chipotle, Quiznos (the very first store is a block from my office!), Qdoba, Red Robin, Village Inn, Garbanzo Mediterranean Grill and Noodles & Company, to name some of the most famous.
Want more Denver-area restaurant reviews? Check out my Mile High Vegan Eats page!