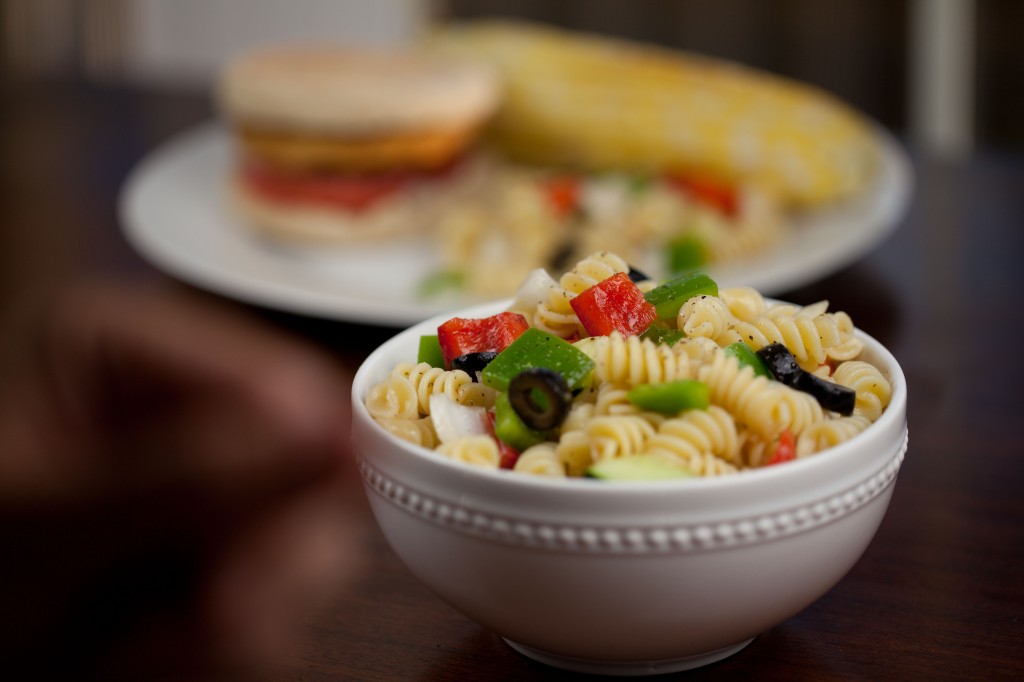 Happy Friday everyone! This has been the week that just wouldn't end… I've been busy at work, busy at life, busy with a super exciting new project (that I promise to spill the beans on as soon as I can) and on top of all that, my darling little cocker boy Cooper had major surgery. Here he is, back at home, showing off his cone of shame love and good health: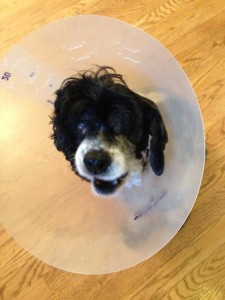 So now, in addition to only having one eye, he only has one ear canal. The good news is that he's doing great and he'll be getting his sutures out on Monday.
In the meantime, I thought I'd share this little recipe… my take on Garlicky Italian Pasta Salad… just add a little baked tofu and you've got yourself a vegan masterpiece!
---
Garlicky Italian Pasta Salad (makes 6-8 servings)
To add more protein, or to make a full meal, bake and cube some lightly seasoned tofu, and stir in!
Ingredients:
1 lb of rotini (or your favorite small pasta)
1 bell pepper (or half red and half green), diced
1/2 cup sliced black olives
1/2 a sweet onion, diced
1.5 cups cherry tomatoes, cut in half
1 Tablespoon olive oil
Generous 1/2 teaspoon garlic powder
Italian dressing
S&P to taste
Directions:
Cook pasta according to package instructions. Rinse well with cold water and set aside.
Mix the veggies, olive oil and garlic powder together and let sit for 10-15 minutes. Add the Italian dressing (start with 3/4 cup, stir well and continue to add until you get the coverage you desire). Stir in S&P, taste and adjust seasonings. Refrigerate until ready to serve.
Enjoy!