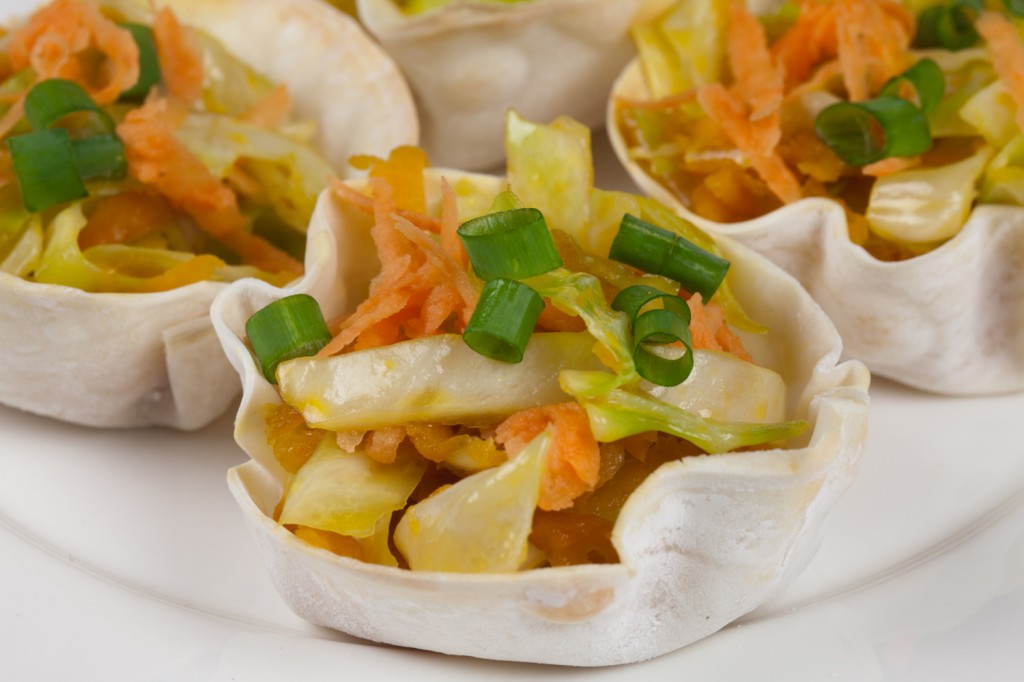 I'm crazily into appetizers lately, partly because they're quick n' easy (or, at least, they can be) and, honestly, just because they're fun. Who doesn't like a dinner you can eat with your fingers? This Sweet Potato Slaw makes a wonderful Asian-style appetizer, but it has multiple other uses! You could use it in spring rolls, or just as a side dish. In fact, you should keep your eyes open for an upcoming Brussels sprout sandwich that also features this yummy concoction!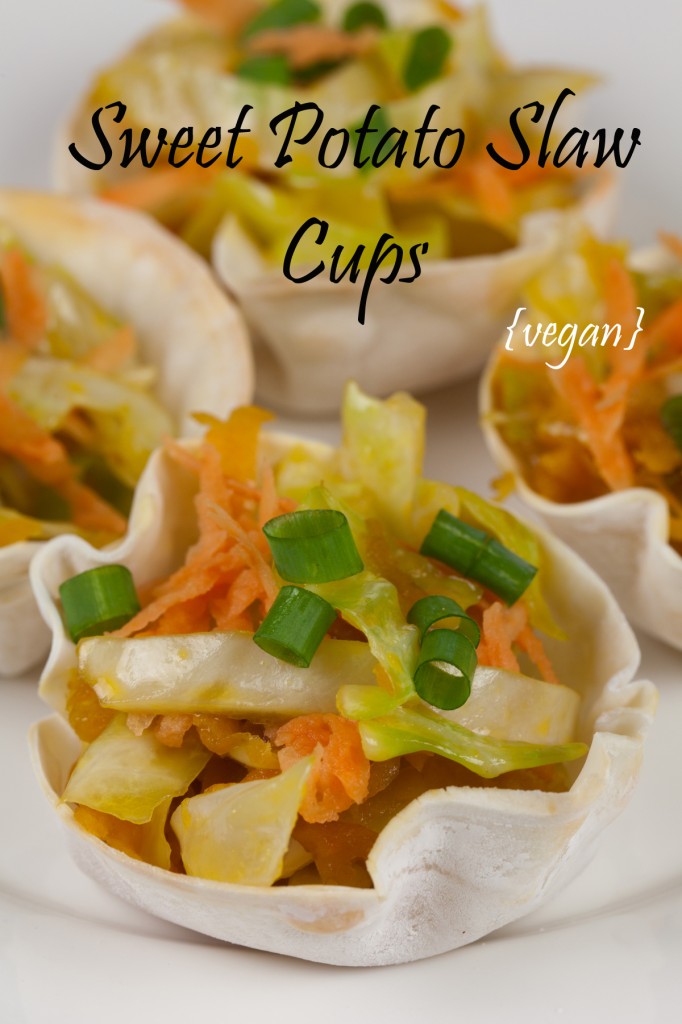 Light and sweet, this appetizer works well in both warm weather and in the fall… after all, sweet potatoes know no season!
---
Sweet Potato Slaw in Wonton Cups
These can be served warm or at room temperature. If you're serving warm, add the soy sauce mixture to the sweet potato mixture in the pan to warm it all up before putting into the individual cups.
Ingredients:
12-18 wonton or dumpling wrappers
Non-stick spray
1 small cabbage, thinly sliced (about 1.5 cups)
1 smallish sweet potato, peeled and shredded (about 1.5 cups)
1/2 small sweet onion, thinly sliced
2 Tablespoons soy sauce, plus more for drizzling
1 Tablespoon sesame oil
2 Tablespoons vegetarian hoisin sauce
1.5 Tablespoons lime juice
1 Tablespoon fresh grated ginger
1/2 jalapeno, diced (optional)
3 green onions for garnish, if desired
Directions
Heat oven to 350. Spray the muffin tin(s) with the non-stick spray, then place one wrapper in each section, pressing down to create the cup shape. Bake for 5-6 minutes, or until the cups are crispy and lightly browned. Set aside to cool.
Water saute the cabbage for 2 minutes, then add the onion for an additional 2-3 minutes. Add the sweet potato and leave over low/medium heat for another 2-3 minutes.
In a large bowl, whisk together soy sauce, sesame oil, hoisin, lime juice, ginger and jalapenos (if using).
The pan with your sweet potato mixture should be dry, drain any existing water if necessary. If you're planning to serve this warm, add the soy sauce mixture to the pan and stir into the slaw. If serving at room temperature, add the slaw mixture to the bowl.
Mix well, and top with additional soy sauce as needed. Spoon into individual cups and top with sliced green onion.
Enjoy!