I've always been pretty adamant that, in order to be good, a chimichanga must be fried. I don't think I ever actually tried a baked chimi, but I was convinced that there was no way the baked version would be as crispy and delicious as the fried kind. These Vegan Baked Pumpkin Chimichangas with Chipotle Cream Sauce have proven me wrong!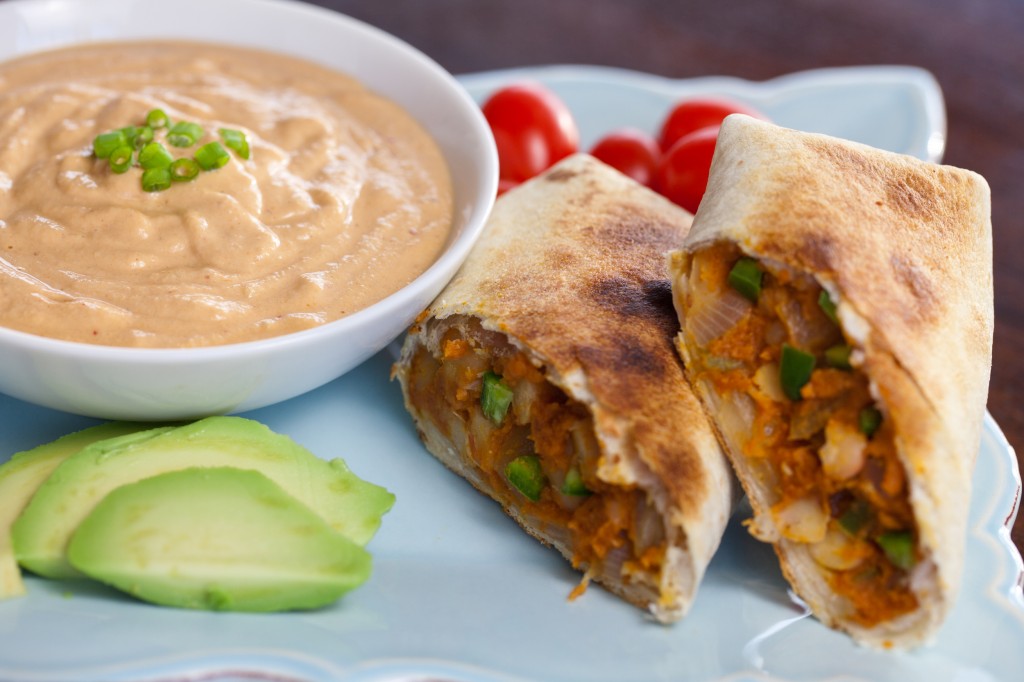 Not sure if it's just where I live, but vegan chimichangas seem pretty rare. As in… if I want one, I gotta make it myself. I've actually made them at home a couple times this summer and fall, and always fried them.
You know how the corners get all crispy and crunchy and perfect? Yah, that's my favorite part of a chimi. The good news? You can still get that when you bake them AND you save, like, eleventy billion calories by skipping the oil bath!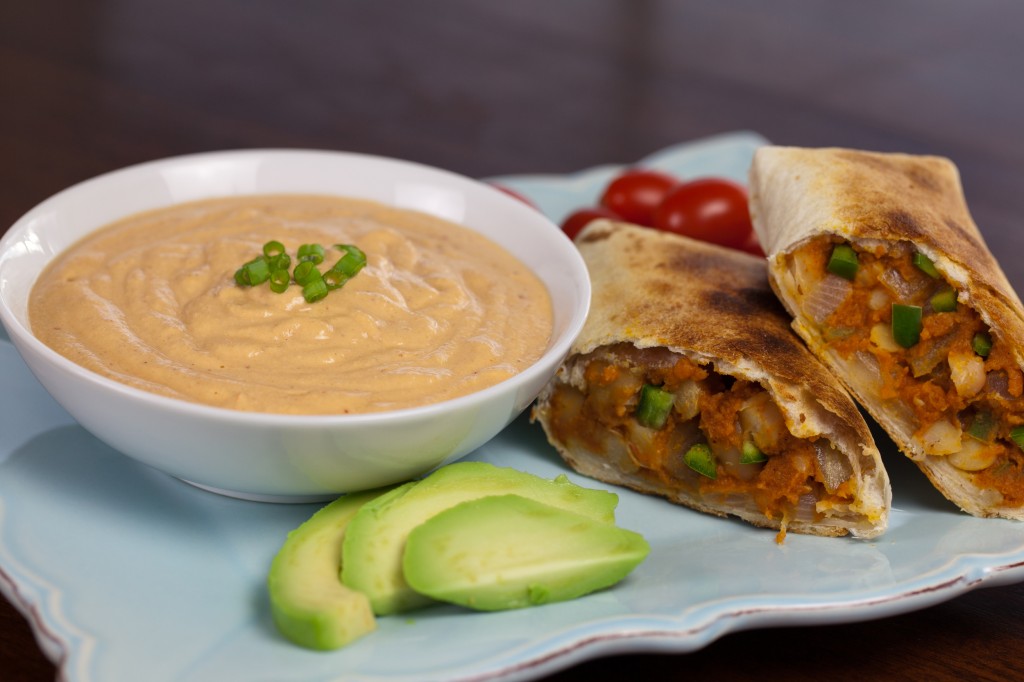 This is another recipe where the pumpkin presence is understated, and honestly you could just use butternut or sweet potato if you prefer. The heat comes from diced jalapenos, chili powder and of course that cream sauce…
And now that I've perfect them, switching out the fillings is so easy! Pumpkin and pinto bean? Done. Sweet potato and black bean? You got it! There's virtually no limit… Even as I sit here, all sorts of crazy ideas are flying through my head.
Like… what if I put a pizza in a chimichanga!? Too much?
Well, no matter what filling you go with (as long as it's still Mexican-ish) you're gonna want to stick with this amazing Chipotle Cream Sauce… it's to die for, and will seriously make you say "That was vegan?"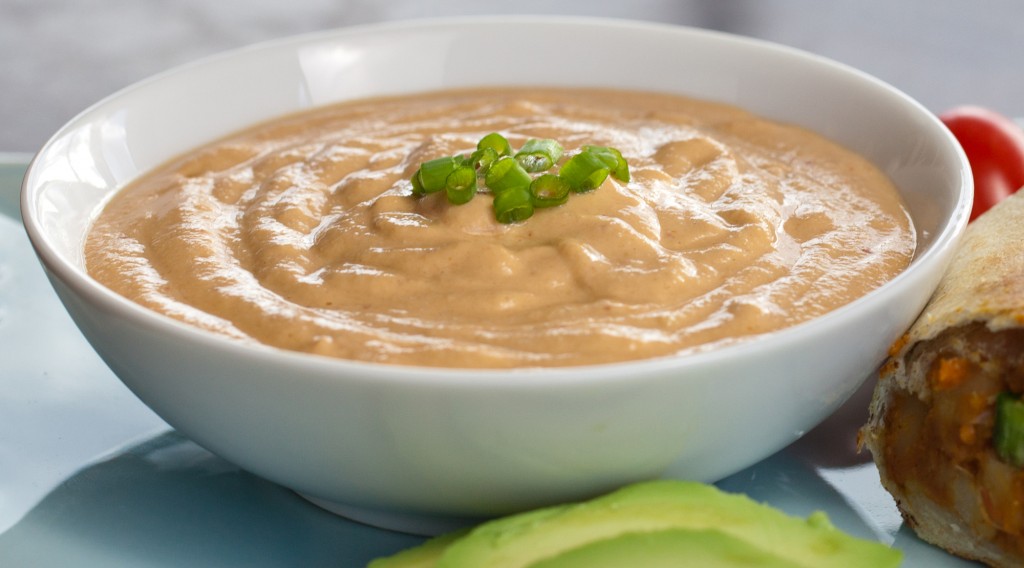 It's thick and creamy, with just a dash of heat. Perfect for topping any number of dishes!
So I already admitted that I pronounce jalapenos like a complete dork Ricky from Trailer Park Boys, and apparently I also mispronounce chimichanga… so go ahead and chime in below: Do you pronounce it ChimiCHANGa rhymes with "rang", or rhymes with "long"??
---
Baked Pumpkin Chimichangas with Chipotle Cream Sauce (Makes 4)
Ingredients:
1/2 cup raw cashews
1 cup chopped sweet onion
1 jalapeno, chopped
1/4 teaspoon garlic powder
1 teaspoon cumin
1/4 teaspoon chili powder
1 can pinto beans, drained and rinsed
1 cup pureed pumpkin
S&P
4 burrito-sized tortillas
Scant 1/2 cup non-dairy milk
1 chipotle pepper (packed in adobo sauce), diced
1 teaspoon of the adobo sauce (or more if you want spicy face!)
1 teaspoon salt
Avocado or other toppings, if desired
Instructions:
Put the cashews in a bowl of cold water to soak, set aside. Preheat oven to 400 degrees, then water saute the onion and jalapeno in a large frying pan over medium heat for 3-4 minutes. Add the garlic, cumin and chili powder, continuing to cook for another 2-3 minutes. Stir in the pumpkin and beans, and reduce heat to low. When it's heated through, taste and add S&P as needed.
Fill the tortillas with the filling (about 1/4 each), and place on baking sheet seam down. Spritz with oil spray then bake 8-10 minutes or until lightly browned. Flip, give another spritz, then stick under the broiler (on low!) for another minute or so.
While the chimichangas are baking, drain the cashews then blend with the milk, pepper and adobo sauce and salt until thick and smooth. When serving the chimichangas, top with avocado and serve with the sauce on the side.
Enjoy!