Note: While I'm off traipsing around the globe, some of my wonderful blogger friends have agreed to guest blog for me… Today I give you Reia!
For the last few years Robert and I have had a Friday night tradition called Burritos and Beer. As the name implies, we go buy a couple of six packs of whatever beer strikes our fancy then grab a couple of burritos, usually from Chipotle, Qdoba, or Wahoo's. I always look forward to B&B Fridays but since late September I've been more excited for them than ever. That's because on September 23rd, Chipotle finally rolled out their Sofritas in all the Colorado locations.
It took 20 years for Chipotle to add a new protein to their lineup, but they went out of their way to ensure that the flavor would be so good it would even win over the most carnivorous patrons.  Oddly enough, that wasn't the intention when the decision to add another protein was made. In this article, Chef Nate Appleman describes how sofritas came to be—and why he's such a huge fan of it now.
If you haven't heard of Sofritas, here's the exact description: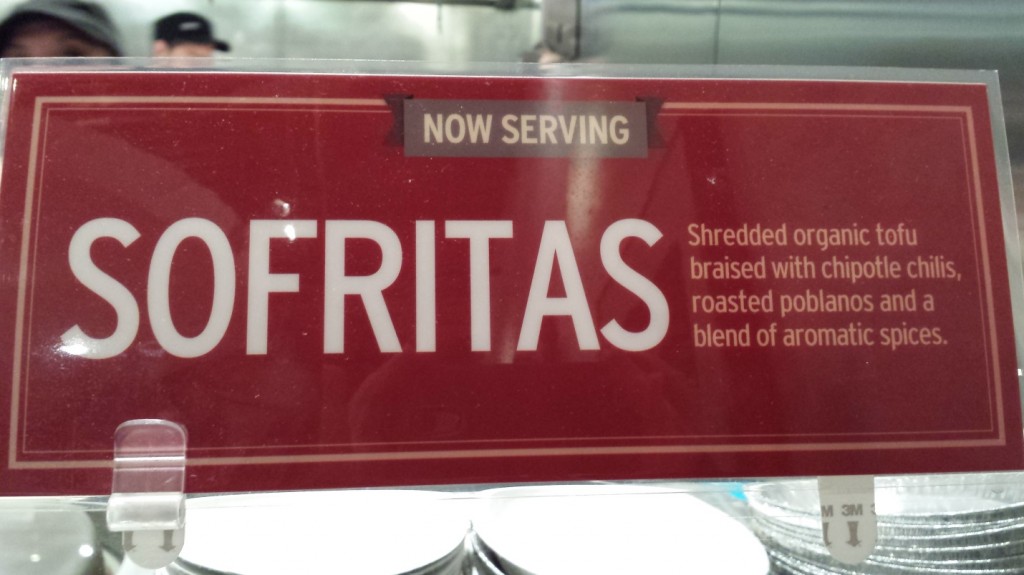 Sounds yummy, right?  And who wouldn't want to have the option of something in their burrito besides rice and beans? I waited so impatiently for them to bring Sofritas here after testing it out in California earlier this year, and I can tell you it was worth the wait. Shredding the tofu gives it a perfect chewy texture and braising it infuses each piece with subtle smokiness and spice. It turned my usual brown rice, black beans, and fajita veggies burrito into something new and wonderful, adding some much needed depth of flavor.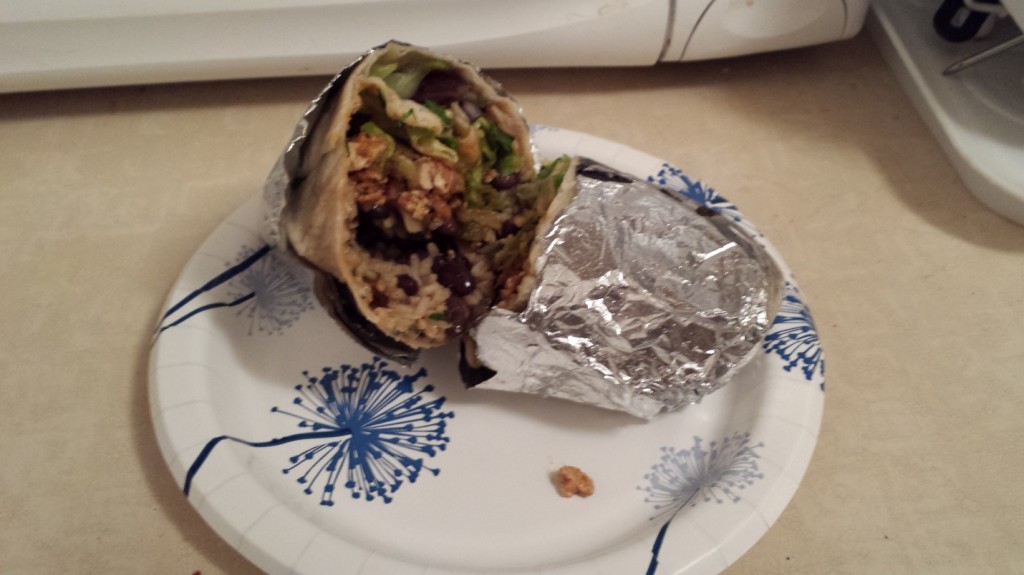 As you can tell by my picture this thing was stuffed full to bursting. I almost couldn't eat it all because the tofu was so filling. Almost. But it was just so damn good I ate the whole thing and didn't regret it one bit. Suffice to say, B&B Fridays are now C&B Fridays. Chipotle is the only place I will to go for my weekly burrito fix.
Chipotle's sofritas puts them way ahead of the game when it comes to vegan options at fast-casual restaurants. Sure, you can get tofu added to dishes at Noodles and Company or Tokyo Joes, but the few times I've had it at either place it was little more than unseasoned, barely grilled cubes of sadness. Chipotle transformed the tofu instead of making it a thoughtless add-on and the success they've had introducing it shows that customers appreciate that. Since its limited roll-out in the San Francisco area in February, the sofritas option had expanded greatly and shows no sign of slowing down. If you live in an area where it's offered and you haven't tried it yet, do so NOW!! You won't regret it. And if you are unfortunate enough to live outside of the currently available areas, be patient because I have no doubt you will see it soon!