This giveaway is now closed and the winner is… Laura! She "only" has 21 cookbooks, so this one will make a nice addition, haha! Thank you everyone who entered, and I have another giveaway coming up in just a few days!
I love cookbooks. I have an entire Amazon Wishlist dedicated solely to cookbooks, which I hope isn't a confession I should be too embarrassed about. There's something that's both comforting and exciting about sitting down with a new cookbook and marking off the recipes you can't wait to try, and imagining how delicious the food will be. The point I'm getting at is that as soon as my copy of Jazzy Vegetarian Classics: Vegan Twists on American Family Favorites arrived, I tore it open and immediately got to reading!  This book is full of beautiful food porn that will leave you drooling, I promise!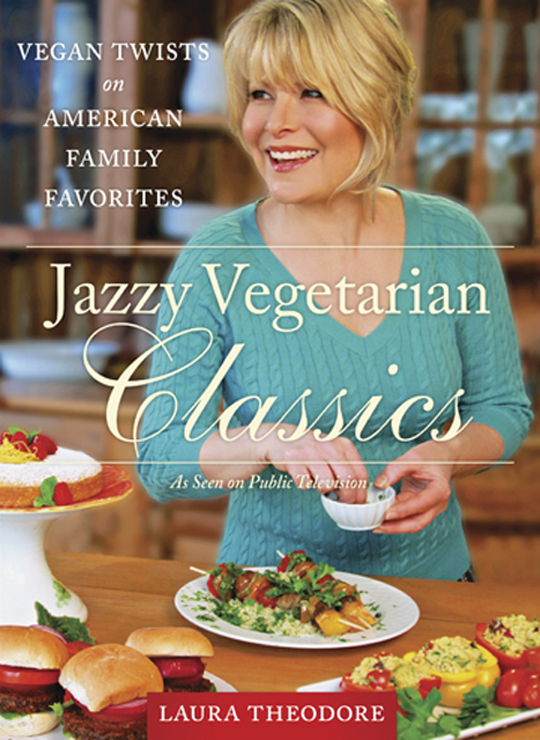 From the publisher…
Classic American meals just became healthier and more delicious with Laura Theodore's vegan twist on traditional family fare. With more than 150 quick-to-prepare and gourmet-style dishes,Jazzy Vegetarian Classics features Laura's original creations, such as vegan shish kebabs and cauliflower steaks with sweet pepper sauce, and other spins on time-honored favorites, such as spaghetti and "wheatballs" and decadent chocolate-ganache cake. Filled with easy-to-follow crowd-pleasing recipes, this cookbook will make nutritionally dense and plant-based dishes your new family favorites.
The best part(s)? Not only am I authorized to share the recipe for Black Forest Pecan Pie (below), but we're also giving away a copy of this faboo cookbook!!
---
The Giveaway
One lucky reader will win a copy of Jazzy Vegetarian Classics!
This contest is open until Midnight (Mountain time), Sunday February 9th. The winner will be chosen randomly and announced the following day. To Enter: Leave a comment below telling us how many cookbooks you own. Are you a crazy collector like me, or are you strictly paper-free?
Contest is limited to the US and Canada only. Good luck!!
*The publishers provided me with free product to review, but the opinions are 100% mine!
---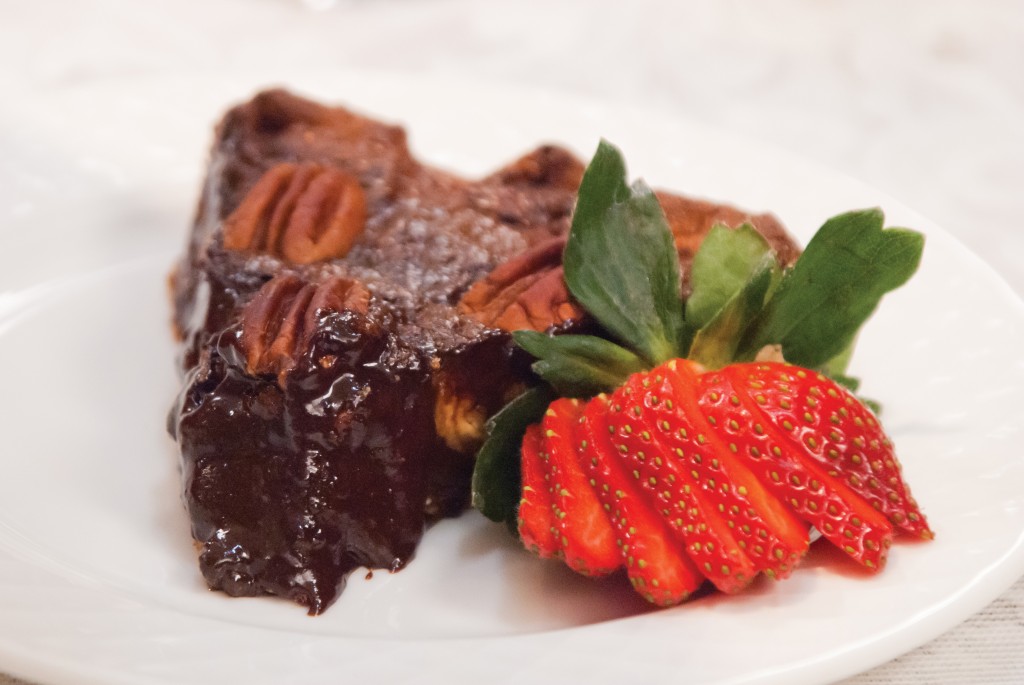 Black Forest Pecan Pie Makes 8 servings
To finish any festive meal with a flourish, I take a cue from my mother, who always offered a homemade pecan pie as the finale for our holiday gettogethers. Now I have carried on that tradition with an innovative and tasty vegan version of this gooey, sweet treat that features a flourless crust. I must admit, I think this is the most decadent dessert I have ever created!
Ingredients: 
CRUST
10 pitted Medjool dates
¾ cup rolled oats
¼ cup raw unsweetened shredded dried coconut
¼ cup pecan halves
FILLING
½ cup maple syrup
¼ cup unsulphured blackstrap molasses
1 cup vegan chocolate chips
5 pitted Medjool dates
2 tablespoons vegan margarine
2 tablespoons filtered or spring water
1 teaspoon vanilla extract
1½ cups pecan halves
TOPPING
15 pecan halves
Directions:
Preheat the oven to 375 degrees F.
Put the dates, oats, coconut, and pecans in a high-performance blending appliance, and process to the consistency of soft dough. Transfer the dough onto a board and form it into a ball. Flatten the dough slightly with your hands and then use a rolling pin to roll the dough into a 10- inch round. Invert the dough on to an ungreased 9-inch pie plate. Press the dough mixture evenly over the bottom of the plate, pushing it up the sides of the pie plate as you go, to make a crust. To craft a pretty edge to the crust, use your index finger to push the inner edge of the crust out, while pinching the outer edge in with the thumb and index finger of your other hand to make a classic scallop edge around the pie crust.
Put the maple syrup, molasses, vegan chocolate chips, pitted dates, vegan margarine, water, and vanilla extract in a blender and process until very smooth. Pour the maple mixture in a medium bowl. Fold in 1½ cups whole pecans. Pour the filling into the crust and smooth the top using a rubber spatula. Gently press 15 whole pecans into the top of the pie, arranging them in a pleasing manner. Put the pie on a baking sheet and bake for 25 to 30 minutes, or until the edges start to set and brown. Tent the pie with foil and bake for 5 to 8 minutes more, or until the pie has almost set in the middle. The filling will still be somewhat soft.
Carefully put the pie on a wire rack (the filling will be very hot!) and let cool for 1 hour. Cover and chill for at least 2 hours. Serve chilled. Cover and store leftover pie in the refrigerator for up to 3 days.