Vegan Sticky-Sweet Glazed Donut Muffins. Yes, they're a thing.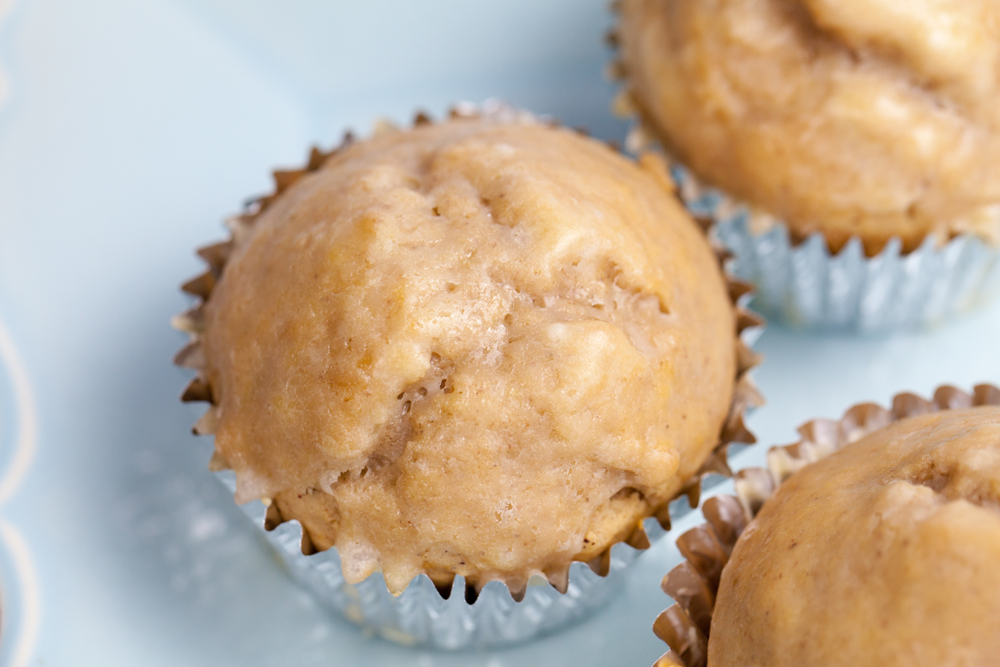 I made these last month, on a snowy Sunday morning when I was craving something baked. Something that would make the kitchen smell wonderful. They did the trick!
And also, can I just say how weird it feels to talk about snow in the recent past when it hit 92 here in Denver yesterday? The weather has been just lovely lately, sunny and hot. Last weekend we escaped up into the mountains with the RV and the fur-kids where it was simply sunny and warm. This is my favorite time of year, where it's not too hot yet to do fun outdoor things (like riding some of Summit County's 55 miles of paved bike trails!), and there's still snow on all the peaks. Like this!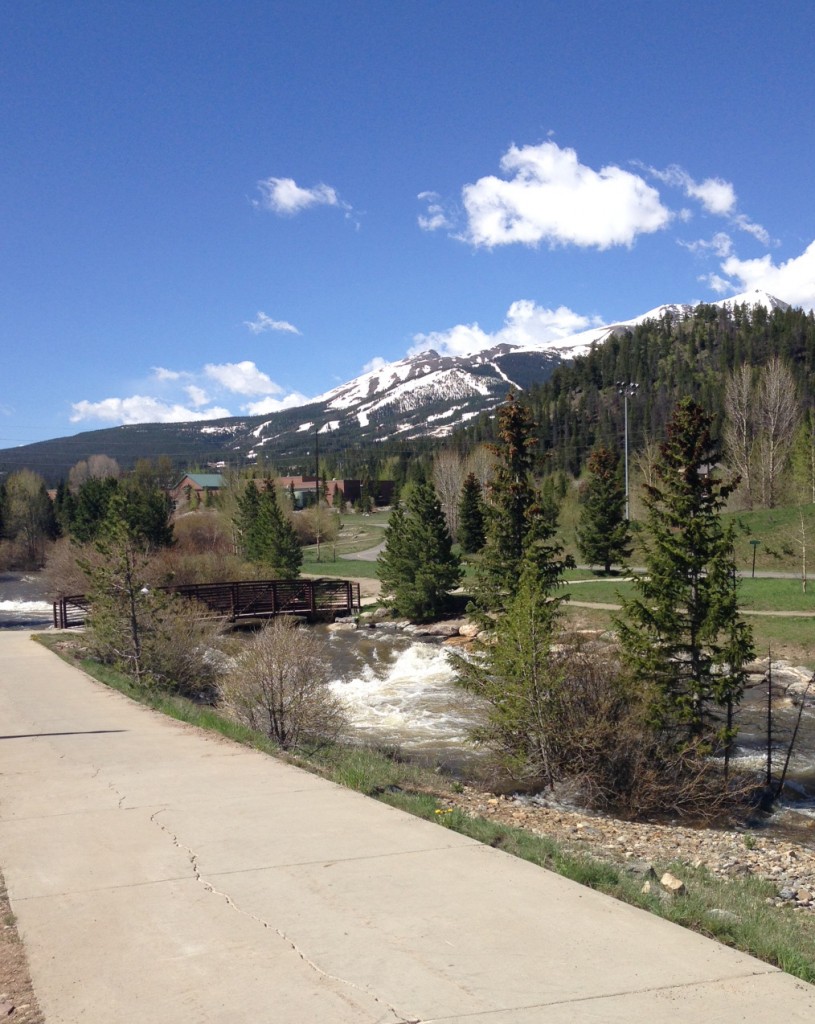 The run-off is still going strong. We had a lot of snow this past winter AND we've had a lot of rain this spring, so the water is insanely high in all the creeks and rivers. We were in Breck on Sunday and they have a pretty funny warning on the edge of the Blue River: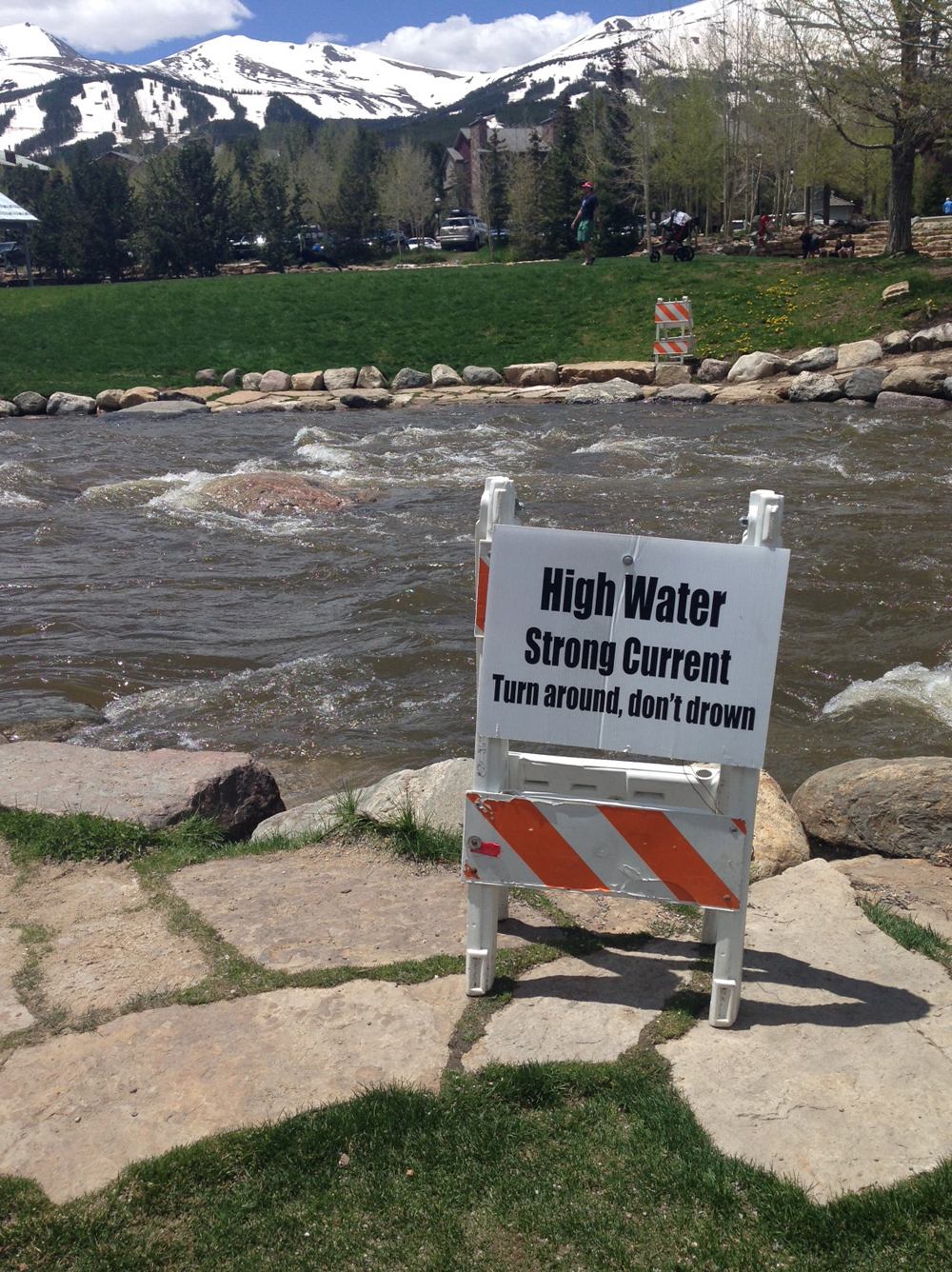 I think warnings that rhyme are more effective, don't you? 🙂
Enough about the weather, let's talk about the donut muffins which are absolutely still in season.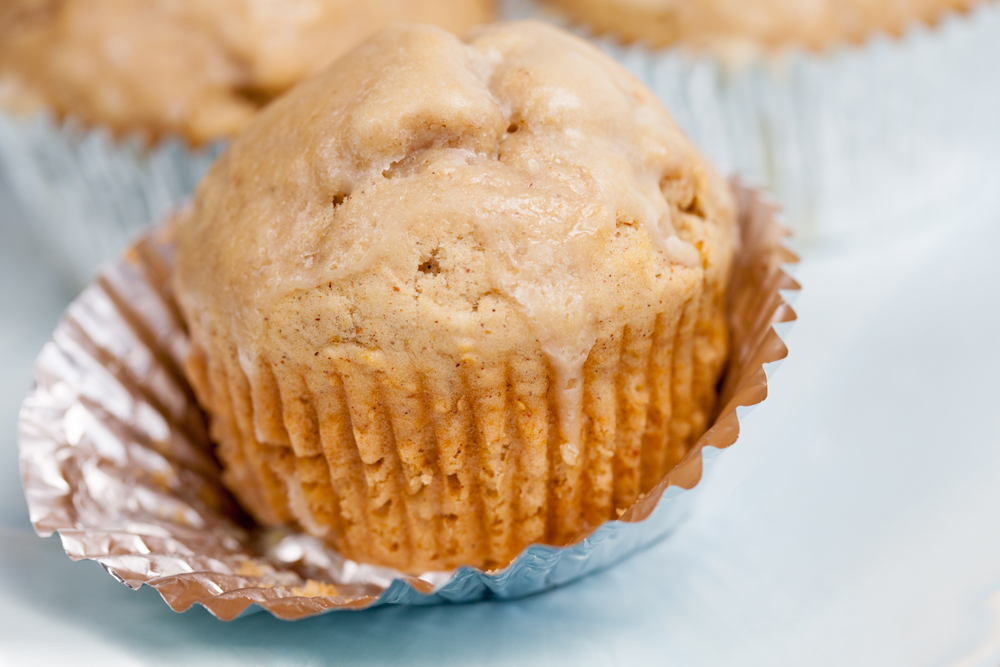 The flavors are rich: cinnamon, cardamom, nutmeg. And the glaze? Well that is pure donut, my friends!
I actually went with a "single dip" approach, but if you want a thicker glaze then I'd say double-dipping is absolutely allowed, but just this once.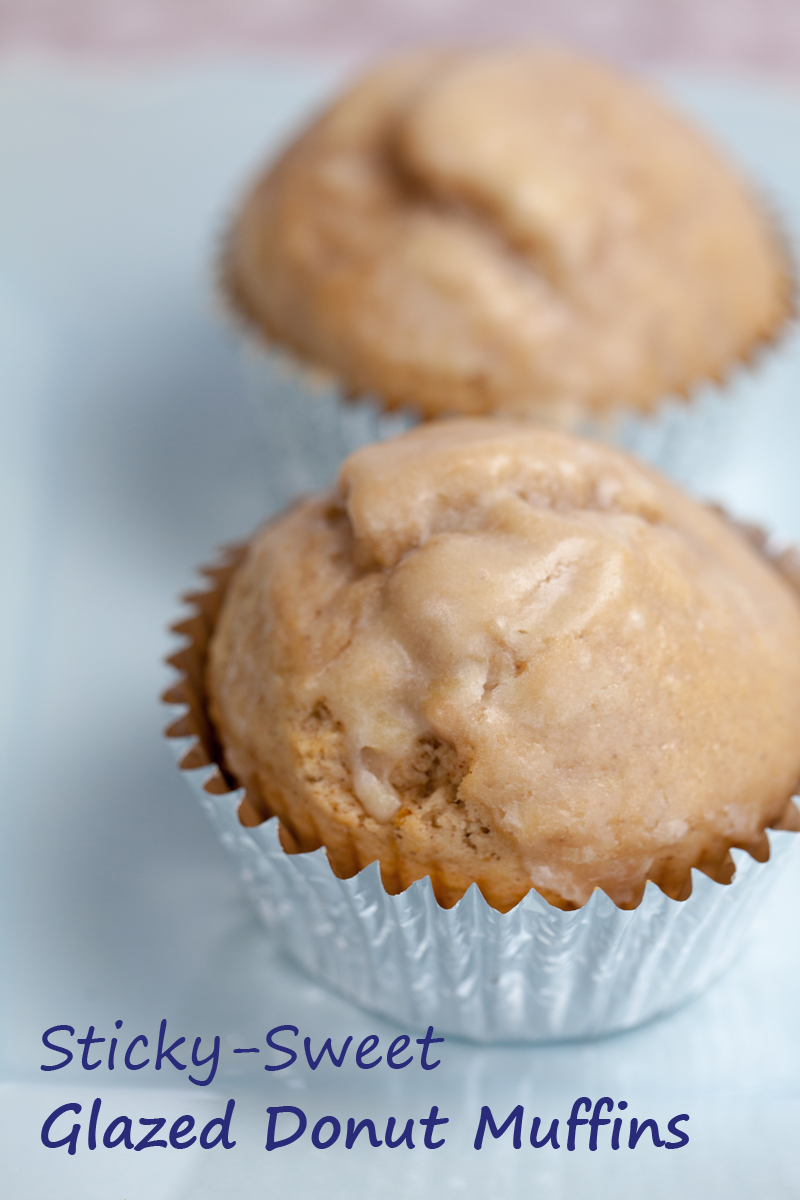 If you've been reading TWV? for long, you know that baking is my Achilles heel. I'll cook all day, and I think I do a pretty good job at it, but when it comes to baking, my game is just off. Not way off… I mean, I've never food poisoned anybody (that I know of), and most of the things I make are edible. And of course I'm at a disadvantage living at such a high altitude. But. When I compare myself to my girlfriends Lauren and Jamie, who are both baking goddesses, I just don't compare.
Maybe that's something I should work on… Someday 😉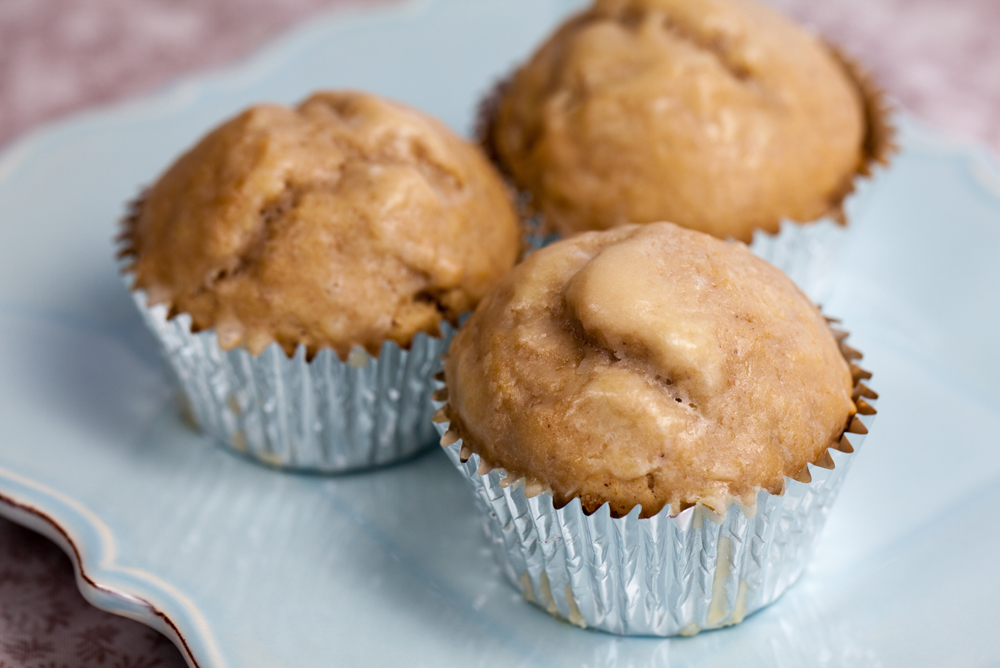 Want more proof that I can actually bake (once in a while)?
Strawberry-Coconut Bundt Cake
Peanut Butter and Chocolate Poke Cake
Strawberry "Brownies"
---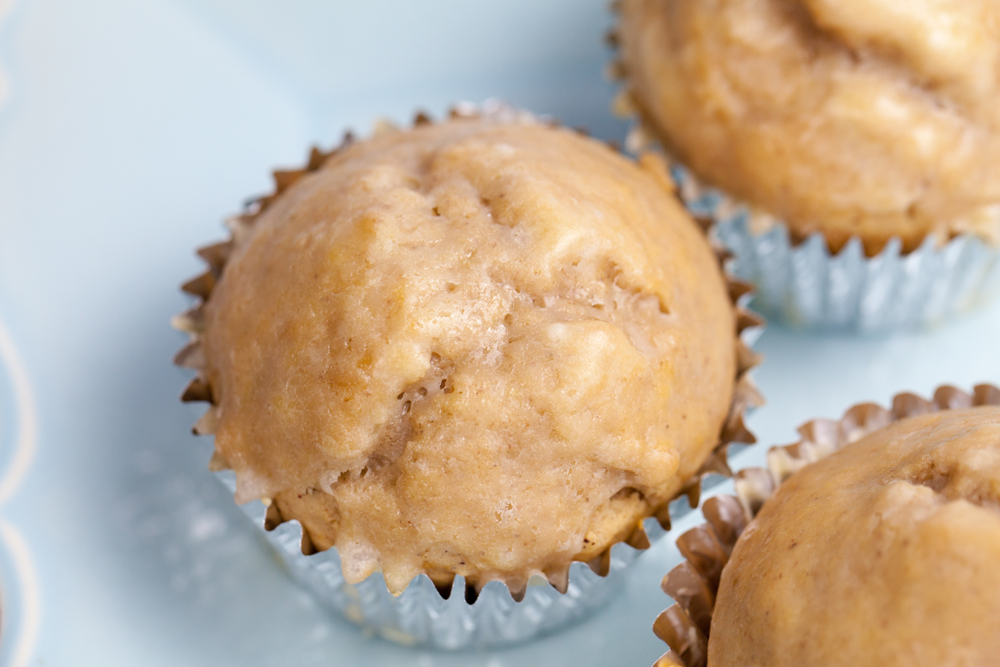 Sticky-Sweet Glazed Donut Muffins
2014-06-04 08:15:59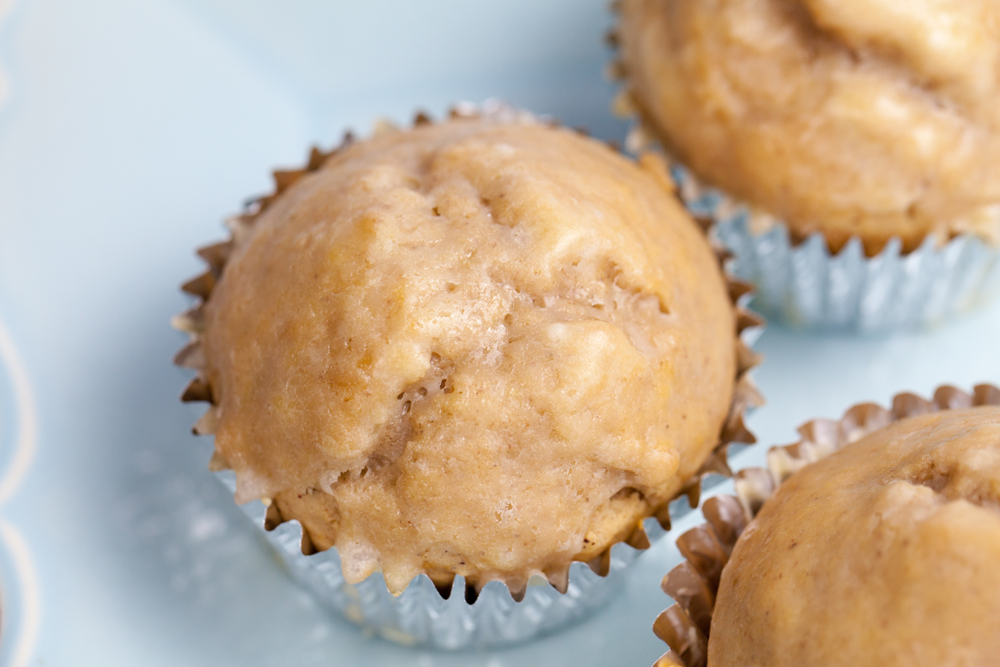 Can't decide between a donut and a muffin? Now you don't have to!
Muffins
1/4 cup vegan butter
1/4 cup vegetable oil
1/2 cup granulated sugar
1/3 cup brown sugar
1/2 cup applesauce
1.5 teaspoons baking powder
1/4 teaspoon baking soda
3/4 teaspoon nutmeg
1 teaspoon cinnamon
1/2 teaspoon cardamom
3/4 teaspoon salt
1 teaspoon vanilla extract
2 2/3 cups AP flour
1 cup unsweetened vanilla almond milk
Glaze
3 tablespoons vegan butter, melted
1 cup confectioners sugar, sifted
3/4 teaspoon vanilla
2 tablespoons hot water
Instructions
Preheat oven to 425, and line muffin tray with 12 cups.
Using a hand mixer on low, combine the vegan butter, oil, sugars and applesauce for 2-3 minutes, until the mix is in little balls. Still on low, add the baking soda and powder, seasonings and vanilla extract.
Still on low, alternate adding the milk and flour in thirds, just until combined. Don't over mix.
Spoon into muffin cups, making sure to smooth the tops. Bake for 15-18 minutes, rotating halfway through. You want the tops to be a very pale golden color. Allow to cool on a rack for 10-15 minutes before glazing.
For the glaze, combine all the ingredients in a bowl and whisk until smooth. Dip the muffin crowns one by one into the glaze and allow to harden. Dip a second time for a thicker glaze.
Adapted from Sweet Pea's Kitchen
That Was Vegan? http://www.thatwasvegan.com/