I did it. I survived the Green River, dirty water, snakes and all!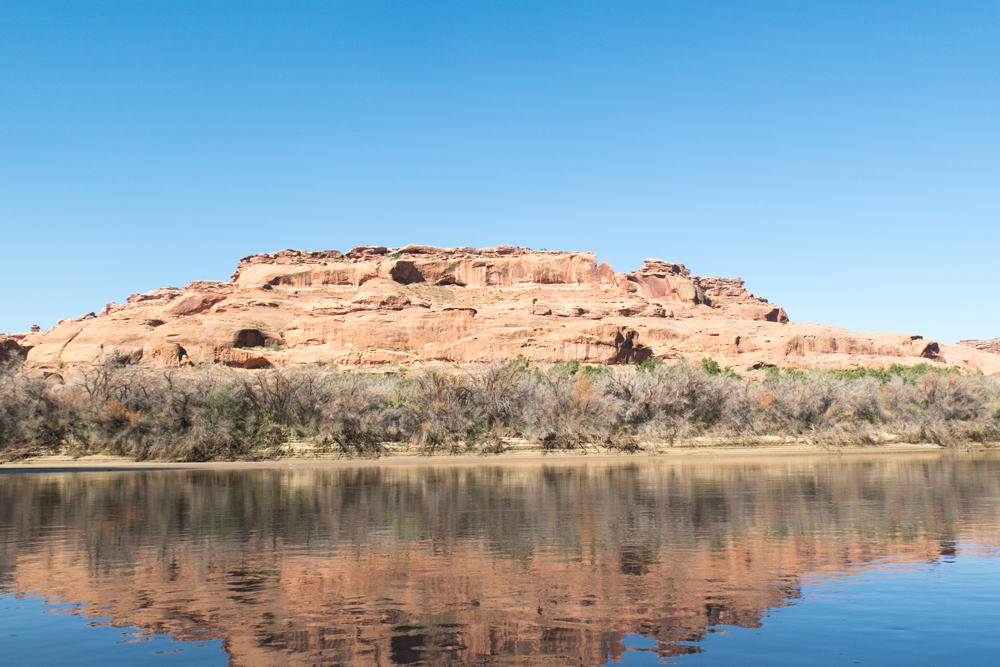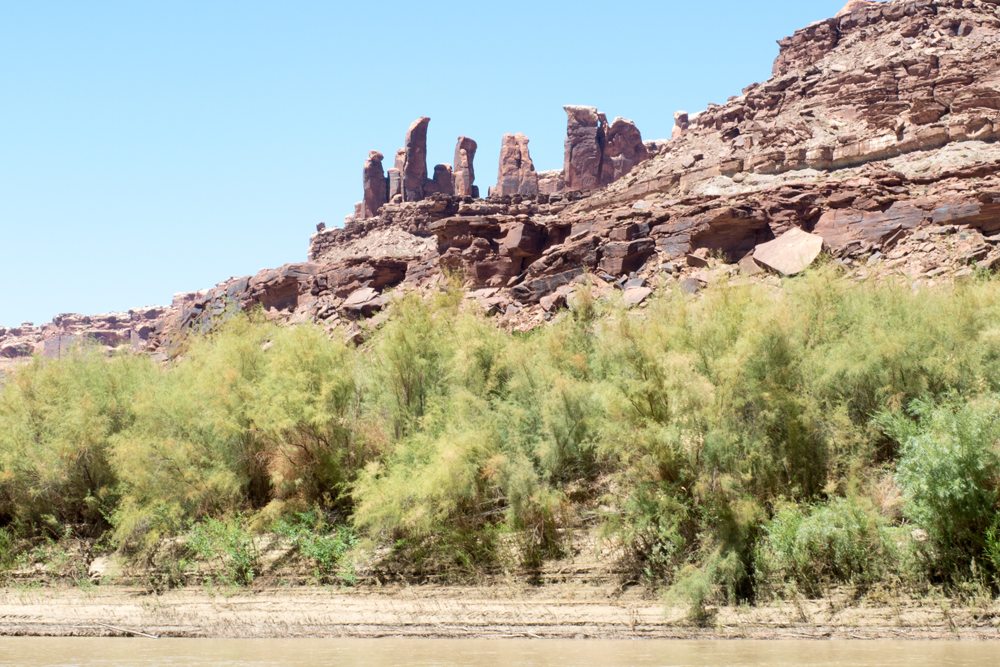 Actually, we only saw one snake (and no Deliverance-type hillbillies), plus a deer, a fox, a handful of bunny rabbits, one river otter, and 14,726 turkey vultures. They were waiting for me to drink too much beer and fall out of the canoe, but luckily for me that didn't happen.
The scenery was beautiful, and the sun was hot. And yes, the water was a bit dirty because of the monsoon the week before. Lots of sediment, but nothing you can do about that.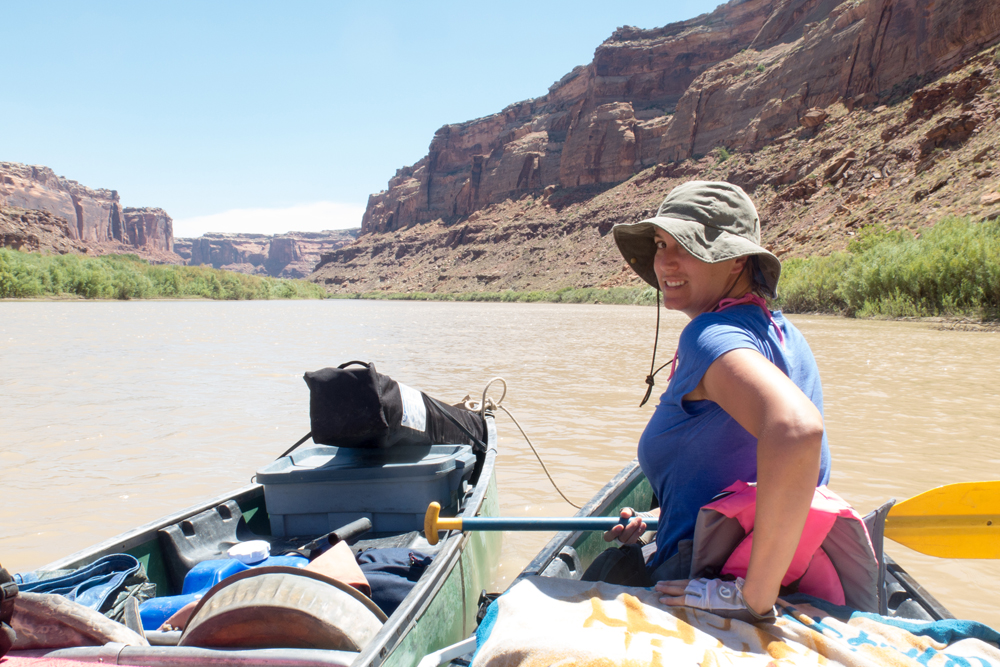 So what is a 4-day canoe trip on the Green River in Utah like? Well, for me, it was a little like this:
Each day started shortly after sunrise with a simple breakfast, either instant oatmeal or a bagel with vegan cream cheese. This was followed by breaking down camp (2 tents, a big shade canopy, chairs, a table, the propane stove thingy, multiple coolers and tubs of food… and of course patrolling the beach for any wayward plastic cups!). Packing up always took longer than making camp the night before, but we were usually back on the water by 9.
The first beer usually got cracked open by 11 (at the latest), followed by lunch around noon or whenever we needed a break. We'd always stop for lunch at a nice sandy spot where we could swim a bit as well. Lunch was, without fail, a Tofurky and Daiya cheese sandwich with mustard on whole grain bread, with an apple or a handful of oreos. Easy peasy.
Then, of course, a little meditation in the river with my beer 😉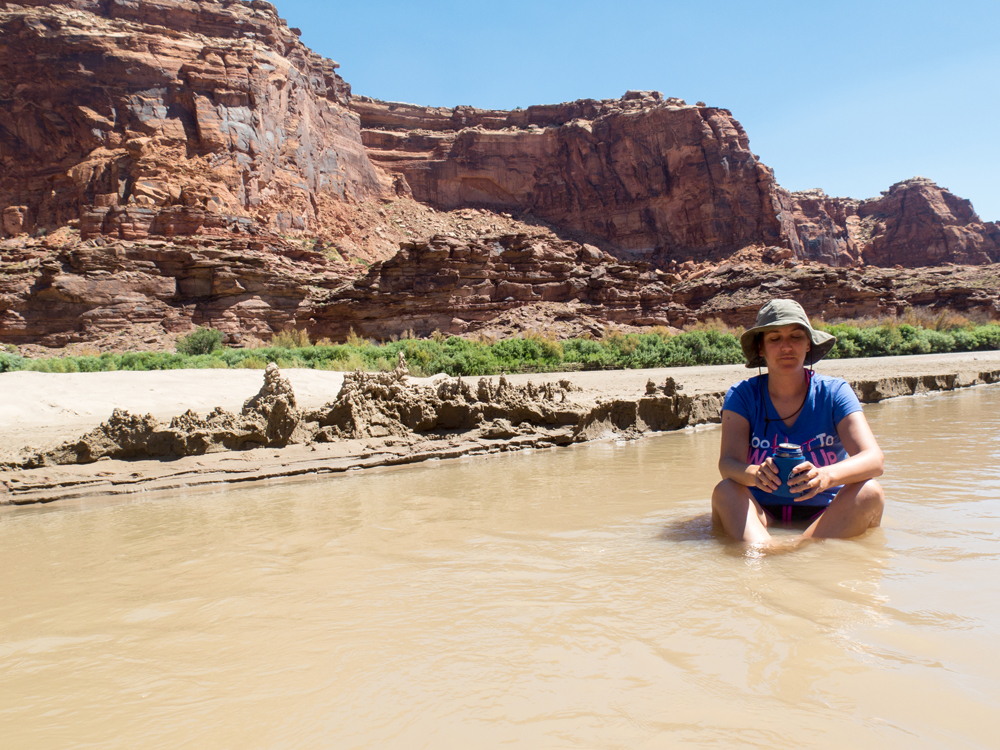 More beer after lunch along with a continual dipping of my hat and my shirt in the water to stay cool. I'm not sure what the temperature was where we were, but it was 105 in Moab so it had to have been close to that. More beer, maybe some Super Seedz, and we'd start looking for a camp spot around 3. My bottom was always so sore by then from sitting in that darn canoe! We'd set up the canopy first, along with the table (needed a place to mix some ice cold vodka drinks, of course!), and after that you couldn't keep me out of the water.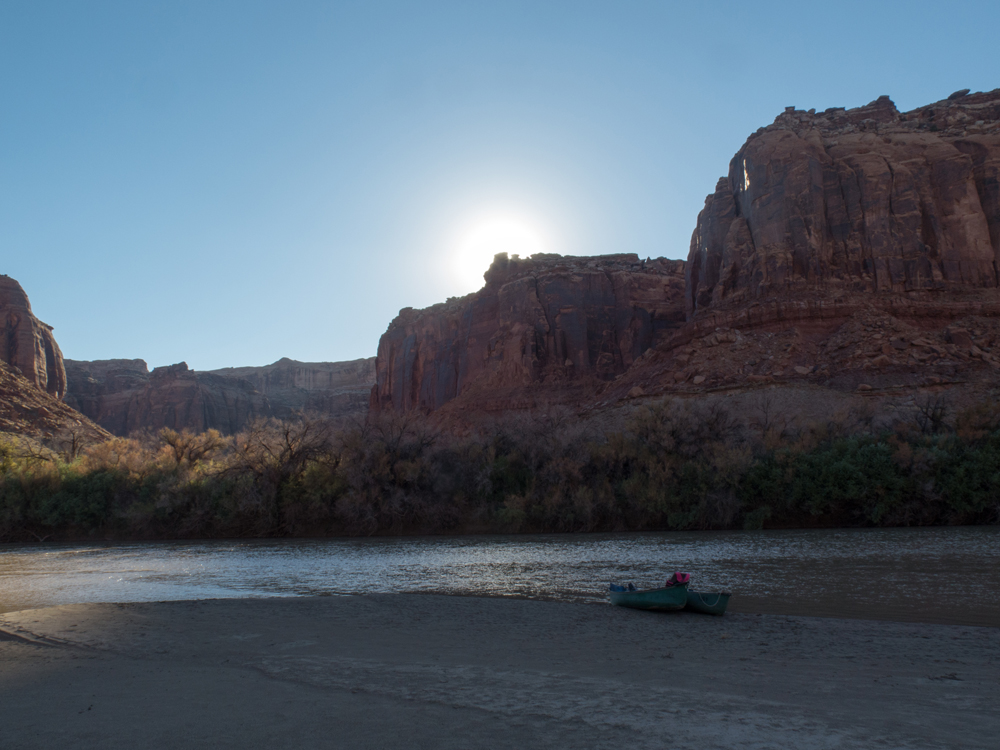 At least not until dinner, that was. We brought a couple vegan dehydrated meals (Pad Thai, and Beans n' Rice) which we used to supplement the REAL stars of the trip: My veggie foil packets! Before we left I just chopped up a bunch of veggies, seasoned them and added a bit of vegan butter, and wrapped them tight. We cooked them in the coals and it was perfect. Dessert was more vodka and oreos 😉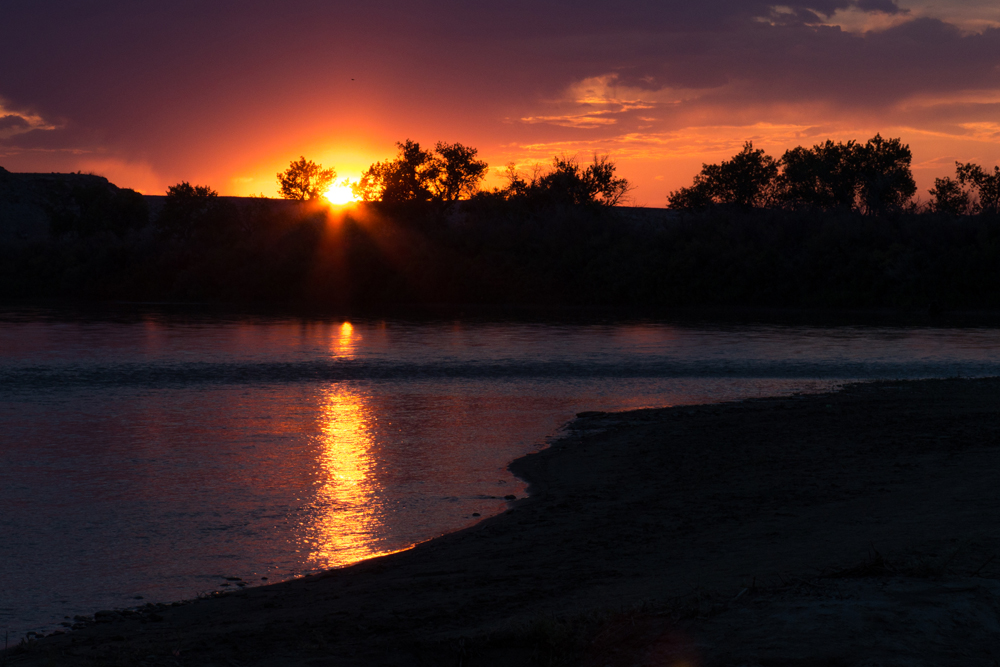 This was my first time sleeping in a tent since I was like 10, and I actually enjoyed it! We left the rain fly off because it was hot as f*ck, which meant every time I'd wake up during the night I could see the stars and hear the river, and it was just so relaxing.
There were no ugly views…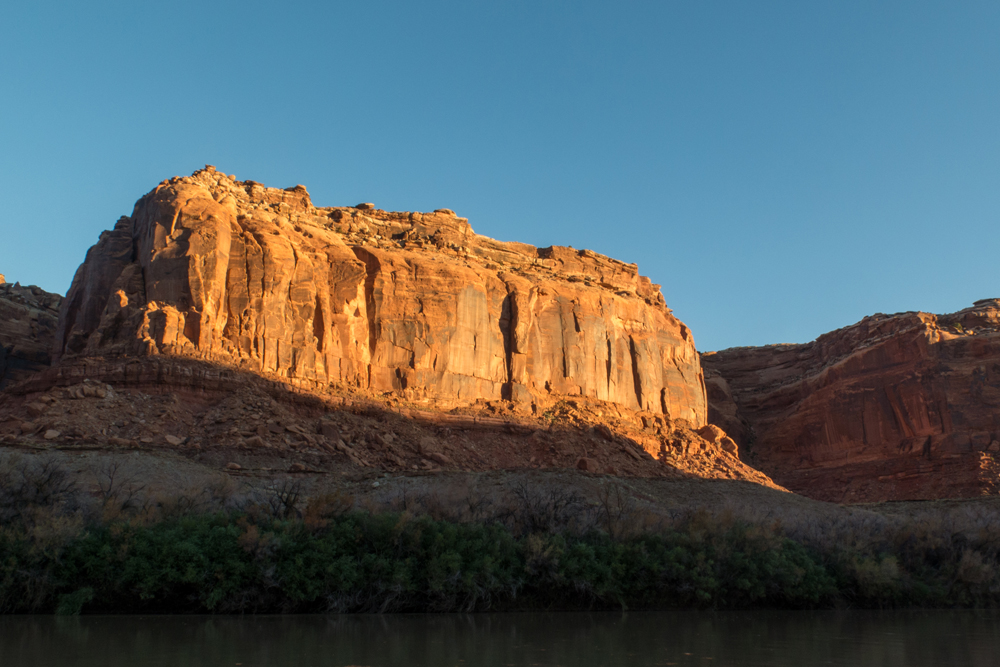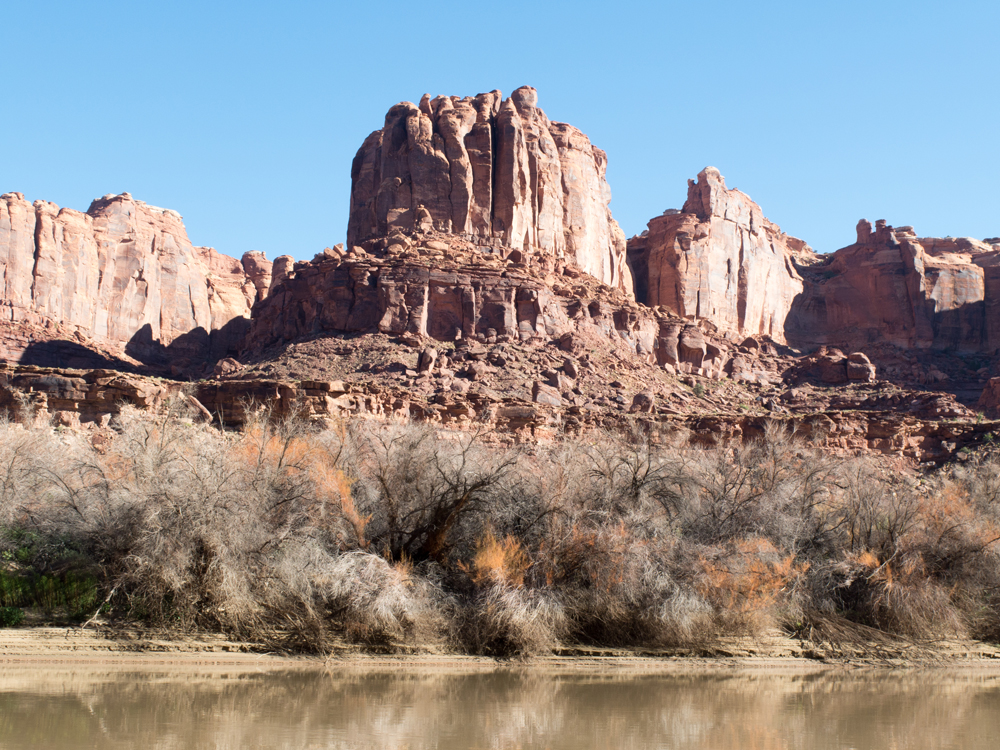 One of our favorite pastimes (besides saying "Hey, can you beer me?) was spotting shapes in the rocks. Do you see the frog?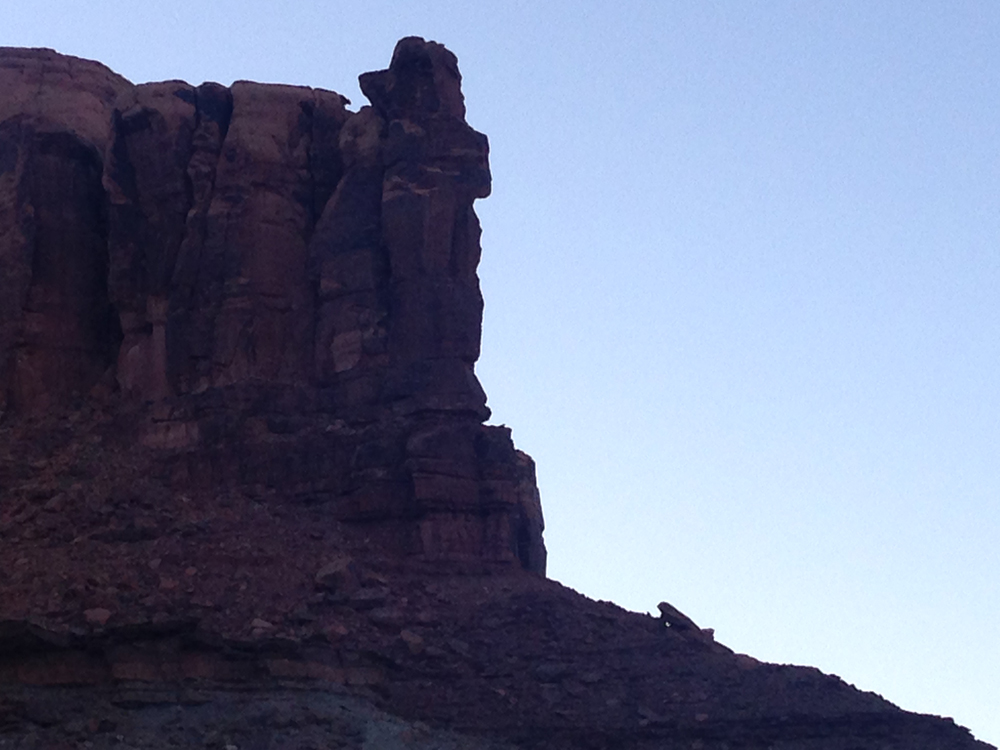 This was perhaps the coolest thing we saw: A big ol' group of friends with 4 canoes, all lashed together. While we were paddling our hineys off, these guys were just floating around under umbrellas and drinking whiskey!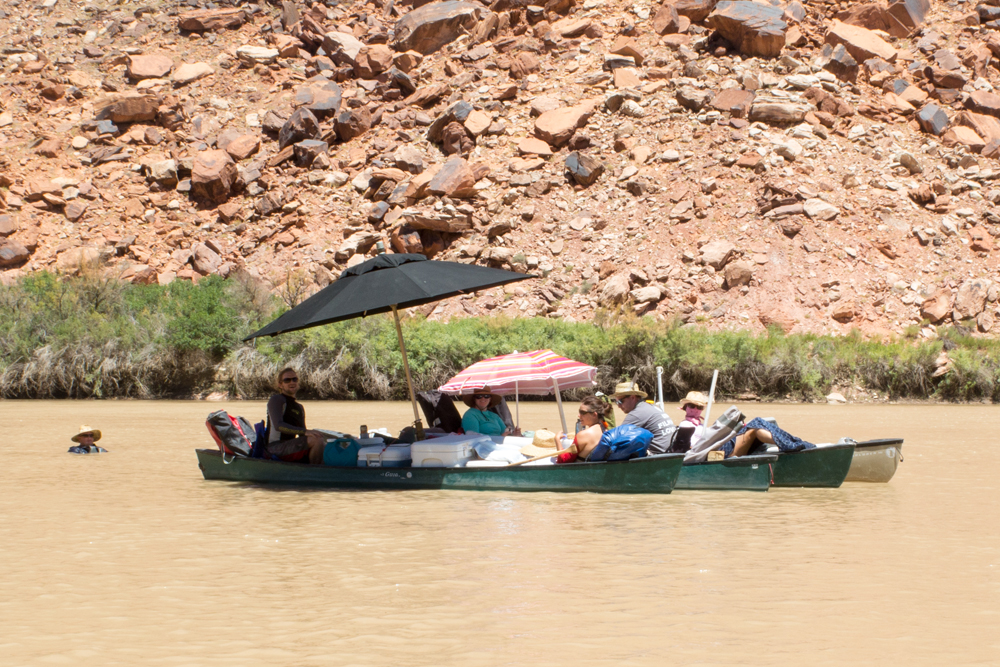 Our biggest adventure of the trip? This sweet girl named Cara Biner (Get it!? Perfect name for a Moab dog!)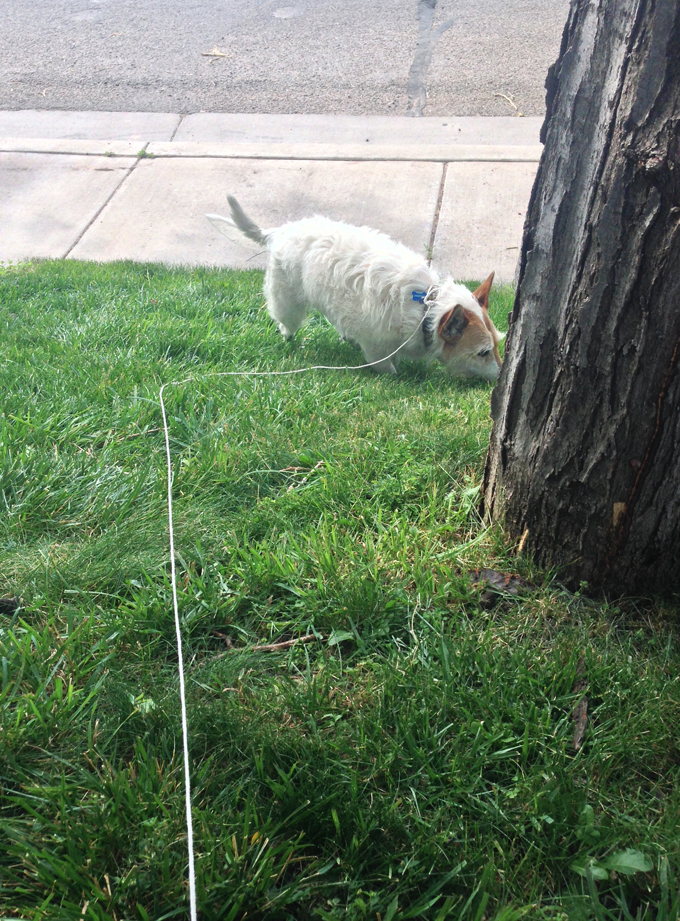 We spent Friday night in Moab before heading to the river, and we were walking across a parking lot on our way to happy hour when this old gal ran up to us. She had tags but wasn't with anyone. We got her over to the cool shady grass and I called her Mama. Unfortunately, Mama was out of town and couldn't get ahold of anyone to come pick her up, so she gave me her address and told me how I could sneak into her house, so we could put Miss Cara Biner back inside where she'd be cool and safe! A nice passerby gave us some string to use as a leash, and it was totally a happy ending.
So, would I do the river trip again? Yes. Just not for a while. Also next time I'd wait and do it in early September when it's not so hot!