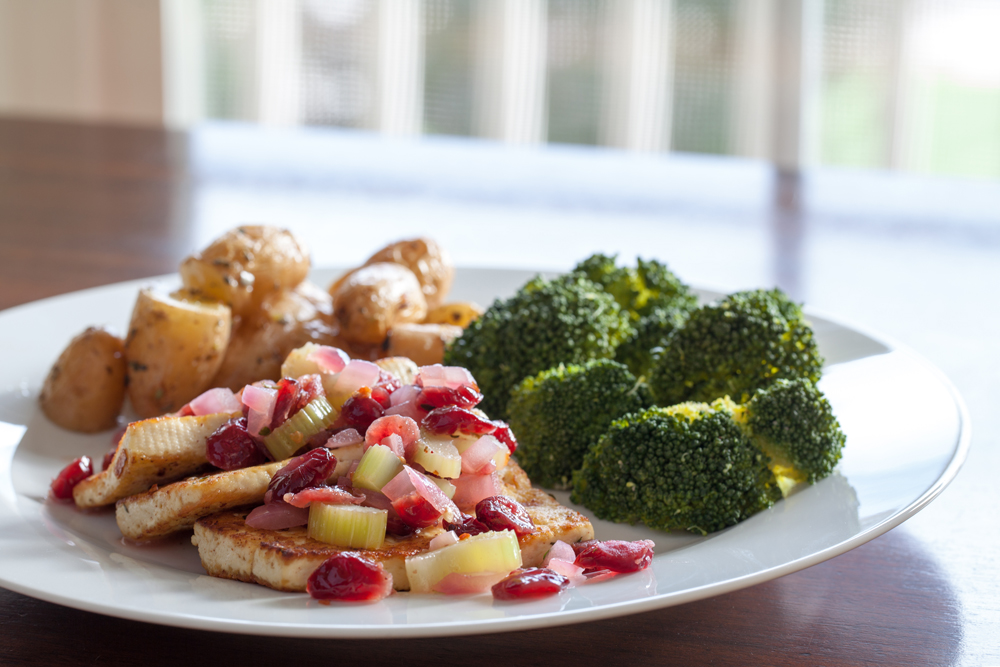 I realize that for most people this time of year can be summed up in one main ingredient… pumpkin. And yes, I get it. When the weather begins to turn colder I definitely enjoy experimenting with pumpkin. But even more than pumpkin, this time of year (September through New Years, I suppose) makes me crave CRANBERRIES! They are my ultimate fall/winter ingredient, which is why I'm so excited to finally share this recipe for Vegan Sweet n' Tangy Cranberry Tofu! Now that it's November, it seems fitting.
This is a recipe I've loved since my pregan days, although I have to admit I didn't always make it with tofu. But as it turns out, it's GREAT with tofu, and also with seitan!
Such a pretty dish, if I do say so myself!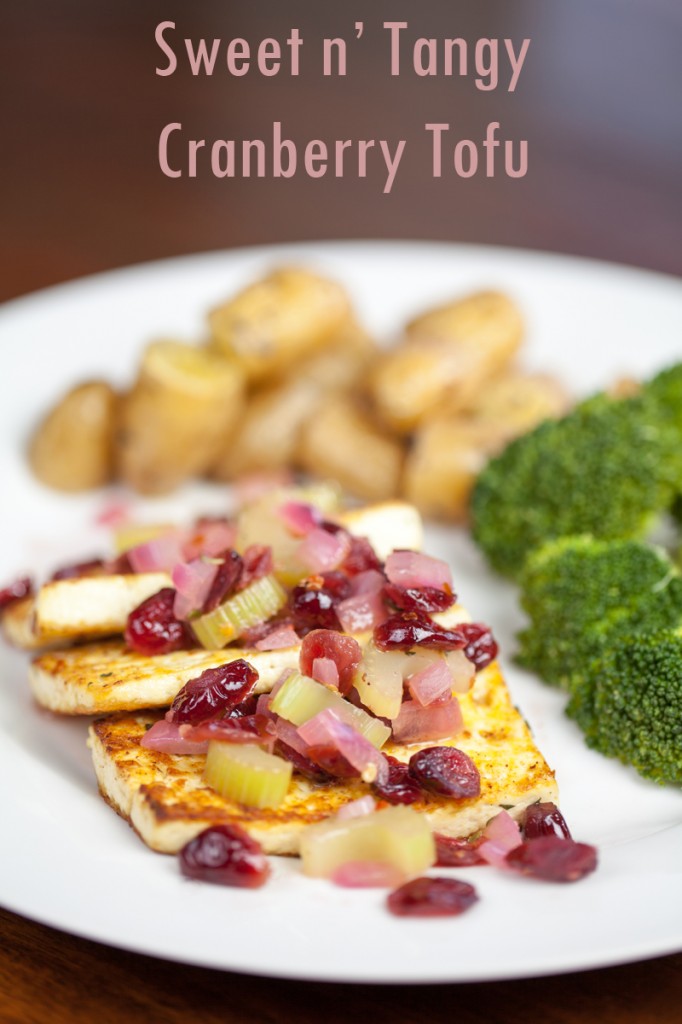 I no longer have the original recipe (it was from that Rachael Ray book with a new recipe for each day of the year… hello pregan cooking!), but that's no great loss because it was full of ingredients we don't need and don't want to use anyway.
This tofu dish is perfect for your next holiday or autumnal dinner party, and even the omnivores will be exclaiming over how flavorful and delicious it is! I paired it with steamed broccoli and fingerling potatoes, which I think went perfectly. A very filling yet healthy and delicious meal!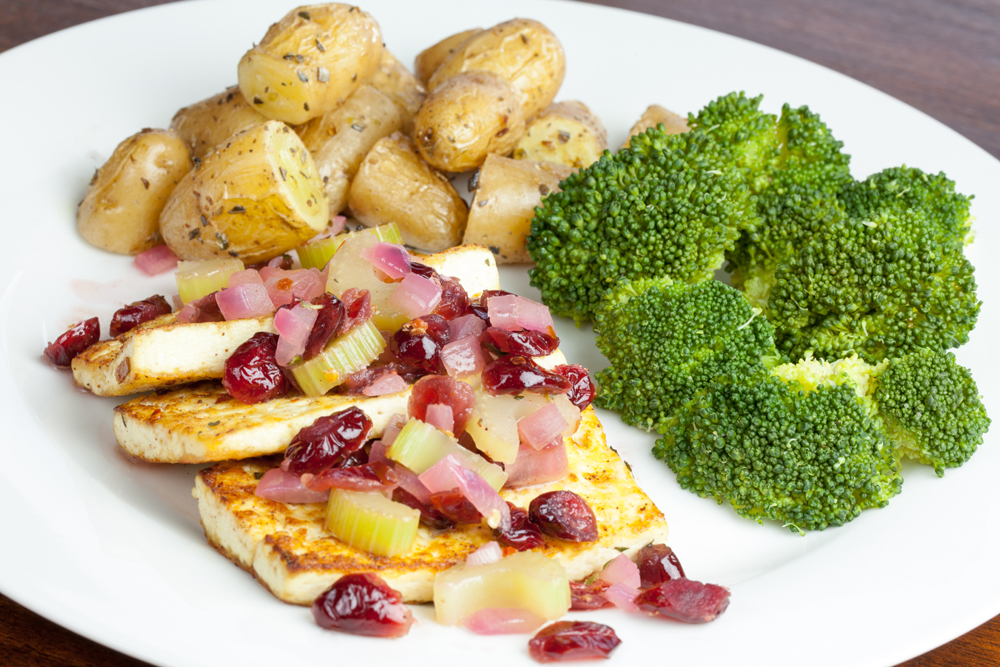 ---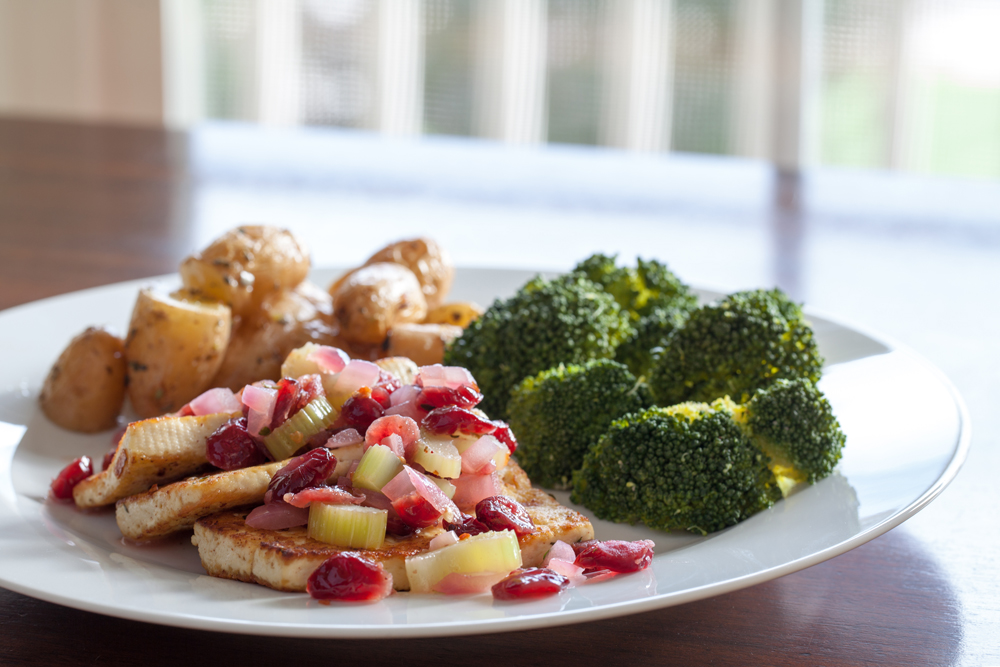 Sweet n' Tangy Cranberry Tofu
2014-10-01 10:53:48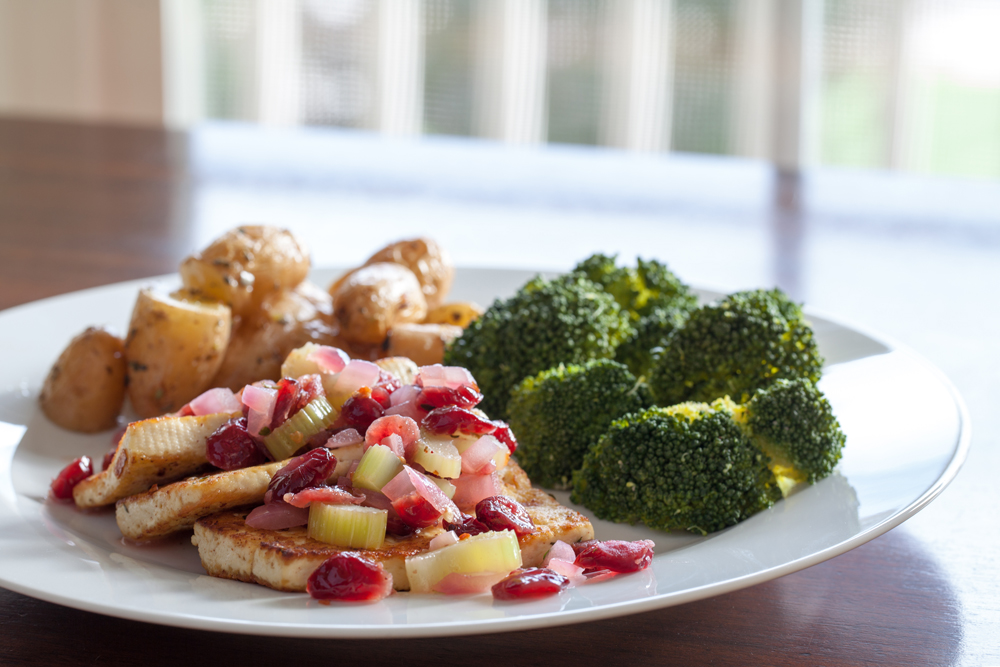 Serves 4
This might be the best holiday-season meal ever!
Ingredients
I block firm tofu, well pressed (at least an hour)
Extra virgin olive oil
1 small red onion, diced
3 stalks celery, diced
1/2 teaspoon crushed red pepper
1/4 teaspoon cinnamon
1/2 cup red wine (I've used white wine before too, and it was delicious, so just go with your personal preference or what you have on hand!)
1 cup dried cranberries
Instructions
Preheat the oven to 385. Press the tofu REALLY well, then slice into 14 thin rectangles. Spray baking sheet with non-stick spray and arrange tofu in single layer. Give a pinch of salt and pepper and bake for about 15 minutes on each side.
Saute the onion and celery in the oil over medium heat for 3-4 minutes, sprinkling in the crushed red pepper and cinnamon about halfway through.
Add the wine and cranberries and reduce to low. Simmer until the pan is mostly dry. When the tofu is done baking add it to the pan as well so it can soak up some of these delicious flavors!
The dish is ready when you like the consistency of the cranberry mix. Use it to top the tofu and serve hot!
Adapted from Rachael Ray
That Was Vegan? http://www.thatwasvegan.com/