I was recently invited back to Seasons 52 to sample their Vegan Winter Menu, lucky me! As you may recall, I've already reviewed their Autumn menu (their menu changes with the season, hence the name), and have pretty much established myself as a fan… Also, sorry for the bad cell phone pics. It was really dark and I didn't want to use my flash for obvious reasons!
There were some similarities between the two menus, which makes sense because we tend to crave similar types of foods in the fall and winter, right? But I was determined to try all new things, so I started off with the most delicious drink, a Cranberry & Sage made with gin, white cranberry juice, fresh cranberries and candied sage leaf: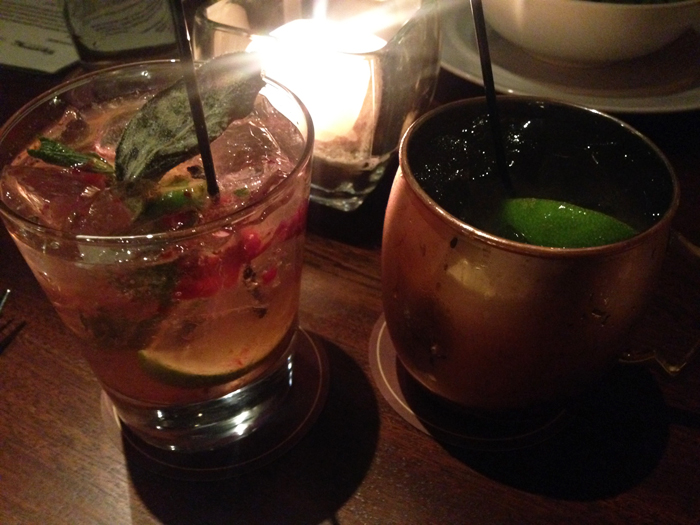 My lucky date had the Mule, in a traditional copper cup. Here's a look at their featured, seasonal cocktails: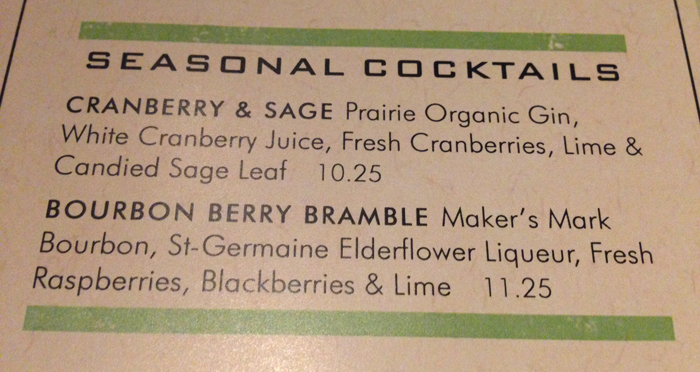 Next up was the Gengler Farms Organic Edamame which was my favorite dish of the night, because instead of regular sea salt, it came with Japanese green tea sea salt! Imagine mixing sea salt with matcha green tea powder and it was something like that. Only more perfect.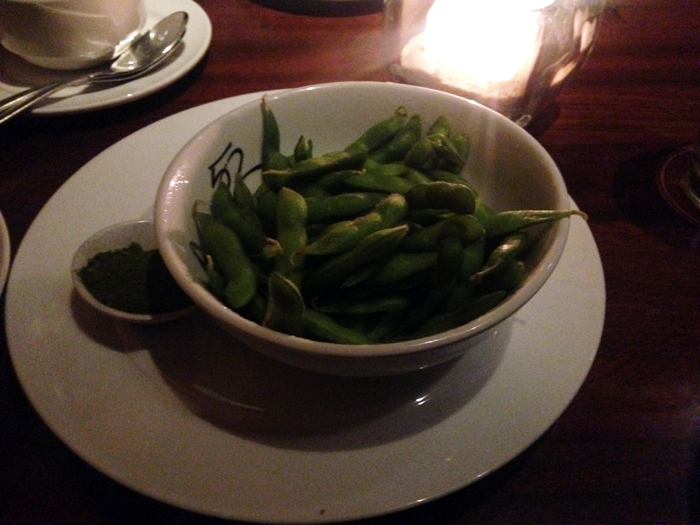 That was followed by a small bowl of soup, a Mediterranean Vegetable Soup full of flavorful broth and tons of veggies. It wasn't as insanely delicious as the soup they offered in the fall (it was my favorite part of that meal) but it was very good.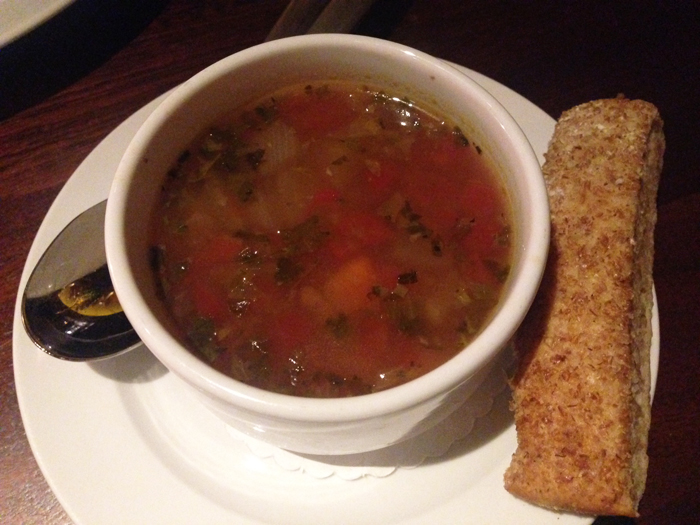 While I slurped up that delicious soup, my date had the Warm Golden Beet salad, which I stole many bites of and LOVED! The beets came with toasted pistachios and micro basil and were so perfectly ripened and prepared, I would order them again in a heartbeat.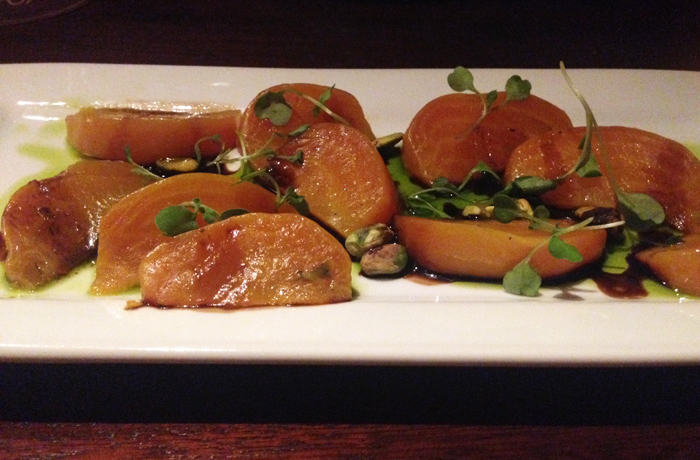 Finally, for my entree I went with the Vegetables & Pasta, which was sauteed with garlic and tomato-basil sauce. It was delicious! I don't even think I had to add salt or pepper, that's how perfectly flavored it already was! And there were tons of great veggies in there too.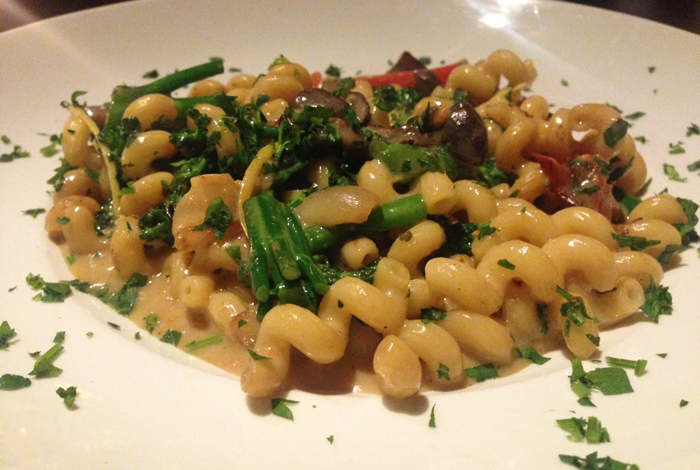 My date ordered the Vegetarian Tacos, which have black beans, roasted peppers and mole poblano. No good picture of those, but you can see one here. He loved them, though!
And that was it. Their seasonal vegan dessert offering was fresh blueberries, but I opted for a glass of pinot noir instead, because sometimes that's how I roll. Here's a shot of the interior, to give you an idea of just how beautiful it is in there: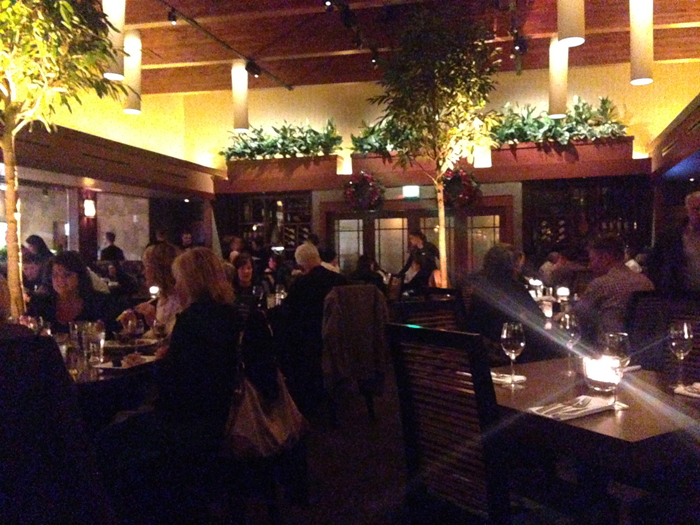 The service, as always, was impeccable! We were seated as soon as we arrived, and our table was already laid out with the vegan menus which was a really nice tough. Matthew, a managing partner, came over to check on us and make sure our meals were okay. We felt like royalty!
I'm a huge fan of restaurants that offer a special vegan menu, because it makes ordering so much easier, and it keeps me from having to harass my server. I especially appreciate restaurants like Seasons who offer such a wide variety of healthy, seasonal food. They're located in states across the country, so the next time you want a special dining experience, I recommend you find one close to you!
Want more Denver-area restaurant reviews? Check out my Mile High Vegan Eats page!
*I was provided free product to review but the opinions are 100% mine!