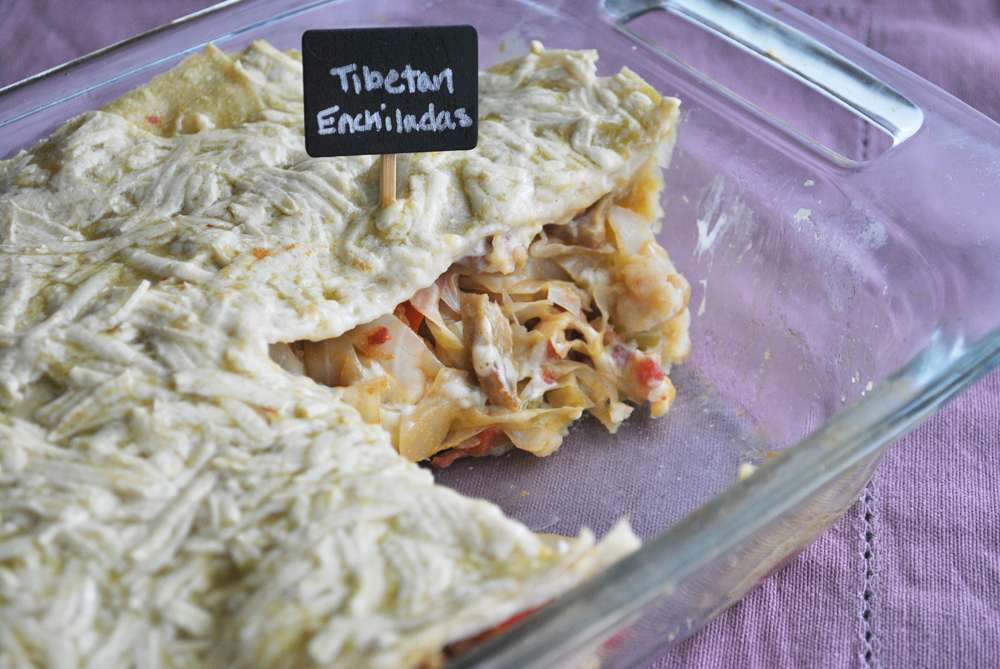 Once upon a time in, like, 2010, I discovered a blog called Vegan Thyme. I loved reading about Kelly's dogs and adventures in the kitchen, and while poking around her old recipes, I discovered something called Tibetan Burritos. They were her version of a recipe from one of the Moosewood cookbooks, and while I can't speak to the accuracy of their name, I can tell you this: They are freaking delicious. I've made them a few times a year ever since, which is pretty rare for me.
Also, interesting fact, every time I make them I cut one of my fingers pretty badly while chopping cabbage. It's not the recipe's fault, of course. It probably has more to do with the fact that it's a dish that takes a bit longer to make so I usually save it for a weekend night which means I'm probably pretty sauced while making it. Perhaps booze and knives don't mix?? Okay, but anyway… I've been on a corn tortilla kick lately (used to hate them, now I love them, cannot explain) so I decided to switch things up a little bit and turn the burritos into enchiladas. Vegan Tibetan Enchiladas, to be exact. Full of seitan, cabbage, carrots, bell peppers, celery, and onions. And Daiya cheese.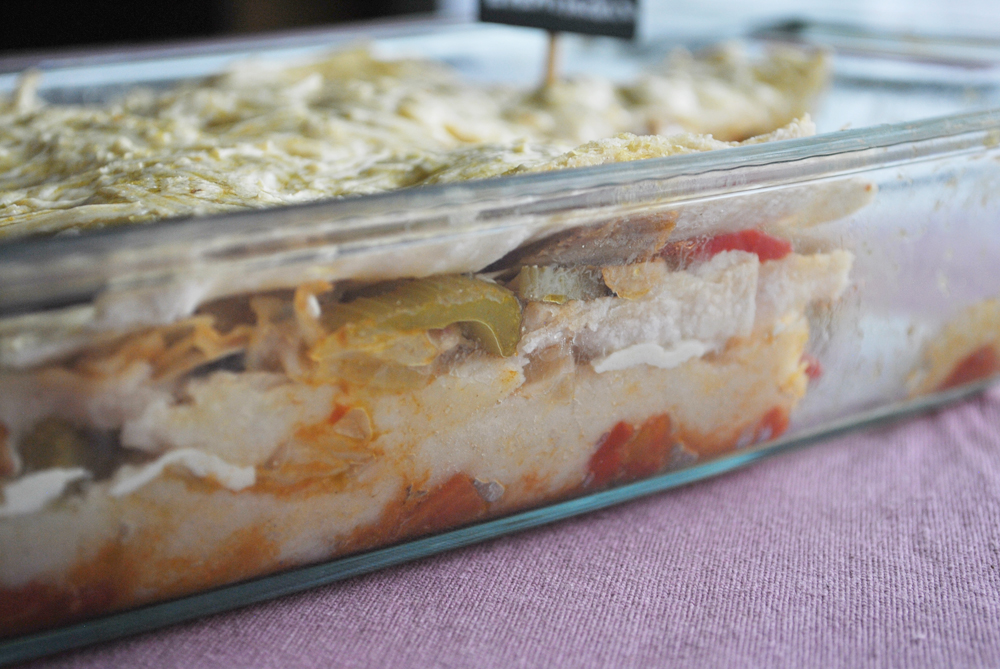 So flavorful! Cumin, ginger, paprika, thai chili paste… and I used my own yummy chicken-style seitan, which I cannot recommend enough. Love that stuff. There's also a whole mess of green enchilada sauce in there, another personal favorite of mine. And while there is quite a bit of chopping involved, once the baking dish is in the oven, you have 30 minutes to drink clean the kitchen up, so by the time you're ready to eat, you can just relax!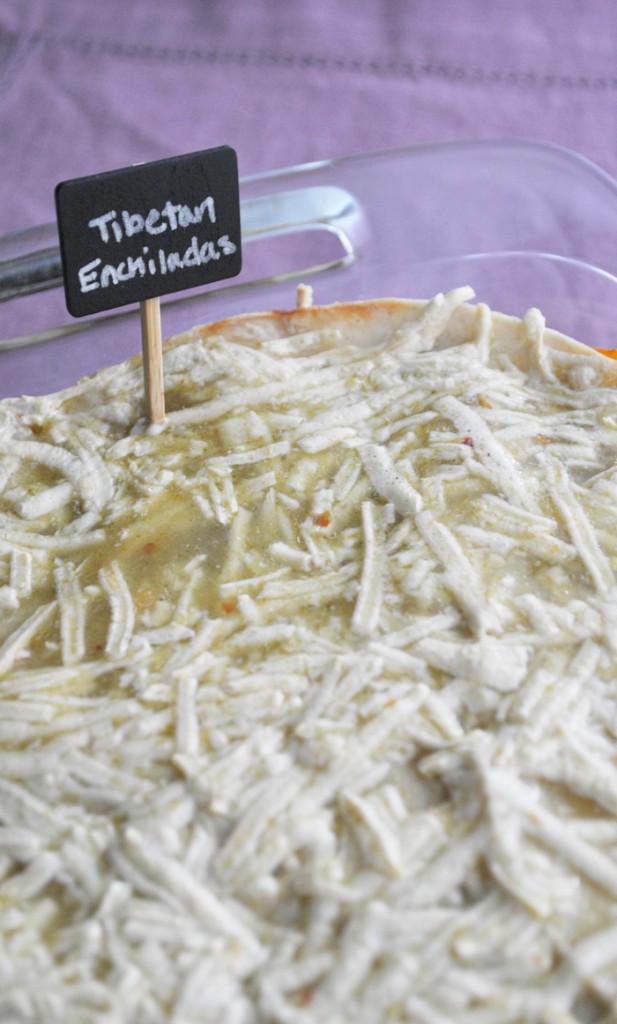 It also make excellent leftovers. Oh! And I didn't cut my finger this time. Perhaps because I made it on Saturday morning, alcohol-free? Or maybe it was just because I was SO motivated to get tons of cooking and cleaning and DIY stuff done this weekend. I made two recipes from a new cookbook for an upcoming review and giveaway, plus I made chocolate chip banana bread- also as part of a review, and I even created a new smoothie recipe that tastes pretty much like dessert. And it's what I'm having for breakfast this morning, which I consider a win.
And speaking of this weekend… My friend Denise and I went to a meetup with Vegan Life Colorado, one of Denver's vegan groups, on Friday night. You guys, it was an All-U-Can-Eat vegan pizza buffet! I can still barely believe such a wonderful thing even exists, but it does.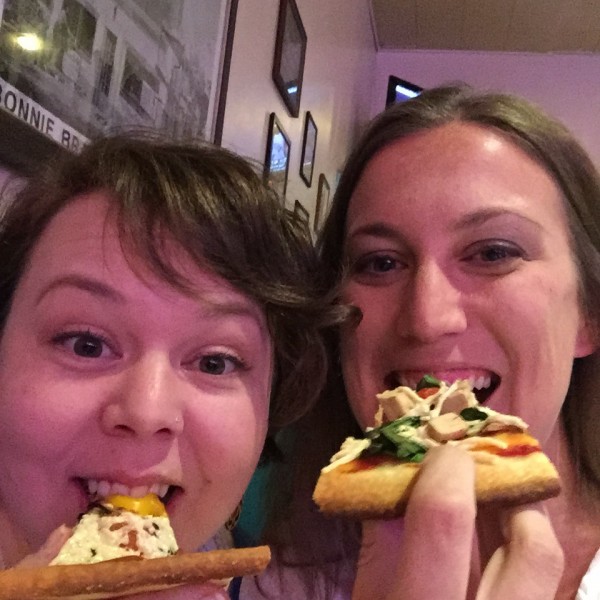 We weren't sure what to expect… I was thinking maybe there would be 3 or 4 varieties of pizza… but there were more like 10-12! Denise and I each ate 8 slices, of which we are both very proud. Many of the slices were smaller, so it's not like we actually ate 2 large pizzas… but we did eat a lot!
I wish I had better pictures but I was really more focused on chewing…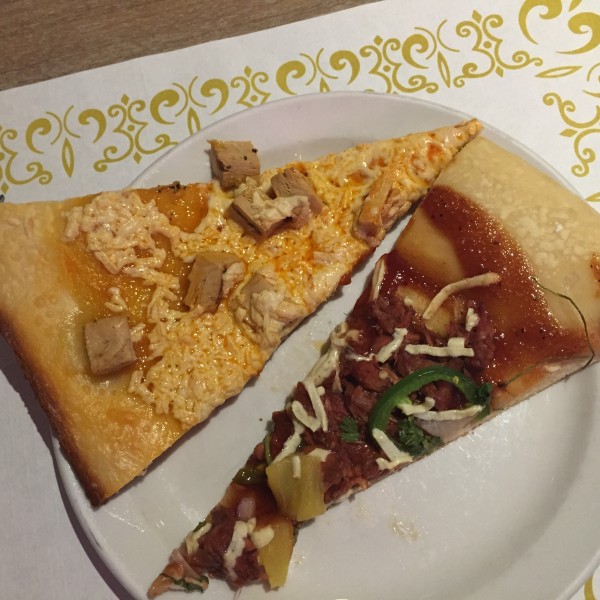 My first plate: Buffalo chick'n (made with Beyond Meat), and BBQ jackfruit with pineapple and jalapenos! All the pizzas that had mozzarella used Daiya.
My second plate: From left to right- Chick'n and spinach and cheese, then an India curry with potatoes and peas and peppers, and then kale and cashew cheese.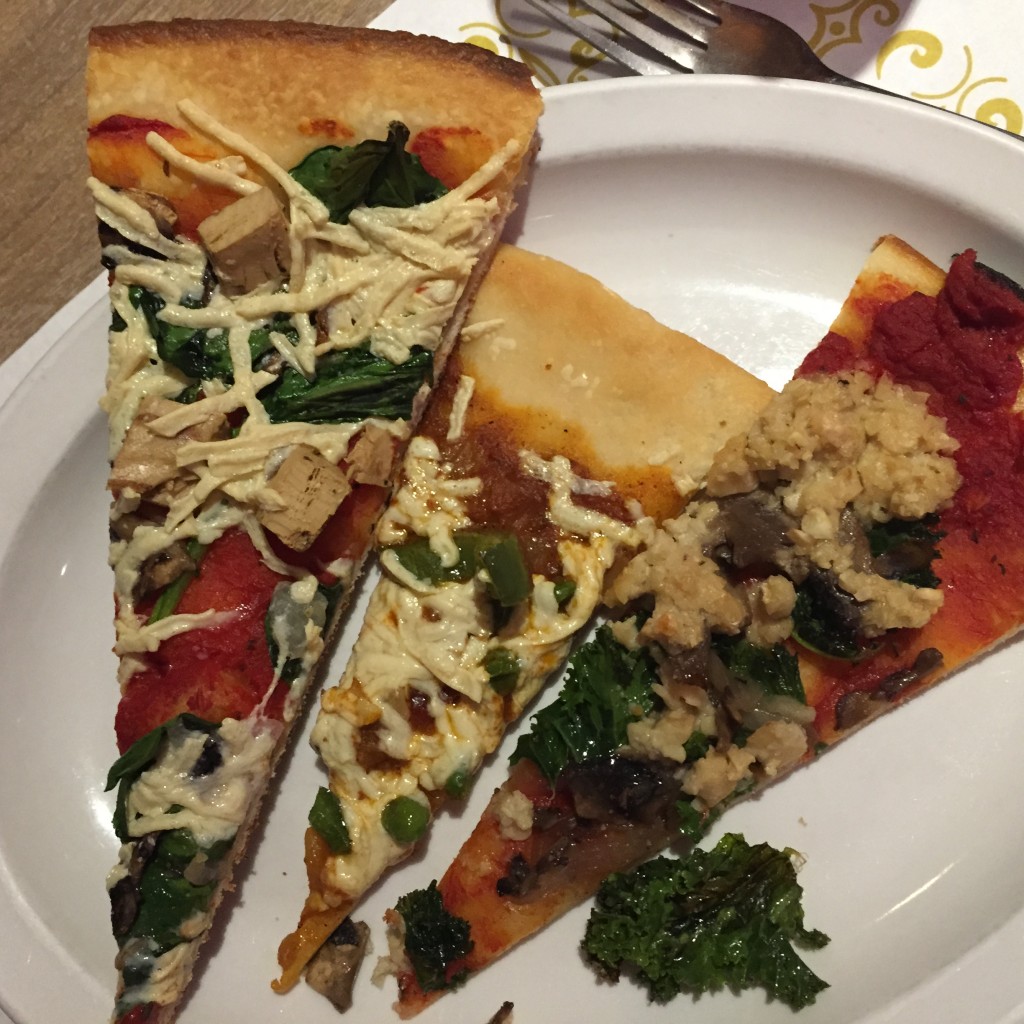 After that I stopped taking pictures. I can't even remember what the other 3 pieces were. One was a tiramisu dessert pizza (yum!), and one was a sort of french dip. The other one is lost to my poor memory.
The buffet was at the Bonnie Brae Tavern which is obviously my new favorite place in the world! They don't have vegan pizza on their regular menu (yet!) but they host this buffet once a month because Chris, a member of the family who owns the tavern, is vegan. Unfortunately I'll be out of town for the June buffet but I will absolutely be there for the one in July. Any Denver area readers are encouraged to come as well!
And on that note, I'll leave you with the recipe for the enchiladas. They're not a vegan pizza buffet, but they are delicious!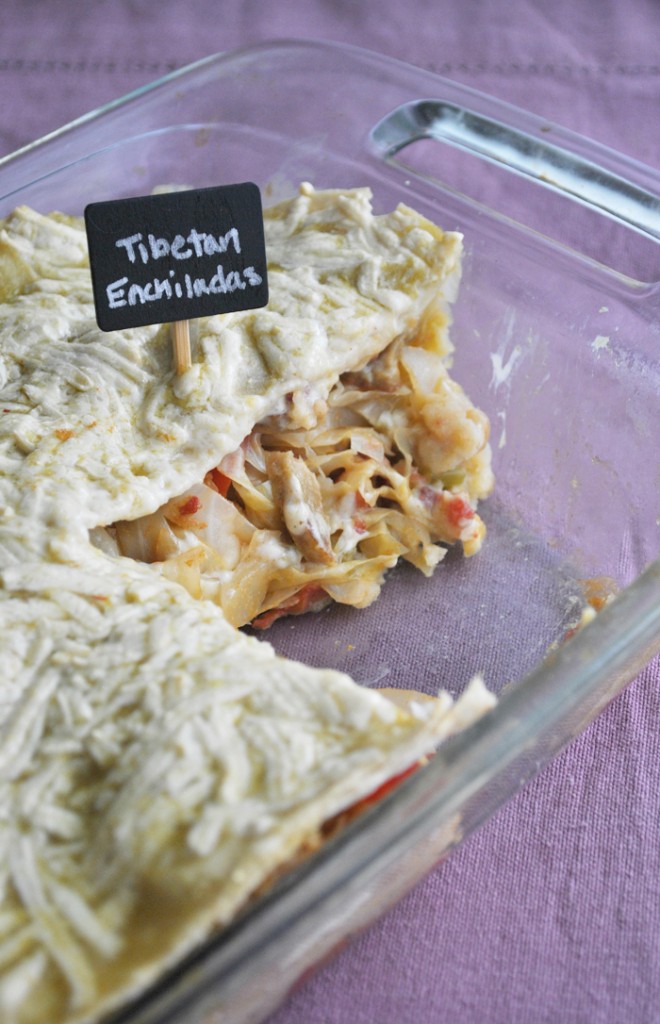 ---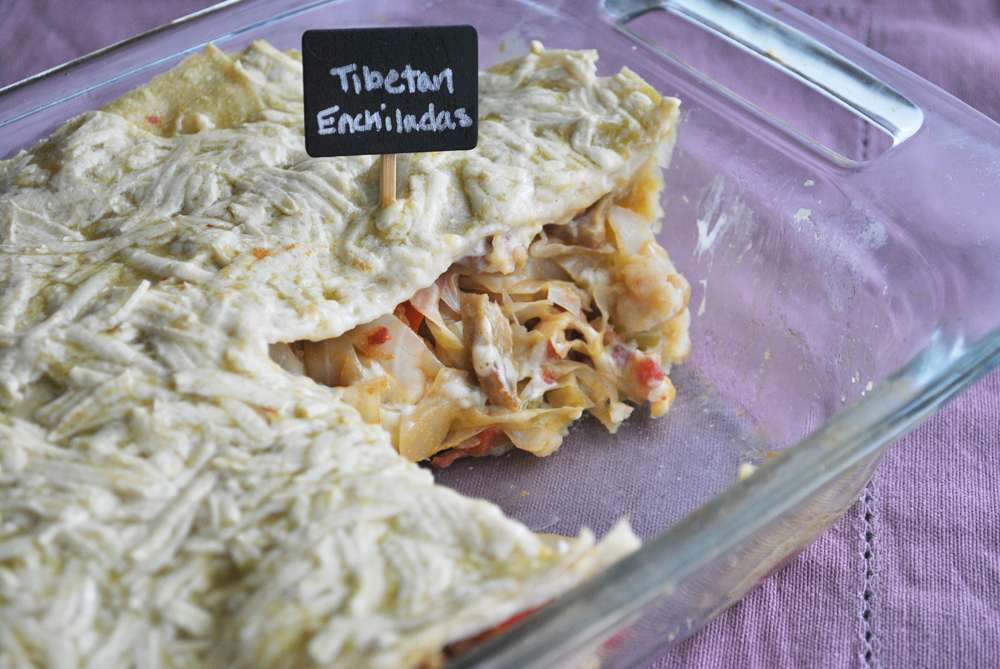 Tibetan Enchiladas
2015-05-18 08:52:44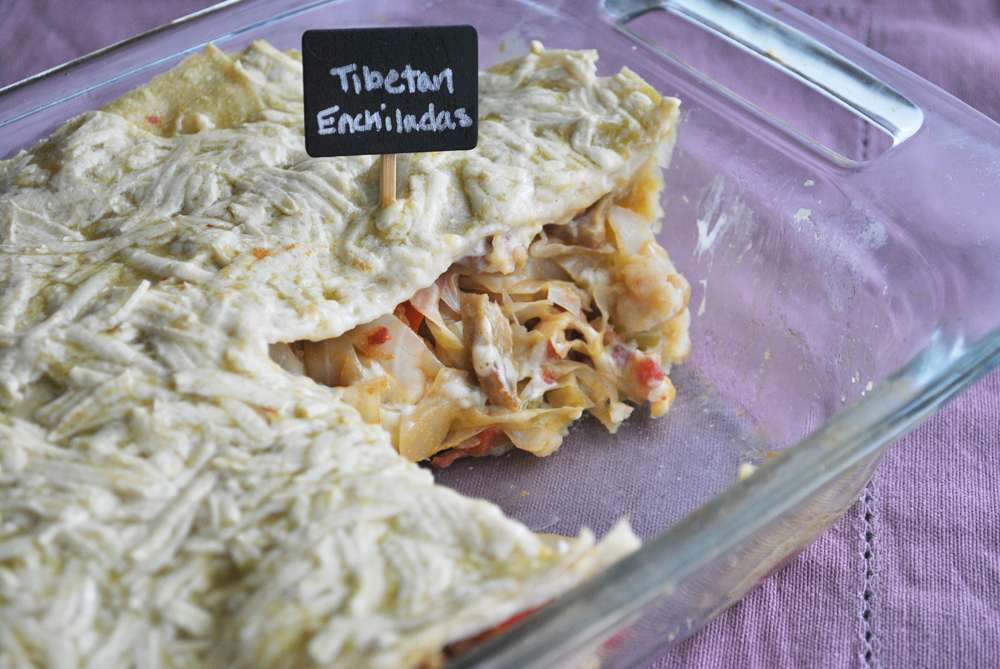 Serves 6
Ingredients
1 loaf seitan (2 if you want a "meatier" enchilada)
1 tablespoon oil
1 small sweet onion, sliced thin
2 cloves garlic, minced
1" fresh ginger, grated
1/2 small green cabbage, sliced thin
2 carrots, shredded
2 stalks celery, sliced
1/2 bell pepper, chopped
2 teaspoons Sambal Oelek
1 teaspoon paprika
1.5 teaspoons cumin
1/2 teaspoon salt (or more to taste)
~1/2 bag Daiya mozzarella shreds
20oz can green enchilada sauce, halved
10-12 small corn tortillas
Instructions
Preheat oven to 350, and spray an 11x7 baking dish with non-stick. Set aside.
Heat the oil in a large frying pan over medium/high heat. Slice the seitan in half lengthwise, then into thin slices. Fry just until a little brown and crispy. Remove from the pan and lay on a paper towel covered plate.
In the same pan, water-saute the onion and garlic for about 3 minutes, then add the cabbage, carrots, bell pepper, chili paste, and all seasonings. Continue to saute for another 5-6 minutes. Add more water if you need it, but the cabbage will release a lot of moisture on it's own. Add the celery, the seitan strips, and about half the Daiya (approximately a quarter bag). Turn of the heat but leave the pan on the stove so the cheese will melt in.
Spread a couple tablespoons of the enchilada sauce on the bottom of the baking dish, then add a layer of tortillas, breaking them in half as needed to get full coverage. Follow with half of the cabbage mixture and more enchilada sauce (you're saving half of it for the top layer). Repeat the tortillas and cabbage and sauce, then add a final layer of tortillas. Cover with the other half of the Daiya and the remaining enchilada sauce.
Cover with foil and bake for about 30 minutes. If the cheese isn't fully melted let it sit under the broiler for a minute or so at the end. Let cool a little before serving.
Adapted from Vegan Thyme
That Was Vegan? http://www.thatwasvegan.com/