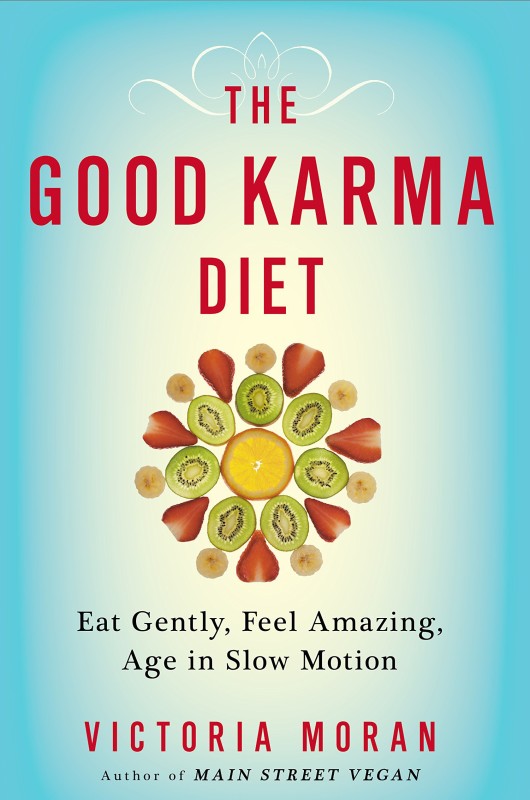 I ❤️ being vegan, and chances are (since you're reading a vegan blog) so do you! We know in our hearts that we're doing the right thing, but it can still be difficult to quantify just how right it is…
Well, not anymore, thanks to Victoria Moran! Her newest book, The Good Karma Diet, breaks it all down for us – how eating ethically is not only a powerful way to stay healthy, it also gives you good karma!
I started reading this book Saturday morning and couldn't put it down. It has recipes, it has a great history on veganism, and it's well written. It pulls you in. My best part are the individual stories of people who's karma (and life!) has been improved by their food choices. Wonderful, feel-good stories.
Everything about this book is designed to either confirm your choice to be vegan, or, if you're still hedging, to help you make the choice to go all the way. I've already loaned my copy to a friend who has been considering veganism (I think it will convince her!), and I'm already planning who else I'll lend it to when I get it back.
---
The Giveaway
One lucky reader will win a copy of The Good Karma Diet by Victoria Moran! To enter, leave a comment below: What's your very favorite thing about being vegan? For me it's knowing that I'm helping animals! You can also score extra points with Twitter. Contest ends May 31st at midnight (mountain time). One winner will be chosen at random and announced the following day. Be sure and log your comment into the Rafflecopter to make it count! Open to residents of the US only. Good luck!
*I was provided free product to review, but the opinions are 100% mine!