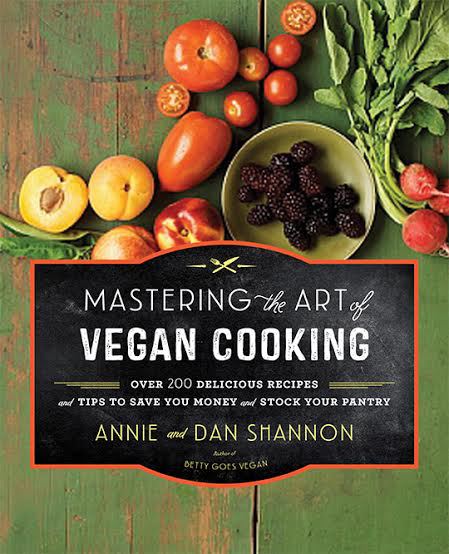 I know you all know of Annie and Dan Shannon of Meet The Shannons fame, and if you're like me you enjoy both their delicious recipes and their nerdy wit. And you probably already know that their second cookbook has hit the streets: Mastering the Art of Vegan Cooking: Over 200 Delicious Recipes and Tips to Save You Money and Stock Your Pantry.
What you may not have known, however, is that right here, right now, you have the chance to win a copy of your very own! The publisher has also allowed me to share an amazing recipe from the book, Rosemary Chicklins and Dumplins Stew! You can scroll all the way to the bottom to print it off.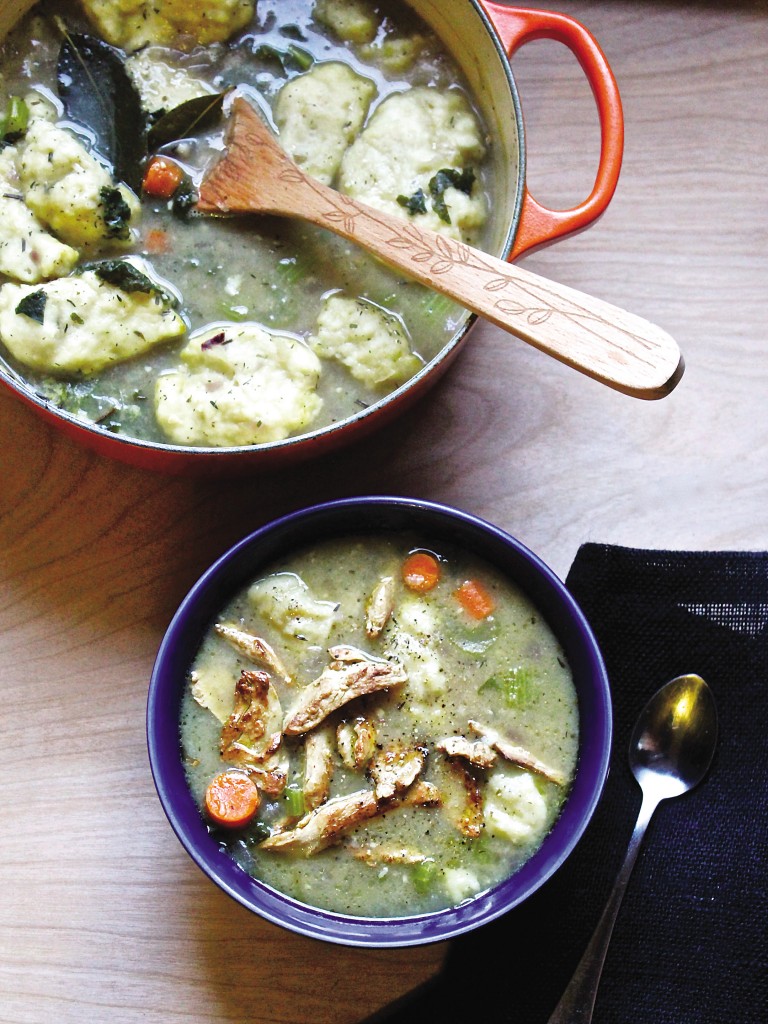 I'll admit it, I love me some dumplins. So much in fact, that I'd be happy just eating them in a bowl of broth, no vegan chicken or veggies required. Should I be ashamed of this? I don't think so…
This is one of the most beautiful cookbooks I've gotten in a long time. It's hardcover, which is something of a rarity, and the photos are utter perfection. I love the fact that each recipe has a per-serving cost breakdown, and I really appreciate their particular sense of humor that's sprinkled throughout the book. I wish I had found more time to try out recipes before this giveaway, but this is a book I'll be cooking from for a long time to come.
Here are the two I did get to try (both of which you've seen if you follow me on insta!):
Cauliflower Alfredo Sauce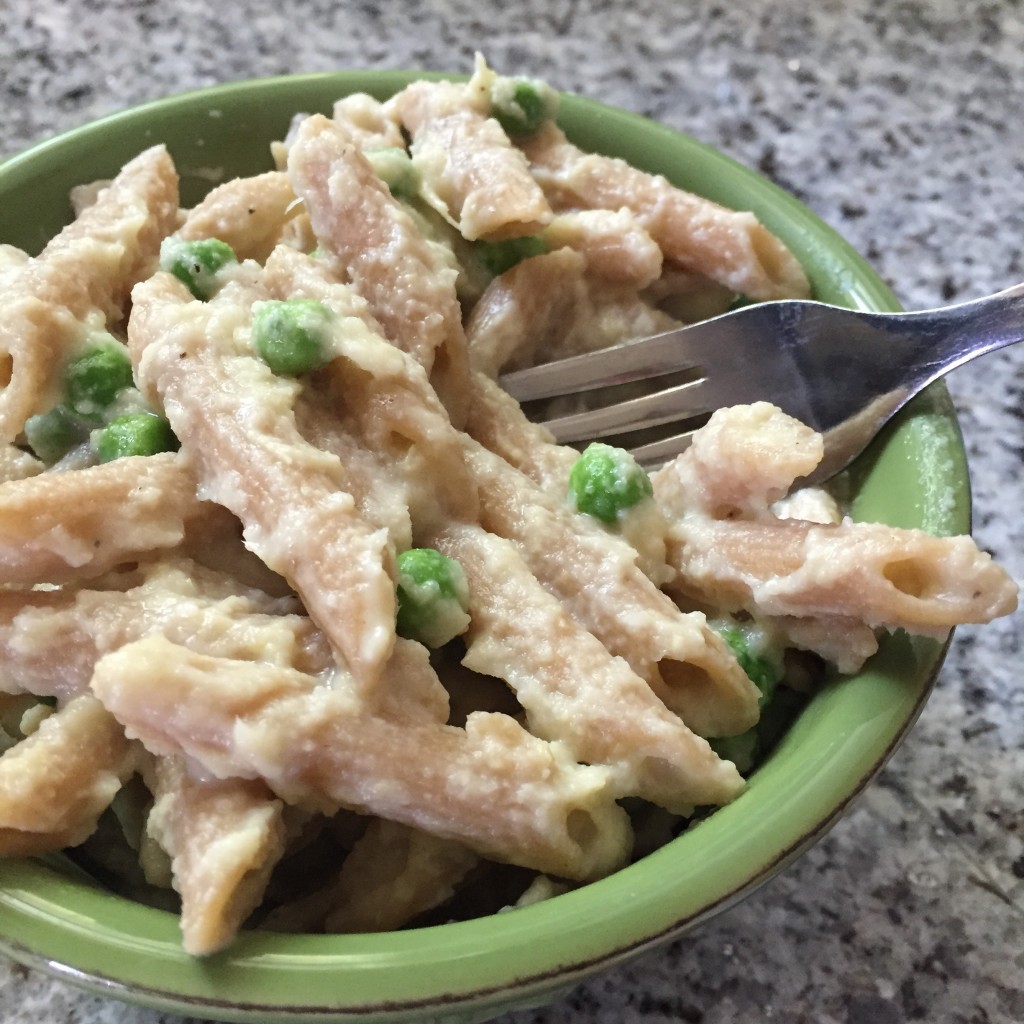 I really liked this flavor of this sauce, although I wouldn't necessarily classify it as an Alfredo. To me it was more like a Creamy Artichoke Sauce, or something like that. It was very reminiscent of the lemony, artichokey pasta dishes I've always enjoyed (like this one). I paired it with whole wheat penne because that was what I had on hand, and sweet peas because, well, sweet peas.
Tex Mex Quinoa Casserole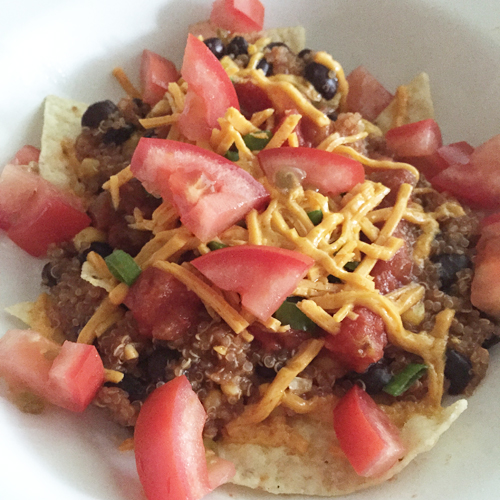 Well, technically this is Deconstructed Tex Mex Quinoa Casserole because I was making it for lunches during the week, so I didn't want the chips to get soggy! It was fan-freakin'-tastic! Full of protein and fiber, tons of veggies, and really easy to make. And most importantly, delicious. A really healthy way to get those Mexican flavors without resorting to a lot of oil and fat.
And that's just the tip of the vegan iceberg- this book is FULL of wonderful recipes, you're really gonna want to enter this giveaway! And speaking of which…
---
The Giveaway
One lucky reader will win a copy of Mastering The Art of Vegan Cooking by Annie and Dan Shannon! To enter, leave a comment below: What's the best dish you've ever "veganized"? You can also score extra points with Twitter. Contest ends June 23rd at midnight (mountain time). One winner will be chosen at random and announced the following day. Be sure and log your comment into the Rafflecopter to make it count! Open to residents of the US and Canada only. Good luck!
---
Rosemary Chicklins and Dumplins Stew
2015-06-10 10:49:18
Chicken and dumplings is a famous Southern dish. Maybe it's because it's so fun to say "dumplins" like a Sugarbaker in shoulder pads on Designing Women. But before the Great Depression, this dish was actually made famous by French-Canadian trappers, who were thought to have created this rustic version of coq au vin in the heart of the Great White North. During the Great Depression, it became all the rage in the United States because it was the perfect way to use leftovers from other meals. These days, it's just beloved for being gosh darn delicious.
Chicklins Stew
2 tablespoons olive oil
1 cup vegan chicken, defrosted and diced (we recommend Beyond Meat Chicken-Free Strips or Gardein Chick'n Scallopini)
½ cup whole wheat flour
5 cups vegan chicken broth or vegetable broth
1 cup nutritional yeast
2 tablespoons soy sauce or Bragg's Liquid Aminos
1 teaspoon dried thyme
1½ teaspoons rubbed sage
2 teaspoons dried rosemary, crushed
1 teaspoon onion powder
1 clove garlic, minced
¼ teaspoon crushed black peppercorn, plus more to sprinkle over the top
2 tablespoons chopped fresh parsley
¼ teaspoon celery seed
2 bay leaves
2 carrots, chopped
3 stalks celery, chopped
½ cup frozen peas
Dumplins
2 cups all-purpose flour
2 teaspoons baking powder
½ teaspoon sea salt
2 tablespoons vegan margarine
3/4 cup soy milk
1 teaspoon dried rosemary, crushed
Instructions
Make the chicklins stew: In your favorite Dutch oven or stew pot, heat the olive oil over medium heat. Toss in the vegan chicken and cook until it is browned and has crispy edges. Transfer it to a plate lined with a paper towel to soak up any extra oil, leaving the oil in the pan.
Using a wooden spoon, stir the flour into the hot oil left in the pan. Add the vegan chicken broth and whisk in the nutritional yeast. Using a large wooden spoon, stir in the soy sauce, thyme, sage, rosemary, onion powder, garlic, peppercorns, parsley, celery seed, bay leaves, carrots, celery, and peas.
Reduce the heat to low, cover, and let simmer for 15 minutes.
Meanwhile, make the dumplins: In a large bowl, combine all the dumplins ingredients and use an electric handheld mixer to mix the ingredients until they form a firm batter.
If you like a large dumpling, roll a portion of the dough into a ball about the size of your palm—but if you want to get more servings out of one recipe, use a soup spoon to form smaller dumplings instead.
Raise the heat under the pot of stew to bring it to a boil. Drop the raw dumplings into the hot stew one at a time and stir them in with a wooden spoon. Make sure the dumplings get completely covered so they cook evenly. Let the dumplings simmer in the stew for 10 to 15 minutes.
Single out the largest dumpling for sacrifice, remove it from the stew, and break it open. If it's firm on the inside, you're ready to eat! Mix in the cooked vegan chicken before serving with a few pinches of pepper over the top.
Notes
MAKES 4 TO 6 SERVINGS $1.99 PER SERVING
Excerpted from the book MASTERING THE ART OF VEGAN COOKING by Annie and Dan Shannon. © 2015 by Annie and Dan Shannon. Reprinted by permission of Grand Central Life and Style. All rights reserved.
That Was Vegan? http://www.thatwasvegan.com/