I went to DC for work last week, and aside from being productive and informative professionally, it was also very successful in terms of food. That is to say, I ate my damn face off!
It started off slowly on Tuesday when my flight was delayed for 3 hours, which is the best excuse I've ever heard to drink my breakfast! I cozied up at the bar with my ipad and the time just flew by. I was reading In the Unlikely Event by Judy Blume… This is the first adult fiction I've read of hers, and I really enjoyed it. Although I will admit, reading about plane crashes is probably not a great idea right before boarding a plane!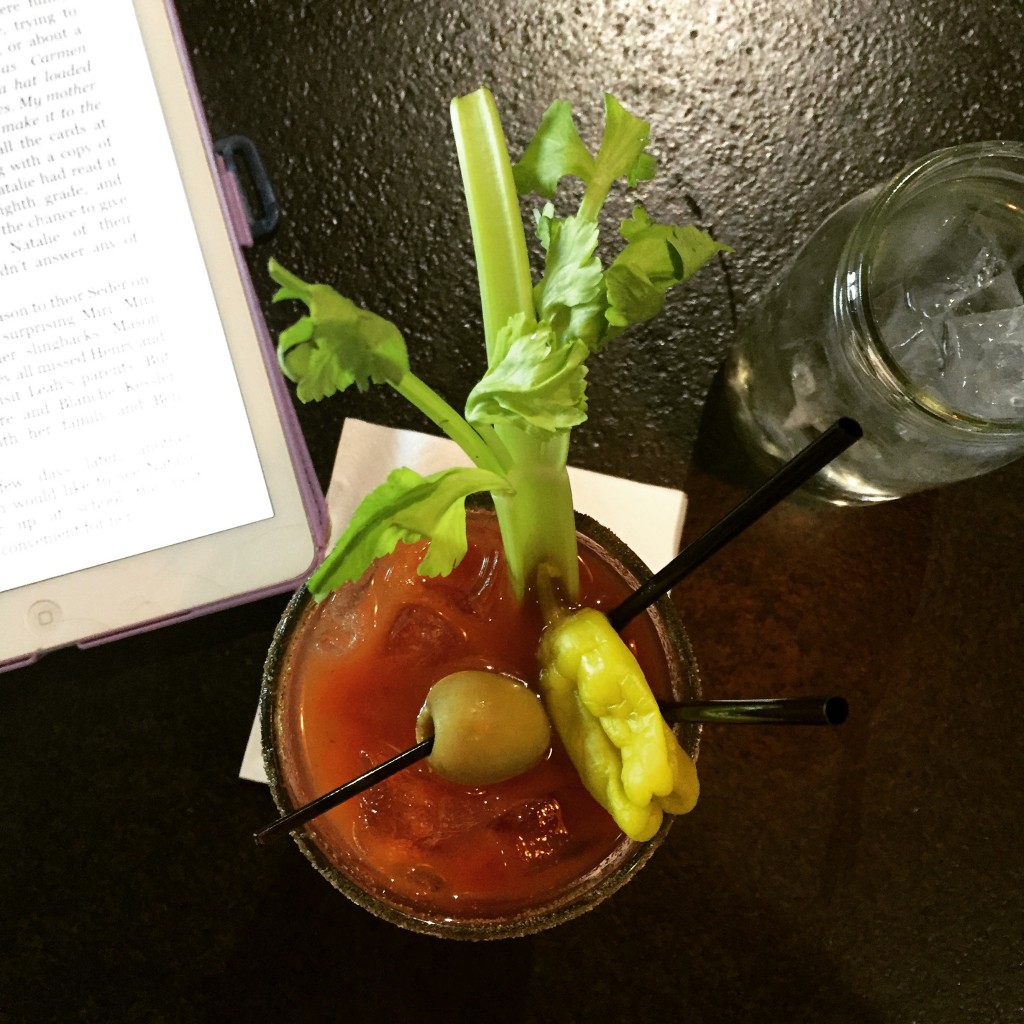 It was definitely not a smooth travel day, and I was disappointed to have missed my afternoon of sightseeing, so by the time I checked into my hotel I was ready for some happy hour happiness. The Public House was literally across the street, so that's where I went. Half off appetizers and $3 draft beers sounded pretty great to me, so I ordered their house lager and hummus plate. You know how sometimes hummus plates are a little skimpy on the hummus and the pita, and you end up with a bunch of veggies at the end and nothing to dip them in? Not here! That was two enormous scoops of hummus, and almost more pita than I could eat! It was fantastic. I finished my book and chatted with the guys sitting next to me, then headed back to my room to work for a bit.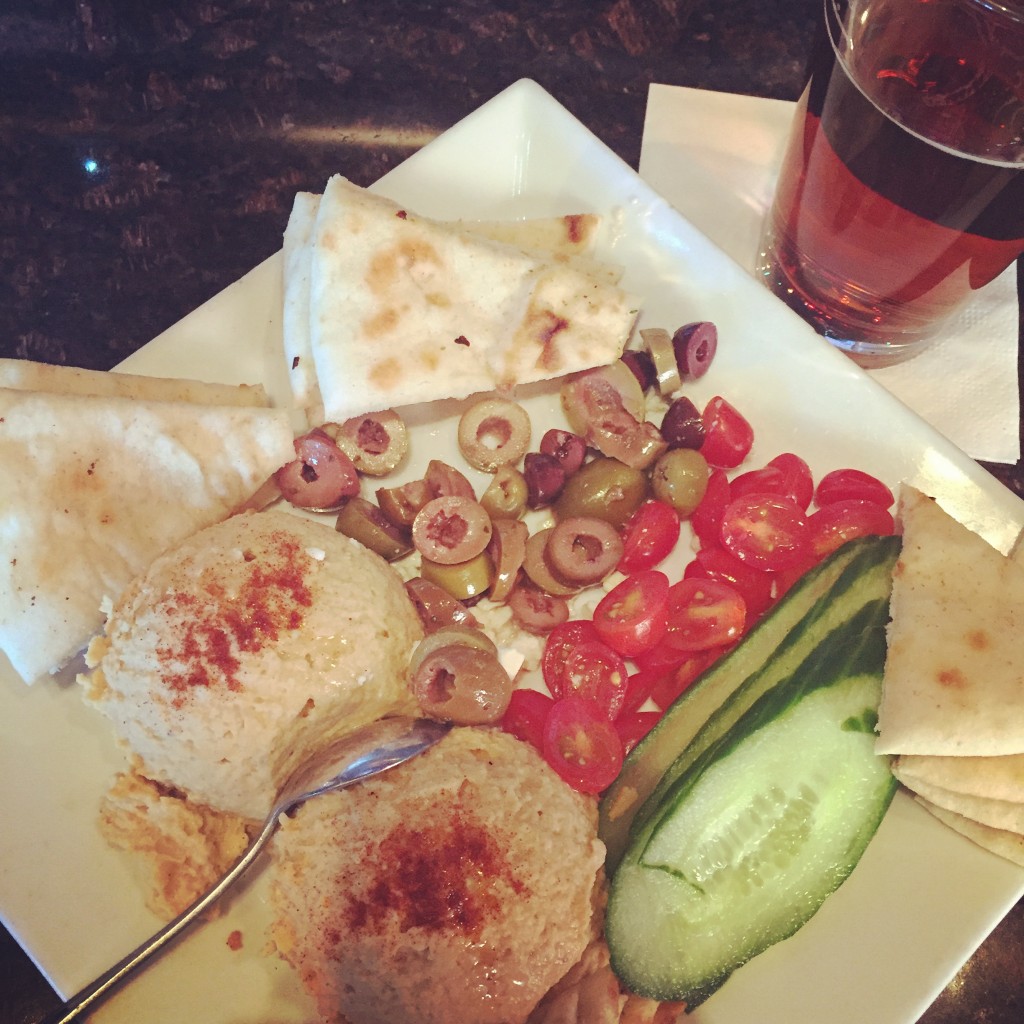 Wednesday morning's breakfast was A.) a little sad, and B.) destined to be repeated every morning for the rest of the week: Coffee and pretzels. It hit the spot though… and allowed me to save my per diem to spend on later, more exciting meals haha!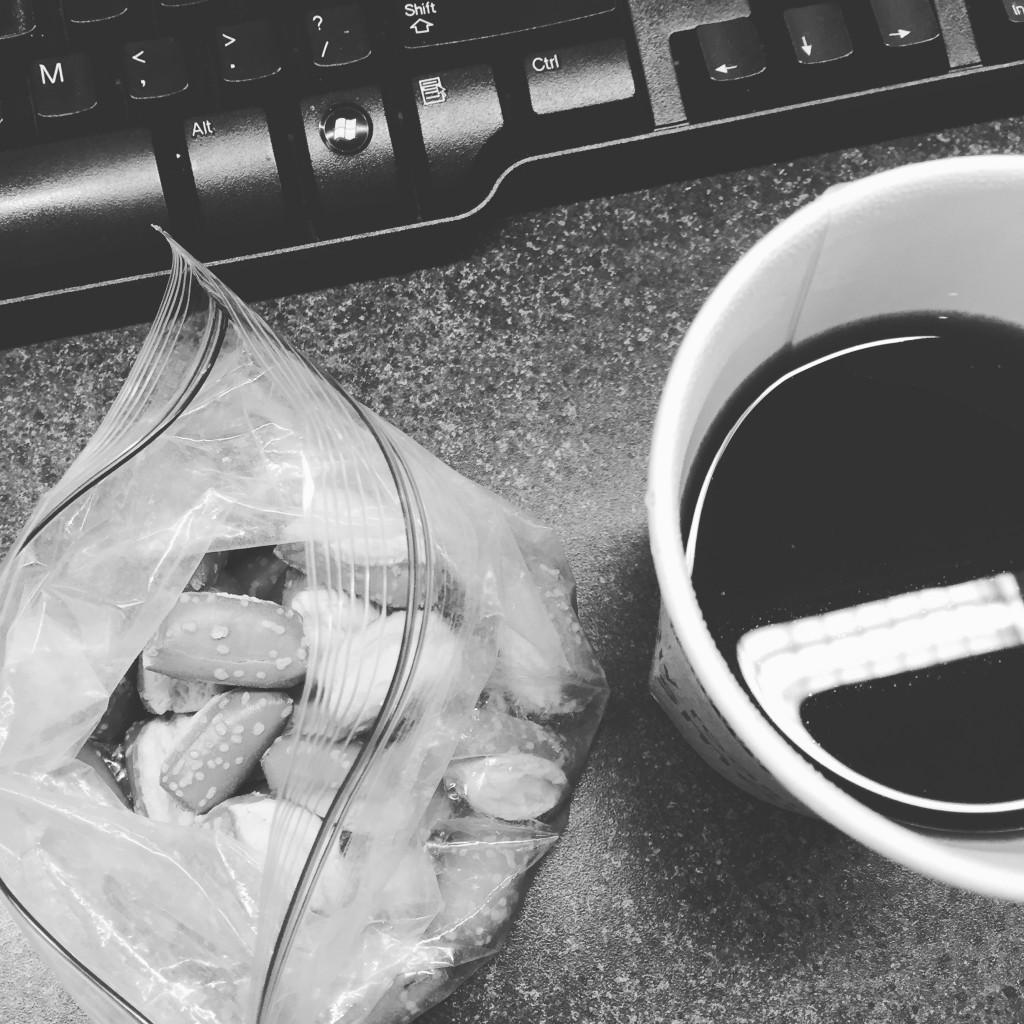 I was at the Census Bureau all week, and they have their own enormous cafeteria inside the building, and that's where I had lunch each day. There were different stations set up- you could get pizza, or burgers and fries (they had a veggie burger, but I never asked if it was vegan), sandwiches, soup, etc. On Wednesday I hit the salad bar and made a spinach and veggie salad with chickpeas, and this cauliflower/corn/red bean salad with a vinegar dressing on it. It was tasty. I also grabbed a few chunks of Thai sweet chili tofu off the Asian bar.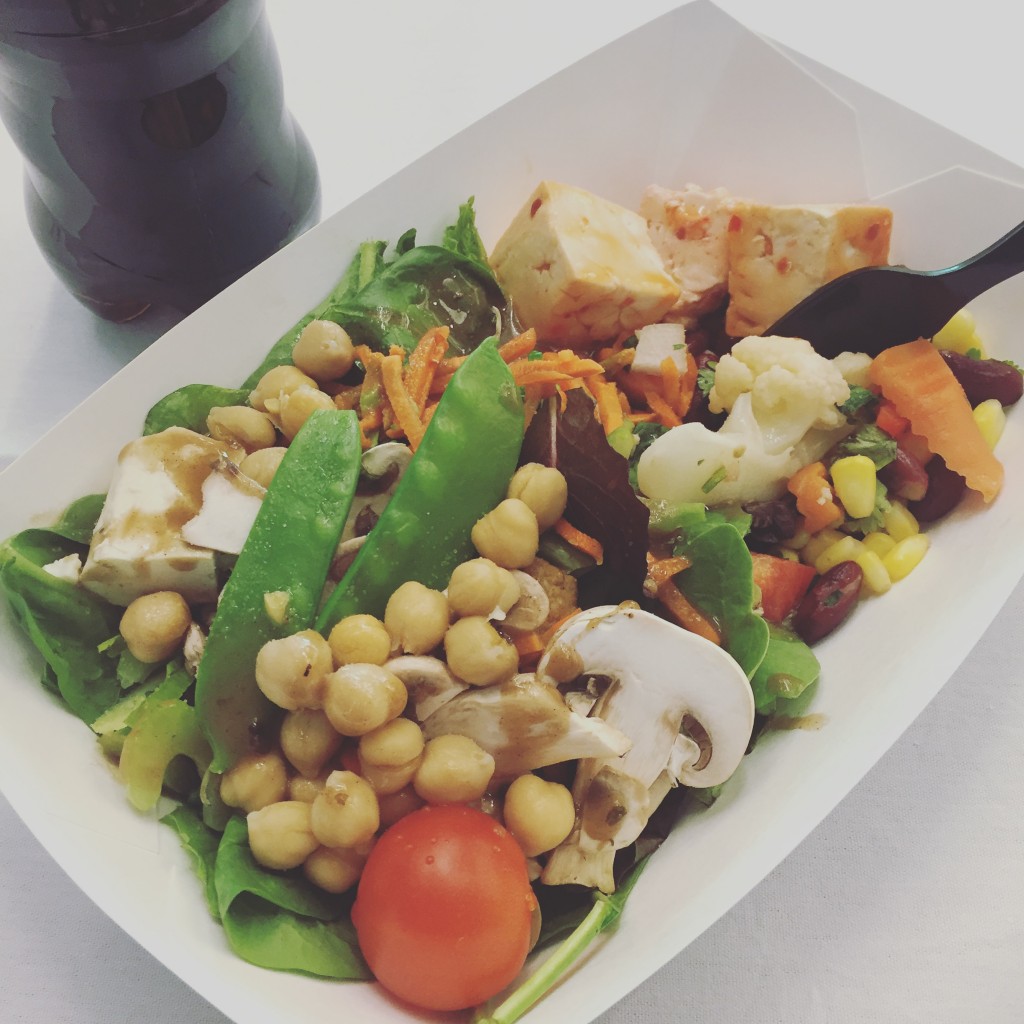 Long before we broke for the day, I knew I was headed to happy hour at Thai Pavilion because their menu looked good and very vegan friendly! I ended up enjoying three glasses of pinot grigio along with some edamame. By then I was reading In The Tall Grass by Stephen King and Joe Hill (his son!). It's a short story, very good!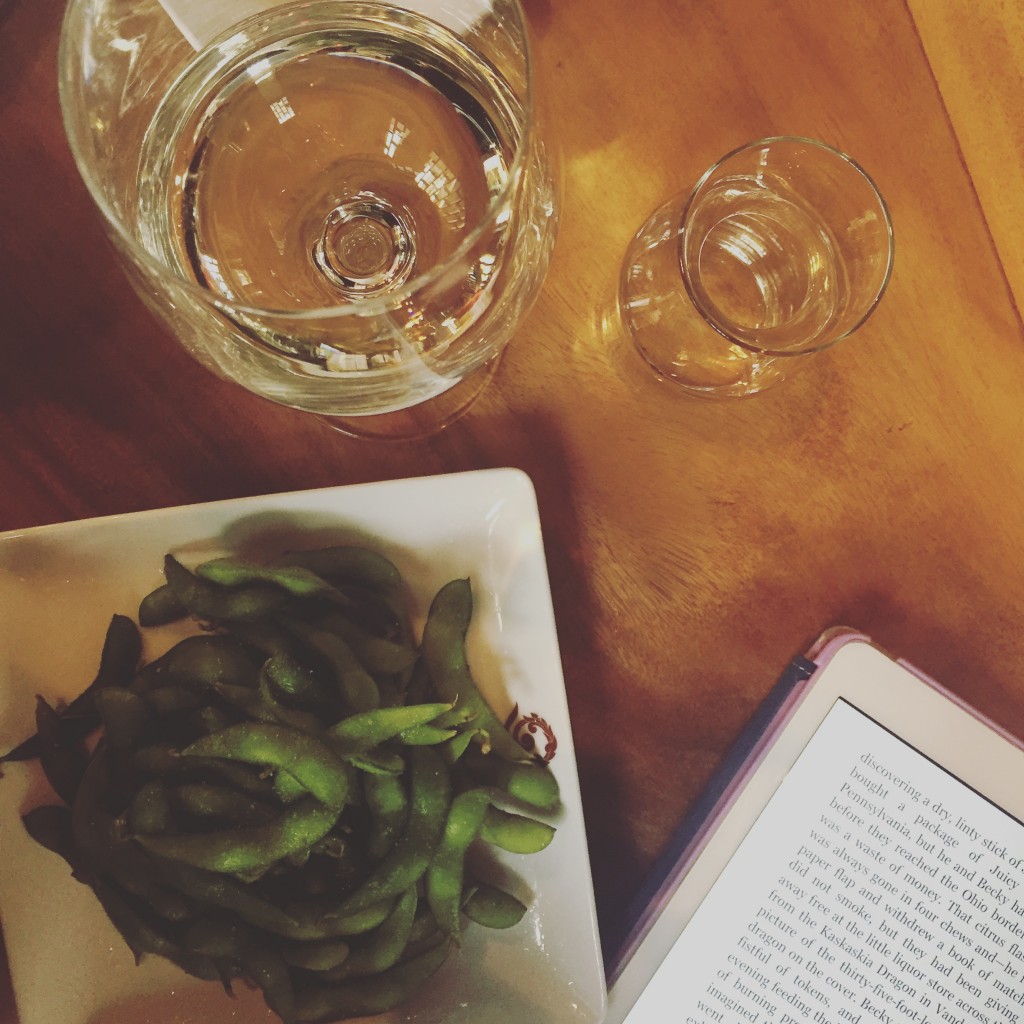 Eventually I caved and ordered some vegan Pad Thai as well… the leftovers made a tasty breakfast the next morning! The big chunks were fried tofu, and then little red pieces were also tofu, they seemed styled to look like that strange bright red pork that I remember from Asian restaurants of my youth, I think?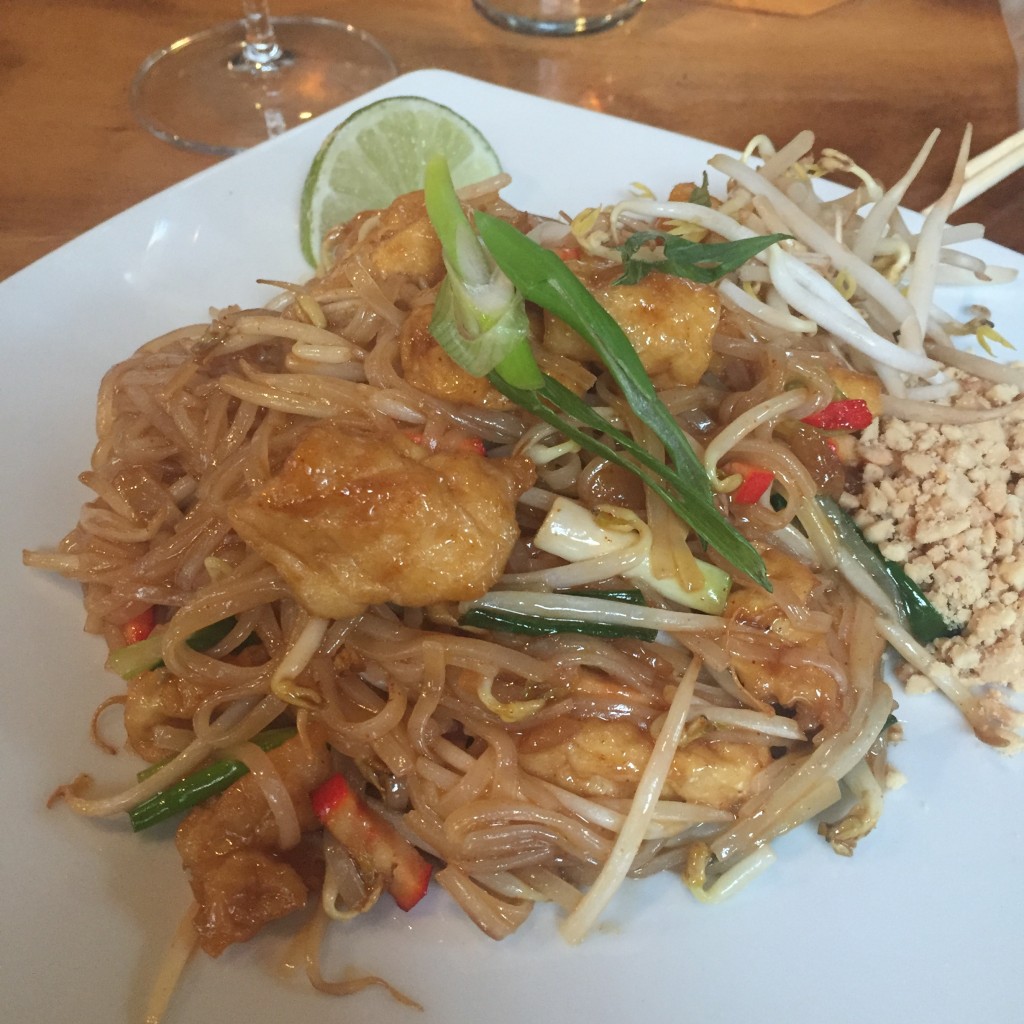 Thursday's lunch was similar to the day before- I hit the salad bar again. This time I also grabbed some curried chickpeas and then a spicy broccoli salad from the Asian bar.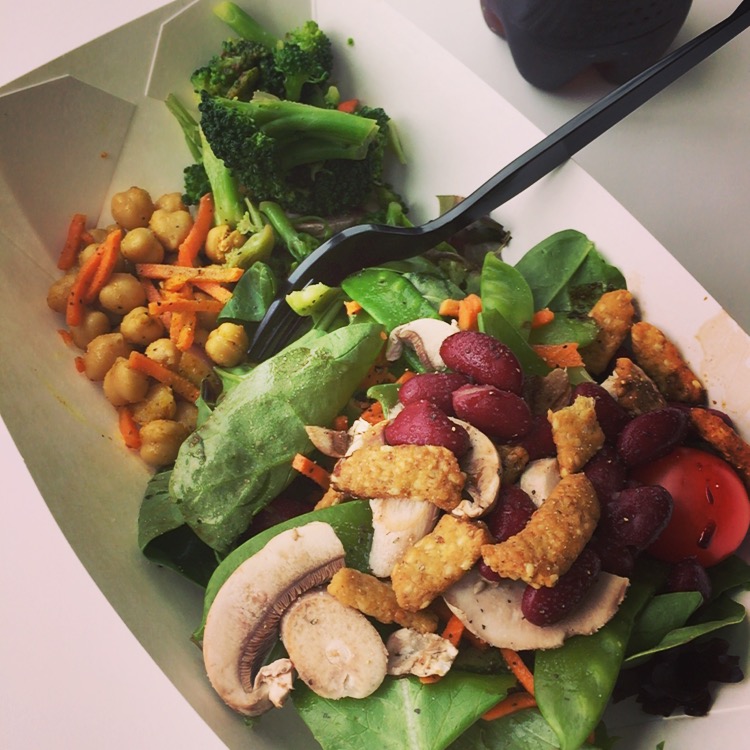 After finishing up work, I set out on another delicious adventure. I started at Elevation Burger which I had read about online and was dying to try. Their vegan burger was supposed to be delicious, and I was not disappointed! It was flavorful and full of veggies you could actually see- it kind of reminded me of the $1 dollar store burger I shared a while back, which I realize sounds strange. Anyway, because I knew I had a long night of liquid calories ahead of me, I went with a side salad instead of fries: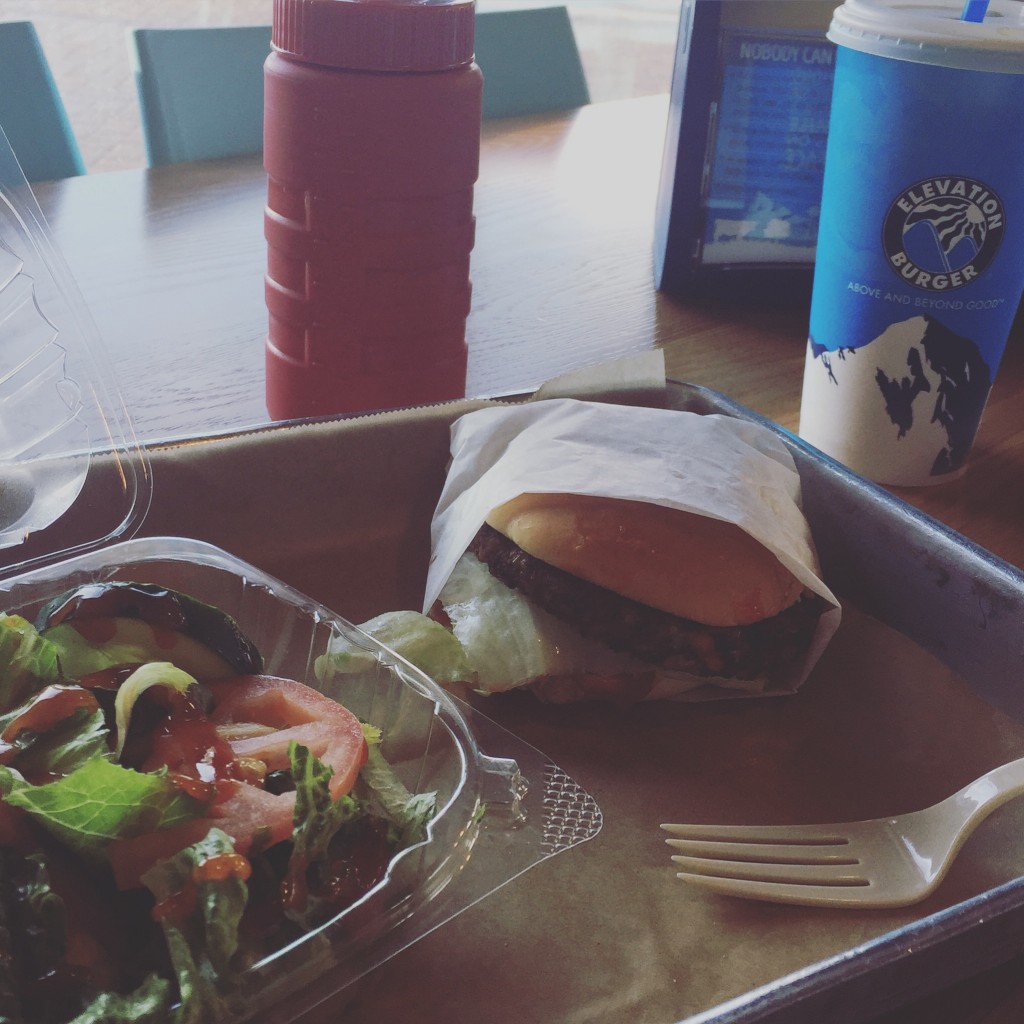 I walked around for a bit- after a really rainy day, the sun had finally come out!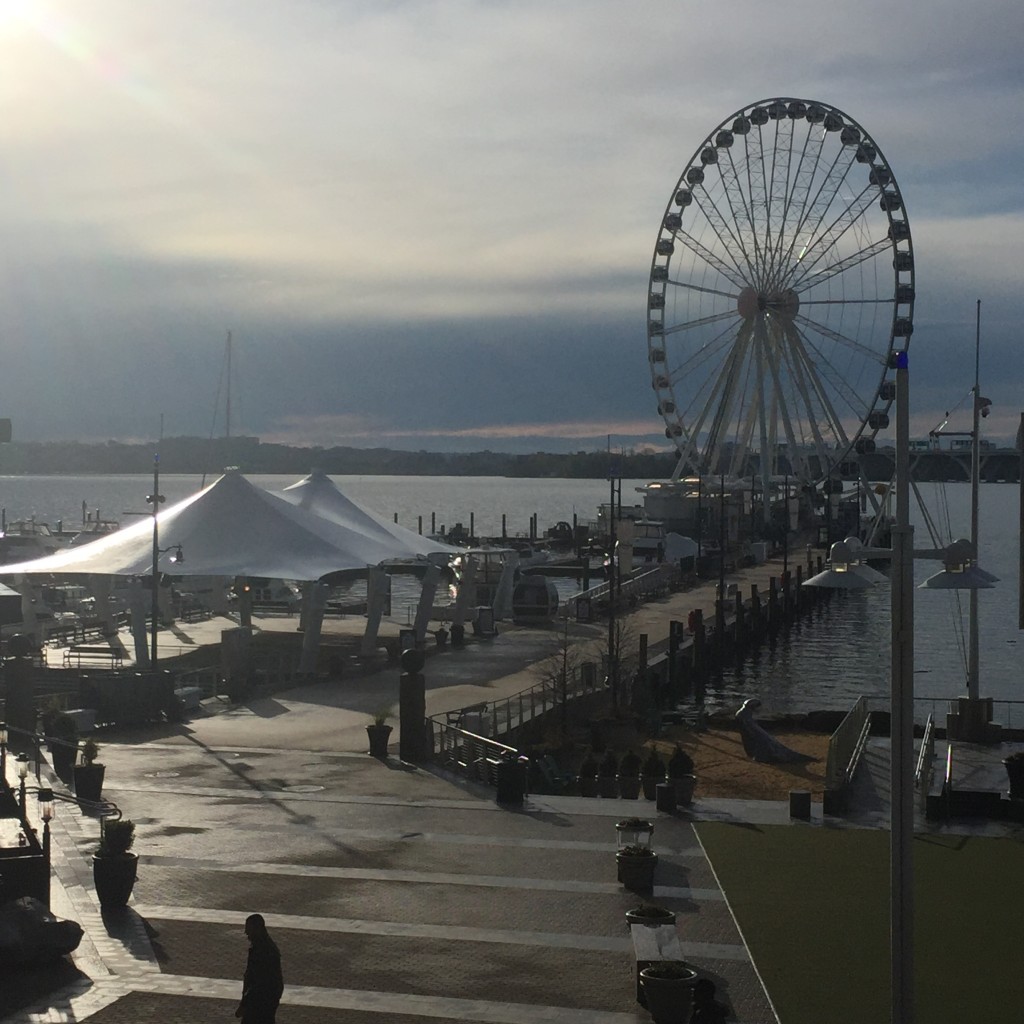 I decided to pop into The Walrus Oyster and Ale House for a drink. I was meeting my friend Shawna (we've been friends for 25 years, which really boggles my mind!) a little later, and I didn't want to go back to the hotel, and of course I had my ipad with me, so I figured I would read for a while. Sparkling rosé, mmmm!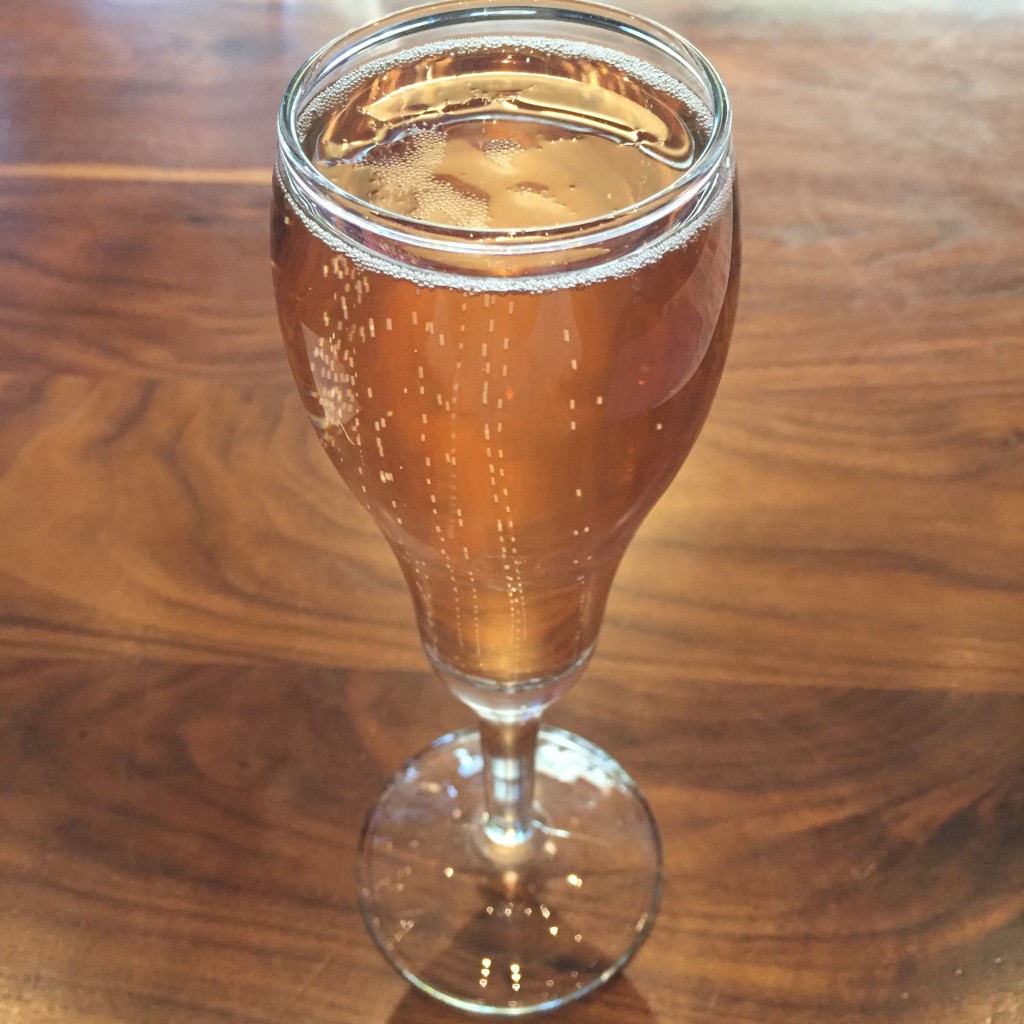 And in case you're interested, I was reading Down the Rabbit Hole by Holly Madison. Tales of her years living at the Playboy mansion, it was pretty interesting!
Finally it was time to meet Shawna so I walked a few blocks over to Granite City Food & Brewery. I wasn't hungry, but did enjoy two glasses of wine along with lots of catching up! We hadn't seen each in other in 4 years, so there was so much to talk about, and the time just flew by. I wish we had asked the bartender to take a picture of us.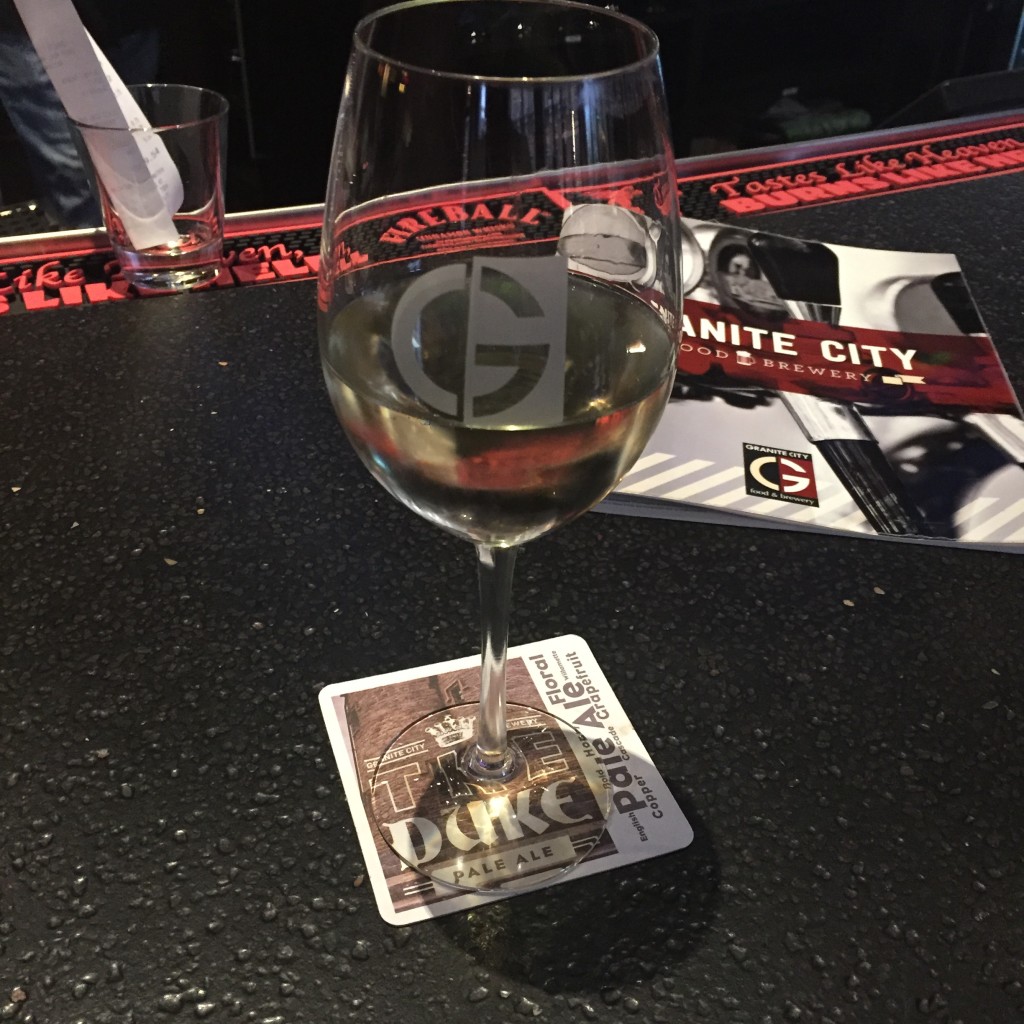 Friday found me with a couple hours to kill at Reagan National Airport, so I headed to Ben's Chili Bowl, where I ended up with this vegan beast: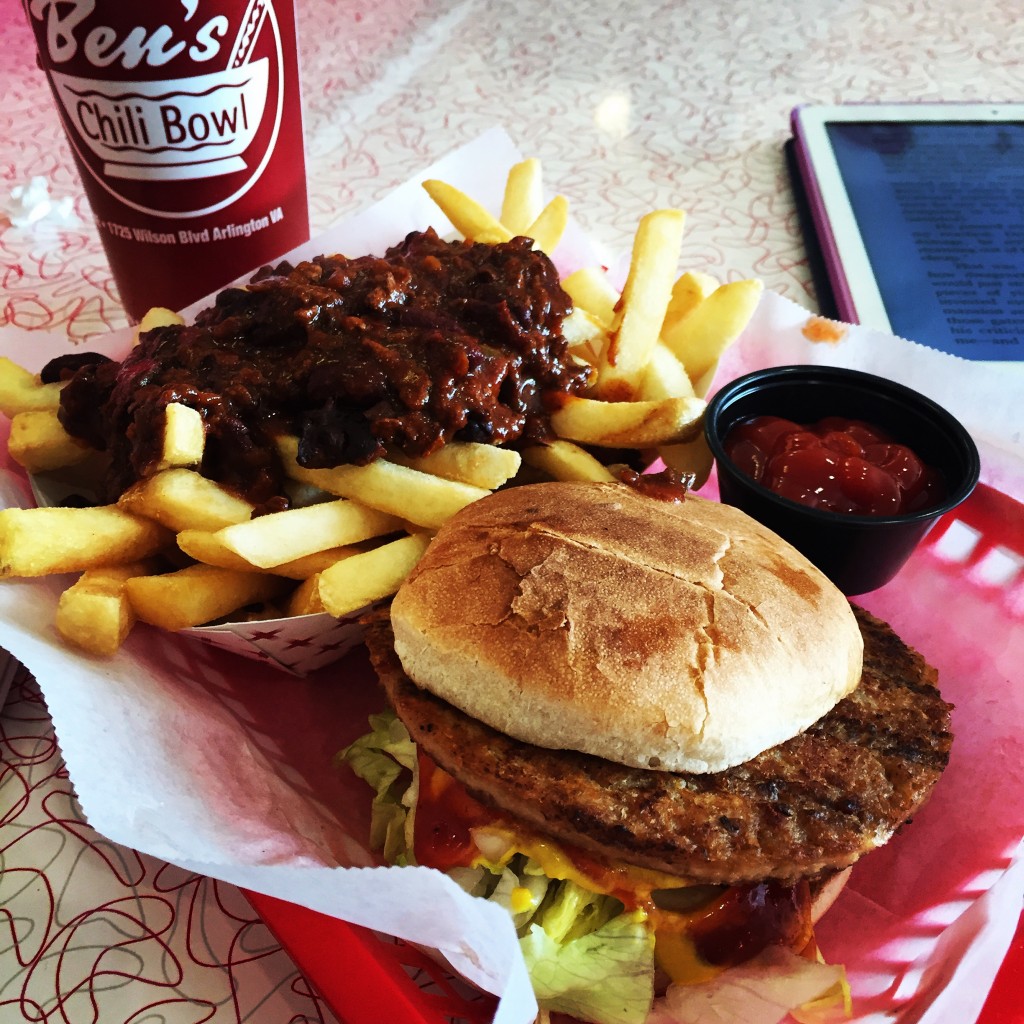 That's a vegan burger with ketchup, mustard, lettuce, tomato and pickles, and chili fries in the background. I was so impressed that such a meatcentric restaurant had so many vegan options, and they were all really good! It was expensive though- the fries, burger and soda set me back almost $25 which seems pretty pricey to me.
It was a fun week full of great food, but I was very happy to get home to Sally and my own bed!