Hello and happy Thursday! I'm on a very special mission this weekend, and hope to have really good news for you in my next post. I'll give you a hint… it involves 4 paws and a whole mess of love. Follow me on twitter or insta for updates!
For now, it's another update of all the amazingness I eat when I'm not making something for the blog! (Stolen shamelessly from Bianca, btw)
First up, a falafel wrap and fries from a little Syrian joint 2 blocks from my office called Shish Kabob Grill. The owners make the falafel fresh in house from their own recipe, and it's the best I've ever had. That's a creamy hummus sauce on top, totes vegan!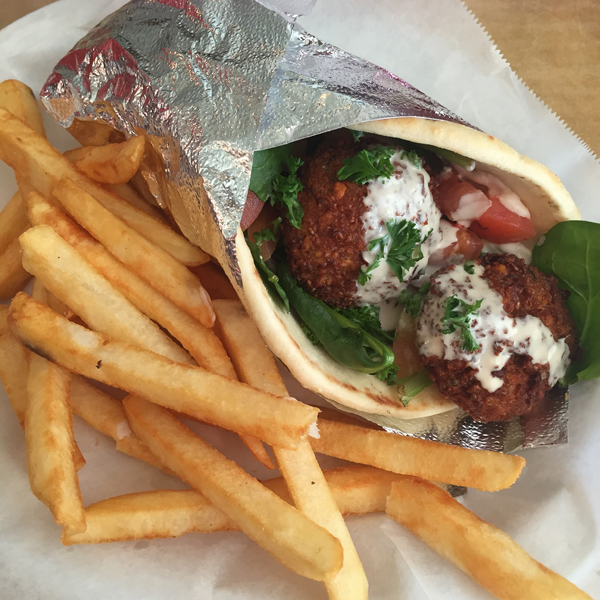 This next one is going to seem a bit random, but I have to share it because of how vegan-friendly Amtrak is: I took the train recently to Glenwood Springs for a work conference, and ate this vegan burger on the way. It's literally called "The Vegan Burger" on their menu, so no need to ask annoying questions. They also have a different vegan option in their dining car for lunch and dinner each day. It was a black bean patty, not bad at all (although they did cook it in a microwave and there were no vegetable toppings available), but it was better than what I expected. And, of course, there's always the bar car 🙂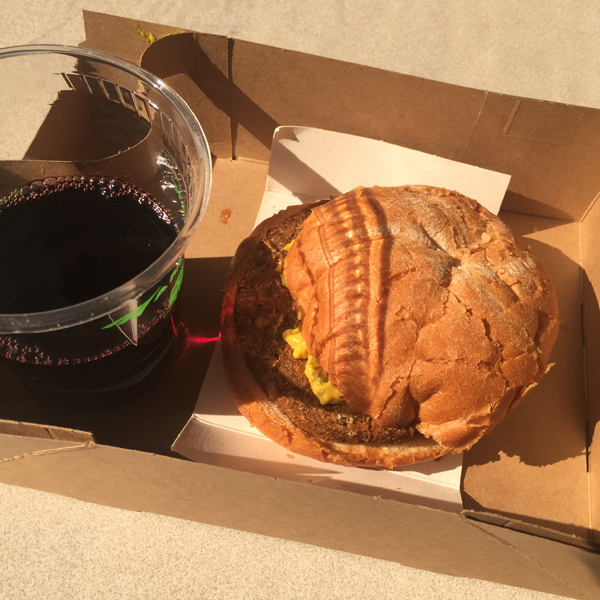 These "vegan popsters" were both adorable and delicious! I grabbed one at Pig Train, a coffee shop inside Denver's Union Station. They had strawberry and blueberry… I went with strawberry of course. Similar to a pop tart (which I believe are vegan if unfrosted?), but softer and moister, and bigger. Which is better!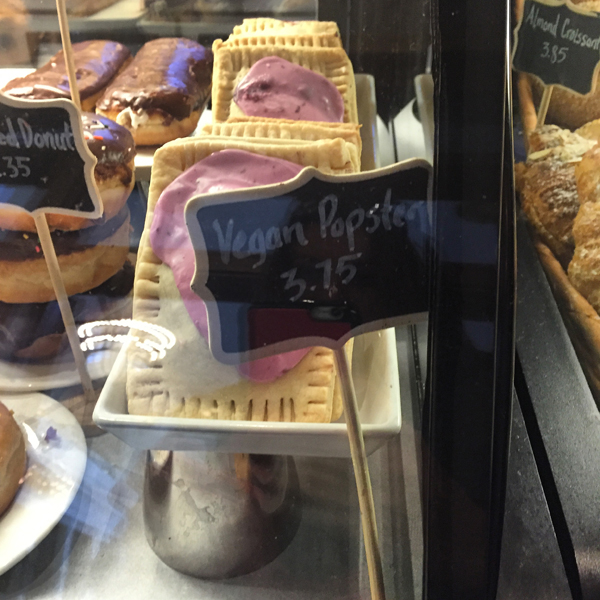 I like to keep frozen burger or chik'n patties in the freezer for quick and easy meals, like this one. This was one of those $1 finds from the Dollar Tree, score!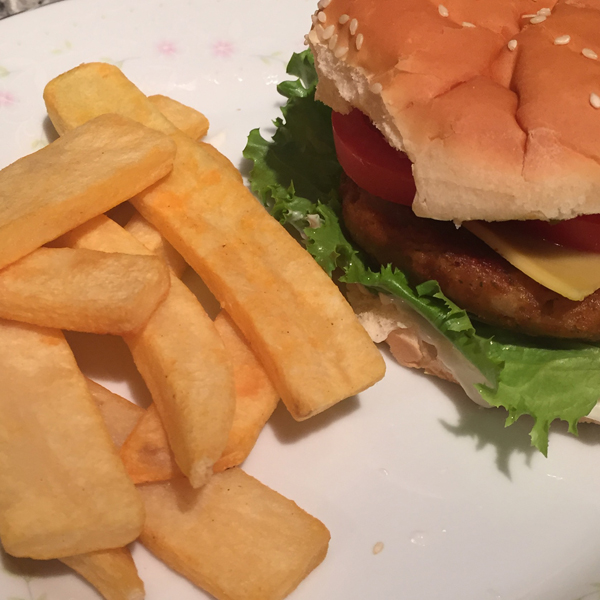 You know I love a good date night at home with just me and Sally, and on this particular one "we" had nachos and beer. That is to say, I had nachos and beer and she had a kong stuffed with peanut butter and plenty of fresh, clean water haha. My nachos were literally smothered in melted Daiya cheddar with pinto beans, taco flavored seitan crumbles, onions, bell peppers, salsa, and avocado!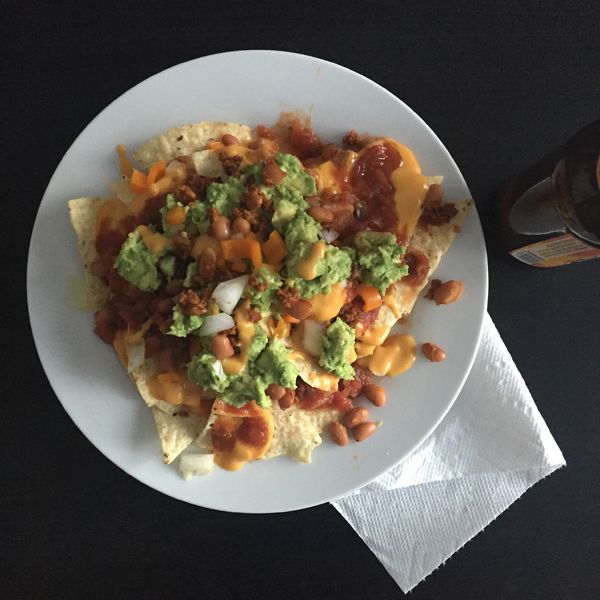 I freaking love Steve's Snappin' Dogs. Especially with a side of deep fries sweet tater tots. The veggie dog was "Chicago style" with mustard, red onions, tomatoes, pickles, strangely colored relish, and celery salt. Delicious!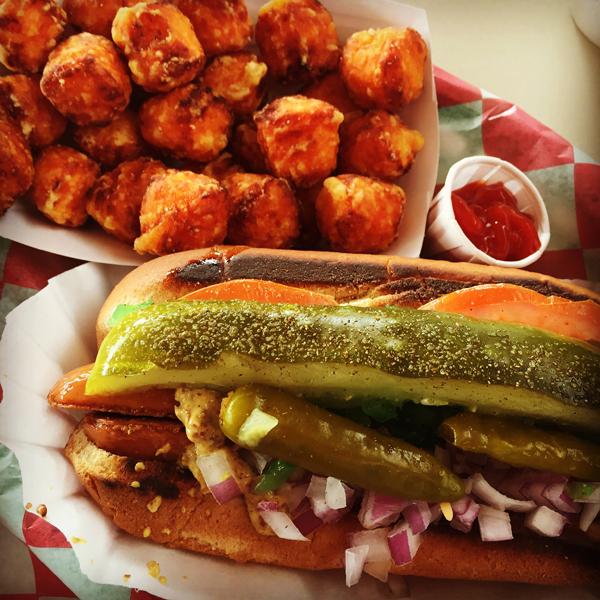 Another quick n' easy meal: tater tots from my freezer with a huge portion of sauteed kale, and one of my spicy chickpea burgers. I can't remember what brand of cheese that was… I grabbed it at Natural Grocers because it was on sale, but it wasn't very good, honestly.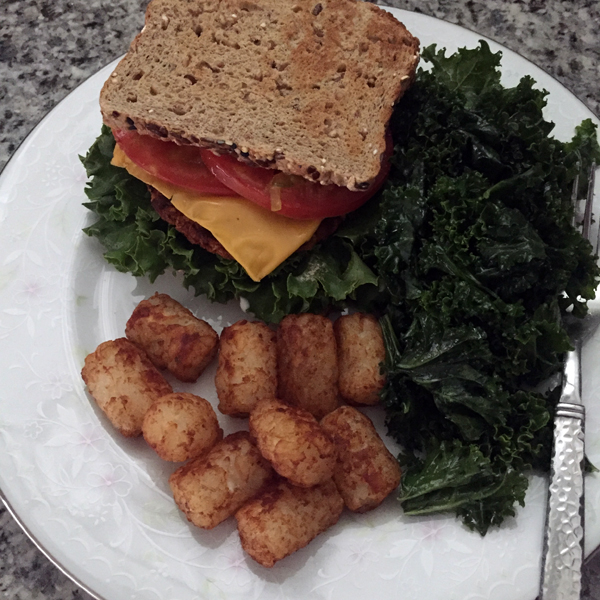 I busted out the waffle maker for the first time in my new place, and made beer waffles! The recipe isn't quite perfected, but almost… it'll be great in a number of savory recipes I'm thinking of.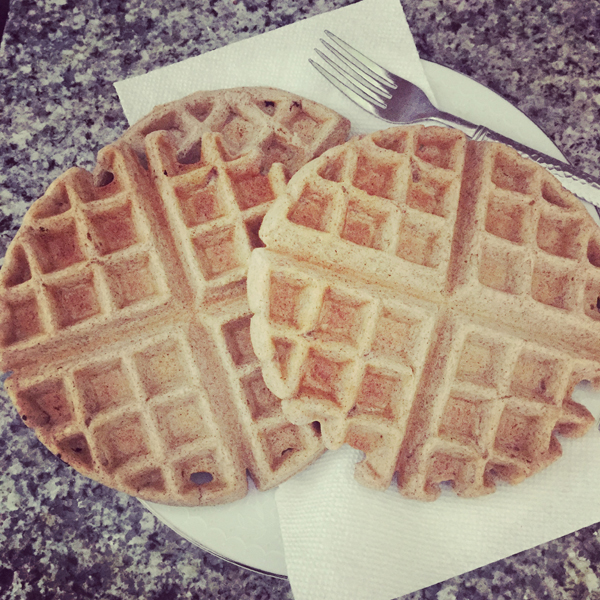 Last but DEFINITELY not least: Crazy @ss Totchos. You know those days when everything goes wrong and you just want to drown your sorrows in fats and oils and grease and starch? Well I had one of those days, so I went home and baked off some tots, then smothered them in melted Daiya, green chile, and ketchup. It was divine. Exactly what I needed to life my spirits!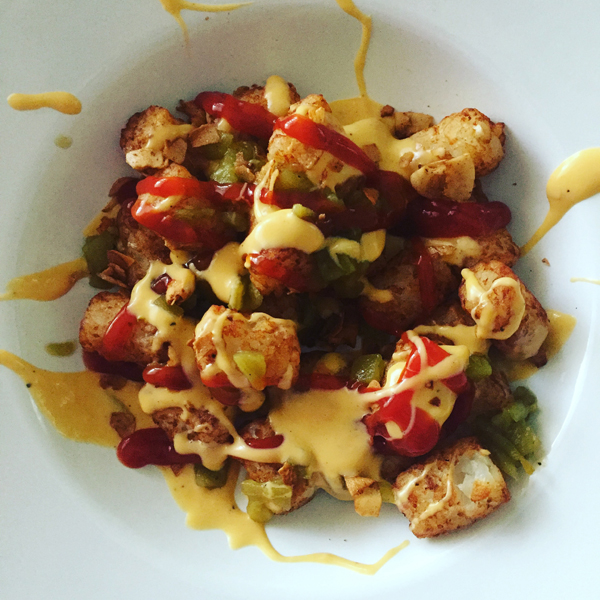 Okay, that's all I have for ya. Don't forget to check back for updates on my top secret mission ❤︎!