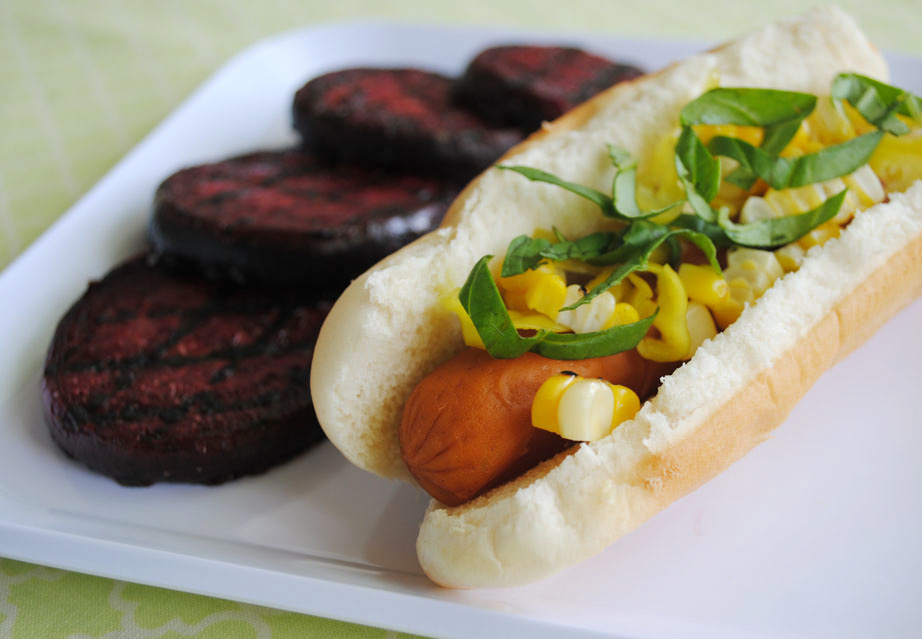 I'll be the first to admit that these veggie dogs need a more succinct name, but I don't know what it would be. If you have any ideas, please share, because they really do deserve a good name. They're so delicious! I love anything with fresh sweet basil, and then you add in the charred, grilled corn plus the tang of the pepperoncini, and suddenly your veggie dogs are next level.
And speaking of dogs…
Teddy!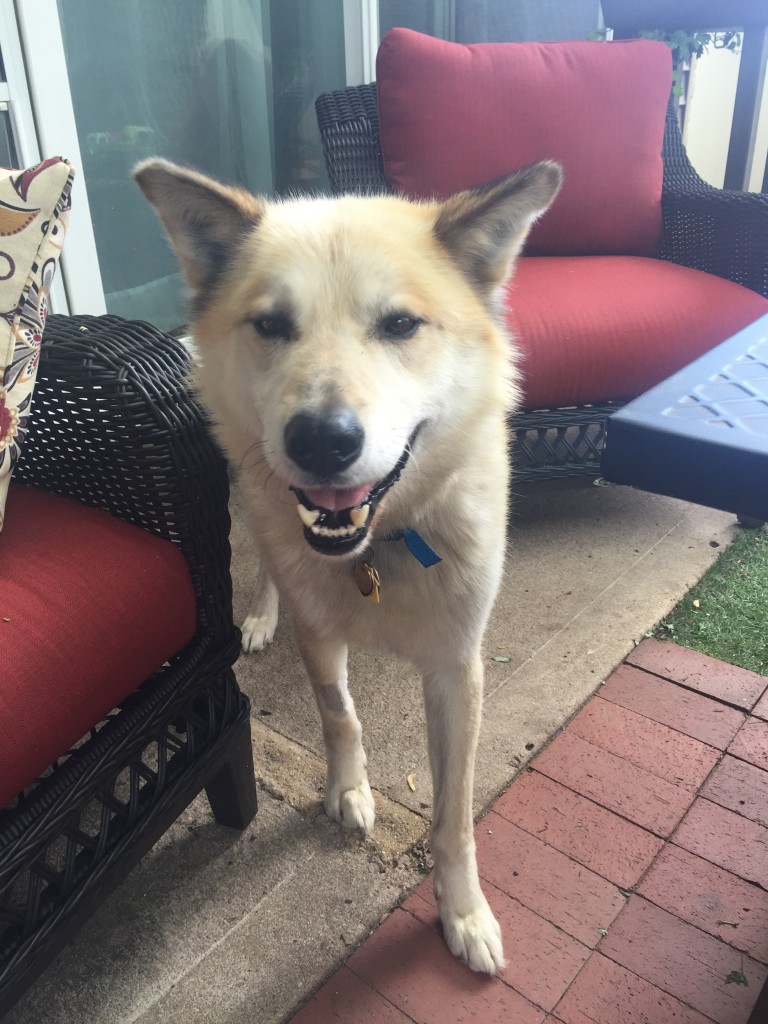 He's really starting to settle in. He's figured out the stairs and loves to go upstairs on his own to explore. Sometimes I'll be sitting on the couch reading or watching tv and wonder "Who the heck is stomping around upstairs? Oh, that's just Teddy!" He also likes to hang out on the landing, halfway up the stairs. It's carpeted so I assume it's fairly comfortable, plus it gives him a great view out the front door and over the fence.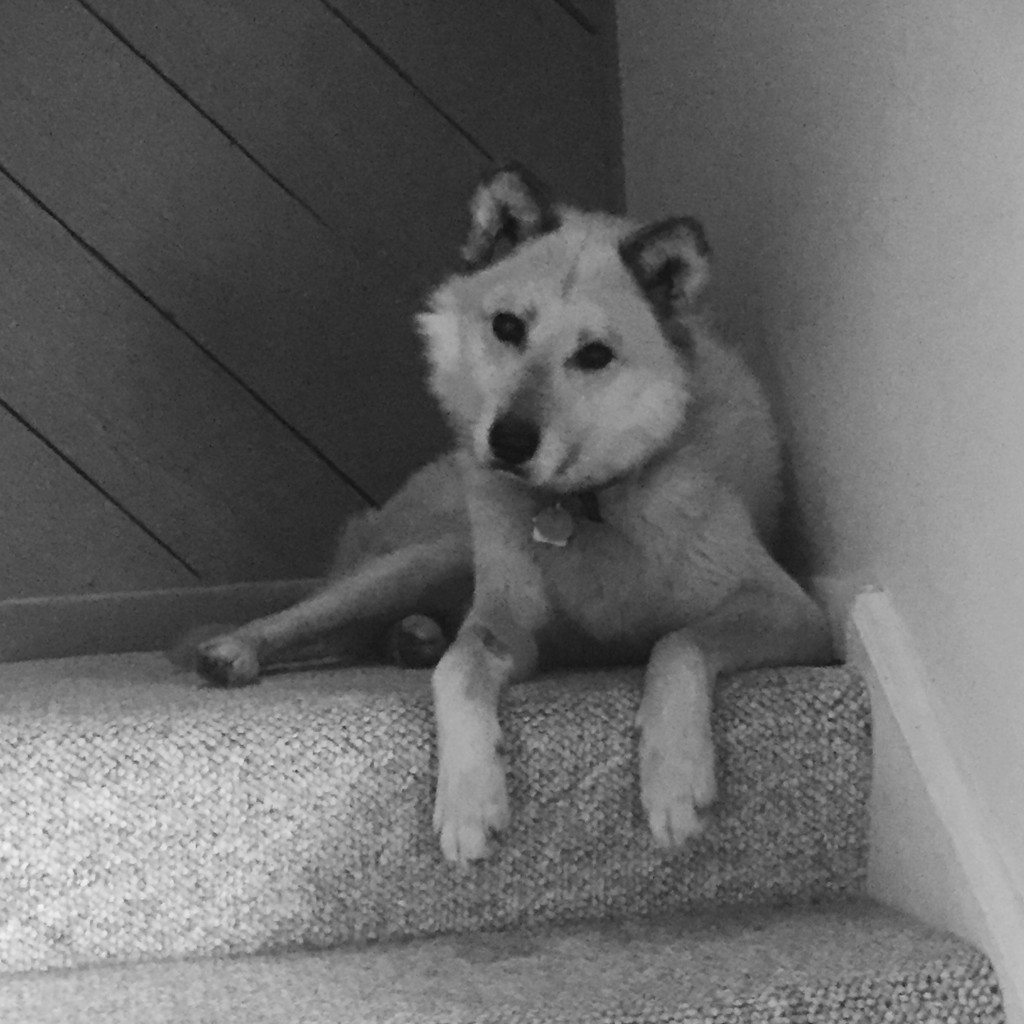 I hope you all had a wonderful Memorial Day weekend! I know I did. I went for a much needed walk n' talk with my girlfriend Sonali- she's kind of my online dating guru and is always full of wisdom. I hiked with Teddy and another friend, went to a BBQ (and brought these amazing veggie dogs!), and even spent some time soaking in my mom's pool: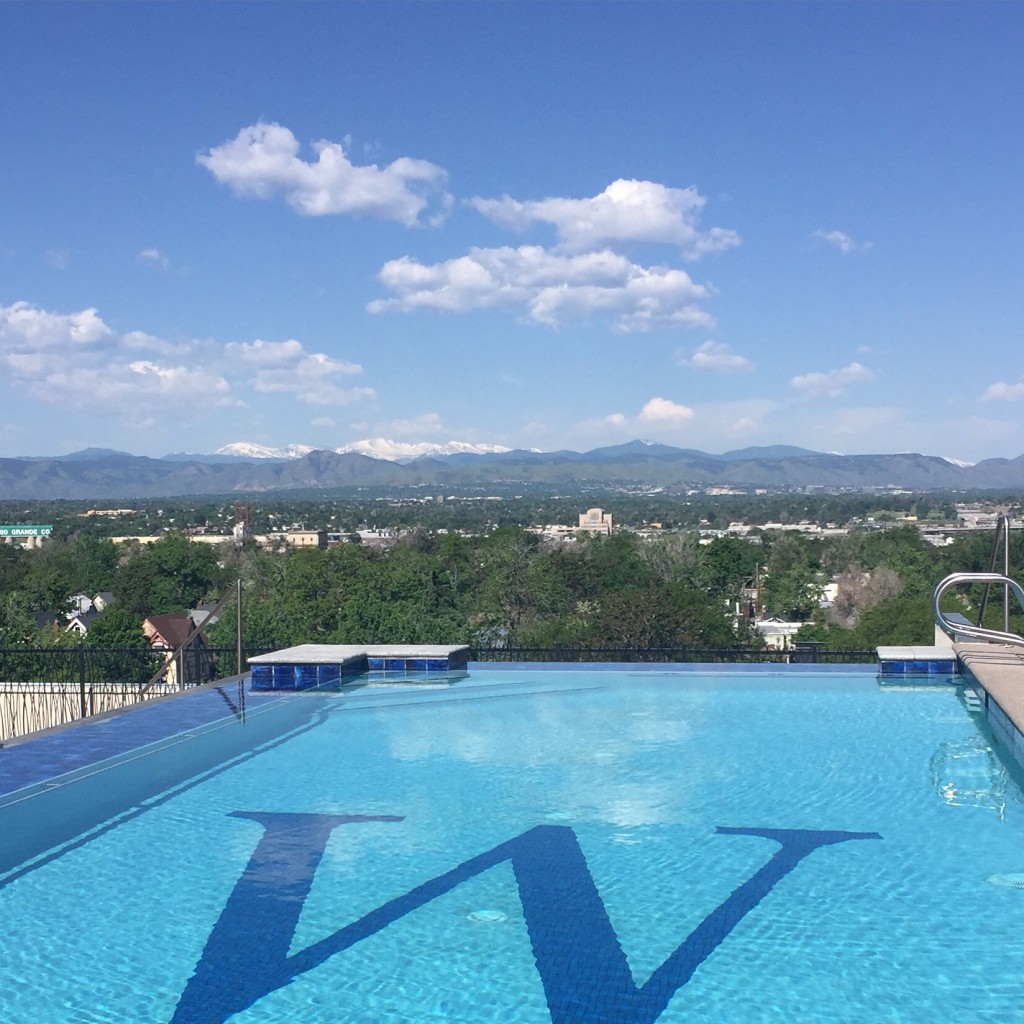 Yah… you don't need to be psychic to know I'm going to be spending a lot of time in that pool this summer 🙂
But back to the (edible) dogs- when I'm invited to an omni bbq I really try to step up my game. Normally I'd bring some delicious sides (like Spicy Pasta Salad or perhaps Grilled Sriracha Sweet Potatoes) or one of my many homemade bean burgers, but this time 'veggie dogs' was the specific request. This gave me pause. Sure, they're delicious with ketchup and relish and onions, but is that really going to open anyone's mind? Probably not. So I went with a twist, and easy-yet-tasty topping combo of sweet and tart, that had all the flavors of summer.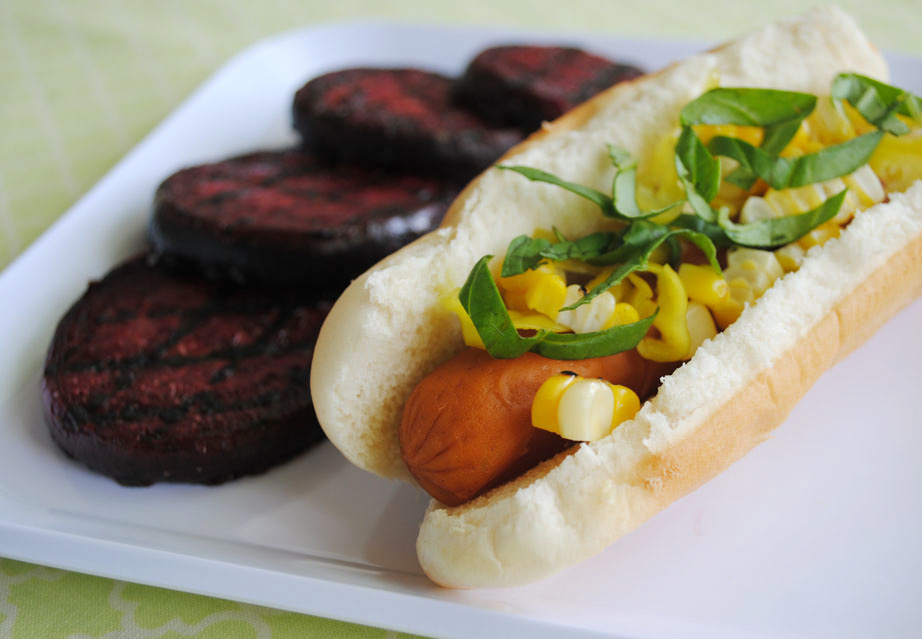 Being a food blogger means more is expected of you at potlucks. But it also means you get to make the dishes at least twice- including once at home to practice and photograph, and then stuff into your own face with no one watching. In this case, I did that with a side of grilled beets which I highly recommend!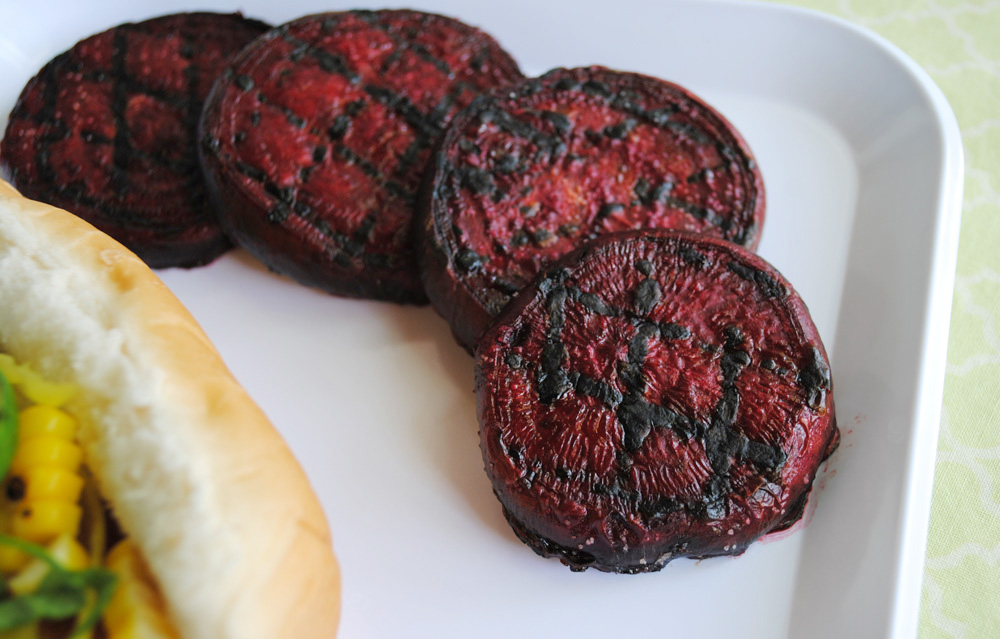 I know I've shared these before, but they're still a favorite of mine. The natural, earthy, sweetness of the beet, and the charred flavor from the grill… perfection! A fun way to eat your veggies as the weather warms up. And a great side to all your favorite summer dishes!
---
Sweet Basil, Corn, Pepperoncini Veggie Dogs
2016-05-31 08:54:16
Next level veggie dogs!
Ingredients
1 half cob sweet corn, grilled
4 basil leaves
6+ pepperoncini rings plus 1 teaspoon liquid from jar
1 teaspoon apple cider vinegar
1/4 teaspoon sugar
2 veggie dogs (I like Smartdogs)
2 hot dog buns
Instructions
Slice the corn from the cob, chiffonade the basil leaves, chop the pepperoncini, and mix in a bowl with the liquid from the jar, the vinegar, and the sugar. Set aside.
Grill or otherwise heat your veggie dogs and buns, then top with the relish. Serve hot!
Adapted from epicurious
That Was Vegan? http://www.thatwasvegan.com/