You've all watched The Night Of, right? If yes, did you love it as much as I did? If you haven't watched it yet, I promise no spoilers… except this one. I proposed to Riz Ahmed during his recent QnA on twitter… and he accepted!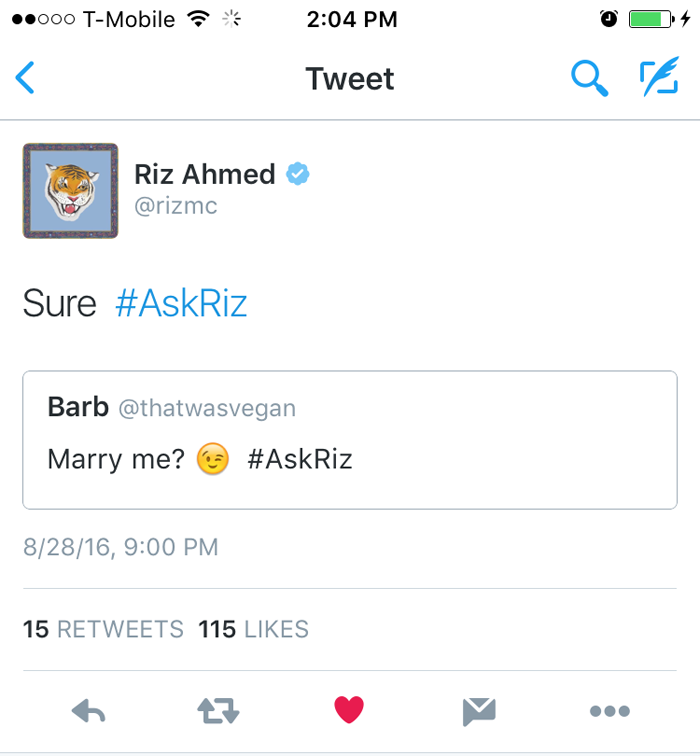 Yes, I'm a dork, but we already knew this.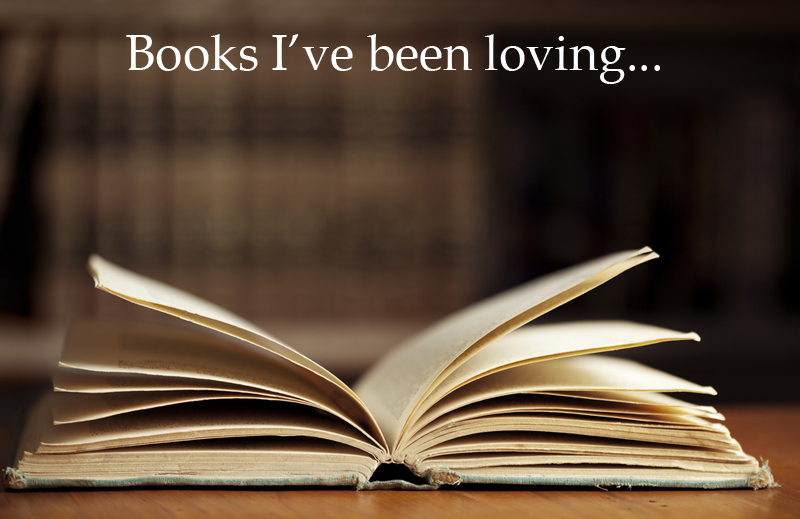 I've been reading A TON lately, and even though I gave up on that whole 'reading with intention' project, I still want to share.
***
Rebecca by Daphne du Maurier – How is it that I never read this classic? Especially since so many people compare it to Jane Eyre which is my all time favorite. Amazing, timeless story, so well written. I love a good love story, especially a tragic one.
The Ballad of Black Tom by Victor LaValle – A look at the racism of the 1920's through the lens of magic… It's a short novella, a very quick read, but it pulls you in quickly. I never read the Lovecraft book this is always compared to (and now that we know how shitty of a human being Lovecraft was- do I want to) but most reviewers say this is much, much better.
All the Birds in the Sky by Charlie Jane Anders – I am really not a fan of science fiction or YA but loved this book- which makes me think all those who categorize it as such are just plain wrong. It's whimsical, and it's dark and it's sad… but it's also hopeful. Two outcasts who knew each other from childhood have gone on to two very different specialties as adults- science and magic. Then, you know, the apocalypse. Typical love story 😉
The Cartel by Don Winslow – Not true crime, but close enough! I sped through the 600+ pages of this book in less than a week. It's a very real look at the lives lived and lost in the Mexican-American drug wars, from both sides. And it's not always clear who the bad guy is. Don't get me wrong- the cartels are horrific… but honestly so is the US war on drugs, IMO. If you like true crime, or gory fiction, you'll probably like this.
The Girls by Lori Lansens – This starts out feeling very YA, and I almost put it down, but so glad I didn't! It's the story of a pair of conjoined twins named Rose and Ruby, and they life they lead. Their dreams and hopes and heartbreaks. It's the kind of book where you really feel like you knew the characters by the end. Fiction, but doesn't really feel that way.
After her by Joyce Maynard – If you read my podcast roundup a few weeks back you know I'm really into murder podcasts right now, and this book fit right in. It's a "coming of age during a serial killer spree" story. Very well written. A bit predictable, but very enjoyable. I actually went on to read two more books by the same author right after (although didn't enjoy either as much as this one).
What are you reading? Anything I might like?
Save
Save
Save