I'm also giving away Activated Superfod Popcorn and Superfood Soups by Julie Morris!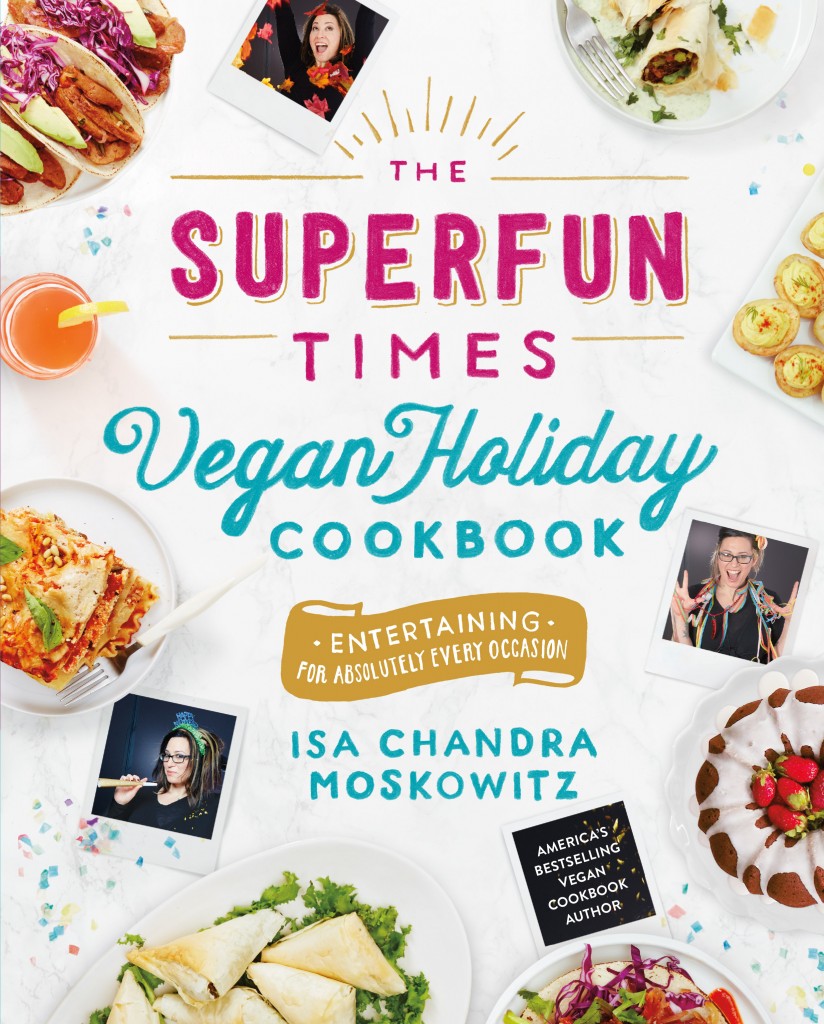 It's "Who Needs to Shop on Black Friday Giveaway Week" here at TWV? and we're starting it off right with an amazing book by the OG Vegan author/chef herself, Isa Chandra Moskowitz! The Superfun Times Vegan Holiday Cookbook is enormous and full of every recipe you'll need to celebrate every holiday all year long. And because Isa wrote it, it's awesome and fun and totally superfun times!
I'm so excited to share this book with one of you lucky readers during this "Three Fabulous Days of Giveaways Week" (that's right- come back tomorrow and Wednesday for two more giveaways!) because I know you'll love it- even if you're not vegan, it would make a fantastic Christmas/Hanukkah/Festivus gift for the plant-based person in your life!
Or just keep it for yourself. I wont blame you, because I'm 100% not re-gifting my copy!
Not only am I sharing a copy of the book, I'm also sharing a recipe for Banana Eggnog Pancakes because Thursday is Thanksgiving and if we can't eat vegan eggnog-based breakfasts this time of year, when can we?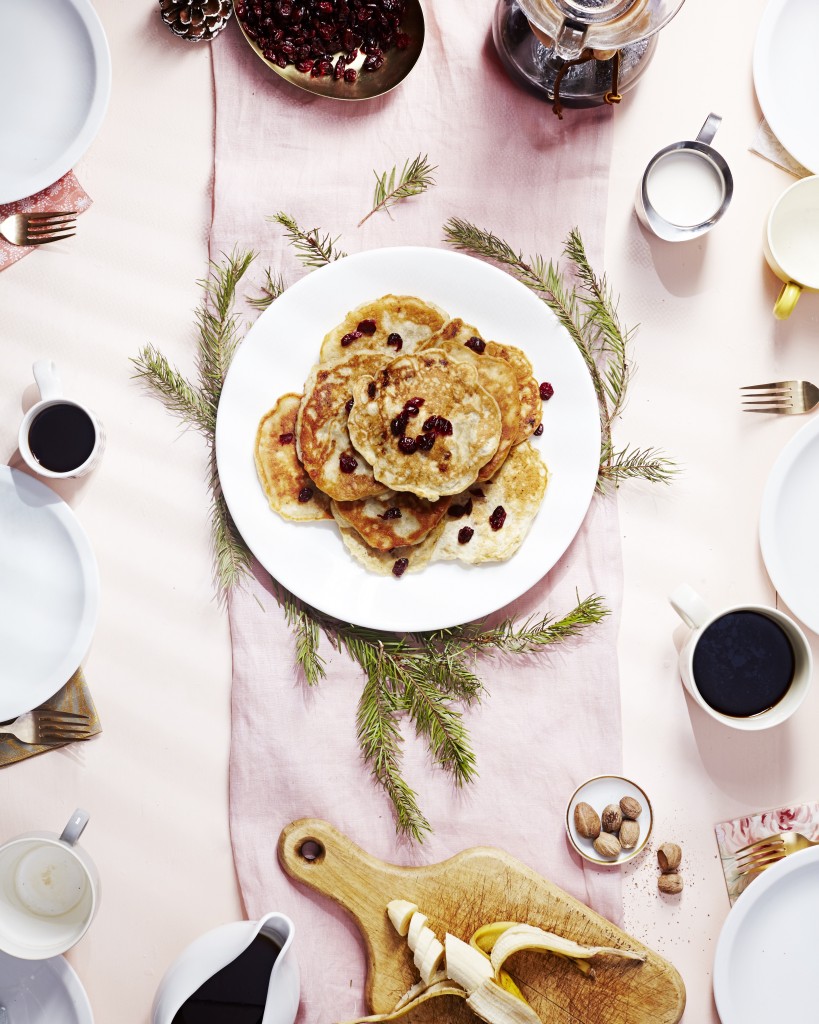 Here's what I want from you: Pin this recipe and plan to make it ASAP, then enter the contest. Then come back tomorrow and Wednesday to enter the other giveaways and make this the best "Thanksgiving Week O' Giveaways" ever! My fingers are crossed for all of you!
---
Banana Eggnog Pancakes
2016-11-21 08:13:20
You are going to want these pancakes around throughout December the same way you are going to want to hang up vintage candy cane lights and listen to indie-rock Xmas playlists and watch Love, Actually over and over again. They're perfect for Christmas morning, and you won't be able to live without them. After January 1, though, put them away, let their powers recharge, and do it again next year! I've included a little extra nutmeg just to drive home the point that these are eggnog pancakes! If there still isn't enough of that woodsy perfume for you, shave a little bit more nutmeg over the top of your stack, because yum.
Ingredients
2 very ripe medium bananas 1¼ cups eggnog
2 tablespoons canola oil
2 teaspoons apple cider vinegar 1 teaspoon pure vanilla extract 1 cup all-purpose flour
2¼ teaspoons baking powder
½ teaspoon grated fresh nutmeg, plus extra for sprinkling
¼ teaspoon salt
Refined coconut oil, for cooking
For Serving
Banana slices
Fresh or dried cranberries
Pure maple syrup
Instructions
In a medium mixing bowl, mash the bananas with a small masher until they are almost pureed. Add the eggnog, canola oil, vinegar, and vanilla and set aside.
In a separate large mixing bowl, sift together the flour, baking powder, nutmeg, and salt. Make a well in the center and pour in the banana mixture. Use a fork to mix until a thick, lumpy batter forms. That should take about a minute. It doesn't need to be smooth; just make sure you get all the ingredients incorporated. Let the batter rest for 10 minutes.
Preheat a large nonstick pan (preferably cast iron) over medium-low heat. Lightly coat the pan with coconut oil. Add ⅓ cup of the batter for each pancake and cook until puffy, about 4 minutes. Flip the pancakes, adding a new coat of oil to the pan, and cook until golden brown, another 3 minutes or so.
Transfer the pancakes to a plate tented with aluminum foil while you cook the rest. Serve with sliced bananas, cranberries, and maple syrup.
Notes
Since vegan eggnogs vary from brand to brand, your results may vary, but I can't see anything going drastically wrong from using one brand over another. Some are thinner than others, some are spicier, but you always have to play with pancake batter a little anyway, adding a tablespoon of extra flour or a splash of extra liquid to get the right consistency. Don't sweat it.
That Was Vegan? http://www.thatwasvegan.com/
---
The Giveaway
One lucky reader will win a copy of The Superfun Times Vegan Holiday Cookbook! To enter, leave a comment below telling us which holiday is your favorite to cook for! Contest ends Wednesday, November 30th at midnight (mountain time). One winner will be chosen at random and announced the following day. Be sure and log your comment into the Rafflecopter to make it count! Open to residents of US only, good luck!
*I was provided free product to review but the opinions are 100% mine!