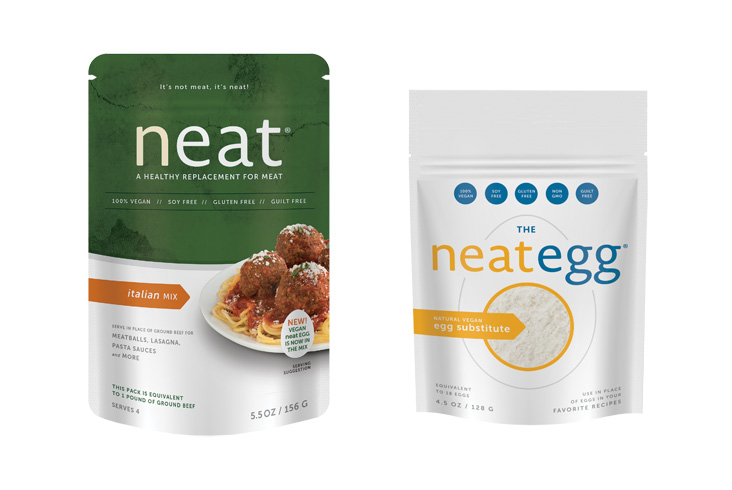 Mmmmm meatballs! Or should I say, vegan Neatballs! The fine folks at Atlantic Natural Foods sent me a couple of their Neat brand products to try- The Neat Egg, an egg substitute for baking, and Neat Italian Mix, a flavorful meat replacement for Italian meatballs, spaghetti sauce and lasagna. Even better- they're going to share them with a lucky reader as well!
The Neat Egg is all natural, derived from chia seeds and garbanzo seeds. Just two ingredients! The 4.5oz bag is the equivalent of 18 eggs, and is soy and gluten-free, as well as vegan and kosher. I'm no baker, so the only thing I've used it for so far is in the neatballs I'm about to show you. Bianca, AKA Crunk Master B, just did a review of the neat egg in cupcakes though, so you should check that out.
I really liked the Neat Italian Mix! As soon as you tear the package open you can smell all the delicious seasonings they used. And it was super easy to turn into meatless balls- I just whipped together one neat egg (note: it appears that newer packages of the Italian Mix come with the neat egg already included, but mine didn't), the mix, and some nutritional yeast (subbed in for Parmesan cheese), add a bit of water, and voila! Neatballs! I baked them in the over for about 18 minutes, and then this happened: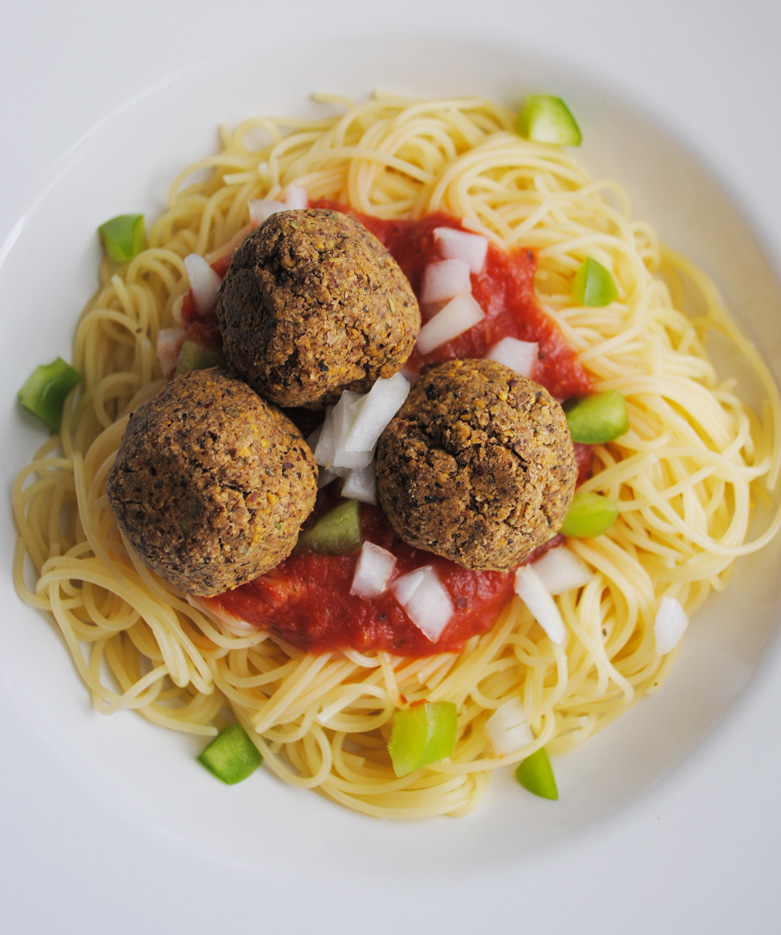 Pasta, sauce, some diced peppers and onions… and my Neatballs. Delicious. The mix is made from pecans, garbanzo beans and spices, so these do have a "beanball" taste and texture, which is a good thing because I like beans! The outsides got nice and crispy in the oven, and they held together really well. Just like the Neat Egg, this mix is soy and gluten-free, and vegan and kosher.
The Neat brand is more than just Italian neatballs and egg replacer though- they have ten mixes, everything from Cinnamon Pecan Pancakes to Mocha Dark Chocolate Cookies to Black Bean Brownies! And you can buy them nearly everywhere, it appears. The other day I actually noticed a few of their products on the shelf at my local King Soopers (I have my eye on the breakfast mix, because I loooove breakfast sausage sandwiches!).
---
The Giveaway
One lucky reader will win two packages from Neat: The Neat Egg Replacer, and the Neat Italian Mix! To enter, leave a comment below telling us your favorite way to eat meatballs. With pasta? On a sub sandwich? With some crazy sauce in a crockpot? You can also earn extra entries via social media. Contest ends Sunday, April 16th at midnight (mountain time). One winner will be chosen at random and announced the following day. Be sure and log your comment into the Rafflecopter to make it count. Open to residents of the US only, good luck!

a Rafflecopter giveaway

*I was provided free product to review but the opinions are 100% mine!