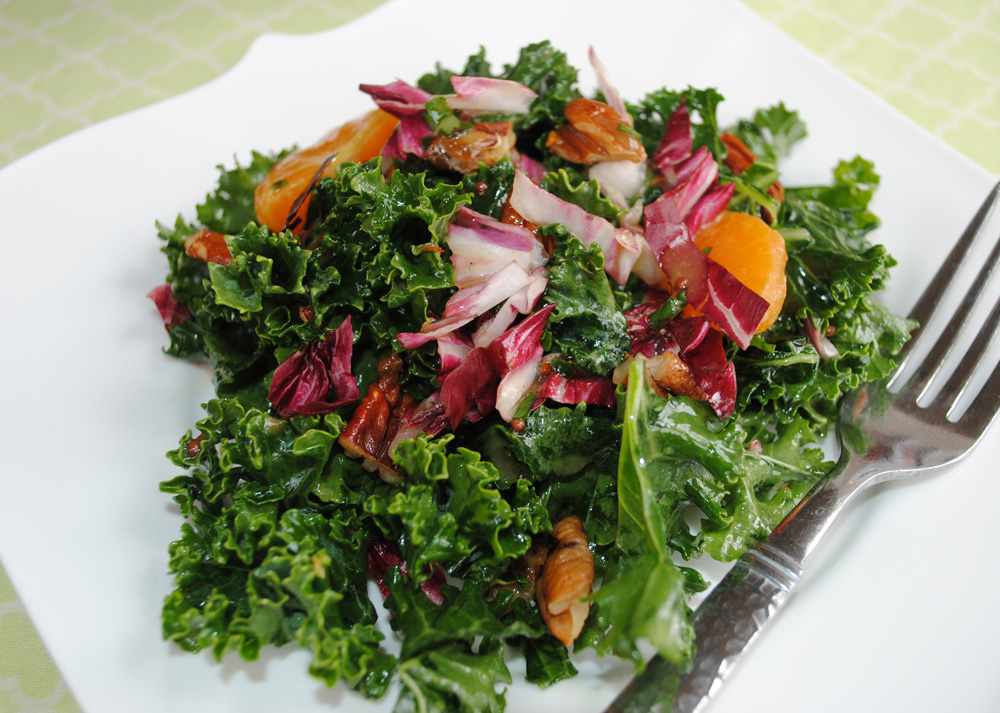 Kale is the best for making salads with, IMO. It stays crisp and fresh longer than lettuce, and it's just so darn good for you. Admit it, you feel virtuous eating it! And did I mention delicious? Well, like many veggies, it takes on the flavors of whatever you prepare it with, which means it's absolutely delectable in this Fruity Kale Salad with Mandarin Oranges, Cranberries, Basil, and Candied Pecans!
My mom came over last Sunday to be my muse, and we made this salad. We also "invented" an exquisite new cocktail which I'll be sharing soon, and we tried to veganize those southwestern "eggrolls" from a certain national chain, but that recipe has yet to be perfected…
Oh but this kale salad: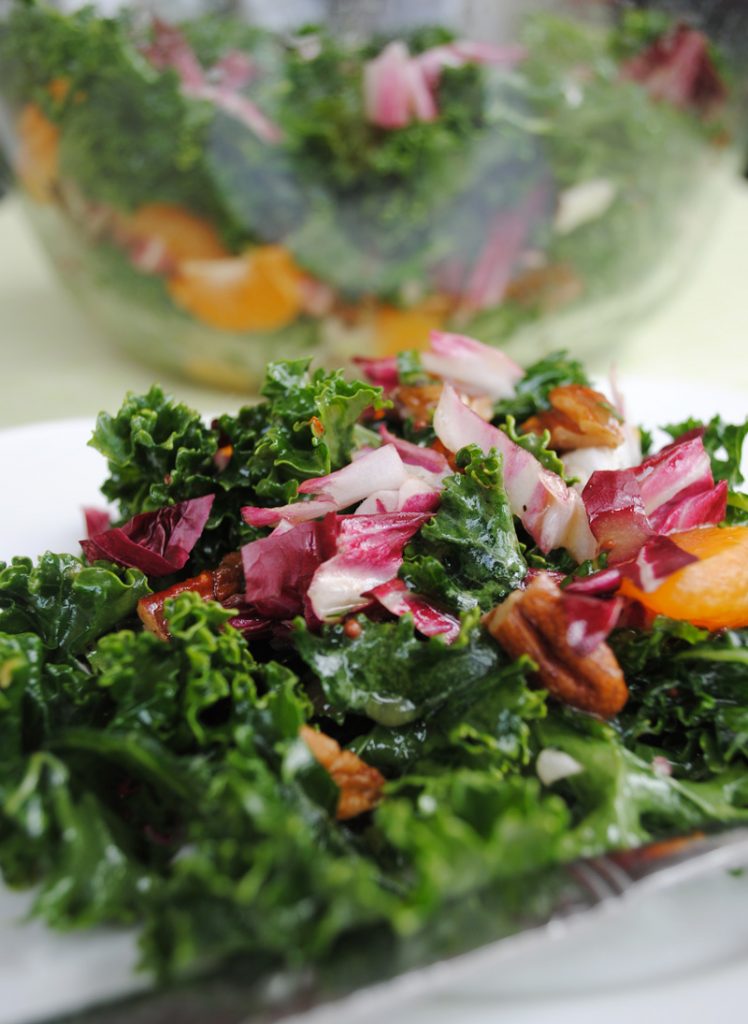 I used Cuties for the mandarin oranges (way, way, WAY better than canned mandarins, people!), and there's fresh radicchio in there. I also candied the pecans myself because I'm such a Martha Stewart. The dressing is homemade as well, with fresh basil, agave, apple cider vinegar and a few other yummy ingredients.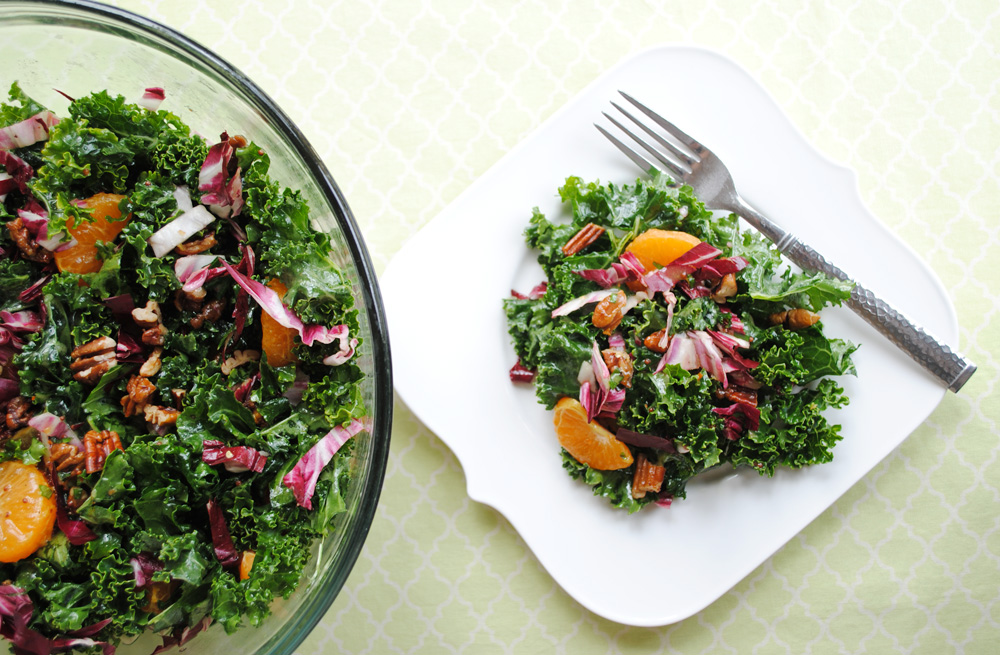 While cranberries (or, to be more specific, cherry craisins) might seem a bit holiday-ish, in reality this salad just screams springtime. Or summertime, if you don't get around to making it right away, haha.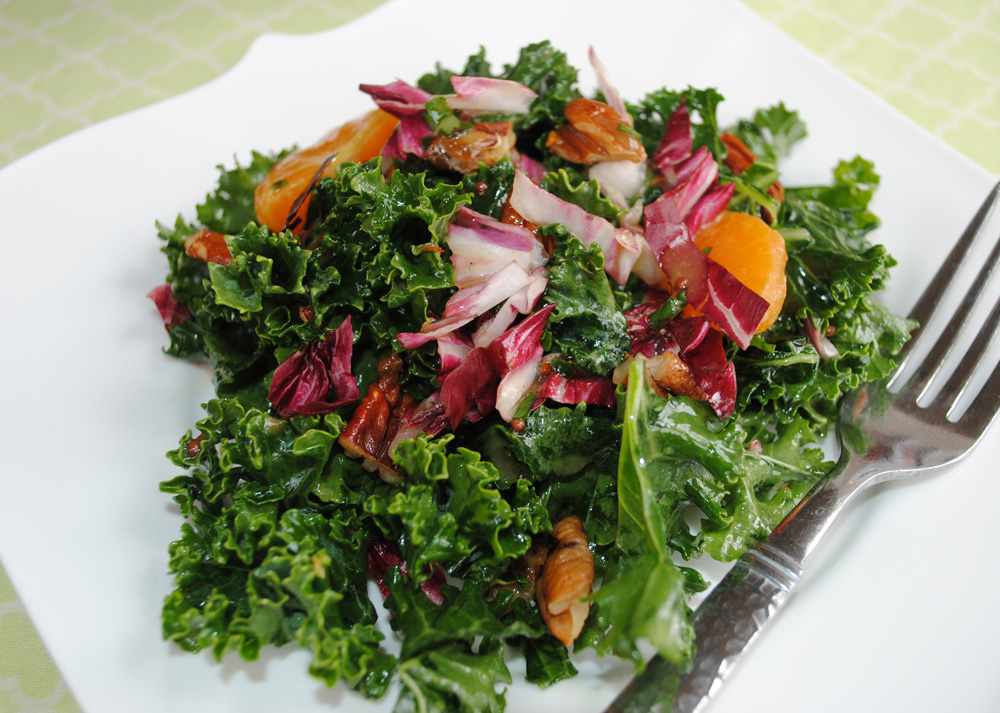 Fruity Kale Salad
2017-05-03 10:04:11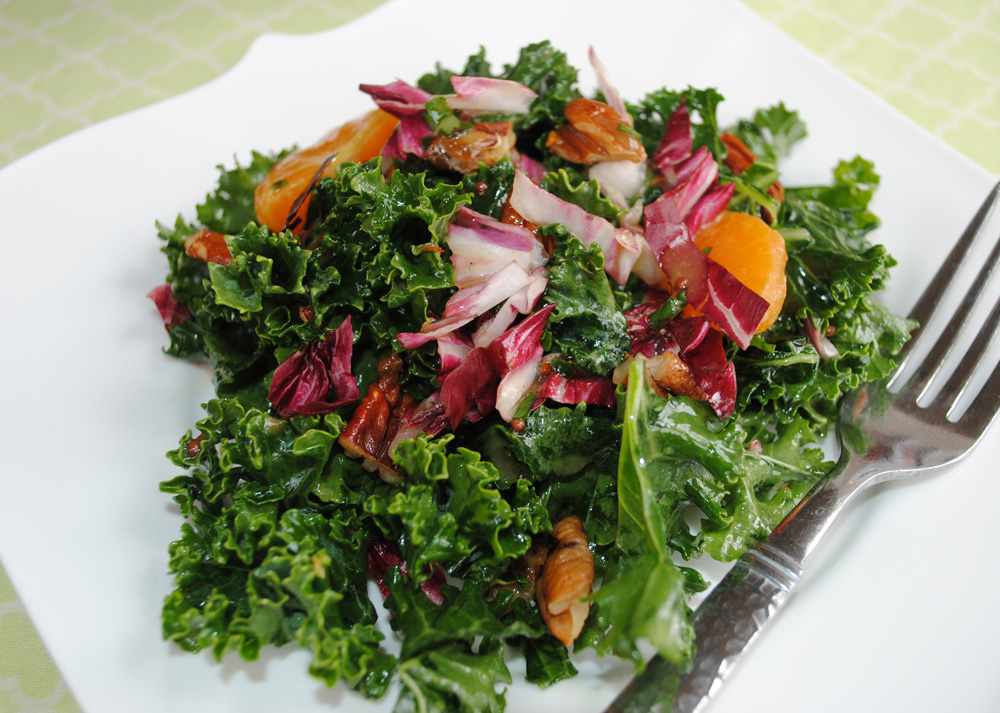 Serves 4
Candied Pecans
1 cup pecan pieces
1 1/2 tablespoon brown sugar
1 tablespoon Earth Balance
Salad
1 bunch kale, torn into bite-size pieces
1 tablespoon avocado or olive oil (I prefer avo, personally)
Dash or two of sea salt
1 small radicchio, thinly sliced (toss the core!)
4 cuties, peeled
Generous 1/2 cup Cherry Craisins
Dressing
2 tablespoons apple cider vinegar
1 tablespoon avocado or olive oil (Avo! Avo!)
1 tablespoon stone ground mustard
2 tablespoons agave
2 big leaves of fresh basil, chiffonade
1/2-3/4 teaspoon crushed red pepper flakes
S&P to taste
Instructions
Mix the Earth Balance and brown sugar in a skillet over medium high heat, until EB is melted and the sugar is dissolved. Add the pecans and cook for 3-5 minutes, stirring pretty much constantly. Pour the entire mix onto a piece of tinfoil to cool.
In a nice big bowl, add the kale and oil and salt. Massage the oil into each piece of kale until it softens, 2-3 minutes. Then add the radicchio, craisins, and cuties. Set aside.
In a separate bowl, combine all the ingredients for the dressing, whisking together. Stir into the salad.
Top with the pecans right before you serve!
Notes
Serves 4-6, depending on whether it's a side or your main jam.
Adapted from Joyful Healthy Eats
That Was Vegan? http://www.thatwasvegan.com/