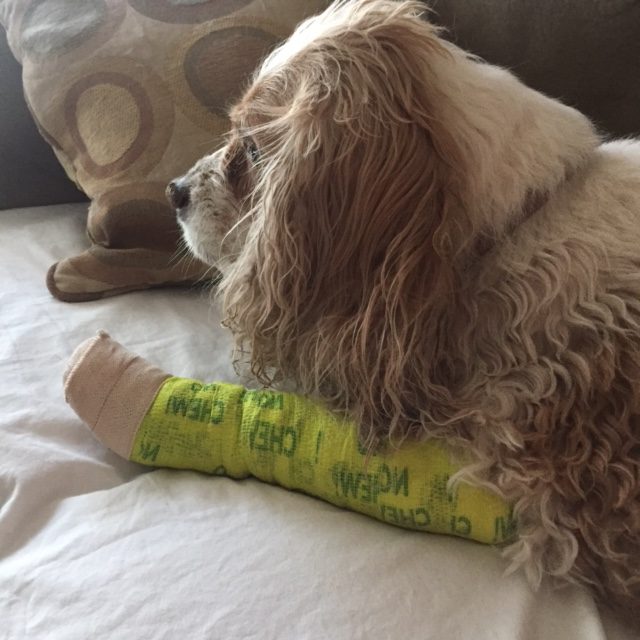 If you follow me on on twitter or insta you may already know that Sally isn't doing so well. We've known for a few weeks now that she has kidney disease, but a week and a half ago we found out she also has cancer. It's spread quite a bit, and isn't treatable. The kidney specialist (who also found the cancer) wanted to keep treating the kidney disease aggressively, and at first I was on board, but this past weekend changed my mind.
First of all, Sally does not like the KD food. She'd rather go hungry than eat it. It also seems to upset her tummy. Second, she had a hot spot which quickly became infected. Badly. And if we were treating the kidney disease, we wouldn't be able to give her painkillers. I started to feel like I was making her situation worse by treating the kidney disease.
We saw a wonderful ER vet on Sunday morning (for the leg infection) who took the time to sit with me while I cried and helped me work through it. The conclusion I came to is that the kindest, best solution is to stop treating the kidney disease and help Sally enjoy whatever time she has left. Let her eat food she ENJOYS. Let her take some painkillers, especially while her leg is infected. Let her stay home on the couch where she's comfortable rather than dragging her around town for ultrasounds and kidney tests.
In my gut, I know that the cancer is going to take her before the kidney disease. If the kidney disease were the only issue, of course we'd fight as long as we could. But I don't think it's going to matter. I don't know how much time we have, but I know I want it to be good time- so this little girl is going to be spoiled and loved on as much as she can stand. She's going to get dog treats for breakfast and peanut butter for dinner. Belly rubs and ear scratches. Whatever she wants, because I love her more than anything.