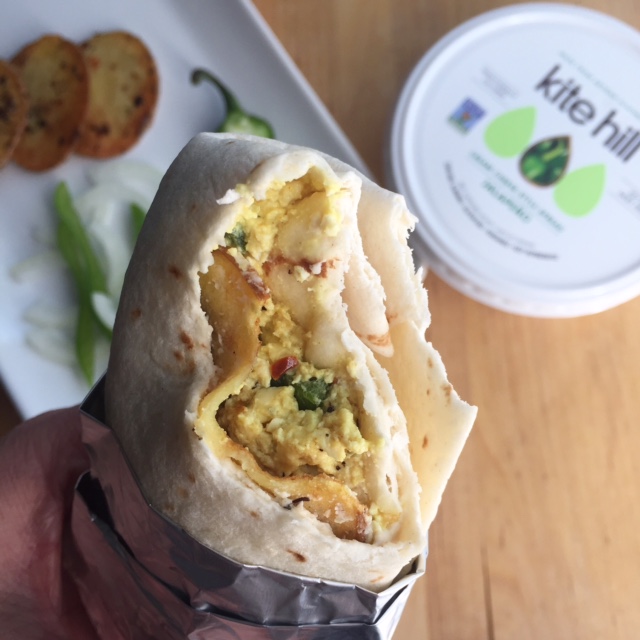 My friend Sarah (a vegan coach and blogger here in Denver) is a brand ambassador for Kite Hill (lucky her, right!?), so when we met up with our doggers at the dog park a few weekends ago, she brought me a big ol' bag of goodies. We're talking cream cheese. Jalapeno cream cheese. Ricotta cheese. This amazing truffle, dill & chive soft fresh cheese that I'm absolutely going to turn into some kind of savory tartlette too. I'm also planning a pizza with the ricotta cheese… but for now we have this Vegan Jalapeno Cream Cheese Breakfast Burrito, stuffed with tofu scramble, peppers and onions, crispy potatoes, refried beans and love.
Yes, love. I made these for my mom because she is literally the freaking best. She came over two weekends ago and helped me deep clean because apparently blind dogs leave a lot of adorable messy smudges on the walls and doors and cabinets and tables as they map their way around. Also there was an incident a few months ago where Teddy went counter surfing and knocked a can of his soft food onto the floor. This was messy enough on its own, but to make things worse, there was a spoon still in the can and it flung the soft food up and across the kitchen, leaving a lovely trail of stains across the ceiling. Also I've been dog sitting the last few weeks and let's just say I haven't kept up on the housework because I was too busy doing things like this: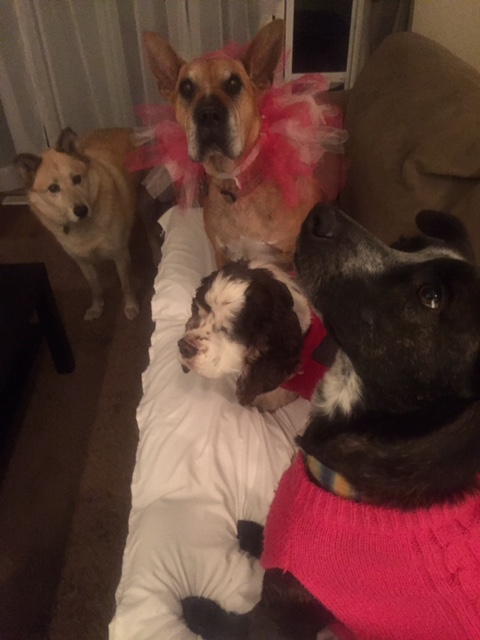 Yeah, I dressed up the dogs. Well except for Teddy who declined to participate. I really wish I knew what he's thinking as he's standing there, looking at his buddies…
But back to my mom. She came, she cleaned, she conquered, and she left with a tummy full of Jalapeno Cream Cheese Burrito and another one for later. I also shared the rest of the cream cheese with her because she loved it so much. It was really good! Spicy, definitely. You can absolutely taste that jalapeno flavor, but it's not overwhelming. I think it would be really good in my Best Mexican Layer Dip…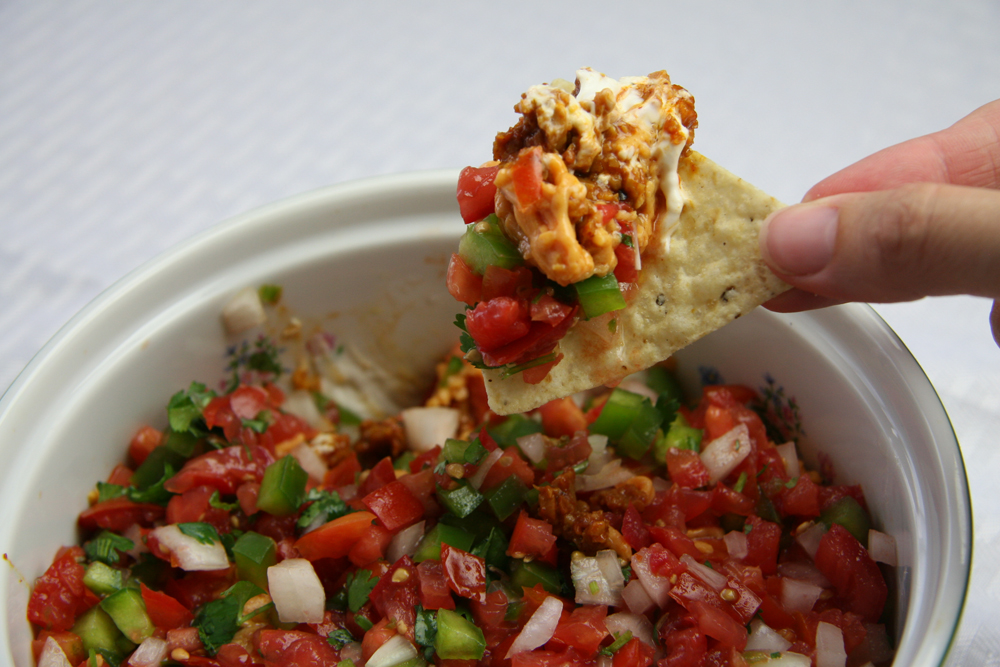 Or in my Man (With A Conscience) Dip…
Or heck, even just on a toasted bagel.
I don't really have a recipe for you, this is more of an intuitive cooking situation, but let me sketch you some outlines:
A batch of tofu scramble (I skipped the greens)
Sliced bell pepper + sweet onion, plus yummy, yummy garlic, lightly sauted
Crispy fried potatoes
Kite Hill jalapeno cream cheese melted into the tofu scrambz (and also schmeared on the inside of the tortilla) but only if you're eating immediately, otherwise that will = soggy mess
Vegetarian refried beans
Salsa
4 burrito-sized tortillas
Yeah. All of that, plus whatever else sounds good. Enjoy!