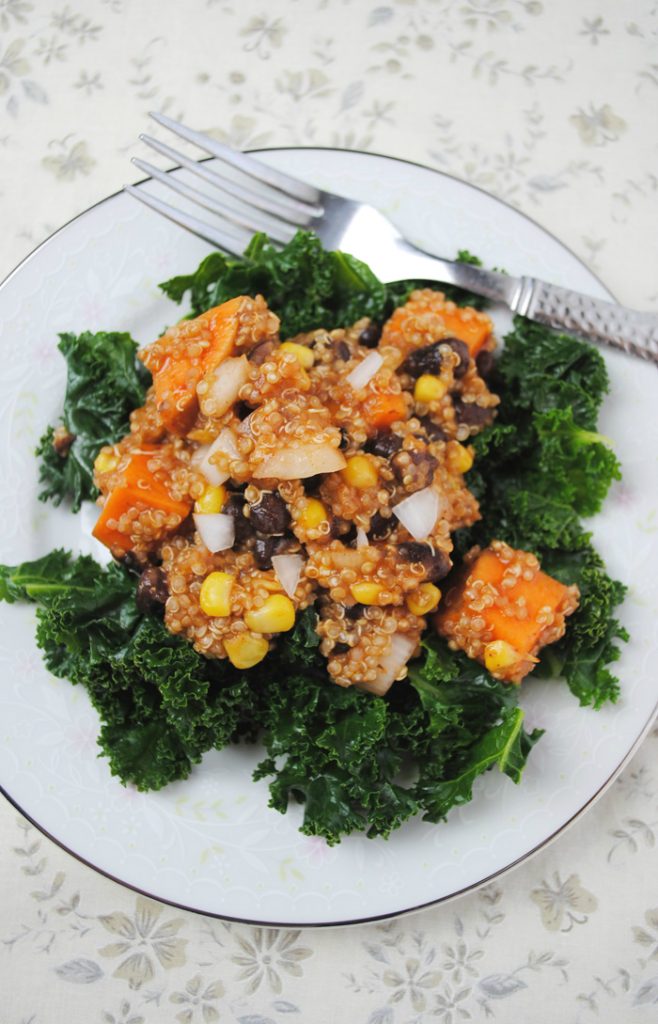 I've been getting back into cooking and creating recipes and blogging (you may have noticed), and it feels really good. Guess I just needed a break. Granted, I have been busy! Between work and meeting my mom and friends for frequent happy hours, plus the two doggers at home (one of whom still potties inside when the moods strikes), what's a girl to do? Well, for one thing, she can make semi-homemade dishes that are still healthy and delicious like this Vegan Enchilada Quinoa which I feel quite certain you'll all love.
It has all the quintessential enchilada flavors and spices, plus sweet potato + corn + black beans + onion, which are hands down my favorite enchilada fillings. We all know quinoa is a great source of protein even on its own, but added in with the beans and taters it is unstoppable. I also like the semi-homemade aspect of this recipe. It still has plenty of real, whole foods, but it's also made a bit quicker and easier by using things like canned beans and enchilada sauce. And of course, you can also make your own if you prefer!
I feel like this dish can stand on its own, but it would also be good combined with maybe a baked potato, or with steamed kale (which is how I enjoyed it) or broccoli.
And lets be honest. It would also be amazing wrapped in a big ol' flour tortilla combined with some vegan cheese and sour cream. But I'm trying to be healthy. So no.
I also think this would be a good go-to comfort food for a snowy day, when you don't want to venture down the mac-n-cheese rabbit hole. Or eat an entire pizza. Or order sesame tofu. In case you can't tell, we're supposed to get 5+ inches of snow this weekend and I'm already thinking about the unhealthy food choices I might make, haha!
---
Enchilada Quinoa
2018-02-06 12:35:12
Serves 4
Ingredients
1 cup quinoa, cooked to package instructions
1 large sweet potato, peeled and cut into bite-size pieces (~3 cups)
1 can black beans, rinsed
1/2 sweet onion, diced
6oz frozen corn
1 teaspoon cumin
1/2 teaspoon garlic
1/2 teaspoon chili powder
10oz can enchilada sauce
Salt & pepper
Instructions
Cook quinoa per package instructions.
Either boil or microwave the sweet potatoes till tender. I 'nuked mine with a bit of salt, and they were perfect.
When quinoa is done, keep the pan over low heat. Add all the veggies and stir in the seasonings. Add the sauce, and let everything warm up. Add S&P to taste, and serve with your favorite veggies!
Notes
Serves 4-6 depending on whether it's a side dish or the main event, and on what you pair it with!
I recommend a toasted quinoa, but any will work.
That Was Vegan? http://www.thatwasvegan.com/