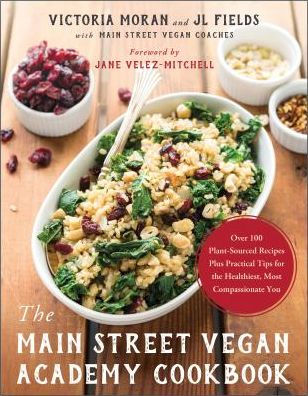 This giveaway is now closed… and Bridget C was the lucky winner! She focuses on the animals and that keeps her motivated- love that tip, because its the same thing I do!
I'm sure most of you are familiar with, or have at least heard of, the Main Street Vegan Academy where vegans can take their outreach to the professional level by training as an MSVA-Certified Vegan Lifestyle Coach and Educator. It's a great program that a few of my IRL friends, including JL and Sarah, have completed. Well, the Academy also offers support to us vegans via book as well, including their newest: The Main Street Vegan Academy Cookbook: Over 100 Plant-Sourced Recipes Plus Practical Tips for the Healthiest, Most Compassionate You!
Main Street Vegan Academy founder Victoria Moran and MSVA-certified Vegan Lifestyle Coach and Educator, JL Fields, known for cookbooks Vegan Pressure Cooking and The Vegan Air Fryer, have joined forces with some 60 other Main Street Vegan Academy alumni and faculty members to craft two books in one: first, a superb cookbook with recipes reflective of myriad culinary styles and tradition. Some are super-easy and can make you look good in nothing flat. Others are gloriously gourmet and let you showcase your inner chef. The other book that's part of this one is an up-to-the-minute guide for thriving as a vegan right now, whether you're brand new or you've been at this awhile.
Best of all? One of you lucky readers is going to get your very own copy! Score!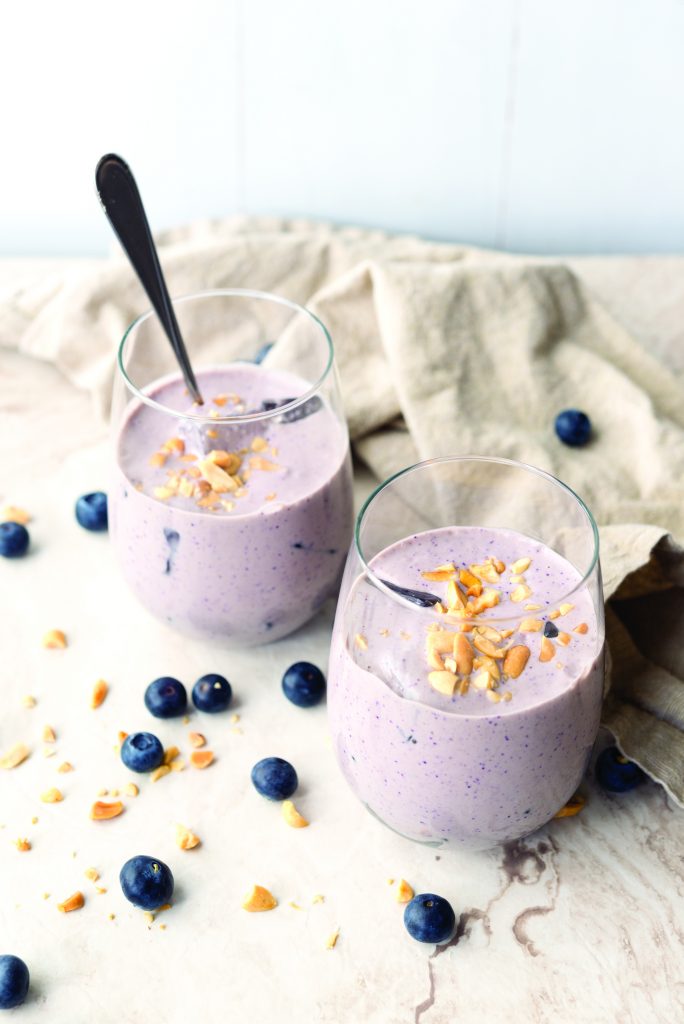 They also gave me permission to share a recipe with all of you, and I chose the PB&J Sammie Smoothies which are full of fiber AND flavor – a winning combination if ever there was one. The recipe is below, along with instructions on how to enter the giveaway. Good luck all!
---
PB&J Sammie Smoothie
2018-02-13 13:21:35
Serves 2
Legumes—beans, dried peas, and soy products such as tofu—are important sources of fiber, protein, minerals, and B-complex vitamins. This recipe is a great way to get a "bean" for breakfast, because peanuts are in fact legumes! Sure you could have peanut butter toast, but how about drinking this protein-packed PB&J instead?
Ingredients
1 cup plain, unsweetened almond milk or other vegan milk
1 ripe banana, chopped
1/2 cup rolled oats
1/4 cup natural peanut butter
1/4 cup fresh or frozen blueberries
1 cup ice
1 tablespoon agave (optional)
1 tablespoon crushed peanuts, for garnish (optional)
Instructions
Put all the ingredients except the crushed peanuts in a blender. Blend on high until smooth.
Pour into glasses over ice. Garnish with crushed peanuts if desired.
Notes
From The Main Street Vegan Academy Cookbook by Victoria Moran and JL Fields; recipe by Carmella Lanni (BenBella Books, 2017)
That Was Vegan? http://www.thatwasvegan.com/
---
The Giveaway
One lucky reader will win a copy of The Main Street Vegan Academy Cookbook: Over 100 Plant-Sourced Recipes Plus Practical Tips for the Healthiest, Most Compassionate You by Victoria Moran and JL Fields with Main Street Vegan Coaches! To enter, leave a comment below sharing your favorite tip or advice is to share with new vegans, or those interested in veganism! Contest ends Sunday, February 18th at midnight (mountain time). One winner will be chosen at random and announced the following day. Be sure and log your comment into the Rafflecopter to make it count! Open to residents of US and Canada only, good luck!
*I was provided free product to review, but the opinions are 100% mine!