I shared a little bit with you guys about Piante Pizzaria in my Vegan Weekend in Breckenridge post, but they definitely deserve an MHVE post of their very own. BECAUSE THEY'RE AWESOME! They're a 100% plant-based, high-end pizza shop located on Main St. in Breck, and I can't recommend them enough. From the decor to the service, they're just wonderful.
I've been there twice now, both times with my mom. Long story short, during our first drive up there my car seemed to be having some transmission issues, so I had it serviced when I got back. And obviously the only way to make sure the service worked was to recreate the driving conditions and eat more vegan pizza, right? Right. Bonus points because we didn't have issues this time, so I think the car is all set. But anyway…. Pizza!
This time we chose the Buffalo Solder: EVOO brushed crust. Garlic, buffalo sauce, and organic cashew mozzarella. Red onion. Fire-roasted buffalo cauliflower. House-made vegan ranch. Green onion.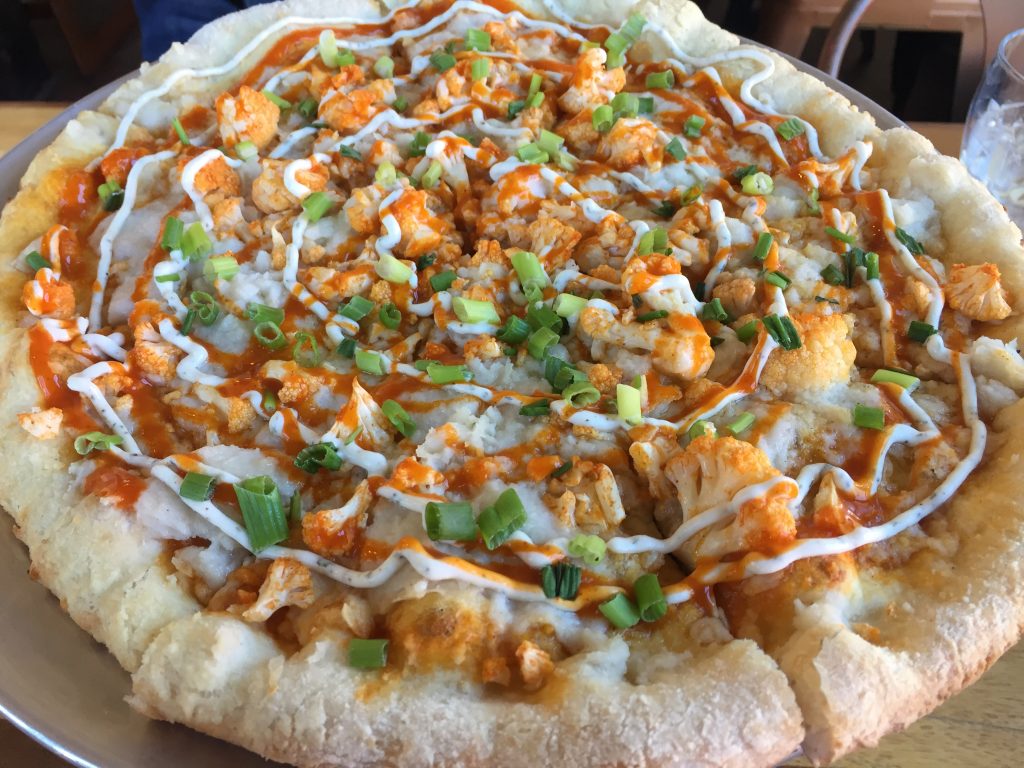 First, I love the crust here. It's light, crisp, and flavorful. And the cashew cheese? It's so rich and delicious. I noticed more with this pizza how truly rich it was, I think because it was so nicely contrasted by the spicy buffalo sauce.
Last time we were there, we had the Lasagna Pizza: House-made San Marzano tomato red sauce. Organic cashew mozzarella. House-made organic cashew ricotta. Meat crumble. Basil.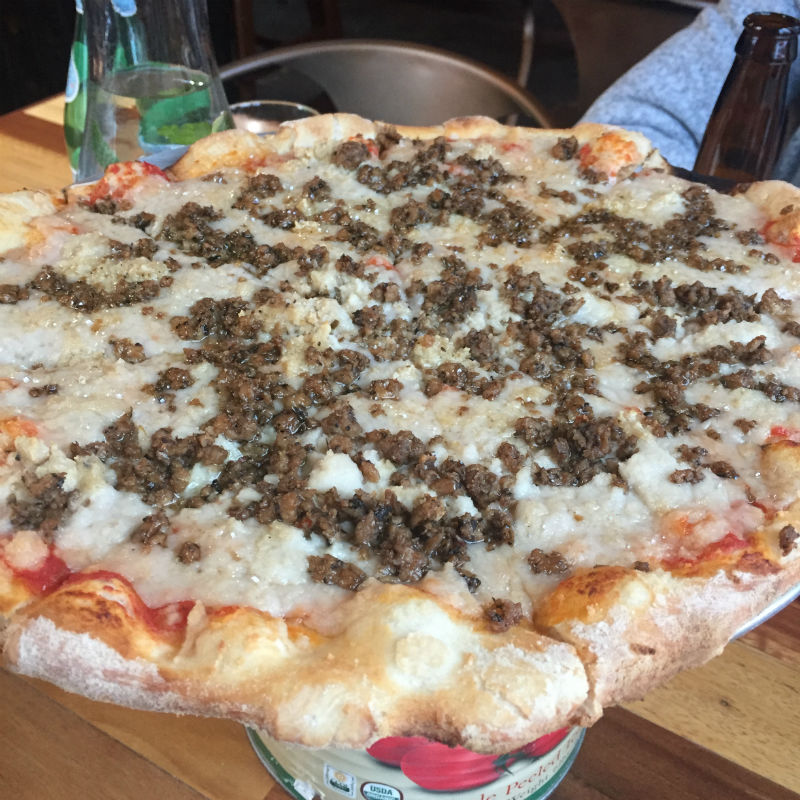 So far, I'd say the Lasagna is my favorite pizza, but the buffalo was a very close second. And there are so many more I want to try! The BBQ Pizza with smoked organic cashew mozzarella sounds particularly intriguing. My mom jokingly (?) suggested I order another entire pizza to take home, but I didn't. Poor choice on my part.
On this second trip, we started the meal with a Kale Caesar Salad to share. Kale, shaved parmesan cheese, House-made garlic-infused EVOO Italian seasoned croutons. House-made caesar dressing.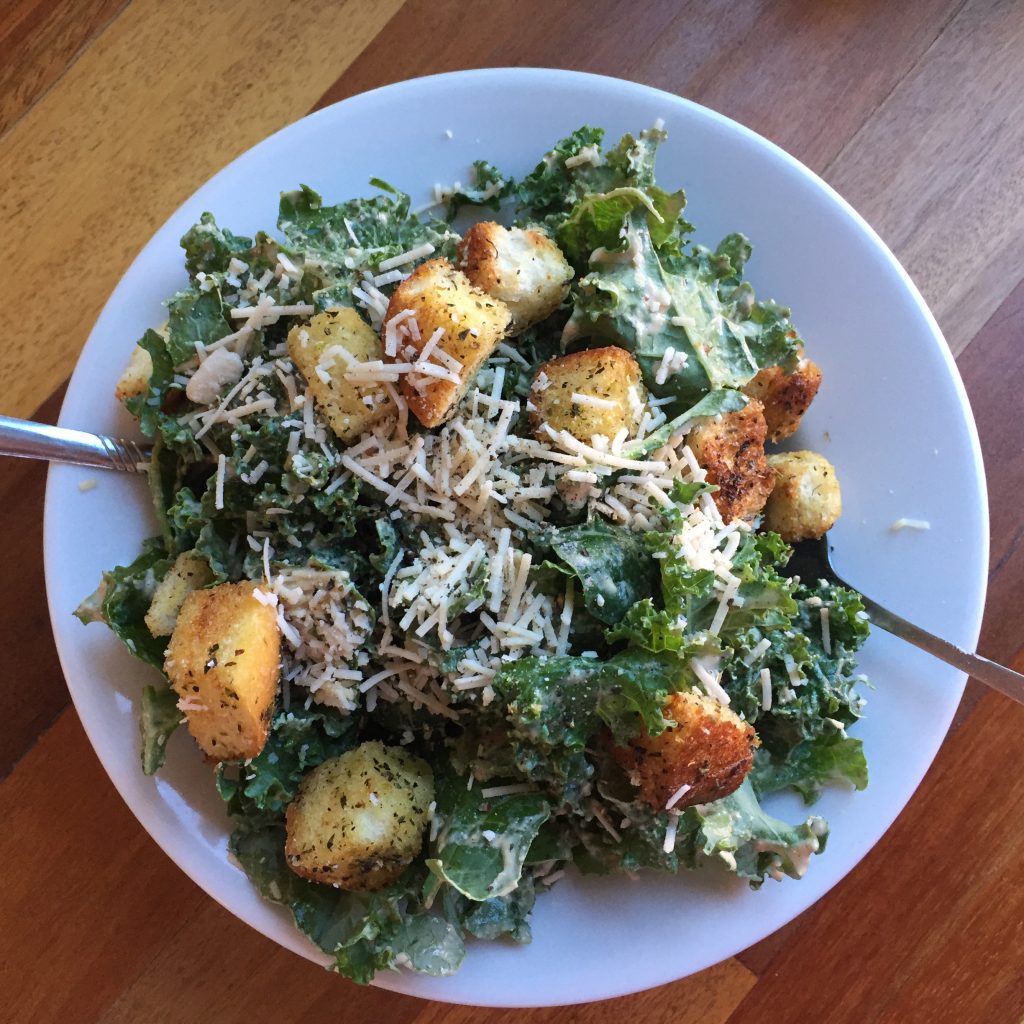 It's so much fun to be able to order anything off the entire menu, and especially to be able to enjoy a Caesar salad in a restaurant again!. It was always my favorite salad to order in my pregan days, and I've missed it. I find it to be one of those things that just isn't the same at home. But I digress. The croutons were big and crunchy and you could tell they were fresh. They were also very liberal with the parmesan (as you can see from the pic), which I appreciated.
On the first trip, we started with the Roasted Jalapeno Poppers: served with organic cashew mozzarella, red onion, and plant-based Italian sausage. Just spicy and enough, and not too filling (because we had to save room for pizza). I did think it odd though, that there were only 5 halves. It bothered me all night. Where did the other half of that last jalapeno go??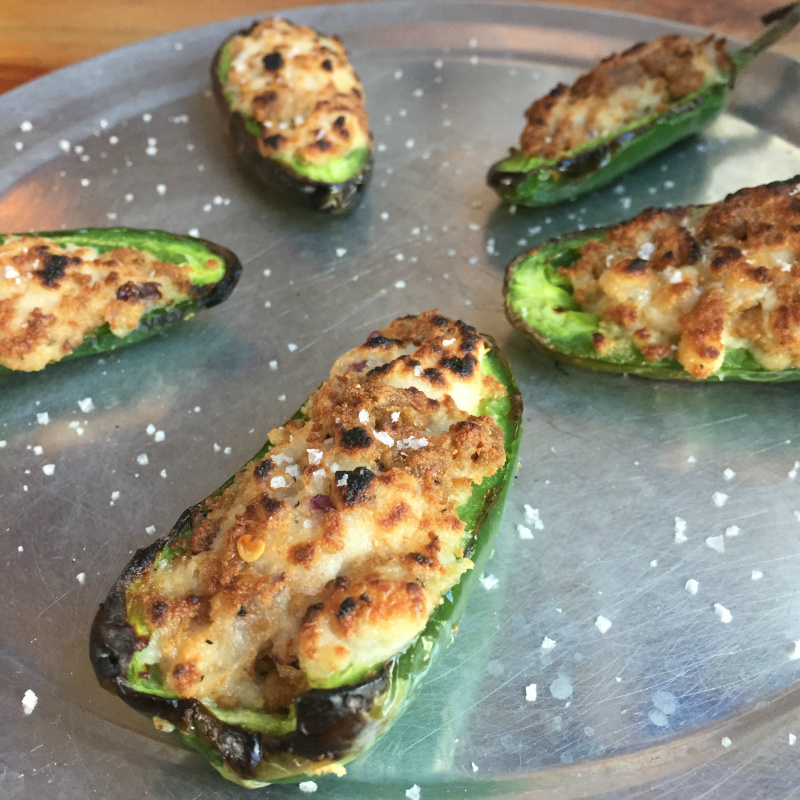 I've only tried one dessert (I'm more a fan of savory than sweet, tbh). It was the first time we were there, and we went with the Tiramisu which came with a candle because it was my birthday.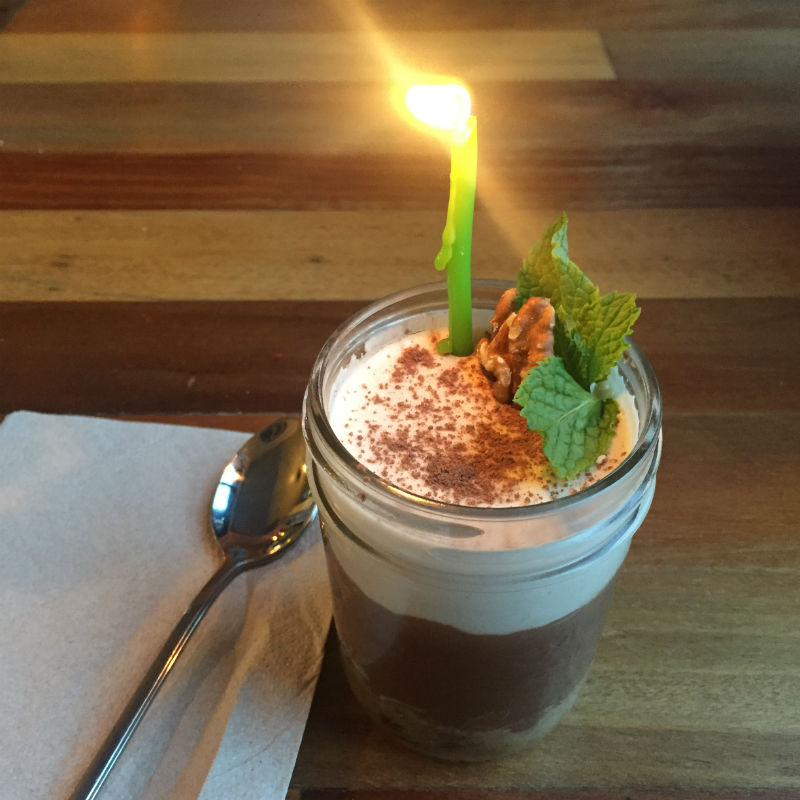 Okay, so that's the food, and it's phenomenal. But I also love the atmosphere they've created there. The servers and chefs are all so friendly and welcoming. The kitchen is open you can see them bustling in there, chopping and dicing and sliding your pizza in the stone oven. Also? If you're cold? They'll give you a beautiful quilt to put over your lap: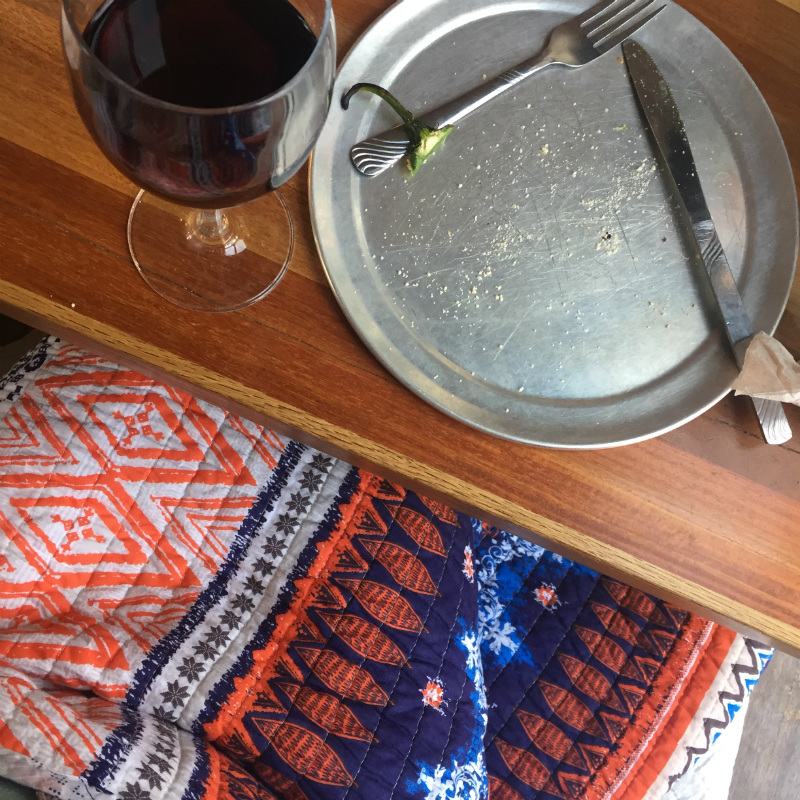 How sweet and precious is that? It's very Colorado! I also love that they have the shaker jars of vegan parm on all the tables, just like in every other pizza joint. Except better, because it's vegan.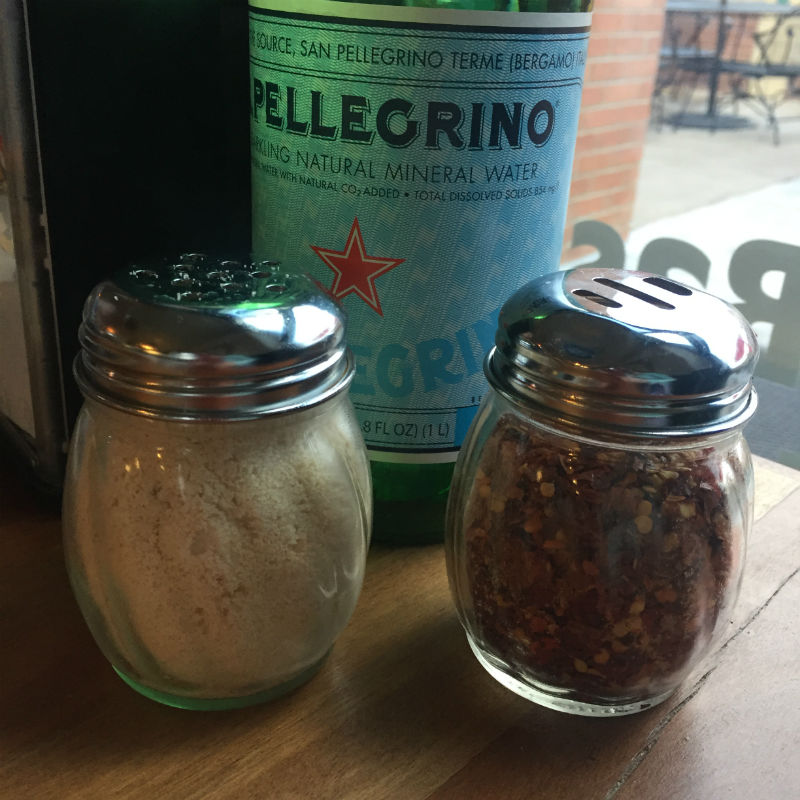 They also have outdoor seating that faces Main Street and the slopes, although we haven't sat out there. If you find yourself in Breck (or anywhere in Summit County, really), I insist you pop into Piante for a vegan pie.
Want more Denver-area restaurant reviews? Check out my Mile High Vegan Eats page!