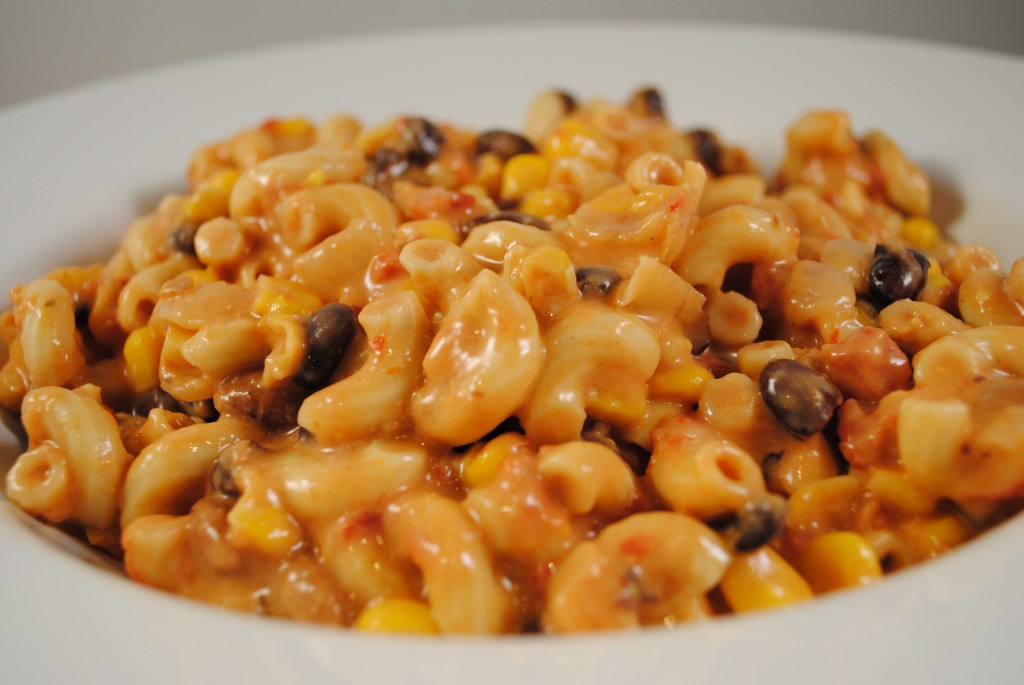 After becoming vegan I went for 507 days without eating mac n' cheese. FIVE HUNDRED AND SEVEN! That's a lot of days, I know. And I also know that there are plenty of recipes for vegan m-n-c out there, and lots of restaurants that serve it, but somehow the stars just never aligned for me. I kept meaning to try a recipe, and there was even one day that I fully intended to order it for lunch at Udi's until I got there and realized it was no longer on the menu (note to restaurants: please don't leave delicious dishes listed on your website if you have no intention of making them!), but it just never happened for me. Not until this Thanksgiving, that is! Our friends Lauren and Jeremy not only hosted us on Tofurkey Day, but Lauren also made a fabulous baked mac n' cheese, breaking my dry spell with a BANG! (The recipe she used is here and I strongly suggest you all give it a try!) It was so good, and all those old mushy feelings came rushing back to me, reminding me how much I missed that ooey-gooey comfort food.
How much did I miss it? Enough that in the 8 days since, I've eaten some version of it 4 times! This improves my Once-every-507-days average to a more acceptable Once-every-103-days, a statistic I'm less embarrassed by.
My most favorite version (so far, at least!) has been this Tex-Mex style, loaded with tomatoes and corn and beans… vegan chili, basically. It's a little spicy, but you could certainly kick up the chili powder or add some chopped jalapenos if that's your jam. Jason, my hubby, is from NM and as far as I can tell he was born without the ability to taste heat. He'd put Ghost Pepper Aioli on everything if he could. I, on the other hand, am from NH and growing up considered Taco Bell to be authentic Mexican food, so lets just say that our tolerance for heat is not equal.
---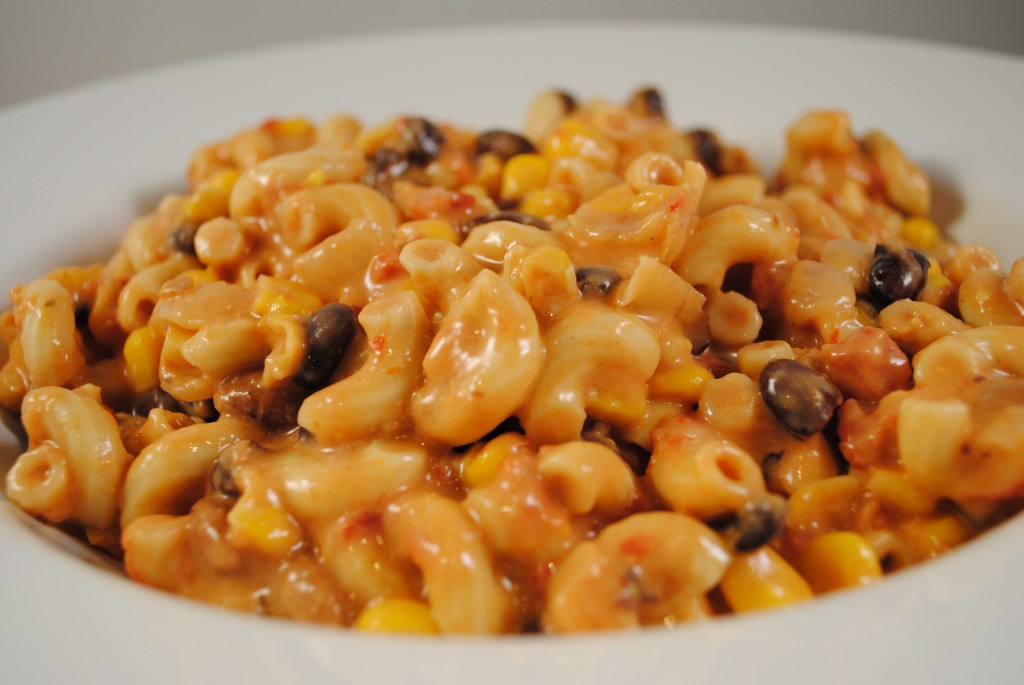 Chili Mac n' Cheese
2014-05-05 09:58:19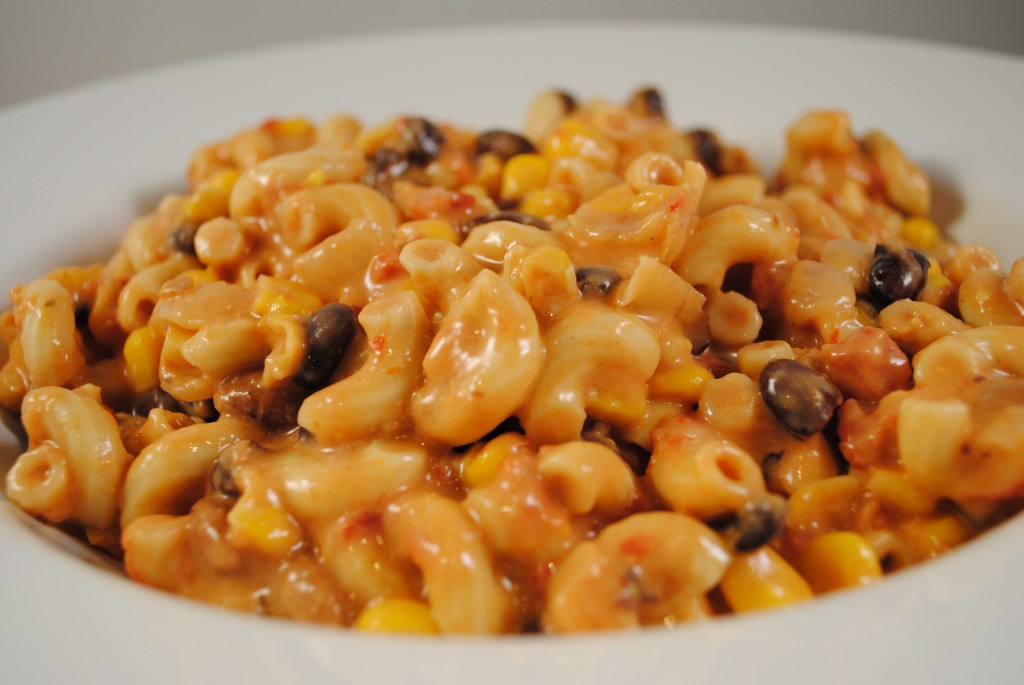 Serves 5
Ingredients
1 medium onion, chopped (I used sweet)
2 teaspoons garlic powder
15 oz can black beans (drained and rinsed)
15 oz can pinto beans (drained and rinsed)
2.5 cups frozen corn
28 oz diced canned tomatoes, with the juice
1 10oz box elbow macaroni, or pasta of your choice
1.5 tablespoons cumin
1 tablespoon chili powder (I used a "New Mexico blend" that was on sale... also, use a little less than a tablespoon if you're worried about the heat!)
1 bag shredded Pepper Jack Daiya
4 tablespoons non-dairy milk (if needed)
S&P to taste
Instructions
Put the macaroni on to boil, but be careful to leave it undercooked otherwise it'll fall apart later on. I cooked mine just until it was "a little too chewy".
In a large soup or stock pot saute the onion until tender, using either oil or water. Stir in beans, corn, tomatoes and macaroni, then add the cumin and chili pepper, tasting as you go.
Stir in the Daiya and let it get all melty and gooey and fantastic, then add your salt and pepper if you'd like. If it's too dry, add a few tablespoons of your non-dairy milk of choice... And enjoy!
Notes
This is one of those dishes that gets better after sitting in the fridge for a day or two, so make sure you have leftovers!
That Was Vegan? http://www.thatwasvegan.com/