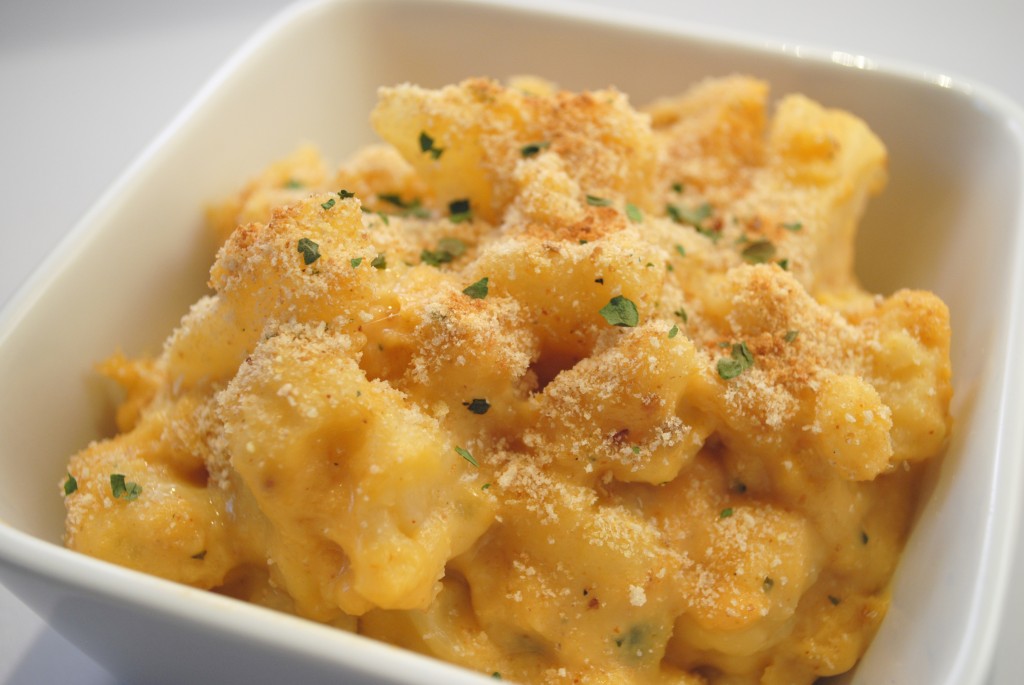 I saw this macaroni cauliflower n' cheese recipe in the latest issue of Vegetarian Times and knew I had to make it. We all know I've been on a m-n-c kick lately (evidenced here and here), but I've also been trying to eat healthier and (at least mostly) stick to the Eat To Live guidelines. I know Dr. Fuhrman probably doesn't approve of Daiya, but he'd give me some points for avoiding that starchy macaroni, right? So, this was as close to a happy compromise as I was going to get. Plus we had friends coming over for dinner, so I knew I had to make something exceptionally yummy!
Anyhoo, I veganized the recipe and also added a little extra heat. The Daiya mixed with So Delicious and a little roux is super creamy, and the breadcrumbs get all nice and crunchy on top. The original recipe didn't call for those last few moments of broiling, but I think they're a must! (My pictures are of the leftover portion and don't show the lovely crust I achieved with the original dish!) I served this yummy concoction to Jason, along with our friends Jamie and Tyson who are vegan and vegetarian, respectively, and they all loved it. The original recipe says it makes 8 servings, but the 4 of us ate nearly all of it, with one serving left over. Of course, Jason eats like he's two men…
I'll be making this again, but next time I might try my B'nut cheese on it…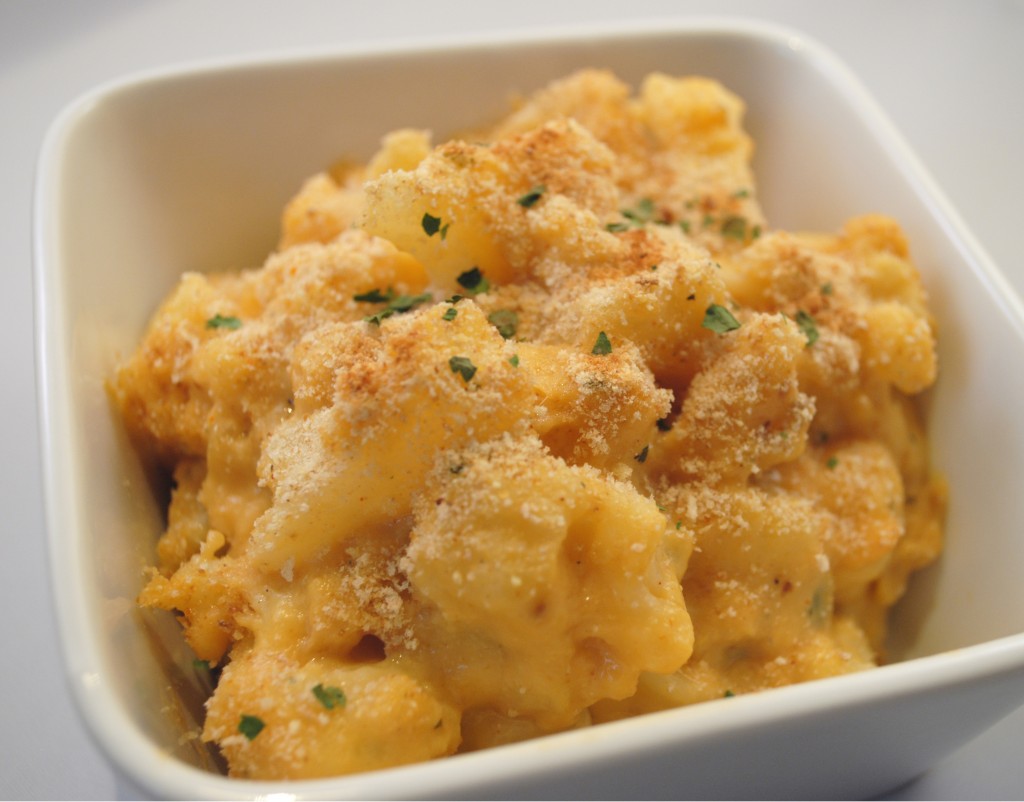 So, my gal-pal Reia has started a new blog called The Cruelty Free Review, where she will be reviewing (wait for it… wait for it…) cruelty free products, foods and recipes. She's a vegetarian (who I think will be vegan someday soon!?!) who loves animals and I think this blog is a great idea, a fun way for us to learn about vegetarian/vegan products that we didn't even know we were missing. So head on over there, dear readers, and show her some love 🙂
---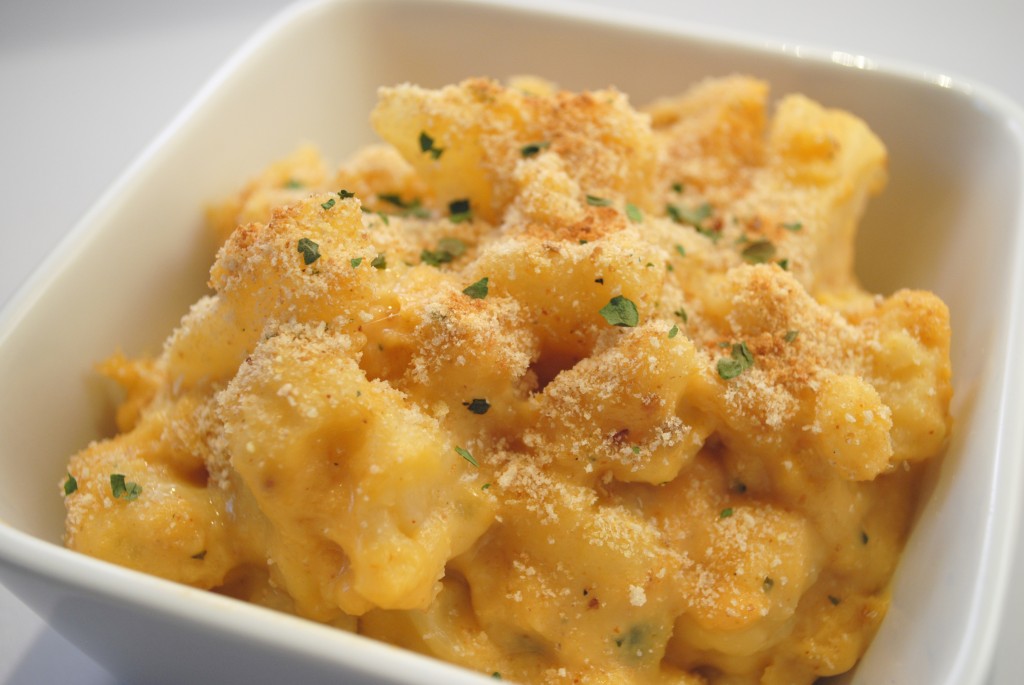 Cauliflower n' Cheese
2014-11-14 09:01:15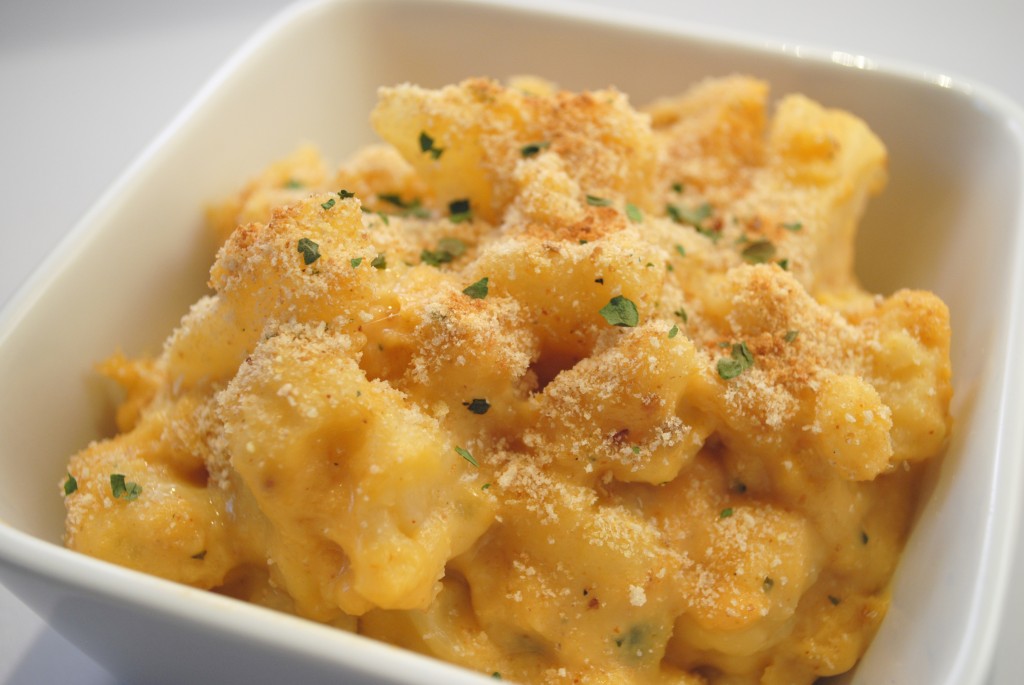 Serves 5
You'll never miss the pasta with this dish!
Ingredients
8 cups chopped cauliflower - Approximately 1 large head
2 tablespoons Earth Balance
3 tablespoons AP flour
2 cups vegan milk (unsweetened!)
2 cloves garlic, minced
1 bag Daiya cheddar shreds
3/4 cup nutritional yeast
1/2 teaspoon chili powder (or more to taste)
1 1/2 cups bread crumbs (I like panko!)
1 tablespoon dried parsley (optional)
Cooking spray in a can
Instructions
Preheat oven to 250.
Boil salted water in large pot, and add cauliflower. Boil until barely tender, about 5-7 minute. Drain, reserving 1 cup cooking liquid and set aside.
Melt the Earth Balance in same pot over medium heat, then whisk in flour to create a roux. Stir constantly for about a minute until it's really thick and well mixed.
Whisk in the milk, garlic and reserved cooking liquid and continue to whisk constantly until it starts to thicken, about 7-10 minutes.
Reduce heat to the lowest setting and stir in Daiya, nutritional yeast and chili powder. Keep stirring until the cheese is completely melted, then fold in the cauliflower.
Coat a 13x9" baking dish with cooking spray, then spread the cauliflower/cheese mixture into the dish. Top with the breadcrumbs then sprinkle parsley. Stray top with an additional squirt of the cooking spray.
Bake for about 30 minutes. You'll see the cheesy mixture bubbling around the edges. If the top isn't browned, move dish under the broiler and cook (on low!) for a minute or so. Keep an eye on it, you don't want to let it burn now!
Serve immediately!
Adapted from Vegetarian Times
That Was Vegan? http://www.thatwasvegan.com/