After my terrible confession a couple weeks ago, I've really been trying to improve myself and be a better (m-n-c eating) person. The result? B'nut Squash (which I believe is the sexiest of the squashes) combined with some kickass vegan Mac n' Cheese, creating an ooey-gooey deliciousness that actually has some nutritional value. Top that! And "deliciousness" doesn't even begin to describe this dish. One of the main things that keeps Jason stuck in omnivore status is his love of "real" cheese, and he went just as crazy for this stuff as I did. Seriously. This is the dish you can serve to meat/cheese eaters and DARE THEM not to love it!
One trick I'd like to share with folks who roast their own squash- I like to cube and freeze my excess roasted squash in a zippie bag, so when a recipe calls for smooth (or mostly smooth) squash, I'll just work the bag with my fingers until it's the right consistency, then add it to the recipe! Easier and faster than transferring it to a bowl and mashing it.
If you love this recipe, check out my Mac n' Cheese Bites!
---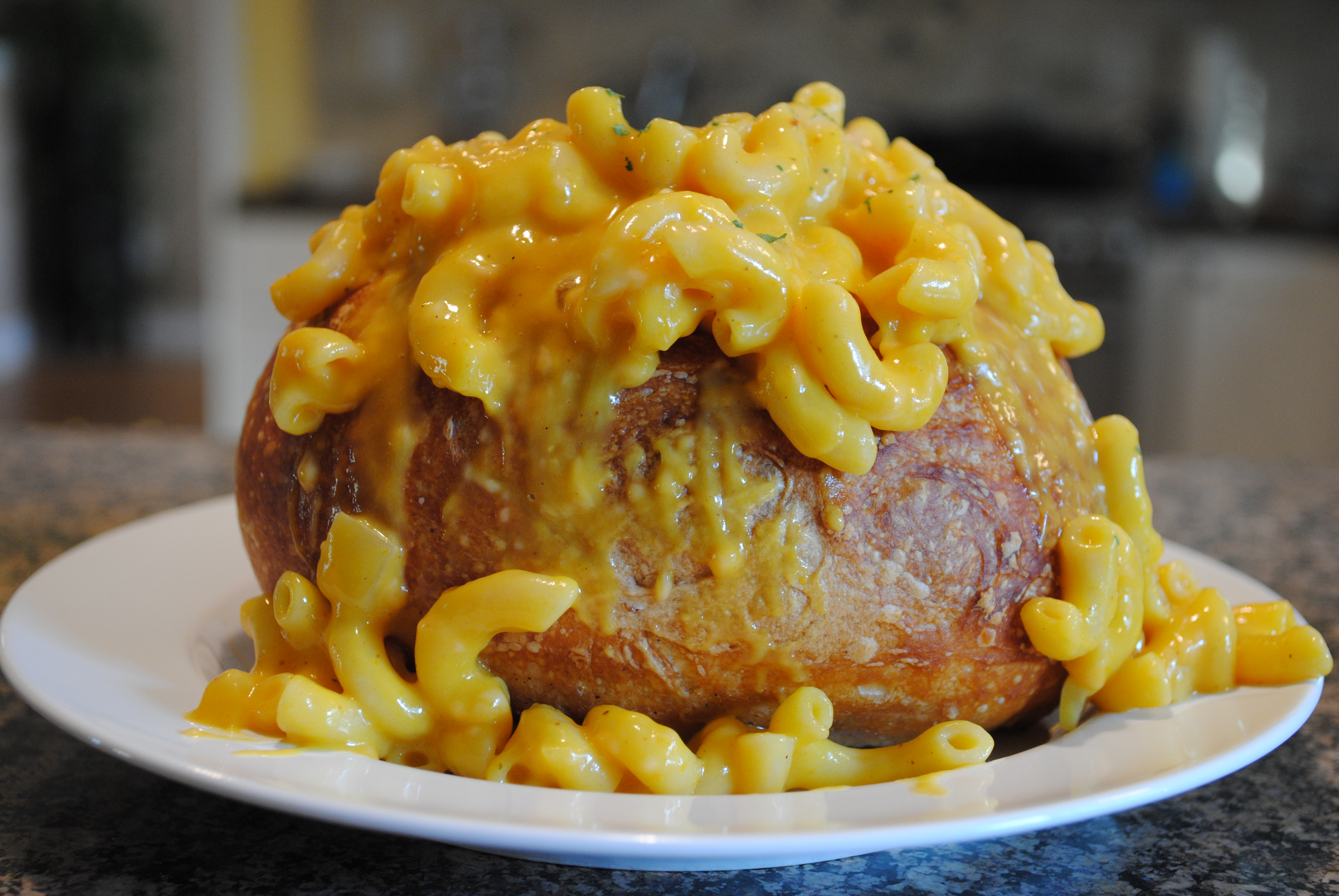 Butternut Squash Mac n' Cheese
2014-02-24 09:53:01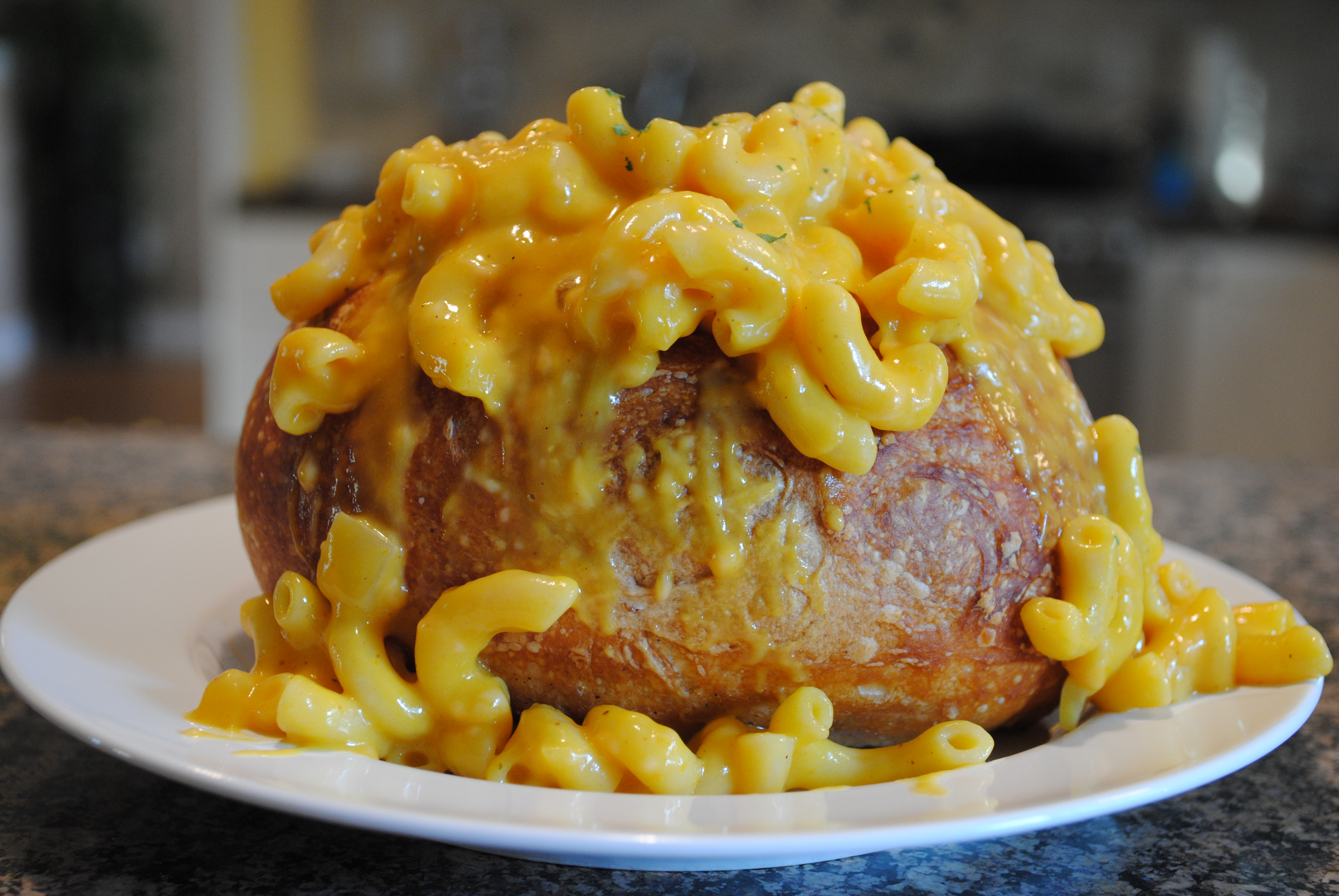 A creamy mac n' cheese that you'll forget is vegan!
Ingredients
1 lb pasta (I used shells)
2 T Earth Balance
1 small sweet onion very finely diced
3 T flour
2 cups vegetable stock
10-12 ounces of butternut squash, cooked and/or thawed
1 cup soy cream
1 bag Daiya cheddar
1/4 teaspoon nutmeg
1/2 - 3/4 teaspoon Herbamere (or salt of your choice)
Pepper to taste
Instructions
Put pasta on to boil, making sure you keep it a little firm, otherwise it'll start to fall apart when you stir in the cheese sauce.
In a large pot over medium heat, melt the Earth Balance, then add the onions, cooking for about 2 minutes. If you need more moisture, you can add a tablespoon of water or more EB.
Add flour, and mix all together- this is your roux. Cook for another minute.
Pour in veggie stock and squash, stir until completely blended. This is your chance to make sure there are no large chunks of squash swimming around in there! Make sure you're constantly scraping the sides of the pan, I recommend using a rubber spatula.
Add soy cream and stir, letting it come to a slow bubble, then add the Daiya. Keep stirring (Don't stop!)
Once it's all melty and gooey, add in your nutmeg, salt and pepper. Taste and adjust. But don't taste too much, or there wont be any left! Pour in your (slightly undercooked) pasta, and that's it!
Notes
I roasted my own b'nut for this dish, but if you choose to buy a package of frozen kind that's cool too. If you roast your own, feel free to sneak a little extra in... I did 😉 Keep in mind though, if you roast your own you'll want to make sure it's pretty smooth. A few lumps are okay, but you really want the squash puree to meld with the cheese.
Adapted from Rachael Ray
That Was Vegan? http://www.thatwasvegan.com/